Originally published in The Clarinet 47/1 (December 2019). Printed copies of The Clarinet are available for ICA members.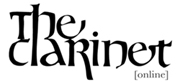 ---
Music Reviews: December 2019
BOOKS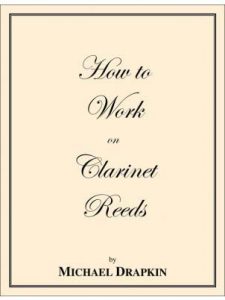 Michael Drapkin. How to Work on Clarinet Reeds. Drapkin Music Publications, 2019. $19.95
Michael Drapkin is well known to the clarinet world as a performer, composer, arranger, writer and pedagogue. He is particularly known to the bass clarinet community for his five-volume series Symphonic Repertoire for the Bass Clarinet. This latest publication from Drapkin is a comprehensive and easy-to-read guide to adjusting clarinet reeds. The skills and methodologies that Drapkin details in this book are designed to help readers balance their reeds to vibrate evenly, and adjust them to fit their specific embouchure, mouthpiece and ligature combination.
Drapkin begins with a list of the basic inexpensive tools for reed adjustment and how they are used. He even points out the tools that the reader is recommended to avoid. His process is broken down into four steps: selection, adjustment, break-in and aging. Drapkin provides multiple methods for each step of the process with full-color photos and clear descriptions. In the selection step, Drapkin discusses the general characteristics of reeds worth adjusting. The bulk of the book is spent on the ensuing adjustment section which includes testing and analyzing the reed, reshaping using a reed knife and sandpaper, and checking reed responsiveness using excerpts from the major literature. The break-in section provides a method for closing the pores of the reed to lengthen its life, and finally the aging section describes when it is time to replace your reed. Drapkin also provides a comprehensive troubleshooting guide with common reed symptoms and remedies.
How to Work on Clarinet Reeds is an indispensable resource for all clarinetists who want to improve the quality and consistency of their commercial reeds. Drapkin's colloquial and often humorous writing style makes the methods easy to understand and leaves the reader with confidence to implement them.
– Zachary Dierickx
---
MUSIC
METHODS AND STUDIES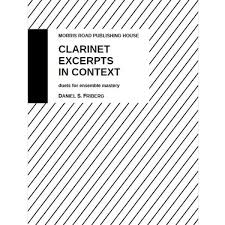 Daniel S. Friberg. Clarinet Excerpts in Context: Duets for Ensemble Mastery. Morris Road Publishing, 2019. $14.99
Daniel Friberg, clarinetist and co-manager of the print music departments of the Groth and Eble music companies, has created an extremely helpful volume for clarinetists studying orchestral excepts and the first movement of the Brahms Sonata No. 2 in E-flat major. He presents in a clarinet duet format major solos from Beethoven's Symphony No. 4, 6 and 8; Brahms's Symphony No. 3, Mendelssohn's "Scherzo" from A Midsummer Night's Dream and Rimsky-Korsakov's Capriccio Espagnol. For each piece, the solo excerpt of the first clarinet is printed exactly as it is in the standard orchestral part. Friberg has added an accompanying second clarinet part that condenses the most important melodic, harmonic and rhythmic elements from the orchestra texture into a single line. He includes brief instructive guidelines for focused attention to the musical requirements of each excerpt.
The benefits of this volume are many. Two clarinetists practicing together will develop a secure sense of the context in which the solo part exists. With time, this framework will be automatically felt even when playing the solo unaccompanied in a professional audition. Kudos to Friberg for this valuable resource that reflects his performances with the Minnesota Orchestra and the New World Symphony and his clarinet study with David Shifrin, Burt Hara and Eddy Vanoosthuyse.
– Gregory Barrett
---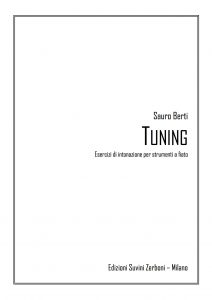 Sauro Berti. Tuning. Suvini e Zerboni Edition, 2019.
Sauro Berti is the well-known bass clarinetist of Teatro dell'Opera in Rome. In his short but interesting and effective method book he wanted to improve one important aspect of playing wind instruments: intonation. Berti states in the preface:
"The natural scale doesn't correspond exactly to the twelve semitones of keyboard instruments. I have written these exercises in order to pay the necessary attention to this reality and to insert it in the daily practice… By stimulating our sensitivity and musical ear, the respecting of this tonal tension will soon become second nature."
The little etudes – in all keys, and in treble and bass clefs – will enhance the flexibility of the ear not to always follow the equal-tempered scale. Berti directs that the fundamental note in each etude be sounded from an electronic tuner with an earpiece in only one ear. The combination of the tuner reference note and the live note being performed on the instrument will result in a pulsing sensation when the playing is out of tune. The elimination of beats is the goal and signals that the playing is in tune.
The short etudes are drawn from melodies, technical studies, arpeggios and orchestral excerpts and could be used at the beginning of the daily warmup. Tuning by Sauro Berti is an interesting and effective way to increase awareness to obtain accurate tuning. Highly recommended!
– Luigi Magistrelli
---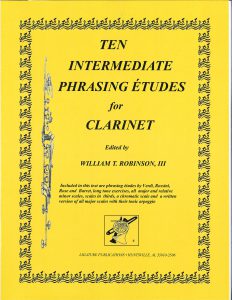 William T. Robinson III. Ten Intermediate Phrasing Etudes for Clarinet. Ligature Publications (www.oboeclarinet.com), 2007. $9.00
Teachers looking for a scale and etude book that falls between a beginner method and more advanced studies may be interested in Ten Intermediate Phrasing Etudes for Clarinet by William T. Robinson III. This small book packs quite a punch with a comprehensive intermediate study containing long tone exercises, daily scale studies (major, relative minor, arpeggios, thirds and chromatic patterns), and etudes adapted from compositions by Giuseppe Verdi, Gioacchino Rossini and Apollon Marie-Rose Barret. Robinson includes fingering suggestions and special symbols that help guide musical decisions. With long tone exercises, scale study, and etudes combined into one volume, this method presents a perfect way to reinforce productive and efficient practice skills for the advancing student. Ten Intermediate Phrasing Etudes for Clarinet is available from local music stores or directly from the author.
– Zachary Dierickx
---
CLARINET AND PIANO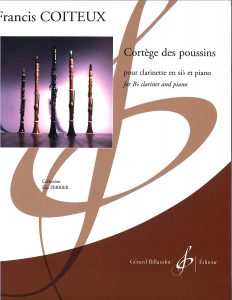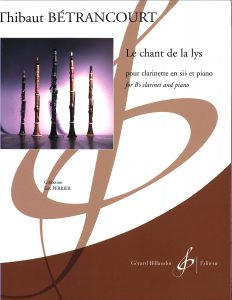 Francis Coiteux. Cortège des poussins for B-flat clarinet and piano. Gérard Billaudot Éditeur, 2019. €9.00
Thibaut Bétrancourt. Le chant de la lys for B-flat clarinet and piano. Gérard Billaudot Éditeur, 2019. €10.00
Earlier this year, Gérard Billaudot released two grade 1-2 (easy) solo works for clarinet and piano aimed toward beginner students. Cortège des poussins by Francis Coiteux makes use of the chalumeau and clarion registers up to clarion A. This lively solo contains simple phrases, some unexpected harmonic twists and turns, and opportunities for young players to expand their dynamic range.
Le chant de la lys by Thibaut Bétrancourt is written in ABA form beginning with a lyrical and expressive largo section followed by a light and articulated allegretto. The return of tempo primo brings the piece to a close. A short cadenza bridges the opening largo and middle allegretto sections – a feature not often found in music composed for this level. With its conservative range, Le chant de la lys allows young players to explore phrasing, musical expression and articulation.
– Zachary Dierickx
---
Niels Wilhelm Gade. Fantasiestücke, Op. 43 for clarinet and piano. Urtext Edition. Edited by Nicolai Pfeffer. G. Henle Verlag, 2017. $18.95
Niels Gade (1817-1890) was a Danish composer, conductor, violinist, organist and teacher. He spent considerable time in Leipzig, Germany, where he met Felix Mendelssohn. Mendelssohn engaged him as assistant conductor of the famed Gewandhaus Orchestra and as a teacher at the Leipzig Conservatory. Gade met and socialized with other noted composers and musicians in the Saxony region. His Fantasiestücke were influenced by the music of Robert Schumann, with whom he was on friendly terms during his stay in Saxony. When he returned to Copenhagen in 1848, Gade became director of the Copenhagen Musical Society and was heavily engaged in the local musical life in Denmark.
Gade had a particular liking for the clarinet. His Fantasiestücke, which first appeared in 1864, was dedicated to a clarinetist with an unusual first name: Mozart Petersen. Gade performed with him frequently. The work is written for clarinet in B-flat (Schumann's Fantasiestücke and Romanzen were written for clarinet in A). The four movements progress slow-fast-slow-fast.
The first movement, Andantino con moto, is short and has a flowing theme that appears twice. There seems to be no clear form other than the second entry of the main theme which is extended with a possible coda.
The second movement, Allegro vivace, starts with a fragment of the main theme and then stops. The theme is repeated and elaborated. This is followed by a short section marked tranquillamente that comes to a cadence, the return of the main theme and a brief coda. The form is ABA. Again there are beautiful flowing lines.
Movement three, Ballade, returns to a moderate tempo. This movement may be familiar to many clarinetists as it appears in the Concert and Contest Collection published by Rubank. Gade begins with a rather somber melody in G minor with rolling chords in the piano underneath. A contrasting theme appears in major with a slightly faster tempo. Both themes are then repeated but the second section is extended with a faster, agitated theme. The ending comes with a heavy, lugubrious section marked con gravitá.
The final movement, marked Allegro, molto vivace, is off to the races. The key is A-flat major and the piano part has flying triplets. The clarinet part is filled with energy (con fuoco) with rising chromatic lines and driving rhythms. It is an AABA form with the middle theme marked tranquillo. This movement is very similar to Schumann's finale. Why not? It fits this piece too!
This urtext edition is full of interesting information, not only about Niels Gade, but also about the word "fantasy" or "fantasia." Editor Nicolai Pfeffer explains that in the 19th century, the highly popular "fantasy" form was "rather unrestrictive." This printed edition seems to be flawless, and the phrasings and articulations are carefully marked. It includes three pages of the sources used and the justifications for edits made.
Highly recommended!
– Robert Chesebro
---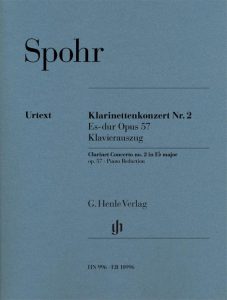 Louis Spohr. Klarinettenkonzert No. 2 in E-flat Major, Op. 57. Edited by Ullrich Scheideler. Piano reduction by Christoph Sobanski. Breitkopf & Härtel/G. Henle Verlag. Distribution by Hal Leonard. $25.95
Even Johann Hermstedt, Spohr's clarinetist, found this work difficult. The felicitous virtuosity of this concerto enchants clarinetists to the present day with its written-out accelerandi, four-measure-long rapid arpeggiations in a circle of fifths sequence and C dominant seventh chords to test nerve. Editor Ullrich Scheideler has consulted first edition parts, considered authorized by Spohr, and a late 19th century fair copy of the score with musically interesting divergences that is however of uncertain origin, to prepare a highly useable, informed edition. Layout, printing and paper quality are first-rate.
– Gregory Barrett
---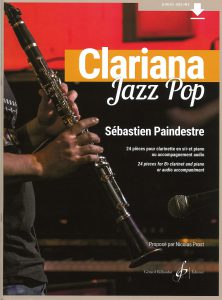 Sébastien Paindestre. Clariana Jazz Pop: 24 pieces for B-flat clarinet and piano or audio accompaniment. Gérard Billaudot Éditeur, 2018. €20.91
This collection includes 24 short, stylistically varied pieces for clarinet and piano with access to audio accompaniment recordings. These accompaniments, in versions both with a sample clarinet and without, can be played through the Billaudot website or downloaded. Sheet music for the clarinet and the piano accompaniments are included in this collection. The musical styles fit more in the category of popular music rather than jazz, though one could argue that certain harmonies have a jazz flavor in some of the pieces. The clarinet keys progress from C major to E major. The varied simple and compound meters add a level of complexity and challenge to this collection, but I would still categorize these pieces as easy. The brevity of these pieces gives them extra usefulness to teachers as they can be assigned and studied in a lesson in a very short amount of time, allowing more time to pursue other material, while still introducing popular styles to a younger student. The range of the clarinet part is limited to less than an octave and is often written in the clarion register. There are limited accidentals and enough repetition of rhythms to allow students to learn each work quickly. This collection is a valued item to have in one's library as it offers music in more popular styles compared to the standard methods for young players that focus on classically-oriented materials.
– John Cipolla
---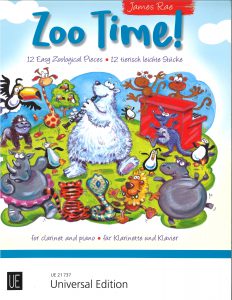 James Rae. Zoo Time! 12 Easy Zoological Pieces. Universal Edition, 2017. Fischer/Presser distribution. $18.50
Zoo Time! is a delightful collection of solo pieces with piano accompaniment written for young beginner clarinetists. Pieces in this collection are written in the chalumeau register and are based on well-known dance forms. The limited range is perfect for the student who is ready to tackle some tricky rhythms, articulations and accidentals without the challenge of going into the clarion register. With creative titles such as "Gorilla Gavotte," "Penguin Polka" and "Wallaby Waltz" this collection of easy pieces is sure to interest children. The included piano accompaniment allows these pieces to serve as a first solo for beginners or as a section feature for a class of clarinetists.
– Zachary Dierickx
---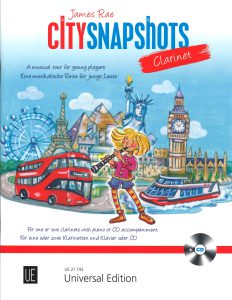 James Rae. City Snapshots for one or two clarinets with piano or CD accompaniment. Universal Edition (Carl Fischer/Theodore Presser Distribution), 2018. $18.95
James Rae's caption for City Snapshots reads: "A musical tour for young players," and he does indeed take beginning clarinetists on a diverse musical journey in this playful volume. From a "dreamy" Manhattan blues, to Austrian and Bavarian waltzes (Vienna/Munich), to an Argentine tango (Buenos Aires) and even a Jamaican reggae (Kingston), Rae has created 12 short and engaging compositions that never venture beyond the clarinet's chalumeau register. Each of these compositions may be performed with either one or two clarinet parts (unison rhythms), or set against stylistically appropriate and spirited accompaniments in either the included CD or a separate piano book (not included). The accompaniment on the CD utilizes synthesized instruments, complete with rhythm sections where necessary, and Rae himself performs the clarinet parts. Rae includes whimsical cartoons on each page that provide context for the work being performed (city, dance, event, etc.); each cartoon may also be downloaded for coloring, further revealing the intended audience for these scores.
Technically speaking, the compositions contain a variety of tempos and time signatures, and reinforce such concepts as alla breve, compound meter, ties and accidentals. Rae indicates clear dynamic plans and applies diverse articulations and accent patterns throughout the works. He offers a pedagogically sound tool that is sure to motivate young beginners.
– Matthew Nelson
---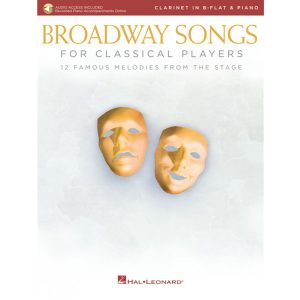 Broadway Songs for Classical Players. Hal Leonard, 2019. $16.99
This easy collection of 12 popular songs by Lloyd Webber, C.-M. Schönberg, Rogers, Leigh, Sondheim, Bernstein, Willson and Kern comes with a piano part and access to digitized performances of the piano parts on the Hal Leonard website. The playback tempo and intonation can be effortlessly adjusted to suit your clarinet playing needs. You can change the left/right balance and specify a repeating loop for practice.
– Gregory Barrett
---
CHAMBER MUSIC WITH PIANO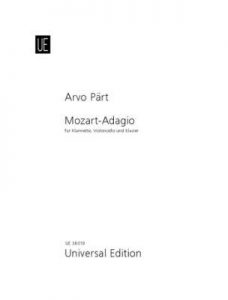 Arvo Pärt. Mozart-Adagio for clarinet, cello and piano. Universal Edition, 1992, 2005; this version 2017. Fischer/Presser distribution. $29.95
Arvo Pärt's native Estonia lies directly south of Finland, and it was for the 1992 Helsinki Festival that the original violin, cello and piano version of Mozart-Adagio was commissioned. Pärt had recently lost his friend, violinist and outstanding Mozart interpreter Oleg Kagan. In Kagan's memory, Mozart-Adagio weaves together the F minor second movement of Mozart's Piano Sonata in F major, K. 189e (280), with poignant intervals of the second and reference to Pärt's signature "tintinnabuli" style. This approximately 6-minute, slow tempo work is outwardly simple, yet deeply moving. The version with clarinet was written at the request of clarinetist Patrick Messina and was premiered by him in Paris in 2018. Written for the B-flat clarinet, one extremely high D7 could be lowered one octave.
– Gregory Barrett
---
CHAMBER MUSIC WITHOUT PIANO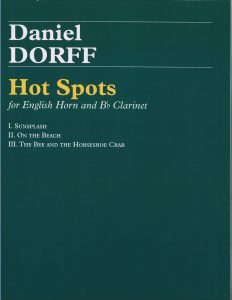 Daniel Dorff. Hot Spots for English horn and B-flat clarinet. Theodore Presser Company, 2019. $18.99
Daniel Dorff has been one of the most prolific composers for the clarinet, including his concerto Summer Solstice and his solo bass clarinet piece Flowers of St. Francis, premiered at the Assisi ClarinetFest®. His music is full of interesting melodic invention and rhythmic vitality, and Hot Spots, composed in the summer of 2018, is a worthwhile contribution to the repertoire that is completely in line with his musical aesthetic.
The piece was written for Duo Del Sol, a married couple consisting of clarinetist Karen Danessa and oboist Henry Grabb of West Chester University in Pennsylvania. Hot Spots is one of a series of works commissioned by the duo to expand the repertoire for clarinet and English horn. The title was inspired by the Spanish name of the ensemble and their stated preference: "We like vacationing where it's sunny!"
Hot Spots is an 8-minute, three-movement work of bubbly, beach-inspired music: "Sunsplash," a syncopated, predominantly homorhythmic piece; "On The Beach," a free call-and-response opening followed by a languid, cantabile duet in which the instruments walk in lockstep and diverge with a particularly effective climax toward the end; and "The Bee and the Horseshoe Crab," a fast-paced flight with a hint of calypso and an exciting conclusion.
The piece comes with two copies, both in score form. The first and last movements are four pages long, so the extra copy will be useful in a performance situation. Presser's music is always expertly printed and easy on the eyes. Both parts are written for advanced performers, especially the English horn part, which necessitates a player to negotiate rapid upward leaps and low register articulation. Hot Spots is adventurous chamber music with a light character and a sunny disposition.
– Osiris Molina
---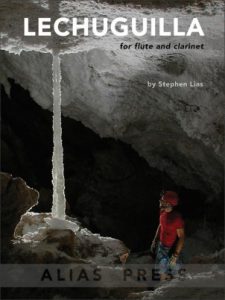 Stephen Lias. Lechuguilla for flute and clarinet. Alias Press, 2019. Fischer/Presser distribution. $8.99
Stephen Lias (b. 1966) is professor of composition at Stephen F. Austin State University, Texas, and has combined his love of nature and music into a series of works inspired by U.S. national parks. His 5-minute, medium-difficulty Lechuguilla is named after a system of passages and caves, at least 136 miles in length, in the Carlsbad Cavern National Park. Performers can use this natural wonder to fuel their imagination while interpreting the partially graphic score. The music has many brief contrasting sections that create a sense of suspenseful anticipation of what might come next – like a journey into the cave itself. About half of the duo is traditionally notated in a chromatic style and the other half includes aleatoric elements of wind sounds, with varying intensity and tessitura, key clicks and ad libitum rhythmic coordination. Flute and clarinet parts are printed together in the performance score five pages in length. This is a good piece of entry into stylistic modernism for second- and third-year college students.
– Gregory Barrett
---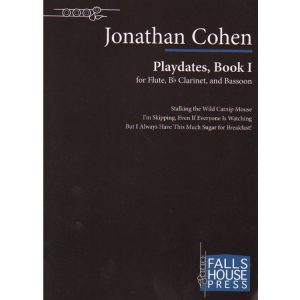 Jonathan Cohen. Playdates, Book I for flute, B-flat clarinet and bassoon. Falls House Press, 2019. Fischer/Presser distribution. $21.99
While enjoying a four-decade electrical engineering career, researcher Jonathan Cohen nursed his passion of flute playing and, since 2003, music composition. The three short movements of this medium-difficulty trio are fun and full of catchy rhythmic patterns. "Stalking the Wildcatnip Mouse" sets up alternating measures of 6/8 and 3/4. The parts are equal and require good awareness of subdivision. "I'm Skipping, Even If Everyone Is Watching" plays with a 5 + 4 grouping in each 9/8 measure. All players get a chance at this skipping rhythm that is set against a broadly flowing melody. Cross accents and contrary motion are additional features. "But I Always Have This Much Sugar for Breakfast!" features syncopated articulation in a fast tempo and an emphatic ending.
The clarinet part, due to key signatures of two and three sharps, may be the most advanced of the three – certainly fledgling clarinet chamber players are more accustomed to flat key signatures. Playdates will live up to its name for adult amateurs, high school and early college musicians.
– Gregory Barrett
---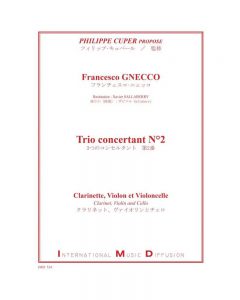 Francesco Gnecco. Trio Concertant No. 2 for violin, clarinet and cello. Arpeges, 2018. €16.03
Francesco Gnecco (1769-1811) is an Italian classical composer unknown to most of us today. He started his musical training with Giacomo Costa (violin teacher of Paganini) followed by composition lessons with G. L. Mariani in Savona. Gnecco was prolific in chamber music (a good number of string quartets, for example) but he also wrote sacred music and, above all, operas. His La prova di un 'opera seria, for which he wrote both music and libretto, obtained success in Genoa and London.
Gnecco wrote a series of clarinet pieces: Three Concertante Trios for violin, clarinet and cello; a Notturno for clarinet and string quartet, a Sextet for clarinet, horn, bassoon, two violins and viola; and two Quintets for clarinet and strings. He probably named a clarinet player (perhaps an amateur) as dedicatee of these pieces but unfortunately, we don't know for certain. The French publishing house International Music Diffusion Arpeges has for the first time published one of the three trios, and Philippe Cuper edited it. The music is simple and unpretentious in the typical classical style, with three short movements, and is easy but pleasant to perform. It would be interesting to have Gnecco's other clarinet compositions published!
– Luigi Magistrelli
---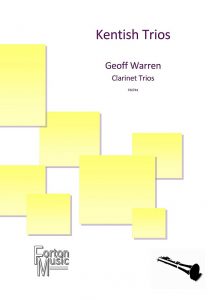 Geoff Warren. Kentish Trios for three clarinets. Forton Music, 2018. Digital £10.50, by post £12.00
Jazz flutist, composer, educator and big band leader Geoff Warren was inspired by nature in Kent County, England. Not using the literal meanings of the Kentish words that describe nature, he was instead guided by what they suggested, creating six movements that refer to flowers, bells and the stony characteristics of fields. Three clarinets are used, and the parts are nearly equal in their intermediate level of difficulty.
The movements are mostly notated in eighths, quarters, half and whole notes. Two are in compound meter and "Devil in the Bush" (a reference to the flower also known as "love in the mist") is in 7/4. All of the suggested tempos are fast and several of the selections would benefit from feeling the time in one or in cut time. The concise pieces are mostly ABA in form with a jazz sensibility, melodic interlocking parts and prevalent syncopation. My favorite is the last, "Stone Reach," with a short, repeating, bluesy motive. The range of Kentish Trios is modest and allows fourth or fifth-year players an opportunity for fun chamber music making.
– Gregory Barrett
---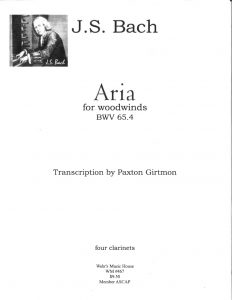 Johann Sebastian Bach. Aria, BWV 65/4 arranged for clarinet quartet by Paxton Girtmon. Wehr's Music House, 2018. $9.50
Paxton Girtmon has arranged the bass voice aria "Gold aus Ophir ist zu schlecht" from Bach's cantata Sie warden aus Saba alle kommen for three clarinets and bass clarinet (to low E). This is fitting as Bach's setting uses two oboes in the imitative texture with the singer and instrumental bass line. The third clarinet part is the one substituting for the voice and, due to instrumental necessity, its tessitura sometimes competes with the upper two lines. A singing style of performance for the third clarinet will help preserve Bach's intent.
– Gregory Barrett
---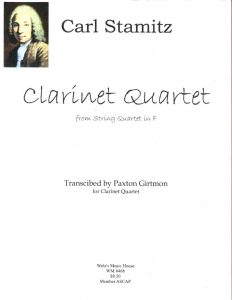 Carl Stamitz. Clarinet Quartet from String Quartet in F Major, arr. Paxton Girtmon. Wehr's Music House, 2018. $8.50
Carl Stamitz is a familiar composer among knowledgeable clarinetists and this easy, 56-measure, F major arrangement for three clarinets and bass clarinet is a suitable introduction for young players.
– Gregory Barrett
---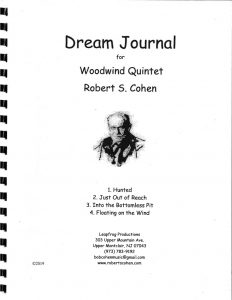 Robert S. Cohen. Dream Journal for woodwind quintet. Self-published: [email protected], 2019. $35.00
Robert S. Cohen is an award-winning composer of diverse choral, theatrical and instrumental works who resides in New Jersey outside New York City. The image of Sigmund Freud on the cover of the score and each part of this marvelous, medium-difficulty quintet sets the context for each of the four movements. "Hunted," the Allegro agitato first movement, takes place in the mind, not in the field, and features an interlocking staccato eighth-note ostinato divided between bassoon, horn and clarinet in alternating measures of 5/8, 2/4, 3/4 and 3/8. Layered above is a sustained minor ninth between flute and oboe that ends in a three-note flourish. Cohen uses great economy of material as the music develops in interesting ways. The movement ends emphatically.
"Just Out of Reach," a 3/4 Lento doloroso, which makes direct reference to an idea in Freud's The Interpretation of Dreams, uses a steady, pulsing, repeated quarter-note low B-flat to offset the Erik Satie-like semplice dyads in the higher instruments. At the midpoint a harmonic shift introduces increased counterpoint between the instruments without the pulsing ostinato. The introspective movement ends with the three highest woodwinds in an open chord with no third.
"Into the Bottomless Pit" captures the essence of the unattainable through motoric, high-speed triplets interlocking in Bartókian minor seconds. Ripping tritones in horn and bassoon enhance the agitation. The minor seconds idea is expanded into layers of descending chromatic lines – lower and lower. The accented intensity finally subsides, molto ritardando, with clarinet, horn and bassoon reaching their lowest registers and the bassoon having the conclusive last word, piano, on a low B-flat.
Your dreams and subconscious will come to the fore in the Molto tranquillo 6/4 final movement, "Floating on the Wind." This touchingly beautiful music has a little something for everyone: triadic harmony deepened with gentle dissonance, flowing rhythm, expressive use of phrasing and dynamics and the suggestive space to open the mind of performer and listener
to new ways of feeling and thinking. Highly recommended.
– Gregory Barrett
---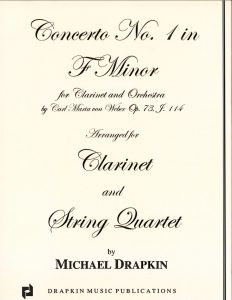 Carl Maria von Weber. Concerto No. 1 in F Minor, arranged for clarinet and string quartet by Michael Drapkin. Drapkin Music Publications, 2019. Fischer/Presser distribution $45.00
The Michael Drapkin universe of books, arrangements, bass clarinet orchestral parts and performances is vast. One of the latest stars to enter is his arrangement for clarinet and string quartet of the first Weber Concerto. The woodwind, brass, tympani and string parts in the usual orchestral accompaniment have been effectively adapted for the chamber music version. Minor concessions include occasionally missing the lower octave of the contrabass and not hearing a variety of timbres due to prominent melodic lines scored by Weber for woodwinds or horns now being played by the string quartet.
The production quality is outstanding with a beautifully engraved score and parts. Traditional rehearsal letters are included so that you can play from a solo part you have already marked, but the phrasing and articulation choices Drapkin has made are spot-on in his clarinet part.
– Gregory Barrett
---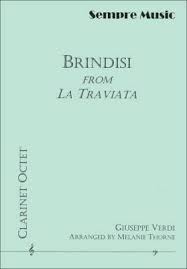 Giuseppe Verdi. "Brindisi" from La Traviata. Arranged by Melanie Thorne for clarinet octet. Sempre Music, 2019. Fischer/Presser distribution. $32.50
The famous music for the toasting/drinking song "Libiamo ne' lieti calici" is arranged in idiomatic fashion. The octet instrumentation is E-flat clarinet, four B-flat clarinets, alto clarinet and two bass clarinets. Included are substitute B-flat clarinet parts for E-flat and alto clarinet. The B-flat instruments play in notated C major. No extended range bass clarinets are needed. The highest written note in the E-flat clarinet is altissimo F-sharp.
– Gregory Barrett
---