Originally published in The Clarinet 47/1 (December 2019). Printed copies of The Clarinet are available for ICA members.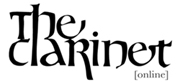 ---
"International Spotlight" showcases perspectives from the global clarinet community.
International Spotlight:
INTERVIEW WITH MICHELE MANGANI
by Luca Saracca, with translation by Barbara Haney
ENGLISH VERSION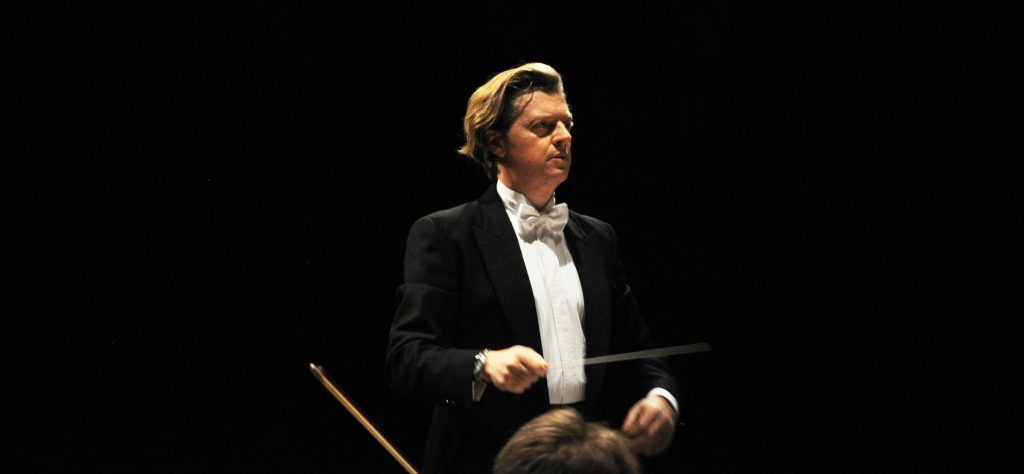 Urbino is home of Duke Federico da Montefeltro, birthplace of the artist Raphael, one of the most important centers of the Italian Renaissance, and, since 1998, a UNESCO World Heritage Site. The panorama from the fortress of the city center and the Ducal Palace is spectacular. I'm here to have coffee and chat with another native of Urbino, my friend and colleague Michele Mangani.
LUCA SARACCA: Thank you, Michele, for having found some time during late August, which I know is a very busy period.
MICHELE MANGANI: Thank you, Luca, and yes, as a matter of fact I'm about to leave for two commitments teaching ensemble music: first at Montecorvino Rovella in Salerno, then at the 2019 Band Camp in Castellabate, where I'll also direct the awards ceremony for the R. Leoncavallo Competition for Band Instrumentation. I'm also just back from the Ninth European Clarinet Festival and the world premiere of the clarinet and string orchestra version of my Three Latin Dances performed by Corrado Giuffredi.
LS: 2019 was a hectic but very rewarding year for you. I believe the Three Latin Dances had already been performed by Sergio Bosi at the South American Clarinet Festival in Peru.
MM: Yes, it was the premiere of the solo clarinet and clarinet choir arrangement; I directed it myself as guest of the festival organized by Marco Antonio Mazzini. 2019 is proving to be a very fulfilling year: I was invited to sit on the jury for numerous competitions, my music was performed all over the world – besides South America, I was also invited by David Shifrin to the 49th Portland SummerFest to direct the world premiere of Dance Variations on a Theme of Mozart for clarinet choir, based on the motif from the fourth movement, "Allegretto and Variations," of Mozart's Quintet, K. 581. When it was commissioned, I was asked to give each member of the choir, from E-flat to contrabass, a turn as soloist, and the seven variations are each in a different style: Waltz, Jig, Ragtime, Tango, Swing, Bossanova and Czardas. In June I also won First Prize at the International March Composition Contest in the city of Allumiere.
LS: A first prize that you can add to the 20-plus you've already won; with all these awards and commendations, composing must be your primary activity, also in light of your many diplomas.
MM: I'd say so. I like to consider composition my primary musical activity; next would be conducting. Actually my first diploma is in clarinet, followed in order by band instrumentation, composition, choral music and choir directing and orchestral conducting.
LS: Did you earn all these diplomas at the Conservatory "G. Rossini" of Pesaro, where you currently teach wind ensemble?
MM: All but one, in choral music and choir directing, which I received from the Conservatory "G.B. Martini" of Bologna.
LS: How many pieces have you written so far?
MM: I've written 978: 323 for band, 485 chamber works (mostly for clarinet or with clarinet), 113 for orchestra and 57 for chorus.
LS: Sure, 57 for chorus, because in addition to teaching at the conservatory, composing, directing the Wind Orchestra of le Marche, and much more, since 2017 you've also served as artistic director of the Choral Academy of the Santissimo Sacramento of Urbino, which besides its historic Chorale has a Wind Orchestra and a Music Academy. So 978 is a huge number of compositions, but that number continues to grow – are they all published?
MM: No, not all, but by my latest count over 600 are, and those are in the catalog of Sylvio Maggioni's publishing company Eufonia.
LS: So Eufonia has exclusive rights to your work?
MM: Well, yes. Keep in mind that I have so much in common with Sylvio. Like me, he's also a clarinetist, conservatory teacher and band director; we happened to meet at the beginning of my career when I was looking for a publisher, and when he, in addition to his many other activities, wanted to start a publishing house. We don't just work together, though, we're also friends. Because of all that we share, Eufonia publishes my works regardless of category.
LS: Even if you don't have the exact numbers at the moment, would you say that clarinet music and works for band account for the majority of your music?
MM: Definitely. The numbers speak for themselves, most of all for the band pieces. I've always written for band and I'll continue in the future. As far as clarinet, in recent years I've been writing more for it than for any other instruments, especially winds, for various reasons (besides the fact that it's my instrument): requests and commissions from international festivals, including those that I participate in; feedback from my publisher on the continued growth in sales of clarinet music, and, as a result, also of performances; and probably my greatest inspiration, my many friendships and collaborations with the clarinetists themselves.
LS: Are we perhaps referring to Sergio Bosi and Corrado Giuffredi, who you mentioned earlier?
MM: Yes, of course. Sergio and I are about the same age; he recently came out with a CD of my music for clarinet and piano. We had the same teacher, and have known each other for so long that it couldn't be any other way. Plus about 10 years ago Sergio introduced me to Corrado, who first brought my work to ClarinetFest® when he played Verdiana; this year as well he's performed several of my world premieres, besides the one at the European Clarinet Festival: the Tango Duets with Jose Franch-Ballester at the Portland (Oregon) SummerFest, the clarinet and piano version of Dance Variations on a Theme of Mozart and Colors of China at the Lauzhou International Festival, and Clarinettomania at the Festival of the Hebrew University of Jerusalem. But by no means do I want to limit my performances to these few great players; I'm really happy to see so many people program my music on their concerts – even young players seem to enjoy it, asking me to autograph their scores at master classes, festivals and concerts, and this gives me a great feeling of pride and satisfaction.
LS: The year 2019 is coming to a close, but I assume you still have a very busy schedule ahead of you in the next four months.
MM: Besides what I've already mentioned for the near future, on September 13 I'll be in Pesaro when Stefania Lanari, Anna Pini and Sergio Bosi present their graphic art/musical collaboration "How Eugenio Ended Up Becoming a Musician," for which I wrote the original score. From October 24-27, the 17th Carlino International Competition will have a new category "Clarinet Solo with Band," for which the finalists will play my piece Executive. From November 8-10, I'll serve on the committee for the Sixth Band Competition at the Alelona Theater in Montegiorgio in the province of Fermo, but since the first week of November starts the new academic year at the Conservatory, you know as well as I that this will mean a lot fewer concerts and other extracurricular activities.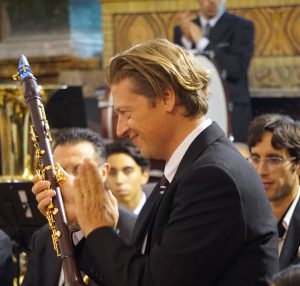 LS: I'd like to end this interview with some breaking news that I need you to confirm, and that is that you were just awarded the National Cultural Prize of Montefeltro.
MM: Yes, that's true – the full name is National Cultural Prize "Frontino Montefeltro," 38th Edition 2019, in the "Personalities" category. The award ceremony will be on Sunday, October 6, at 10 a.m. at the Monumental Complex of Montefiorentino in Frontino, a small town in the province of Pesaro and Urbino.
LS: Congratulations on the award. Thanks for the opportunity to spend the morning together, not just for the interview, but for the chance to return to your beautiful city and to admire the panorama from this unique spot. I'm sure I'll be seeing you again in the near future, though with all your upcoming engagements that may not be until ClarinetFest® 2020 in Reno, where we'll hope you'll have some world premieres.
MM: It's possible, but still too early to say for sure. As always, though, it would be a pleasure to participate in ClarinetFest®. For now, thank you, and I send greetings from Urbino to all my friends, colleagues and readers of The Clarinet.
* * * * *
Find more information about Michele Mangani on Facebook, at http://michelemangani.it or by email at [email protected].
---
ABOUT THE WRITER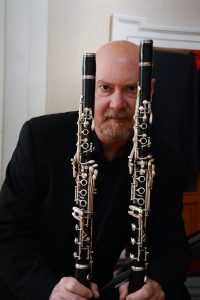 Luca Saracca is chair of international relations for the ICA and professor of clarinet at the Conservatory of Music "Francesco Morlacchi" in Perugia, Italy. He was born in Perugia where he studied clarinet at the conservatory under the guidance of Ciro Scarponi, and later studied at the Salzburg Mozarteum Akademie with Alfred Prinz (Vienna Philarmonic). He has performed on clarinet and basset horn throughout Europe and the U.S. with many chamber music ensembles and orchestras including the Orchestra Filarmonica Marchigiana and Namaste Clarinet Quartet. Saracca plays Herbert Wurlitzer Reform Boehm clarinets.