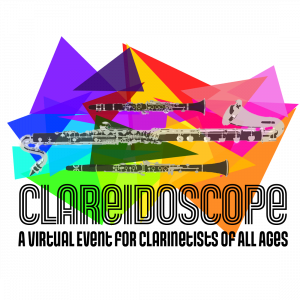 Clareidoscope is a one-day virtual festival on Saturday, March 19th from 12:00 noon – 6:00pm (eastern time zone) featuring performances, clinics, performance competition, essay and composition contests, and all sorts of clarinet fun! This event is free and open to anyone who loves the clarinet and wants to spend some quality time with the other clarinet advocates. Come and meet fellow clarinetists from around the United States and beyond!
Clareidoscope is free to attend and enter any competition (all music for the performance competitions are in public domain with free access). 
This event is sponsored by the ICA United States State Chairs.
For more information, look at details on the International Clarinet Association's website at https://clarinet.org/event/clareidoscpe-2022/.
Register for free: https://ica.wildapricot.org/event-4586697
COMPETITION INFORMATION
Clareidoscope 2022 Essay Competition
Submissions for the 2022 Clareidoscope Essay Competition will be judged by the ICA State Chair essay committee, with one winner selected from each age category. Winners will be asked to read their essays in a recording or live during Clareidoscope 2022.
Guidelines for submissions:All submissions are due by March 1, 2022.
Participants may not resubmit essays used for previous Clareidoscope festivals. 
Formatting:
500-700 words
12 pt standard font (Calibri, Times New Roman, etc…)
1-inch margins
Double spaced
PDF preferred, will also accept .doc and .docx files
Questions: 1. Describe how playing the clarinet has affected or shaped your life. 2. Write about a particular piece of music or a musical style that has influenced your own clarinet playing. How did you change as a musician having performed this? 3. How does music influence culture and create community? This may be discussed in reference to experiences you have had, or ways you envision music creating positive connections in the future. 4. Describe one of your most significant musical experiences, and how it impacted you as a person and/or clarinetist.
Clareidoscope 2022 Composition Competition – works for solo clarinet 
Composition Competition requirements:Submitted compositions should not be published or previously publicly performed. Composers should select the level representing their own age as of January 1, 2022 – there will be one winner in each age category.
JuniorAge: 11–14 as of January 1, 2022SeniorAge: 15–18 as of January 1, 2022Young ArtistAge: 19–26 as of January 1, 2022
The submitted composition's performance difficulty level should be written on the submitted score, from the categories Junior, Senior, and Young Artist.
Judges for the competition:  ICA State Chair Composition Sub-committee
Restrictions:Deadline:  March 1, 2022 @ 11:59pm Eastern
Piece:  Solo clarinet Time limit: 2 minutes minimum, no longer than 5 minutes Range: E3 – G6 Extended techniques – minimal or none Must attach PDF and a recording,  live or midi mp3
Clareidoscope 2022 Performance Competition Repertoire
Sponsored by the ICA US State Chairs
All repertoire is available in the public domain from imslp.org or was donated by the composer for use in Clareidoscope 2022 and appears below.
Deadline:  March 1, 2022 @ 11:59pm Eastern
JuniorBb/Eb: Friedrich Demnitz, Elementary School for the Clarinet, No. 6 in B Minor OR No. 16 in G Minor Bass/Alto: Friedrich Demnitz, Elementary School for the Clarinet, No. 18 in D Minor
SeniorBb/Eb: Beth Wiemann, Wading Blue Heron Bass/Alto: Cyrille Rose, 32 Etudes, No. 1 in C Major OR No. 4 in A Minor
Young ArtistBb/Eb: Paul Jeanjean, 16 Modern Etudes, No. 3 (Em), AND Victor Blancou, 40 Studies for Clarinet from the works of Mazas, No. 11 in D major Bass/Alto: Cyrille Rose, 40 Studies, No. 7 in D minor OR Victor Polatschek, Advanced Studies No. 6: After JS Bach, French Suite in C minor
Adult AmateurBb/Eb: Lori Ardovino, Eloquence II Bass/Alto: Xavier Lefèvre, 60 Exercises for Clarinet, No. 24 in F Major OR Friedrich Demnitz, Elementary School for the Clarinet, No. 7 (AM)
Sheet music for the performance competition can be found on the Clareidoscope event page in the ICA Virtual Conference Center: https://clarinet.org/event/clareidoscope-2022/
All competition entries can be submitted online at