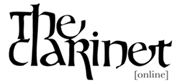 Originally published in The Clarinet 49/1 (December 2021). Printed copies of The Clarinet are available for ICA members.
---
2021 ICA Competition Reports
---
2021 ICA Young Artist Competition
by Diane Barger, coordinator
This year, the Young Artist Competition received 24 applications representing six countries. The repertoire list was as follows: Charles-Marie Widor – Introduction et Rondo, Op. 72, Ida Gotkovsky – Sonata for solo clarinet (movements 1 and 4) and Scott McAllister – BlingBling for clarinet and piano (all).
Due to the pandemic and the decision to make the 2021 ICA ClarinetFest® an online virtual event, there was only one round of competition. The judges for the competition were David Cook (Illinois, USA), Lara Díaz (Spain), Antonio Fraioli (Italy), Cecilia Kang (Louisiana, USA) and Severine Sierens (Belgium). The judges selected three prizewinners:
First Prize (US$2,500 and a Yamaha clarinet): António Lopes (Portugal)
Second Prize (US$1,000): Tiago Agostinho Maia Gonçalves (Portugal)
Third Prize (US$500): Michael Miller (Florida, USA)
First prize winner António Lopes is a member of the Neue Philharmonie München (Germany) and the Portuguese Academic Philharmonic Orchestra (Portugal), and plays EÌ clarinet in the Banda Sinfónica Transmontana and the ARMAB Symphonic Band in Portugal. He is completing a master's degree in music education at the Escola Superior de Música e Artes do Espetáculo in Porto, Portugal, and studies with Antonio Saiote and Tiago Bento. Lopes received US$2,500, a professional clarinet donated by the Yamaha Corporation and an invitation to perform at the 2022 ClarinetFest® in Reno, Nevada. The first prize was presented by Brian Petterson, Senior Marketing Manager of Winds and Strings for the Yamaha Corporation. Second prize of US$1,000 was awarded to Tiago Agostinho Maia Gonçalves. He recently completed his first year of his music degree at the Escola Superior de Música e Artes do Espetáculo in Porto, Portugal, where he studies with Nuno Pinto. Third prize was awarded to Michael Miller. Miller is a senior studying at the Eastman School of Music with Michael Wayne. He received a US$500 prize.
Congratulations to the winners and to all the competitors for their superb musical accomplishments. The ICA gratefully recognizes and thanks the Yamaha Corporation for donating the competition prize and for supporting our young artists!
---
2021 ICA Orchestral Audition Competition
by Vanguel Tangarov, coordinator
The 2021 ICA orchestral audition competition took place virtually. Despite the challenges of the COVID-19 pandemic, all the finalists auditioned with highest quality recordings they had to prepare and send for evaluation. The international jury panel was comprised of principal clarinet players from around the world: Mark Nuccio, principal clarinet of the Houston Symphony, USA; Michele Zukovsky, former principal clarinet of the L.A. Philharmonic, USA; Kathleen Jones, principal clarinet of the Puerto Rico Symphony, Puerto Rico/USA; Philippe Cuper, principal clarinet of the Paris Opera, France; Gabor Varga, principal clarinet of the Hungarian National Radio Orchestra, Hungary; Mihail Zhivkov, principal clarinet of the Sofia Philharmonic, Bulgaria; Manuel Hernández, principal clarinet of the Mexico City Philharmonic, Mexico. The winners of the 2021 edition of the competition were:
First Prize (US$1,000 and a Chedeville clarinet mouthpiece): Randel Leung (Colorado, USA)
Second Prize: (US$500 and a Chedeville clarinet mouthpiece): Claire JaeYoun Chung (California, USA)
Randel Leung is currently finishing a D.M.A. degree at the University of Colorado Boulder in clarinet performance and pedagogy under the mentorship of Daniel Silver. He also obtained degrees from the Hong Kong Academy for Performing Arts and the University of Texas at Austin. Leung's previous mentors include Joaquin Valdepeñas, John Yeh, Jason Shafer, Jonathan Gunn, Steve Cohen, Richie Hawley, Andrew Simon, John Schertle and Maria Wong.
A recipient of the Pi Kappa Lambda Nominee award, Dr. Claire Chung finished a D.M.A. degree in 2020 at the USC Thornton School of Music, studying with Michele Zukovsky and Yehuda Gilad. She also received an M.M. at the Juilliard School, studying with Charles Neidich, and a B.M. at the Korean National University of Arts, studying with Kwang-Ho Oh.
Congratulations to the winners and good luck with their future careers.
---
2021 ICA High School Competition
by Kimberly Cole Luevano, coordinator
The 2021 ICA High School Competition took place virtually with audio recordings submitted by 65 students aged 18 years and younger. The repertoire for the 2021 competition included the Malcolm Arnold Sonatina (all movements) and Katherine Hoover's Set for Clarinet (movements 2 and 3). Heartfelt thanks to our distinguished international panel of judges that included: the Barcelona Clarinet Players, Barcelona, Spain (Javier Vilaplana González, Manuel Martínez Minguez, Martí Guasteví Olives, Alejandro Castillo Vega); Ricardo Dourado Freire, Professor of Clarinet, University of Brasilia, Brazil; Xiaoting Ma, Professor of Clarinet, Soochow University, China; Marie Ross, Professor of Clarinet, the University of Auckland, New Zealand; and Stephanie Zelnick, Professor of Clarinet at the University of Kansas, USA. The judges evaluated two anonymous rounds of listening in order to reach consensus. The panel was unanimous in their praise of the high level of performance represented this year. The judging panel determined the following prizewinners:
First prize (US$1,000): Jorge Neves (Portugal)
Second prize (US$750): Eduardo Seabra (Portugal)
Third prize (US$500): Taig Egan (Connecticut, USA)
Honorable Mention: Jaejun Kang (New Jersey, USA)
Thanks to all who entered, and we look forward to the 2022 competition!
---
 2021 ICA Composition Competition (Bass Clarinet and Piano)
by Scott McAllister, coordinator
The 2021 ICA composition competition winner was Chris Heine for his composition for bass clarinet and piano titled June Sleet. This work will be performed at ClarinetFest® 2022. There were nine entries and the judges were Christy Banks, Osiris Molina and Scott McAllister. The competition was anonymous and submitted electronically.
Chris Heine is a composer, producer and electric bass player hailing from Kingston, Massachusetts. After studying at Berklee College of Music, Heine graduated with a degree in contemporary writing in production in 2019. A lover of contemporary music, Heine draws influence from a wide variety of genres, incorporating elements of everything from rock to electronic to funk to jazz in his works.
Winner: Chris Heine
Composition: June Sleet
Prize: US$1,000
---
 2021 ICA Research Competition
by Jane Ellsworth, coordinator
The ICA's 2021 Research Competition took place on June 26. There were five excellent finalists. The first place winner was Shannon McDonald; second prize was awarded to Lacey Golaszewski. An honorable mention was given to Anderson César Alves. All finalists are listed below, along with their presentation topics.
First Place (US$1,000 and guaranteed publication in The Clarinet): Shannon McDonald (USA)
"Accommodating Learning Differences in the Clarinet Studio: Private Teacher Experiences and Pedagogical Guide"
Second Place (US$500): Lacey Golaszewski (USA)
"Fashioned by Irony: The Life and Clarinet Literature of Eugène Bozza"
Honorable Mention: Anderson César Alves (Brazil)
"Clarinet Expert Teacher: Investigation on Pedagogical Practices in Music Performance"
Finalist: Kristine Dizon (Canary Islands)
"Breaking the Glass Ceiling: Works for Clarinet and Piano by Holmes, Grandval, Tailleferre, Aubin, Rueff and Gotkovsky"
Finalist: Katherine Breeden (USA)
"Perspectives on Cultivating a Positive Collegiate Clarinet Studio Environment: A Survey of Students and Professors"
Many thanks are due to all of the presenters, as well as to the judging panel: Elizabeth Aleksander (University of Texas at Martin), Lori Baruth (Morehead State University) and Antoine Clark (Ohio Wesleyan University and Assistant Conductor, Wheeling Symphony). The call for papers for the 2022 competition is currently underway and submissions are welcome; see the ICA website for details. The deadline is January 15, 2022.
---