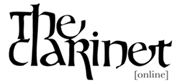 Originally published in The Clarinet 49/2 (March 2022). Printed copies of The Clarinet are available for ICA members.
---
Interview with Sabine Meyer and Reiner Wehle
by Eddy Vanoosthuyse
Herbert von Karajan, Claudio Abbado, Sergio Celibidache, the Berlin Philharmonic, the Lucerne Festival Orchestra and so much more – we all know them by name, but for Sabine Meyer they are daily contacts. I have met Sabine Meyer on different occasions: at festivals, with my orchestra the Brussels Philharmonic – with which she performed as a soloist – and most recently in Paris. I always saw a very positive and great personality. We are the same age, and for me (and for a lot of us), she is the "Grande Dame" of the clarinet. I thought this was the moment for a double interview with Sabine and her husband Reiner Wehle, who is also a first-class musician, clarinetist and soloist. While preparing this interview, I saw the impressive concert schedule of Sabine: 18 concerts in the first half of 2022, including performances in Munich, Vienna, London and Taipei. Incredible! Respect! Sabine and Reiner had a trio with Sabine's brother, Wolfgang, the Trio di Clarone. Wolfgang Meyer was also a great teacher and performer, and he sadly passed away in 2019. We spoke about a lot of things, and it was clear that Sabine and Reiner are two very warm family people with a great heart for music.
---
Eddy Vanoosthuyse: Dear Sabine and Reiner, thank you for this interview! Let's start from the start; when was your first contact with classical music?
Sabine Meyer: My father was a very gifted musician. He studied clarinet and piano and he was an important teacher in the region of Crailsheim in South Germany, where I was born. He taught a lot of instruments such as clarinet, piano, saxophone, accordion and so on. He was a very good jazz musician with his own bands and we had at home a music store, where you could find various instruments. My husband Reiner says that in our family, making music was as natural as eating, drinking and sleeping!
So I started to play the piano and the violin at the age of 6. At 8 years old I got a clarinet and from the age of 10 I learned playing the organ as well. Up to the age of 17 or 18 I played and had lessons in all these instruments, but the clarinet was my favorite. It was like singing, creating the tone with my breath. The clarinet also gave me my first and biggest successes; I won several competitions and got a place in the National Youth Orchestra of Germany at the age of 11 (which is really early!). That was a great time! I was able to play the big repertoire and on top of that, I took great trips with the orchestra to foreign countries like Israel, Brazil and the U.S.!
From a very young age it was clear that music would be my life and it was clear that the clarinet was my instrument.
Now of course, many members of the National Youth Orchestra of Germany are professional musicians, so very often, when I'm the soloist with a German orchestra, I meet members from these early years.
Reiner Wehle: My life was totally different from Sabine's; I was born in Kiel (in North Germany), my father was an architect and I wanted to also become an architect. My parents had no relation with classical music, but my father loved the traditional Bohemian wind music (Egerländer Blasmusik), which was in former times (not in our commercial times) a very fine and touching kind of music. So when I was 8 years old, my father decided that I should learn the trumpet. But when we listened to a concert of a youth wind orchestra I noticed that the trumpets had to stand in the last row, and I immediately decided to learn the instrument of the first row which was the clarinet!
I have had a lot of fun and success with the instrument (competitions, many concerts in orchestras, in chamber music and as a soloist too), but I never planned to study music; I wanted to be an architect. Very late, at the age of 20, I met the famous teacher Hans Deinzer and he opened my eyes to the professional classical music field, and then I started to study with him in Hanover.
EV: So for Sabine, everything came naturally, although for Reiner the real start came later. Reiner studied in Hanover, and Sabine? By the way, how was that study process?
SM: I studied as a very young girl in Stuttgart in a so-called Vorstudium; later I started a regular course and at the age of 17, I went to Hanover and joined the famous clarinet class of Hans Deinzer.
RW: I knew Sabine before, because I heard her in competitions and all of us saw her on the famous television show of Anneliese Rothenberger which was the first talent show on German television. When Sabine came to Hanover, I had already studied there for one year. Later I completed my studies with Guy Deplus in Paris.
EV: So you met as students in the class of Hans Deinzer and then…?
RW: We married in 1987 but we have been a couple since 1977 (which is a very good system!). Sabine and I have two children, a son Simon (who is 34 now) and a daughter Alma (she is 33). Both of them were very gifted and talented for music and played different instruments. Simon played the clarinet and changed at the age of 15 to playing keyboard in a rock band (they were very good, but much too loud for us!). Alma played the bassoon first and then changed to the piano. But both children didn't have the desire to become musicians. Simon is a physicist and Alma is a psychotherapist. Both love music and are very fastidious listeners in concerts!
EV: Did you teach your children yourselves?
SM: We tried to teach Simon, but it didn't work very well, so later he got lessons from one of our students. We are very happy that they love music (including classical music) but we are also happy that they didn't become professional musicians.
EV: Sabine, how was your contact with Herbert von Karajan? Where did you meet?
SM: It's complicated; in this time, everything changed a little bit, including the Berlin Philharmonic Orchestra. They got younger and more open. The first time I applied for an audition, I was not invited. Because nobody (all male candidates) passed, the orchestra started a second audition some months later and that time they invited me.
RW: At this second audition, Sabine passed as the best. I know this situation very well, because I played in the first and in the second audition and I remember the moment when the people came in and said that Sabine was the best and they decided to test her in some orchestra programs.
SM: So in the following months, I played some different programs in the orchestra. In that time, I was really the first woman to play in the Berlin Philharmonic, but the orchestra was absolutely fair. After a few months, Karajan noticed that the orchestra tested a female clarinet player and he got curious. He invited me to play an audition for him, which I did, and Karajan wanted to engage me immediately. But this was the beginning of all the trouble, because the orchestra wanted to make their own decision first. It was complicated, but it was no problem of male or female!
EV: Did you have contact with him after you left the Berlin Philharmonic?
SM: After this very long struggle between Karajan and the orchestra it was I who made the decision to quit the orchestra. We had longer phone calls then, but we didn't meet personally again.
EV: For the world, this was the start of an international career!
RW: Sabine's international career started some years before the Berlin time. She had a contract with the best German concert agency, Konzertdirektion H. U. Schmid in Hanover, about three years before and she had a lot of important concerts. And of course she had a very good job in the Symphonie Orchestra of Bavarian Radio.
EV: How was Sabine's relation with von Karajan, once she got the job in the Berlin Philharmonic?
RW: Karajan liked her very much and he was absolutely convinced of her talent. He said that Sabine was a talent which happens once in a century (I personally think he was right!). She played many concerts under his direction. The Berlin Philharmonic in that time had a huge repertoire but very few rehearsals. Karajan worked every piece and solo with her; he was like a father to her.
EV: How was life with a star? Also, you made a great international career, with prizes in competitions in Prague, Comar, Martigny, Toulon and ARD Munich. Was there ever a competition between you and your wife?
RW: Sabine was so talented also as a young woman. When she came to study in Hanover, her brother Wolfgang (who was 5 years older – we were the same age) studied with us. It was clear for all of us that Sabine was a special musician, her playing had more warmth and more feeling and her technique was outstanding. We all admired this and no one was envious. For me (and I think for most of us) it was clear that this talent was unique; we didn't have any problems with this. For me, it was important to have enough success on my own, and as you said I won several prizes at competitions as a soloist and as a chamber musician, I had good positions in orchestras and so on… It was a competition with Sabine but in a totally different way than people think. Her playing helped me to reach my level and I helped her too to improve.
EV: You were principal clarinet in the Munich Philharmonic under Sergio Celibidache. How was it to work with him?
RW: Celibidache was a genius and very, very impressive. I played hundreds of concerts under his direction and most of them are the best concert memories of my life. Especially Debussy, Ravel, Bruckner and Prokofiev were unbelievably good. And unlike Karajan, he held many, many rehearsals and all of us learned so much. It was the most important time in my musical life.
EV: You mentioned already Sabine's brother Wolfgang; also a great clarinet player, who won international competitions! He was the clarinet professor in Karsluhe. You performed as a trio, the Trio di Clarone.
SM: Since the 1980s we played as a trio. We didn't anticipate having a career with such a strange trio form, but we wanted to play a birthday concert for our mother with a program with a mixture of Mozart and contemporary music. It was a big success. Over the years we played more than 600 concerts together with very interesting programs.
RW: Wolfgang was as a clarinet player on the same exceptional level as Sabine. He had huge success as a player and as a teacher. In playing together, Sabine and Wolfgang were like conjoined twins. I remember so many wonderful performances of them, for example with the Mendelssohn Concert Pieces, or Krommer's Double Concertos or contemporary music like Peter Eötvös's Double Concerto. Great! And I'm extremely happy to have played with Wolfgang and Sabine in the Trio di Clarone for so many years.
SM: Wolfgang was so creative; he premiered many pieces of contemporary composers and he had also a very good
feeling for jazz. It was a great pleasure to play with him our Benny Goodman program with big band and symphony orchestra (Copland, Arnold, Stravinsky, Bernstein and
Benny Goodman).
EV: You both taught at the Musikhochschule Lübeck; how did both of you feel about working with young musicians?
SM: To teach clarinet is a very different job! More than to play. Each of us has had our own classes and we both loved to work with young people and to help form a person and a career. I think our work with the students has been very personal. The students have had so much success – and by success I don't mean to win the ARD Competition in Munich (although six of our students got prizes in Munich) – no, success is to find the right place for everybody in a really individual way.
EV: You both worked in different orchestras – did you ever work together as a section?
RW: Sabine, Wolfgang and I played for 10 years together in the Lucerne Festival Orchestra with Claudio Abbado.
EV: You both play German instruments; may I ask what you think about the French and German clarinet systems?
RW: Also a difficult question. We think that the differences between the systems are absolutely overestimated. I also possess good Boehm clarinets for teaching, and I think the difference in tone and color is more a result of mouthpiece and reeds. In general, all clarinet players should take more care to use good and powerful reeds. And very often, when you hear a clarinet on the radio, you couldn't say whether it's a Boehm clarinet or a German clarinet.
EV: About the instrument systems and styles, I think that in the past the schools were very different: German, French, English… players played totally different, but now everything comes closer to each other… do you agree with that?
RW: You are right, at the moment all players change to a sound they call "dark" (and we call it "boring"). In Germany, most of the players changed to very open mouthpieces like on the Boehm system. And of course also on the Boehm system, everything went "international." Forty years ago, for example, when I studied in Paris with Guy Deplus, French players had a distinguished, fine and bright sound, which was nice. So there were much more differences in the clarinet world, and we think it was more interesting.
SM: As Reiner said, it's more and more boring. But the worst is that so many players nowadays use plastic reeds. Maybe it's a beautiful tone in mezzo piano and in the middle register, but we have more registers and more dynamic ranges. It is so easy to concentrate on one color and an "easy feeling" but as a real artist you should want much more. And no violin player will use a plastic violin!!
EV: I suppose you each have a clarinet piece that you love more than others – which is it and why did you choose this piece?
SM: Both of us have the concerto for basset clarinet and orchestra of Mozart as our favorite clarinet piece. It's just the best piece ever written for a wind instrument!
RW: There are some other pieces – as clarinet players, we have such a rich and important repertoire: Mozart, Schubert, Schumann, Brahms, Reger, Berg and so on. Sabine and I love the same pieces, beside the Mozart Concerto it's probably Alban Berg's Four Pieces and Reger's Clarinet Quintet.
EV: The same question with an orchestra piece – which piece does each of you like the most, and does the choice also have a relation with a conductor?
RW: We like all the repertoire of orchestra music; it's the best music for a clarinet player – Mozart, Beethoven, Schubert, Schumann, Brahms, Mahler, Shostakovich, Prokofiev, Berg, Bartók, Ligeti – a never-ending repertoire! To give some examples, Karajan, Celibidache and Abbado have been totally different. But all of them had the deep knowledge of music and the possibility to create a special atmosphere in the concerts. Celibidache was the best to teach an orchestra in the rehearsals, but all three have been very impressive. Because you insist, there are some combinations that have been unique. Celibidache with Bruckner, Ravel and Debussy; Abbado with Mahler; and Karajan with all the romantic Repertoire, like Wagner, Verdi and Brahms.
EV: How do you think about contemporary music?
SM: We love to play new music and we are absolutely convinced that our time needs up-to-date music to express the problems and situations of our time. It's a big pity that galleries with paintings of, for example, Mark Rothko or Gerhard Richter are overcrowded, but in classical concerts the audience (or more, the promoter) doesn't like to schedule music from Ligeti, Kurtag or Birtwistle. If we don't perform music of our time, we will be only a museum and that's too modest for a true artist!
RW: Our teacher Hans Deinzer was a fantastic player of contemporary music (he premiered for example Boulez's Domaines and Isang Yun's Riul). So he opened our ears for new ways and sounds during our studies in Hanover. But both of us had the opinion that it's not good to perform new music in "silos" for a very limited and special audience. So from the beginning we tried to have in most of our concerts new compositions. Sabine premiered about 40 new pieces. Some of them are very important and beautiful and we are sure that they will be repertoire for generations. Our favorites are: the wind octets (or nonets with contrabassoon) of Edison Denisov, Nicolo Castiglioni and Toshio Hosokawa; the Quartet for clarinet, basset horn, bass clarinet and piano by Jean Francaix, and the clarinet concertos by Manfred Trojahn (Rhapsodie), Toshio Hosokawa (Metarmorphosis), Fazil Say (Kayyan) and Marton Illés (Re´Akvarel).
EV: What advice can you give to young players?
SM: As I said before, it's a dream to play in a good orchestra, but there are many other ways to be a musician. As a freelance musician you can do many different things (teaching, chamber music, contemporary music, playing in ensembles of period music, jazz, klezmer music, concerts for children and so on) and you could change your focus many times in your life. So that could be more interesting than 40 years in the same orchestra! You must have ideas and creativity! And you should stay curious your whole life!
EV: Which non-clarinet music does each of you like, in the classical world and outside of it?
SM and RW: Both of us like to hear jazz music. In the classical section we like string quartets, Baroque music, piano music and good singers (especially German Lieder like Schubert and Schumann). We don't listen to symphonies and operas.
EV: What are the plans for the future of each of you?
RW: Both of us retired from the Music Academy. I have very few concerts in the future; Sabine is playing a lot. But we have some very nice duties: we have two nice little grandchildren and the third should come in the next days. We have our farm near Lübeck with a big garden and our horses and end of January we will get a dog again (Belgian Shepherd).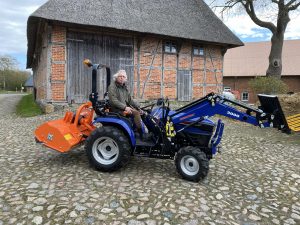 ---
About the Writer
Eddy Vanoosthuyse is principal clarinet of the Brussels Philharmonic, and professor at the Royal Conservatory of Music Ghent and at the Fontys Conservatory Tilburg. He appears frequently for solo performances and master classes throughout the world and is the international vice president of the ICA.