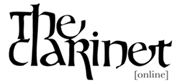 Originally published in The Clarinet 49/2 (March 2022). Printed copies of The Clarinet are available for ICA members.
---
Un hommage à Armand Ferland (1926-2021)
par François Ferland
The English version can be found here
C'est avec beaucoup de tristesse que je dois vous informer du décès en août dernier d'Armand Ferland, mon père, clarinettiste émérite bien connu de plusieurs lecteurs de The Clarinet. Il avait 95 ans. Musicien extraordinaire, superbe clarinettiste et excellent chef d'orchestre, il était à la fois un interprète, un professeur et un savant.
Il naît à Saint-Boniface, au Manitoba (Canada), le second de sept enfants. Il commence tôt l'étude du violon (il joue dans le quatuor à cordes familial) et entreprend la pratique de la clarinette quelques années plus tard pour pouvoir se joindre à une harmonie. Il déménage à Montréal, au Québec, à 21 ans pour étudier la clarinette au Conservatoire de musique de Montréal ; le Conservatoire n'acceptait à cette époque que deux étudiants par année provenant de l'extérieur du Québec et il fut l'un d'eux en 1947. Il termine le cours en quatre ans, après s'être inscrit à presque tous les cours non obligatoires offerts (cela faisait de lui un objet de curiosité parmi ses pairs, car il passait beaucoup de temps à étudier plutôt qu'à travailler son instrument) et obtenant des notes élevées malgré tout.
Il s'enrôle aussi à cette époque dans la Musique des Fusiliers Mont-Royal, un organisme de la Réserve de l'Armée canadienne. Il gravit rapidement les échelons jusqu'au grade de sergent, tout en attirant l'attention du leadership national des musiques militaires. Début 1952, ayant terminé ses études à Montréal et nouvellement marié, plutôt que d'entreprendre une carrière d'instrumentiste comme on aurait pu s'y attendre, il passe à la Force régulière de l'Armée canadienne. Il est rapidement affecté à la Royal Military School of Music (Kneller Hall), sise à Twickenham, en Angleterre, tout juste à l'extérieur de Londres, pour y suivre la formation de chef de musique ; son professeur de clarinette y sera Reginald Kell. Il est diplômé de ce cours à la fin de 1954, ayant également obtenu pendant son séjour en Angleterre les titres de LRAM (Licencié de la Royal Academy of Music) et de LGSM (Licencié de la Guildhall School of Music).
Il rentre au Canada à la fin de 1954, avec deux jeunes fils (dont moi), un brevet d'officier au grade de lieutenant et une affectation pour prendre le commandement de la Musique du Royal Canadian Horse Artillery à Winnipeg, au Manitoba, dont le directeur sortant prenait sa retraite. Trois autres enfants naîtront dans les Prairies, une fille et deux autres garçons. Il est muté en 1961, cette fois pour prendre la barre de la Musique du Royal 22e Régiment, les fameux 22, à Québec.
En plus de ses fonctions de commandant et directeur musical des 22, toujours curieux de tout ce qui concerne la musique, il s'inscrit à l'École de musique de l'Université Laval, à Québec, obtenant à terme un baccalauréat et une maîtrise en musique. En 1968, alors qu'il est sur le point d'être muté de nouveau à une autre musique militaire, l'université lui offre un poste titularisé, qu'il accepte après avoir démissionné de l'Armée ; il devient ainsi professeur de clarinette, de direction instrumentale, de musique de chambre et d'orchestration à Laval, de même que directeur musical des grands ensembles instrumentaux.
Pendant cette période, il laisse aussi sa marque dans la Société de musique des universités canadiennes (il en deviendra le président en 1979 pour un mandat de deux ans), dans la International Clarinet Association (il préside le comité organisateur du Festival international de la clarinette [ClarinetFest®] 1990, qui doit avoir lieu à Québec, et animera l'événement) et dans le mouvement des harmonies municipales et scolaires du Québec (il sera pendant de nombreuses années juge en chef du concours annuel de la Fédération des harmonies du Québec). Il prend sa retraite de l'université en 1995, à l'âge de 69 ans, mais demeurera actif plusieurs années encore comme exécutant, comme professeur et comme juge. Dans ses dernières années, il aura beaucoup de plaisir à rencontrer régulièrement un groupe de ses anciens élèves, eux-mêmes maintenant retraités, pour jouer des quatuors, des quintettes et des sextuors de clarinettes. Ces rencontres étaient hebdomadaires jusqu'à l'arrivée de la COVID.
Mon père était un musicien aussi savant que sensible ; c'était toujours une joie de travailler avec lui. J'ai eu l'occasion de jouer ma flûte sous sa direction alors que je fréquentais l'université, toujours avec grand plaisir. Sa direction était claire et précise et pourtant également sensible au message porté par la musique. Et j'ai moi-même repris certaines de ses particularités dans ma propre direction d'ensembles, par exemple cette habitude qu'il avait d'inconsciemment se soulever sur la pointe des pieds pour une levée ; j'ai découvert assez rapidement que, tout naturellement, je le faisais aussi.
Il cherchait constamment à accroître ses connaissances dans tous les aspects du domaine musical, qu'il s'agisse d'écriture, d'histoire, d'organologie, d'éducation musicale, de technique instrumentale ou de direction, etc. J'ai choisi une voie professionnelle différente, me spécialisant en interprétation historique avec instruments d'époque. Bien entendu, il s'est montré très curieux de cette différente pratique d'interprétation. Si bien qu'en juin 2009, alors qu'il avait 83 ans, nous sommes descendus en voiture de Québec à Boston, au Massachusetts, pour y assister au Festival de musique ancienne biennal de l'endroit, une immersion d'une semaine dans la musique du passé, du Moyen Âge à Beethoven ; il a adoré.
Papa était un être sensible doté d'un sens de l'humour délicieusement raffiné. Toujours prêt à prodiguer ses conseils à ses étudiants anciens et actuels, à ses collègues, à ses amis et aux membres de la famille, il parvenait toujours, avec tact, à faire valoir ses idées. Il m'a toujours appuyé, de même que mes frères et ma sœur, bien sûr, mais pour moi non seulement du point de vue personnel, mais plus particulièrement d'un point de vue professionnel. Il sera ainsi toujours plus qu'un père pour moi, mais aussi un mentor, un collègue, un ami.
Légendes :
IMG-0899 : Armand Ferland se préparant à jouer lors d'une fête de famille lors du jour de l'An 2020. Référence photographique : © François Ferland
Officier : Armand Ferland portant l'uniforme d'un capitaine du Royal 22e Régiment, milieu des années 1960. Photographe inconnu
---