Originally published in The Clarinet 48/3 (June 2021). Printed copies of The Clarinet are available for ICA members.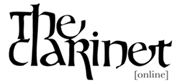 ---
INTERNATIONAL SPOTLIGHT: YUGOSLAV CLARINETIST ERNEST AČKUN (1930-2001)
by Andrija Blagojević, ICA Country Chair for Serbia
It has been two decades since the passing of the versatile Yugoslav clarinetist Ernest Ačkun, who may not be familiar to the current readers of The Clarinet journal. Ačkun was born on March 27, 1930, in Hrastnik, Kingdom of Yugoslavia – today in Slovenia – but spent most of his life in Belgrade, Serbia, where he had moved to study clarinet with Prof. Bruno Brun, also from Hrastnik. He graduated from the Music Academy in Belgrade in 1953 and did additional studies in Paris with Ulysse Delécluse. Ačkun earned numerous awards in Yugoslavia and Förderprämie (subsidy premium) at the ARD international competition in Munich (1954).
Ernest Ačkun served as the principal clarinetist of the Belgrade Philharmonic Orchestra (1953–1975) and performed as a soloist as well. The Serbian composer of Slovenian origin Zlatan Vauda dedicated several clarinet compositions to Ačkun: Sonata brevis for clarinet and piano (premiered on February 16, 1952, by Ačkun and the pianist Biljana Šahović), Aforizmi for solo clarinet (1959) and the interesting two-movement Concerto for Clarinet and Chamber Orchestra. This concerto was finished in November 1959 and premiered on January 18, 1960, by Ačkun and the Radio Television Belgrade Symphony Orchestra conducted by young Zubin Mehta, in the cycle "Mladi koji osvajaju svet." Ačkun's record of the clarinet concertos of W. A. Mozart and Stjepan Šulek (1967) was reviewed in The Clarinet Vol. 13/1.
Ačkun was an active chamber
musician, most notably as a member of the Belgrade Wind Quintet – with flutist Miodrag Azanjac, later Franc Grasselli, oboist Egon Gottwald, bassoonist Marijan Bolfan and horn player Stjepan Rabuzin –
with which he toured internationally, chamber music professor at the University of the Arts in Belgrade (1975–1995), and jury member at Jeunesses Musicales international competition in Belgrade. In addition to membership in the jury of the 1987 competition, mentioned in The Clarinet Vol. 15/2, he was also a jury member in 1974 and 1981, in the sections of wind trio and quintet.
Ačkun performed several times at the Belgrade Music Festival (BEMUS), as a soloist (1975, Krommer Clarinet Concerto), wind trio member (1980, Two songs by Vojislav Vučković), and member of the Belgrade Wind Quintet (1969, 1971, 1972, 1974, 1979, 1984). The quintet performed standard pieces and music by contemporary Yugoslav composers: Bach, Barber, Bećiri, Cipra, Damase, Despić, Françaix, Hindemith, Hofman, Josif, Konjović, Marić, Milhaud, Papandopulo, Radić, Schönberg, Slavenski and Vauda.
There are recordings of the Belgrade Wind Quintet with the music of the Serbian composers Mihovil Logar (Partita concertante for wind quintet and string orchestra), Milan Ristić (Pet karaktera za pet instrumenata), Ljubica Marić (Wind Quintet), Enriko Josif (Zapisi), Dušan Radić (Bagatele), Dejan Despić (Vinjete for wind quintet and Divertimento for wind quartet) and Milan Mihajlović (Notturni). Several of Ačkun's solo and chamber music recordings can be heard on YouTube.
Ačkun died in Belgrade on September 28, 2001.