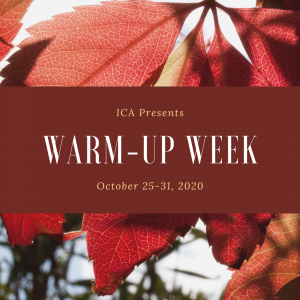 The ICA is excited to announce Warm-Up Week, an entire week dedicated to sharing warm-up routines from around the world! This free event will take place on October 25-October 31, and we will be sharing videos throughout the week featuring different artists discussing and demonstrating their warm-up routines in different languages, including French, Spanish, Portuguese, Thai, Turkish, Korean, and several others.
We will also be sharing public domain excerpts from the various warm-ups so that people at home may play along with each warm-up routine.
---
Here are the resources mentioned and shared during ICA Warm-Up Week:
If you're looking for more warm-up resources, including book recommendations, you can watch the panel discussion "Weekend Warm-Up" from ICA Plays On! held online in June 2020.
You can watch all the videos from ICA Warm-Up Week on the International Clarinet Association YouTube channel. Be sure to subscribe and turn on notifications so you'll know when we post new videos!