Five Minute Interview: ICA Treasurer Tod Kerstetter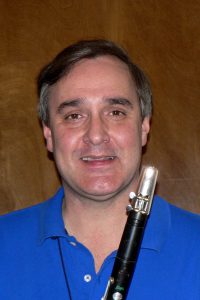 What is your current position?
I teach clarinet at Kansas State University, perform with our resident Konza Wind Quintet, and play bass clarinet with the Topeka Symphony.
Who have been your biggest influences in clarinet?
I was greatly influenced by Robert Chesebro, the longtime professor of clarinet at Furman University in Greenville, SC. I was also strongly influenced by Richard Waller at the Aspen Festival and by Henry Gulick and James Campbell at Indiana University
How long have you been a member of the ICA?
I joined ICA way back in the spring of 1984 when I was still an undergraduate student!
How long have you played the clarinet?
I have played the clarinet for 45 years—I started when I was in the fifth grade.
What do you love the most about the clarinet?
I love our repertoire. I feel that no other wind instrument can match the clarinet's solo and chamber literature, or the "big moments" that we have in the orchestral repertoire.
What is your current setup?
I play a Rossi clarinet for my solo and chamber needs, and I use Buffet R-13 clarinets for the orchestra. I also play a Buffet Prestige Greenline bass clarinet. I like the Silverstein ligatures, and my favorite soprano clarinet mouthpieces that I use now were faced by Michael Chesher of Luther College. On the B-flat clarinet I generally play #3.5+ Vandoren 56 Rue Lepic reeds. I use a Vandoren B50 mouthpiece and #3 V21 reeds on the bass.
Why do you think every clarinetist should be a member of the ICA?
ICA is incredibly valuable for networking, regardless of your age. Attending our yearly ClarinetFest and reading our journal will allow you to keep up on who the top performers are, what the exciting new pieces of clarinet music are, as well as what is new in the world of clarinet equipment.
What is your favorite piece for clarinet?
I find myself loving the Copland Concerto more and more each year. It stuns me how it can feel new and fresh every time one hears it!
What do you find the most challenging about the clarinet?
The ergonomics of the clarinet can be quite challenging, as tone hole coverage can present an issue for many people whose hands do not "naturally" fit the instrument. This is obviously not a problem on the bass clarinet or saxophone, but it remains a huge one on the soprano clarinet.
What are your tips for clarinetists?
Get a good mouthpiece and stick with it! Push your finger technique to a level as high as you can as early in your career as possible. However, be sure not to neglect long tones and etudes that emphasize the clarinet's lyrical side.
What is a clarinet recording that you recommend?
David Shifrin's A Brahms/Schumann Soirée from 1992, containing both Brahms sonatas and the Schumann Fantasiestücke, continues to amaze me even after more than 25 years!