Five Minute Interview: ICA Secretary Christopher Nichols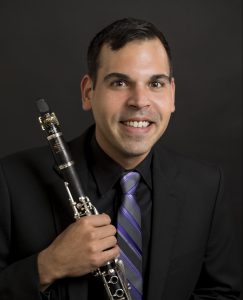 What is your current position?
I currently serve as Assistant Professor of Clarinet at the University of Delaware Department of Music, as well as maintain an active performance and recording schedule. Since September 2018, I have served as secretary of the ICA board of directors.
Who have been your biggest influences in clarinet?
My teachers from the beginning to date have each inspired and encouraged me in their own way: Chet Heinz (now deceased), Carol Timmerman-Yorty, John Schwartz, Ian Greitzer, Ken Radnofsky, Steve Barta, Günter Voit, Tod Kerstetter and Stephanie Zelnick.
How long have you been a member of the ICA?
15 years
How long have you played the clarinet?
29 years
What do you love the most about the clarinet?
The sound of the instrument.
What is your current setup?
Instrument: Buffet R13 B-flat and A (silver plated keys)
Mouthpiece: Vandoren M30 (13 series) or M30D Mouthpiece
Ligature: Silverstein Cryo-4
Barrel: Rice Clarinetworks Delrin Barrel
Bell: Backun Traditional Grenadilla Bell with voicing groove and low F correction vent
Reed: Légère Soprano Saxophone Signature Series Reed – strength 3.5 or 3.75
Why do you think every clarinetist should be a member of the ICA?
International Clarinet Association is a remarkable organization that connects clarinetists from the student level up to the highest echelon of performance in orchestral, solo and chamber music realms. The annual roster of artists that perform at ClarinetFest® each year is representative of this. Additionally, membership includes access to incredible resources, including the research library housed at the University of Maryland, the Gillespie Library and the Naxos Music Library.
What is your favorite piece for clarinet?
Whatever is currently up next on my performance schedule!
What do you find the most challenging about the clarinet?
Clarity and speed of articulation, as well as intonation. These have always been recurrent trends in performance and teaching!
What are your tips for clarinetists?
Have a vision for how you want to sound and how the music should sound – let this guide your continued practice and lifelong development as a musician.
What is a clarinet recording that you recommend?
Richard Stoltzman's recording on the RCA label of works by Lawrence Ashmore and Gerald Finzi with the Guildhall String Ensemble. I enjoy his conviction in these performances, which first introduced me to English clarinet music.
You can hear the Finzi Five Bagatelles from this recording in the YouTube links below.