2019 ICA Honorary Member – Ron Odrich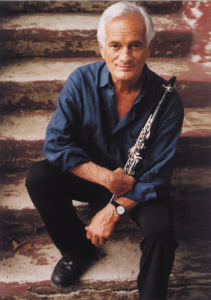 Clarinetist, composer, novelist and teacher Ron Odrich has played and recorded with Clark Terry, Zoot Sims, Al Cohn, Phil Woods, Buddy DeFranco, Eddie Daniels and other jazz greats. He studied with Lennie Tristano and a list of outstanding clarinet teachers;  Sal Amato, Jimmy Abato, Kal Opperman, Robert Marcellus, Daniel Bonade and David Weber. After a tenure as soloist in the "Crew Chiefs" jazz quintet attached to the Air Force Band "Airmen of Note," Ron went on to perform with the Vinnie Burke Quartet, Clark Terry (small and large orchestras), as a musician-actor in the original Broadway cast of "Lenny" and his own quartet. His first album was with jazz greats Vinnie Burke and Chris Connors in 1955, and his 1978 solo album "Blackstick" was given a four star rating by DownBeat magazine.
Ron was a featured soloist in Carnegie Hall for the Glenn Gould memorial concert in 1997. Ron also has had a long-standing relationship with Gerry Mulligan both as a close friend and as a musician. He appeared with Gerry in several venues including a special concert at Northwestern University. There they delighted the audience with Gerry's original piano-less quartet pieces combining Ron on bass clarinet and Gerry on baritone sax as the two melodic voices. They were planning a duo CD at the time of Gerry's passing. His CD "Visions", including "Furtive Visions",  by Leonard Bernstein, Ron Odrich and Larry Falon also featured Lew Soloff and was well received.
For the past thirty five years Ron has led what may well be the longest standing continually active jazz quartet in New York City appearing in a series of venues throughout the city. The Ron Odrich Quartet was recently featured in concert at the Certosa Arts Festival in Capri, Italy. As a 'O3 Grammy Nominee with over 14 recordings to his credit, Ron is a true "Renaissance Man", possessing eclectic talents as a visual artist, a published novelist, and a Periodontist with his own practice in Manhattan. As an Italian speaking scientific consultant he has participated in a TV series for a La RAI Italian TV news series updating viewers in Italy on the latest scientific developments in the U.S. His activities with his Jazz quartet and his dental practice were a featured story with the Sunday Morning Show with Charles Kurault. He and his quartet plus outstanding guests are currently appearing at the San Martin restaurant/club on East 49th Street every first Tuesday of each month. The guest list includes Ted Nash, Harry Allen, Warren Vachet, David Glasser, Jack Wilkins, Chris Washburne, Harvie S. and a host of others. His latest novel "Perfect Pitch" is published by Gadd Books and he is currently at work on the next opus.