Five Minute Interview: ICA President Elect Denise Gainey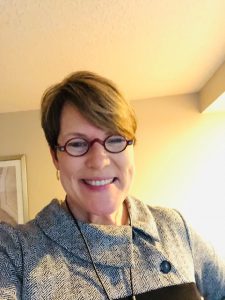 What is your current position?
I currently serve as President Elect of the Board of the International Clarinet Association. I'm also professor of clarinet and music education at the University of Alabama at Birmingham.
Who have been your biggest influences in clarinet?
My biggest influences have been my teachers, including Kalmen Opperman, Jim Gillespie, Frank Kowalsky, and Fred Ormand, and before that my public school band and orchestra directors. I have also been greatly influenced by the inspirational artists I have heard in live performance at ClarinetFests around the world. How fortunate we are to have the ability to come together and learn from each other!
How long have you been a member of the ICA?
Since 1991, I believe.
How long have you played the clarinet?
I've played the clarinet since the seventh grade because that was what my boyfriend in sixth grade played. He quit band and I kept on going.
What do you love the most about the clarinet?
I love the ability of the clarinet to most closely mimic the human voice in its ability to sing lyrically.
What is your current setup?
I play on Backun Mobas with a Greg Smith mouthpiece and D'Addario Reserve Classic Reeds. For bass I play a Buffet Prestige Low C with a Fobes mouthpiece and D'Addario Reserve Classic Reeds. I play a Buffet E-flat Prestige with a Backun barrel and bell, a Hite mouthpiece and D'Addario reeds.
Why do you think every clarinetist should be a member of the ICA?
The best reasons to join is to expand your horizons musically with the ability to meet and be inspired by the greatest clarinetists in the world each summer at ClarinetFest, to be educated by the amazing journal and the combined vast knowledge of our membership, and to make new friends all over the globe who share the love of all things clarinet.
What is your favorite piece for clarinet?
It's really difficult to pick just one, but the Brahms Quintet would be right at the top. There is so much great music written for the clarinet, including some amazing music being written today.
What do you find the most challenging about the clarinet?
Lots of things- but that is why I love the instrument. There is always, always something to work to improve, something new to learn, something or someone to be inspired by, something to take us to the next level as players. Such a gift, really.
 What are your tips for clarinetists?
Fundamentals, fundamentals. Kal Opperman used to say, "You can't make music until you master the instrument. Whenever we are struggling with something, going back to shore up our fundamentals will generally solve the issue. Aside from that, challenge yourself! Explore music that is out of your comfort zone, learn new things, stretch your boundaries. There is such a wealth of really good music for our instrument, both solo and chamber. Finally, I would encourage clarinetists to be life-long students your entire career. You can learn something from everyone- play for as many people as you can, attend masterclasses, take advantage of all the opportunities presented at ClarinetFest each year. Never stop learning and growing.
What is a clarinet recording that you recommend?
There are so many amazing recordings available to us now. When I am looking for first recordings to give to students, I always begin a couple of  'oldies but  goodies', Robert Marcellus' recording of the Mozart with Cleveland under George Szell and Harold Wright's recording of the Brahms Sonatas. Such grace and elegance.