Member Spotlight: Jesse Gilday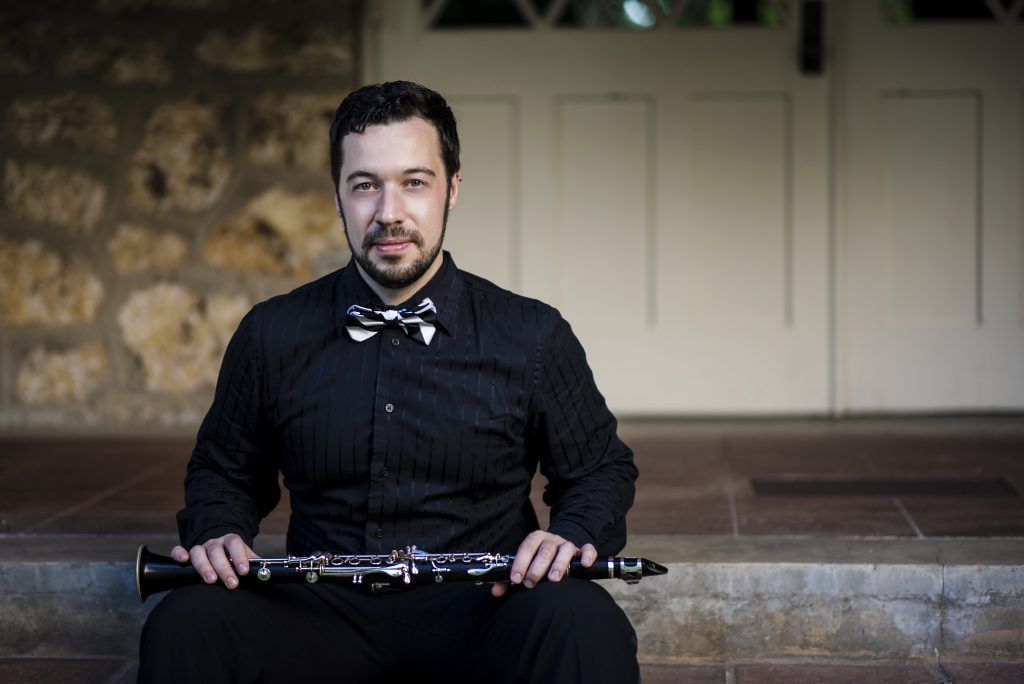 What is your current position/where do you go to school?
I'm currently adjunct lecturer in clarinet at the Florida International University School of Music. I received my DMA at the University of Miami – Frost School of Music.
Who have been your biggest influences in clarinet?
I've had wonderful teachers over the course of my clarinet life – William Kirkley in Boston, Dr. Richard Shanley for my master's at Baylor, Pascual Martinez Forteza and Dennis Smylie in New York, and most recently, Dr. Maggie Donaghue in Miami. Each one taught me something valuable and different about the clarinet. I've also had the pleasure of lessons from Jessica Phillips, Pavel Vinnitsky, and Amy Zoloto while I was in New York. In terms of listening, Karl Leister has always made me go "Wow!"
How long have you been a member of the ICA?
I've currently been a member since 2015, after a brief lapse in membership (don't let it expire!). I joined initially in undergrad around 2008 or so.
How long have you played the clarinet?
I've been playing the clarinet since I was 12, though I started music on flute when I was 9. The intention was to keep playing both, but the clarinet won!
What do you love the most about the clarinet?
I love the clarinet's variety of colors and its ability to play a legato unmatched by almost any other instrument.  It's so versatile in terms of style and sound, from the crystal-clear piano you need for Debussy or Pines to the grungy grit of a rippin' bass clarinet solo.
What is your current setup?
I play Buffet R13 B-flat and A clarinets with a Vandoren M13 Lyre mouthpiece, Vandoren Optimum ligature and D'Addario Reserve Classic 4.0+ reeds. For bass, I play a Buffet Prestige with a Lomax C2+ mouthpiece, Lomax ligature, and D'Addario Reserve 3.5+ reeds.
Why do you think every clarinetist should be a member of the ICA?
The network!  ICA is a great way to make new friends and share ideas, especially at ClarinetFest.  It's really cool to see (and try) the advancements constantly produced by our community in terms of repertoire, musical and pedagogical thought, and equipment. Plus, clarinetists are really cool people and make awesome friends!
What is your favorite piece for clarinet?
The Brahms Quintet is a long-time favorite of mine, but lately I've been playing a lot of new music. Especially on bass, it's a nice challenge to see how we can push the limits of the instrument as players.  Since living in Miami, I've begun to explore Latin American dance music too, which is really fun!
What do you find the most challenging about the clarinet?
Finding my own voice on the instrument has been a challenge. How can we play the same music as everyone else does, but make it our own? How can we contribute something new, and not do the same stuff as everyone else? What elements of the instrument do we need to master? These are the questions that we should all ask ourselves, while also being comfortable that we'll never have a final answer – that's the beauty of it.
What are your tips for clarinetists?
Mindful practice and fundamentals! Whenever you have a lot of time to practice, do long tones and scales. Pay attention to everything that your body is doing from the breath to the embouchure to the fingers, make the sound that you want in ALL of the music that you play, and always work on the basics. We have limited time nowadays, and fundamentals are what will save us when we don't have as much time to practice.
What is a clarinet recording/video link that you recommend?
I've been on a clarinet chamber music kick lately, so I think everyone should check out the album that first got me excited about clarinet ensembles. It's 26 years old now and is called Clarinet Masquerade, by the Thurston Clarinet Quartet. What a fun album!
What is something people might be surprised to know about you?
I'm a former competitive Irish dancer, danced in the world championships four times, and currently teach Irish dancing in Miami.
You can read more about Jesse on his Facebook page: https://www.facebook.com/JesseGildayClarinet/