Originally published in The Clarinet 46/3 (June 2019). Printed copies of The Clarinet are available for ICA members.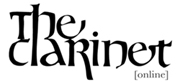 ---

DON'T MISS CLARINETFEST® 2019! JULY 24-28, 2019
by Jessica Harrie
ClarinetFest® is heading to Knoxville, Tennessee, from July 24 to 28, 2019! With a schedule jam-packed with incredible concerts, lectures, master classes, competitions and exhibits, it is sure to be an event to remember! ClarinetFest® 2019 is presented in partnership with the University of Tennessee. Our Artistic Director Victor Chavez Jr. and our entire Artistic Leadership Team has been hard at work, and we are excited to present our conference "Embracing the World" to ICA members from around the globe. To see a complete artist roster and event schedule, as well as registration information, please visit the ICA website at www.clarinet.org.
Here's a look at some of the exciting events you can enjoy each day of the conference:
Wednesday, July 24
The conference kicks off with a Gala Opening Recital at 1:00 p.m. featuring Honorary Member Stanley Drucker and new 2019 Honorary Member inductees Ron Odrich and Eddy Vanoosthuyse, as well as the winner of the 2018 Young Artist Competition, Pablo Tirado.
In addition to these performances, the winning composition from the 2019 ICA Composition Competition will be performed. This year's competition received 28 submissions from the U.S., Austria, Australia, Finland, Norway, Cuba, China, South Korea and Turkey. Jury members were Eric Mandat (USA), Giovanni Mattaliano (Italy), Quartetto Mitia (Italy) and Jan Rösner (Czech Republic). The winning composition, Haze 1 by Paul Kopetz of Australia, will be performed on the opening concert.
Following the opening recital, the finalists for the ICA Research Competition will give presentations. There will also be a host of lectures and recitals. Wonkak Kim will present a collaborative performance with Korean traditional instruments, which will be followed by a lecture on the challenges and benefits of this type of collaboration. We will begin the Second Annual Guido Six Clarinet Choir Festival with a special performance by the Venner Clarinet Choir featuring Franklin Cohen as soloist.
After a dinner break, our first evening concert will be a chamber concert featuring Stanley Drucker, Mariam Adam (formerly of Imani Winds), Bil Jackson (Vanderbilt University) and international soloist Milan Rericha with the outstanding Knoxville Symphony resident string quartet.
The entire membership is invited to attend the ICA President's Reception following the opening evening concert, where we will celebrate new Honorary Members Eddy Vanoosthuyse, Alan Stanek and Ron Odrich, as well as past Honorary Membership inductees, past presidents, our 2019 sponsors, and the ClarinetFest® 2019 team.
Thursday, July 25
Thursday brings the first opportunity for attendees to visit the exhibition hall in the brand-new University of Tennessee Student Union building. There will be a host of potpourri and shared recitals on Thursday. There will also be master classes by Franklin Cohen and Julie DeRoche, and more great clarinet choir performances. The ICA Young Artist Competition semifinals and the Orchestral Audition Competition will be held throughout the day in Powell Hall at the University of Tennessee School of Music. There will be several lectures throughout the day presented by John Reeks, Mark Cramer, Michael Westmoreland, Caroline Hartig, Nicola Bulfone and Luca Saracca among others. Milan Rericha will perform a special recital in the late afternoon.
The Thursday evening concert features the U.S. Air Force Band of Mid-America with soloists Chief Musician Laura Grantier (U.S. Navy Band), Sylvie Hue (French Garde Républicaine), Staff Sergeant Parker Gaims (U.S. Marine Band) and Ricardo Morales (Philadelphia Orchestra).
Friday, July 26
Additional potpourri and shared recitals, along with more clarinet choirs, will be heard on Friday. Attendees will also have a chance to hear the best upcoming young talent, as they compete in the ICA High School Competition in the School of Music's Powell Hall.
The lecture series continues with presentations by Thomas Kmiecik, Jennifer Piper, Tiffany Valvo and more. Mark Nuccio, principal clarinetist with the Houston Symphony, will also give a special lecture presentation, "Preparing to Win an Audition."
Just before dinner, the ICA will attempt to break the Guinness World Record for the world's largest clarinet choir. All in attendance are welcome to participate and be a part of this incredible moment! ICA President Mitchell Estrin will conduct the attempt.
Friday evening's concert will feature soloists William Hudgins (Boston Symphony) and Catherine Hudgins, Kathy Jones (Puerto Rico Conservatory), Korean prodigy Han Kim, Anton Rist (The Metropolitan Opera), Gabor Varga (Hungarian Radio Symphony) and Eddy Vanoosthuyse (Brussels Philharmonic) with the Knoxville Symphony. This concert will take place at the iconic Tennessee Theatre in downtown Knoxville. Free trolley transportation will be available to and from the venue to the conference hotels.
Following the evening concert, there will be a chartered cruise on the Star of Knoxville Tennessee Riverboat featuring hors d'oeuvres and a cash bar. This cruise is limited to 200 registrants, so if you want to take part in this extra event, be sure to reserve your spot as soon as possible! Information about departure time and registration cost can be found at www.clarinet.org.
Saturday, July 27
Saturday will be our ICA Middle and High School Day at ClarinetFest® 2019, when all middle and high school students can receive a free one-day all-access pass by showing a current student ID card. Students do not need to be members of the ICA to take advantage of this offer, but all students are encouraged to become a member of the ICA with our new high school/middle school student membership for $20. Students under the age of 18 must be registered by a legal guardian and must be accompanied by an adult chaperone on the day of the event. All students must register at www.clarinet.org by Friday, July 19.
Saturday will once again feature an incredible lineup of clarinet choirs and ensembles, including the first ever ICA Middle School and High School Choirs. You'll also be able to hear the ICA Festival Choir, ICA Collegiate Choir, and the ICA Professors Choir. If you are interested in playing in one of these groups, be sure to sign up during registration!
Saturday will also feature the final round of the ICA Young Artist Competition in the Powell Recital Hall. In addition to the incredible recitals happening throughout the day, you can hear lectures from Lake Effect Clarinet Quartet, Bret Pimentel, James Zimmermann and many more. Saturday is the last day for perusing the exhibit hall, so be sure to make time to visit our vendors to see the latest in clarinets, accessories, music and more.
Saturday evening's events will kick off with the ICA Awards Ceremony. The ICA will recognize the winners of the competitions, as well as recognize the sponsors and those who have served the organization over the past year. Following the awards ceremony, the Knoxville Jazz Orchestra will present an evening of jazz clarinet. Soloists Mark Nuccio, Sauro Berti, Ron Odrich and Ken Peplowski will all take the stage.
Sunday, July 28
Sunday will feature eight potpourri recitals, five additional clarinet choirs, and several recitals. Our lecture series will conclude with presentations by Alyssa Powell, Melissa Kindy, Michael Rowlett and Lacey Golazewski. ClarinetFest® 2019 will conclude at 4:30 pm on Sunday.
This festival and the appearance of our wonderful featured artists would not be possible without the generous support of ClarinetFest® 2019 sponsors: Buffet Crampon, D'Addario, Henri Selmer Paris, Rovner Products, RZ Woodwind Manufacturing, Vandoren and Yamaha. We are grateful for their support. Please note that the exhibits, with displays from these companies and many more, will be open Thursday, Friday and Saturday.
Hotel Options for ClarinetFest® 2019
There are three conference hotels available for ClarinetFest® 2019: the Sheraton Four Points, the Holiday Inn World's Fair Park and the Hyatt Place Knoxville/Downtown. All hotels are conveniently located within a short walk to the ClarinetFest® venues. However, there are free trolleys that pass directly by the Sheraton Four Points hotel and the Holiday Inn and make stops at the ClarinetFest® venues. Visit the ClarinetFest® 2019 page at www.clarinet.org for details on travel, lodging and more.
Dining options are plentiful near the venues, and hotels and attendees are just a short walk or trolley ride from downtown Knoxville's Market Square, Gay Street and Old Towne, all packed to the brim with outstanding restaurants and shops. More information about dining options will be available in the Visit Knoxville information booklet, which will be provided at registration and at www.visitknoxville.com.
Getting to ClarinetFest® from Knoxville McGhee Tyson Airport
If you are flying in to Knoxville's McGhee Tyson Airport, there are taxis, ride share options (Uber and Lyft) as well as several car rental companies that can help you get to the conference. While in Knoxville, you can use the University of Tennessee's T bus system to get around campus as well as the Knoxville bus and trolley system to get to downtown. Please note that parking at the hotels is an extra charge (depending on the hotel). Campus parking permits can also be purchased for those who wish to drive and park on campus at the venues. These designated parking areas will be identified on maps that will be available in the program book.
Knoxville and East Tennessee Attractions
Located in East Tennessee, Knoxville is one of the most beautiful and frequently visited areas in the United States. Knoxville boasts many family-oriented destinations and also activities for the adventurers among us. Gatlinburg, Pigeon Forge (home of Dollywood!), and the Great Smoky Mountains National Park are all within an hour's drive of Knoxville. To discover additional opportunities for recreation in the Knoxville and East Tennessee area, refer to www.visitknoxville.com.
Make plans now to attend this special conference! You will make new friends and continue connections with longtime associates while hearing world premiere works and well-known classics of the repertoire. Hope to see y'all soon!
All artist information and listings are subject to change.