Originally published in The Clarinet 46/3 (June 2019). Printed copies of The Clarinet are available for ICA members.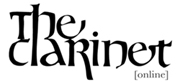 ---
The Jazz Scene: KEN PEPLOWSKI
by Jerry Rife
"The Jazz Scene" now features a rotating cast of writers. If you are interested in becoming a contributor, contact [email protected].
There can be few readers of The Clarinet who are unfamiliar with the outstanding artistry and career of Ken Peplowski. He is one of the finest jazz instrumentalists on the scene today. Russell Davies of BBC Two hailed him as the greatest living jazz clarinetist. The Siletz Bay Music Festival in Oregon referred to him as "the living Benny Goodman."1
Ken is also one of the most recorded jazz players to date, with over 50 CDs as soloist and nearly 400 as a featured sideman. He has performed with Charlie Byrd, Mel Tormé, Rosemary Clooney, Hank Jones, Peggy Lee, Bill Charlop, Woody Allen, Benny Goodman and many other legendary musicians. Centered in New York City, Ken travels about half the year playing in clubs, colleges, jazz societies, parties, concert halls and festivals. He is a longtime performer on and consultant to The Jazz Cruise, and in 2013 was elected into the Jazz Cruise Hall of Fame. In addition, Ken is the artistic director of the Newport Beach (California) Jazz Party and the Sarasota (Florida) Jazz Festival, where he was awarded the "Satchmo" award for his "unique and enduring contribution to the living history of jazz."2 Much of his work on the road is done with his big band or his quartet. Wherever he plays, Ken is received with great admiration by his audiences.
Immediately noticeable at a Ken Peplowski performance or on his recordings is his amazing technical fluency. He has complete command of the instrument at every tempo and a rock-solid sense of rhythmic drive in ballads, standard songs, and up-tempo traditional jazz tunes. His sound is full, rich and warm in all registers. When students come to him with an interest in learning how to become jazz players, he starts with the importance of breath and air support and works with them on the rudiments of a pure classic sound and even finger technique.
Growing up in Cleveland, Ohio, in the 1960s he heard Robert Marcellus in the Cleveland Orchestra and on recordings, and studied for three months with Ted Johnson, a member of the clarinet  section in the orchestra. Ken's main teacher at this time was Alan Blazer. He also "practiced like crazy."3 His career in performance started with professional jobs at age 9 in the local polka band that he formed with his brother. This is where he honed his technique and trained his ear. A defining moment in his early musical life was when he bought his first jazz record with money he made playing in the polka band: Stan Getz, More West Coast Jazz (Verve Records, 1956). In 1978, Ken joined the Tommy Dorsey Band led by Buddy Morrow and went to work on the road. Three years later he moved to New York to begin a career of studio dates, concerts, recording sessions, and international touring. Recognition quickly followed.
What sets Ken apart from many other jazz players is his abundance of ideas and an abiding interest in exploring all types of music in performance. Jazz players know that brilliant virtuosity is only part of a rewarding performance, and that collective improvisation is at the heart of jazz music and has been since the earliest years. Ken is a catalyst for much of the dazzling interplay that occurs in his great ensemble jazz. He has a very quick mind and a telepathic rapport with the other musicians on the stand. The result is a rich collaboration that is the hallmark of every performance he gives. In any musical performance, the interaction of the performers is a critical component of a successful musical experience. With a defining emphasis on improvisation, jazz is perhaps explicitly reliant on the spontaneous interaction of the musicians, and, when performed by Ken Peplowski and the musicians in his groups, the results can be transformative. His duo albums with Howard Alden (Concord, CCD-4556, 1993; CCD 4654, 1995 and Pow-Wow on Arbors Records, ARCD 19340, 2007) and Dick Hyman (Live at the Kitano, Victoria Company, 2013) attest to the musical intelligence of two superb musicians playing off each other's musical ideas.
In his performances, Ken has embraced a huge breadth of styles and periods of jazz. For him the entire century of jazz music has become an endless well of possible tunes to play and record. His albums contain traditional jazz tunes, selections from the Great American Songbook, bebop, big band styles, third-stream and avant-garde jazz and even ethnic folk and dance music. There is always a fresh variety of textures and styles. The quintet and quartet albums often include a few duet pieces and even some tunes performed on clarinet unaccompanied. These require a harmonic structure that can be realized and communicated by a single instrument. Occasionally the decision to record a work for clarinet alone happens in the recording studio. Ken likes the spontaneity of the moment and the challenge of creating something special at the moment the recording is made.
Ken has an aversion to tribute albums where "musicians slavishly recreate old records." In reference to his Benny Goodman tribute discs, International All Stars Play Benny Goodman (Nagel-Heyer, CD 025 and 045), he said,
We decided to just play, in our own voices, songs that were either recorded by Benny, or should have been. [There are] no transcribed solos, no imitation of specific musicians… just a group of like-minded friends reminiscing in tempo about one of our greatest influences in jazz.4
It is Ken Peplowski playing his own personal interpretation of the jazz standards in new and fresh ways.
Of special interest to Ken are the obscure or rarely-heard tunes. Peplowski albums are filled with discoveries of forgotten tunes that he and his group spontaneously reinvent. On his fine CD The Other Portrait (Concord Concerto, CCD 42043) are pieces by Miles Davis, Dizzy Gillespie and Ornette Coleman reworked and uniquely presented. Here also is Darius Milhaud's Concerto for Clarinet and Orchestra written in 1941 for Benny Goodman, but never performed by him. The concerto was recorded for this disc with the Bavarian National Symphony in Sofia, Bulgaria. There is also a piece written by Duke Ellington called "Single Petal of a Rose." It is one movement from The Queen's Suite, written in 1959 for Queen Elizabeth II, who received the only pressing of the original recording. Ken played his version of it on solo clarinet without accompaniment. The recording also contains Cadenza by Plamin Djurov written in 1995 for saxophone and violin. This marks the first recording of the piece.
Enrapture (Capri Records 74141-2) is a recent Ken Peplowski recording with his quartet (reviewed by Randy Salman in The Clarinet, March 2017). It includes songs by John Lennon, Duke Ellington, Fats Waller, and two tracks from Bernard Herrmann's classic score to Alfred Hitchcock's film Vertigo. Diversity is the expectation on a Ken Peplowski recording. It is most important that he and his musicians never fail to bring new life to his choices and to deliver them in revitalized and enriched form. With an interest in all kinds of music, it is not surprising that his output is so varied and rich.
Ken has been active in the clarinet community at the ClarinetFest® conferences from 2001 to his most recent, riveting performance in Orlando in 2017. He is also available to us in The Clarinet, most notably in Thomas W. Jacobsen's fine interview/article in Vol. 30, No. 2 from March 2003 (pp. 42-52) and in several audio reviews of his work. Let me add one other resource that I encourage you to enjoy. It is Ken Peplowski's performance of the 1922 jazz classic China Boy on YouTube recorded live at the Bern Switzerland Jazz Festival in 1993 with a running transcription of the solo clarinet part realized by Ramsey Castaneda below the video. The tempo, set by Mark Shane at the piano, is half note = 160.
We can all enjoy the recordings and videos of Ken Peplowski, but hearing him perform live is always an inspirational experience. Ken will be a featured jazz artist at ClarinetFest® 2019 in Knoxville, Tennessee, on the July 27 Saturday evening concert with the Knoxville Jazz Orchestra. It promises to be as electrifying as ever. I hope to see you there.
RECENT RECORDINGS
[Please refer to Thomas W. Jacobsen's record listing in The Clarinet, Vol. 20, No. 2, March 2003 for pre-2002 recordings]
Memories of You, Ken Peplowski Quartet, Venus Records, 2006
Dialogues, Ken Davern and Ken Peplowski, Arbors Records, 2007
When You Wish Upon A Star, Ken Peplowski (all tenor saxophone), Venus Records, 2007
Howard Alden and Ken Peplowski's Pow-Wow, Arbors Records, 2007
Happy Together Live at Birdland Vol. 1, Ken Peplowski and Jesper Thila, Nagel Heyer, 2008
Doodle Oodle, Alan Barnes and Ken Peplowski, Woodville Records, 2009
Essential Best, Eddie Higgins, Scott Hamilton and Ken Peplowski, Venus Records, 2009
Two Legends of Jazz, Johnny Varro and Ken Peplowski, Arbors Records, 2009
Noir Blue, Ken Peplowski Quartet, Capri Records, 2010
When You Wish Upon a Star, Ken Peplowski (tenor saxophone), Venus Records, 2010
In Search of…, Ken Peplowski Quartet, Capri Records, 2011
Like a Lover, Nikki Parrott and Ken Peplowski, Venus Records 2011, vinyl LP 2012
Live at the Kitano, Dick Hyman and Ken Peplowski, Victoria Company, 2013
Maybe September, Ken Peplowski Quartet, Capri Records, 2013
At the Watermill, Ken Peplowski with Alan Barnes, Woodville Records, 2015
Enrapture, Ken Peplowski Quartet, Capri Records, 2016
Clarinet Summit, Peter and Will Anderson with Ken Peplowski and Paquito D'Rivera, Steeplechase Look Out Productions, 2017
Duologue, Ken Peplowski and Adrian Cunningham, Arbors Records, 2018
Sunrise, The Ken Peplowski Big Band, Arbors Recordings, 2018
Amizade, Ken Peplowski and Diego Figueiredo, Arbors Records, forthcoming
Ken Peplowski also plays saxophones on many of these recordings. v
Endnotes
1   www.siletzbaymusic.org.
2   Ibid.
3   Thomas Jacobsen, "A Conversation with Ken Peplowski," The Clarinet Vol. 20/2 (March 2003), 42.
4   The International All Stars play Benny Goodman Vol. 1 (Nagel Heyer Records CD 025), liner notes.
About the Writer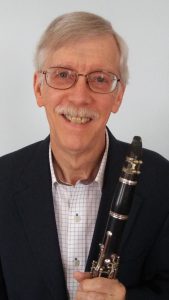 Jerry Rife is a clarinetist, author and conductor in the central New Jersey area. He is a professor emeritus of music at Rider University in Lawrenceville, New Jersey, where he taught courses in music history and theory, and was the director of bands. He also was the chair of the Fine Arts Department and director of the Everett R. Matson Center for Single-Reed Mouthpiece Refacing at Rider University.