Report by Sam Davies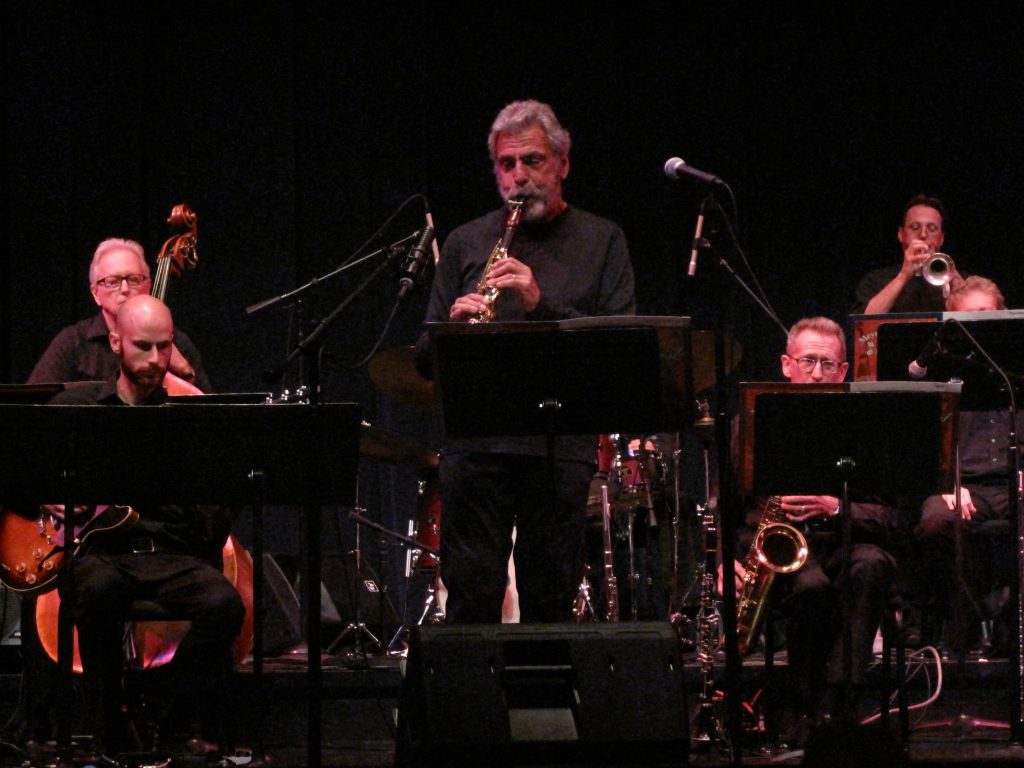 The second evening concert took place on Thursday, August 4 at 8:15 p.m. in the Lied Center of Kansas. Current ICA President Caroline Hartig started the event by thanking the University of Kansas and the Lied Center for hosting ClarinetFest®. She then introduced David Gould, the Artistic Advisor and Product Specialist of Vandoren who served as the evening's Gold Sponsor. Gould welcomed the audience and put everyone at ease with light humor and banter. Gould remarked that the evening's soloist needed no introduction, so he simply said "Ladies and gentleman, please welcome Mr. Eddie Daniels, or as we at Vandoren like to call him, Mr. V12. 3.5, sometimes 3.5+!"
The program looked back on influences from the past and celebrated a bright future for the clarinet in jazz settings. Those who joined award-winning clarinetist and acclaimed jazz virtuoso Eddie Daniels were all-star big band musicians from the Kansas City area, supplemented by a sax section of "doublers" very familiar to the International Clarinet Association – including past presidents John Cipolla, Gary Whitman and Bob Walzel!
The concert, titled "Jazz Inspired," exemplified the theme of ClarinetFest® 2016: inspirations. Sharing the stage with Daniels was the ClarinetFest® 2016 All-Star Big Band conducted by Dan Gailey, director of Jazz Studies at the University of Kansas. Gailey and the band came out first and played a tune without Daniels, warming up the audience before Daniels took the stage and talked a bit about his musical history, including his time alongside bandleader Thad Jones. They played one of Jones' tunes "Quietude," which, Daniels said, "is every bit as beautiful as anything Mozart wrote." Daniels' virtuosity was immediately on display from his first note to his last, his sound just as beautiful and smooth in the blazing fast technical work as it was in the low-and-slow range of the clarinet.
Next was an arrangement of the Bill Evans tune "Very Early," which made excellent use of the big band as they conjured up a light morning backdrop for Daniels' dazzling playing. Astor Piazzolla's "Libertango" was a huge hit with the audience. Beginning with a distinctive march motif in the drums, accompanied by the front two rows of the big band (clarinets, bass clarinet and four trombones all with mutes in), the tune quickly introduced a soundscape we hadn't heard yet. As the music built in energy and tempo, powerful interjections erupted from the bass clarinet and bass trombone, until the climactic moment as Daniels and the trumpets in unison screamed the melody out at the top of the range, perfectly in tune. This drew so much applause from the audience that Daniels and the band gave a quick encore of the last fiery minute of that tune.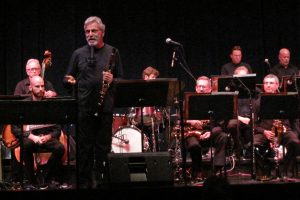 "Pretty Women" from Stephen Sondheim's hit Broadway show Sweeney Todd was up next. An excellent contrast to the passionate "Libertango," this tune was more laid-back and created a delightful fusion. Next, Daniels told a story about his time playing saxophone in Jones' band. Jones didn't like the clarinet as a solo instrument, but Daniels went against his wishes and played a clarinet solo during a recording session at the Village Vanguard, winning Daniels a prize from Downbeat magazine. Daniels' friend Gordon Goodwin (bandleader of the Big Phat Band) wrote him the tune "Thad said NO!" in memory of this amusing moment in Daniels' musical career.
More tunes followed as the evening went on, including an arrangement of "I Fall in Love too Easily," and then back to Piazzolla with "Mumuki." The evening included a range of jazz styles, ranging from standards to Argentine tango, Broadway and new compositions. Each tune had a few things in common: Daniels' ability to execute virtuosic clarinet playing with ease, and his stage presence and energy. At times Daniels would turn and play directly with the drums or piano, conduct a section here and there, and make approving noises when the other solos went especially well. Not only did this display his great collegial spirit, but also made for great showmanship in engaging the audience.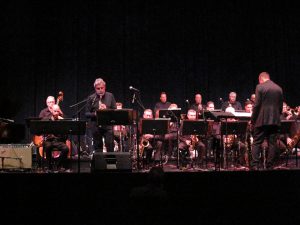 The last tune was another of Gordon Goodwin's compositions "Under the Wire." According to Daniels, Goodwin was doubtful that Daniels would be able to play the difficult clarinet part to this tune. He sent Daniels the tune one night, and to his chagrin Daniels played it perfectly for him the next morning. Throughout the evening, Daniels had charmed the audience with his slow, tender, quiet musicality. But for the closing tune, his virtuosic technique dazzled the audience as he blazed up and down the full range of the clarinet. The ending was so intense though that Daniels remarked "now that your blood pressure is up, let's bring it back down." Perhaps it's unusual to end with a slower, calmer encore, but it felt perfectly right, as the band and Daniels played a tender and beautiful tune that gradually came to a slow, quiet end. A great ending to a wonderful evening full of great music, great clarinet playing, and great jazz!
Sam Davies is currently earning his DMA in clarinet performance at Michigan State University with Dr. Guy Yehuda. He is an active chamber musician and performer in new music ensembles and orchestras at MSU as well as all over Michigan. Sam has been reviewing concerts at ClarinetFest® since the summer of 2014.