Report by Zachary Dierickx
The concerts of Thursday evening, August 4 began with a performance by Ron Odrich at 7:00 p.m. in the Lied Center Auditorium titled "Buddy & Benny." As the program indicated, this concert paid tribute to Buddy DeFranco – friend, teacher and mentor of Odrich – and reflected on the inspiration of clarinet legend Benny Goodman. Odrich was joined by a rhythm section of Kansas City's finest musicians including Danny Embry (guitar), Jeff Harshbarger (bass), and Brandon Draper (drums). The concert included tunes that Odrich played on various concerts with Buddy DeFranco and was interspersed with stories from Odrich's long career.
Tunes performed included "Yesterdays," "Just Friends" and "Avalon," among others. Odrich played with a warm, silky sound, fluid technique, and clever improvisation. His charming and engaging stage presence shone through between tunes with jokes and commentary. Odrich deftly led the combo throughout the performance.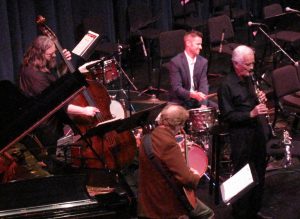 After a long, successful career, Odrich had stories to share about DeFranco, Goodman, and even Eddie Daniels who performed later in the evening. He shared that the first time he played "Just Friends" was with Daniels who helped him through the tune's chord changes. Odrich spoke with reverence about DeFranco whom he described as his mentor. Odrich also spoke of a more private, generous Goodman who provided financial support to fellow musicians when they encountered health problems or hard times.
Overall, Buddy & Benny was a delightful concert filled with tight combo playing and comical anecdotes of the many famous players Odrich encountered in his long career.
Report by Zachary Dierickx
Zachary is currently pursuing a DMA in Clarinet Performance at The Ohio State University where he studies with Dr. Caroline Hartig and serves as TA for the Clarinet Studio.