Report by Anna Roach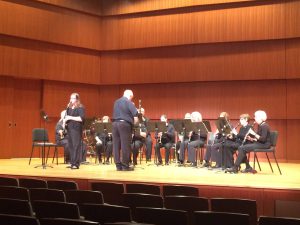 The Houston Symphonic Band Clarinet Choir concert, A Tribute to Guido Six, began at 1:30 p.m. on Sunday, August 7 in the Swarthout Recital Hall. This community ensemble from Houston, Texas, was conducted by Fred Angerstein. The clarinet choir's first selection was Divertimento No. 1 (Hommage a de Falla) by C. Camillion and arranged by Guido Six. It featured Timothy Zamora and Sheela Patterson on soprano clarinet in a lovely solo section of the piece. Lover's Prayer by Roland Cardon and arranged by Guido Six was the next piece on the program. The work was unique in that it featured the alto clarinet which was played by Jennifer Siler. The song-like alto clarinet playing stood out beautifully against the full sounds of the clarinet choir. Frederic Devreese's Tango was also wonderfully arranged for clarinet choir by Guido Six and made for an exciting addition to the program. It featured bass clarinetists David Berndt and Nancy Angerstein as soloists. Tango's big, circus-like setting was commandingly performed by the ensemble. Before the last piece of the concert, Angerstein spoke warmly of Guido and his involvement with their clarinet choir. He stated, "Without him this organization would not exist. He was a great friend and supporter." The Houston Symphonic Band Clarinet Choir ended with beautiful performance of A Tribute to Roland Cardon by Guido Six as a final tribute to his lasting legacy.

https://www.youtube.com/watch?time_continue=13&v=HgqVQihwOAo

Dr. Anna Roach recently completed her DMA at Texas Tech University. She served as adjunct clarinet professor at Lubbock Christian University from 2014-2016. She currently holds a private studio in Oklahoma City and is a D'Addario Reserve Method Teaching Artist.