Report by Chastine Hofmeister
On Sunday, August 7, ClarinetFest® was taken over by 17 different clarinet choirs. This set a record for the most clarinet choirs performing in a single day at any ClarinetFest®! Appropriately, this day was dedicated to honoring the memory of Belgian clarinetist and longtime ICA member Guido Six, who was tragically killed in a traffic accident last year. Guido led the Claribel Clarinet Choir, was slated to conduct a choir at this year's ClarinetFest®, and was preparing to host the ICA in Belgium in 2018. The clarinet choirs that performed today did a fine job of honoring him.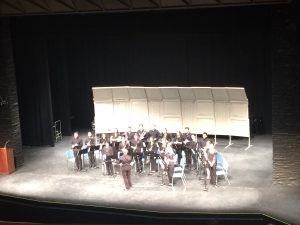 The Colorado State University Clarinet Choir, led by their professor Wesley Ferreira, took the Crafton-Preyer Theatre stage at 12:30 that afternoon. They began their program with Astor Piazzolla's Libertango (1974) arranged by Jan Holmgren. It was apparent from the beginning of the concert that this was a well-rehearsed group with excellent ensemble playing, beautiful solo work, and a strong bass clarinet section. They moved on to the gorgeous Pavane pour une Infante Defunte (1899) by Maurice Ravel and arranged by David Hite. The final piece on the concert was the imaginative Claremont Suite (2011) by Sqwonk bass clarinet duo member Jonathan Russell. The choir performed the first and third movements.  The technical sections of the third movement in particular were challenging and the group handled them extremely well through the accelerando to the end of the piece. This group was a pleasure to listen to.
The Middle Tennessee State University Clarinet Choir led by Todd Waldecker followed with a program consisting of all 21st-century works. Strange Humors (2012) by John Mackey was the first piece on the program. A lonely clarinet slowly started the program and was soon accompanied by a drum beat before accelerating the tempo. This extremely catchy work is a great recital opener and would be an excellent additional to any clarinetist's library. Next on the program was Roland Cardon's Mozart, Weber, and Co. (2001). This piece included excerpts from 15 different famous classical pieces including the Mozart Clarinet Concerto and both Weber concertos, making this an ideal choice for a clarinet conference performance. Waldecker invited the audience to see how many of the works they could name correctly, and there were two winners at the end. If you're looking for a recital work that features several strong students this would be a great choice. The final work on the program was Clarinfunkation (2013) by Paul Saunders.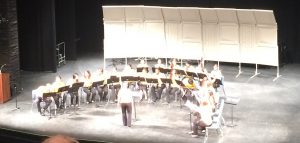 The Emporia State University Clarinet Choir led by Dawn McConkie took the stage next.  They began their program with the William Hines version of Amazing Grace. They were then joined by soprano and Emporia State faculty member Anna Ryan for Lament and Finale from Dido and Aeneas by Henry Purcell and arranged by Dawn McConkie. They concluded their program with Gustav Holst's Suite No. 1 in E-Flat arranged by Michael Murrell.
Chastine Hofmeister is currently the second clarinetist with the Monroe Symphony in Louisiana. She has also recently performed with the Dallas Symphony, Las Colinas Symphony, Abilene Philharmonic, and Midland-Odessa Symphony.