Report by Sam Davies
The final day of ClarinetFest® 2016, Sunday, August 7, was dedicated to the memory of Guido Six, a longtime member of the ICA community and highly influential proponent of clarinet choirs. On this day, 17 clarinet choirs held performances to honor his memory. Four of these choirs performed in the Crafton-Preyer Theatre from 8:30 a.m. to 10:30 a.m.
First was the Central Oklahoma Clarinet Choir, directed by Jenny Rucker. The group started the day's concerts with the brisk and energetic Rolling Thunder March by Henry Fillmore (arranged by Matt Johnston). Next, Dawn Marie Lindblade performed as soloist in an arrangement of Baermann's Adagio (arranged by K. Tod Kerstetter), a beautiful piece reminiscent of Weber's slow movements for the clarinet. A soulful rendition of Piazzolla's Oblivion  (arranged by Steven Verhaert) was a mournful reminder of the day's tribute to Guido Six. They closed their concert with a rousing performance of The Pirate of the Caribbean by Klaus Badelt and Hans Zimmer (arranged by Steven Verhaert).
This concert also included a short talk by Johnnie-Margaret McConnell, a member of the Central Oklahoma Clarinet Choir, whose Ph.D. research concerns the benefits of amateur music making. She informed the audience that the members of their choir range in age from 17 to 85!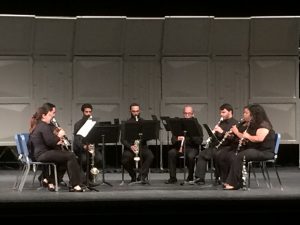 The next choir was the Conservatorio de Música de Puerto Rico Coro de Clarinetes, directed by Kathleen Jones. This chamber octet of clarinets performed without a conductor, and all pieces on their program were written specifically for this premiere performance, with the exception of Three-Minute Rag by Alberto Guidobaldi which was premiered at ClarinetFest® 2014 in Baton Rouge, Louisiana. An especially memorable piece from their program was the dreamlike Cascadas by Carlos Lamboy-Caraballo, featuring two E-flat clarinets in a tempestuous and stormy musical odyssey filled with extended techniques such as flutter tonguing, bends, and glisses.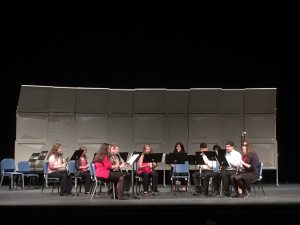 The Eau-Clarinets from the University of Wisconsin-Eau Claire were next. A larger ensemble with a full complement of low clarinets, this group also performed without conductor. Melissa Koprowski, who led the group, played in the bass clarinet section instead of directing. She recommended to the audience the benefits of an unconducted ensemble, which, though difficult at first, quickly requires all performers to listen and communicate with each other on a high level. Koprowski, whose group consists of entirely undergraduate clarinetists, stressed the usefulness of clarinet choir to help these students gain experience on all the auxiliary clarinets. Sarah DiPiazza performed as clarinet soloist in "Tarantella" from Concerto for Clarinets by Alexis Ciesla, admirably scampering through this manic work.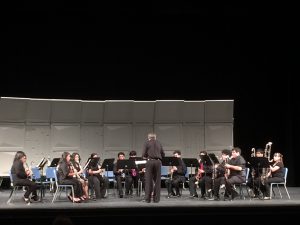 Next was the University of Texas Rio Grande Valley-Edinburg Clarinet Choir, directed by Dr. Bill O'Neil. Another full sized choir with plenty of powerful low voices, this group opened with a stirring performance of the majestic Slavonic Dance I by Antonín Dvořák (arranged by Ron Scott). Clarisa De la Garza conducted the world premiere of her own composition 9:13, a driving, energetic minimalistic piece that featured long, mournful clarinet lines on top of repeated rhythmic cells. This work started with one clarinetist playing alone, before gradually adding forces until the full choir was playing, then slowly fading away until the same clarinetist was left alone again, having completed one full cycle.
Sam Davies is currently earning his DMA in clarinet performance at Michigan State University with Dr. Guy Yehuda. He is an active chamber musician and performer in new music ensembles and orchestras at MSU as well as all over Michigan. Sam has been reviewing concerts at ClarinetFest® since the summer of 2014.