ClarinetFest® Day 3
Deborah Chodacki Masterclass
by Kelsey Paquin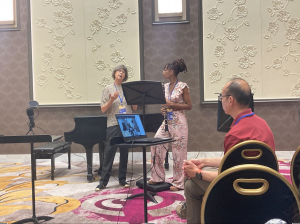 The Deborah Chodacki Masterclass took place on Friday, July 1 at 1pm.
In this masterclass, Deborah Chodacki, renowned pedagogue who has served on the faculty of University of Michigan, Louisiana State University, and Eastern Carolina University, worked with three advanced clarinet students.
Icsis Church performed the third movement of C.M.v. Weber's Clarinet Concerto No. 2. Chodacki addressed concepts of support, air intensity, and creating different characters. Anoushka Divekar performed Igor Stravinsky's Three Pieces in its entirety. Chodacki discussed clarity of articulation in the third movement, offering advice on air support and off-the-clarinet exercises to practice immediacy of response. Lastly, Chodacki worked with John Harden on the opening of C.M.v. Weber's Concertino. She spoke about creating effective character with precise rhythm, long phrases, and increased dynamic range.