ClarinetFest® Day 5
Clarinet Choir Concert
by Heather Gering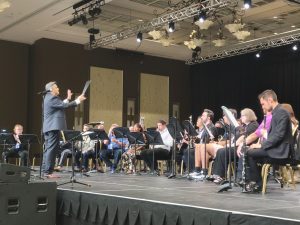 This year's ClarinetFest® closed out the week with a final recital given by four conference clarinet choirs, the Festival Clarinet Choir, the High School Clarinet Choir, the College Clarinet Choir and the Clarinet Enthusiasts New Horizons Clarinet Choir. These choirs were conducted by Vanguel Tangarov, Sunshine Simmons, Lynn Musco and Alan Woy, respectively. All conductors were warm and welcoming to the audience and choir participants.
The Festival Clarinet Choir took the stage first with an arrangement of Marche Militaire Francais from "Suite Algerrienne" by Camille Saint-Saëns and a world premiere performance of 2nd Arabesque by Claude Debussy, which was originally for piano. The choir then gave a moving performance of Eryn O'Sullivan's arrangement of There Will Be Rest by Frank Ticheli. Prior to the piece, Tanganov dedicated the performance to all of those we lost. To close their portion of the program, the Festival Choir played an arrangement of Marche from "Folk Songs from Somerset" by Ralph Vaughan Williams and the New World Record Polka by Matt Johnston, which was previously played at the ClarinetFest® in Knoxville, TN, when the participants of that year's festival broke the Guinness World Record for World's Largest Clarinet Choir.
Sunshine Simmons then came on with the High School Clarinet Choir, made up of 5 talented and young clarinetists. Their two pieces were the Sussex Mummers' Christmas Carol by Percy Grainger, and Waltz No. 2 by Dmitri Shostakovich.
The College Clarinet Choir was then lead up by Lynn Musco. Musco spoke fondly to the audience of the hard work her choir put in for this performance. Their programming consisted of with Mooreside March by Gustav Holst, Blackwood Breeze by Keiron Anderson, movements 3 and 4 of Sketches from America by Warren Baker and ending with March, Op. 99 by Sergei Prokofiev.
The final choir was the inaugural Clarinet Enthusiasts and New Horizons Clarinet Choir, conducted by Alan Woy. Programming for their performance included a collection of folk songs from Ireland entitled Irish Suite, Band of Brothers by Michael Kamen, Queen of the Night Aria from "The Magic Flute" by W.A. Mozart, the traditional tune Shenandoah and Rolling Thunder by Henry Fillmore.
After 3 years of being apart, having everything end with the culmination of clarinetists of all ages and levels come together to perform in these choirs was an absolutely perfect way to conclude the 2022 ClarinetFest®.