ClarinetFest® 2023 in Review
---
ClarinetFest® 2023 Day 3
ClarinetFest® @ 5
Mark Nuccio, Maria du Toit
by Chastine Hofmeister
---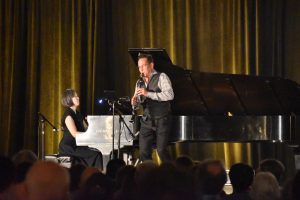 The Friday edition of ClarinetFest® at 5 was held at the Westminster Ballroom at the Westin and featured performances and interviews with Mark Nuccio and Maria Du Toit. Mark Nuccio started the concert off with Paquito D'Rivera's delightful Three Pieces for Clarinet and Piano followed by a jazzy clarinet and bass clarinet duo entitled Off Pist by Svante Henryson. André Moisan joined Mark for this piece, performing the cello part on bass clarinet.
After the applause died down, ClarinetFest® Artistic director Wesley Ferreira joined the stage and sat down with Mark in a couple of armchairs to the side of the stage for the interview portion. Wesley started the interview by asking Mark about his background as a Colorado native. He replied that growing up in Colorado gave him a chance to become well rounded and grow up with hobbies other than the clarinet, particularly sports. He added that father was also a clarinetist and was in the Air Force Academy Band which is what brought him to Colorado. Teaching was his dad's passion. Mark still spends his summers in Steamboat, Colorado.
Wesley and Mark then reminisced about Stanley Drucker, since he worked with him for ten years in the New York Philharmonic. He described him as supportive (most of the time, he said with a chuckle). He played Associate Principal/Eb Clarinet at that time, which he describes as being like Vice-President. While on tour, he was supposed to be around in case Stanley wasn't feeling well, so he decided to go and ask how he was feeling and he exclaimed, "I feel better than I've ever felt!" Stanley never left anything on the table and never played anything twice the same way.
Wesley asked Mark to tell the story of the time his clarinets were miraculously returned after being stolen in 2020. Mark warns to never leave a clarinet out of your sight, then joked that he had one backstage if anyone wanted one! His car was broken into while he ran into the store, he did have a tracking device in the backpack the clarinet was in but unfortunately, the thief had discarded it in a nearby garbage can. He now keeps a tracker in his case. Twenty-six months later, a man sent him a message that he had his clarinets and wanted to return them. He had the instruments delivered to Jones Hall right before he was about to go onstage to perform Black Dog with the Houston Symphony. As for Mark's future projects, Volume II of his Audition Method for Clarinet is scheduled to be released at the MidWest Band Clinic later this year.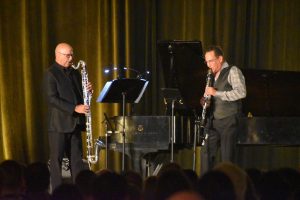 Maria Du Toit then took the stage to perform Clemence de Grandval's Two pieces for Clarinet and Piano and Maria Elisabeth von Sachsen-Meiningen's Romanze. Maria commenced the interview with Wesley by telling us that this was her second ClarinetFest® and that she attended in Belgium previously. She went on to tell us a little about both pieces that she chose for this performance which are both 19th century female composers and were both royal. She remarked that this is probably why they were afforded the time to compose while many others would not have been able to.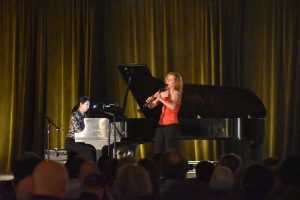 Maria is originally from South Africa and spent time as Principal Clarinetist of the Cape Town Philharmonic Orchestra. She now resides in the Netherlands pursuing a career as an international soloist. She felt disconnected growing up in South Africa since there were only three orchestras available and opportunities were limited. As a child, she started piano through her school before switching to the clarinet.
For her future projects, she mentioned that she would also be performing David Earl's Clarinet Concerto on Saturday night. David is also from South Africa. Maria said that she also enjoys putting herself out there on social media even if it is scary. She took a break from the clarinet during the pandemic and used social media to come back from her time off. She believes that people appreciate seeing her through social media because she can be herself.
I really enjoyed the recital and interview combination of the ClarinetFest® at 5 session. It was a wonderful way to not only experience these artists' music, but to get to know them on a more personal level as well.
---