ClarinetFest® 2023 in Review
---
ClarinetFest® 2023 Day 3
Expanding and Diversifying the Standard Clarinet Repertoire
Palelists: Stacey DiPaolo, Colleen White, Olivia Meadows,
Vanessa Davis, Jean-Guy Boisvert
by Alyssa Powell
---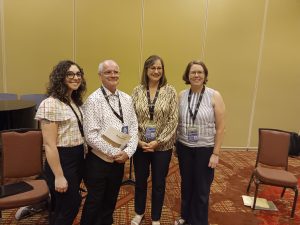 In this session, four varying approaches to diversifying repertoire were offered by Stacy DiPaolo, Colleen White, Olivia Meadows, and Jean-Guy Boisvert. Dr. Boisvert of Canada began the discussion by explaining how they came to commission over 150 new works for beginner to intermediate clarinetists. Working with established composers, Boisvert set guidelines based on developmental progress of the students (ex: limit of only 9 notes in the chalumeau register, or rhythmic suggestions) to ensure beginners can successfully approach these works. The songs vary by subject matter (trains and animals, for example), and in approach including contemporary techniques. Boisvert spoke about the challenges of receiving grants for commissions in Canada, and enthusiastically shared about these new works, La Belle Adventure, published by Doberman-YPPan.
Dr. Stacy DiPaolo emphasized the need for "level 1" repertoire that is both interesting and supports skill-building for students beginning college, particularly for those who haven't had access to lessons in high school. The point was made that piece levels are not standardized and can be tricky to determine. DiPaolo sought complete works that were a "level 1," rather than a movement or selection from more difficult pieces and compiled them in a handout with over 70 pieces for early college students. The observation was made that it is important to continue seeking works by underrepresented composers. The pieces highlighted in DiPaolo's discussion are listed below.
Dr. Olivia Meadows contributed research pertaining to specifically modern, unaccompanied clarinet repertoire. Meadows cited their own experiences with pieces that were overplayed or unapproachable as a student just being introduced to the style. Meadows's recently commissioned several new works with specific extended/contemporary techniques in mind that serve to teach the player and organically incorporate these techniques to provide a more accessible introduction to modern repertoire. The pieces discussed are listed below.
Dr. Colleen White offered several lesser-known works by women composers. White noticed that that by including greater diversity in programing, students really connected with composers. In addition to several "new-to-us" works, White also talked a bit about databases. Through discussion with the audience, the point was made that some composers prefer not to be represented in a database based on the facet of their identity that causes people to label them 'underrepresented.' The pieces highlighted in the discussion are listed below.
The idea of diversifying repertoire was a clear theme at ClarinetFest® 2023. These panelists cited success from commissioning new works to meet a teaching goal and offered strategies for sifting through our extensive body of clarinet repertoire for buried gems. All the panelists were passionate about providing repertoire for students that was enriching, representative, and inspirational.
---
Pieces discussed:
La Belle Adventure, I, II, III published by Doberman-YPPan, commissions for beginners (Boisvert)
Ridout, Alan: Sonatina for clarinet and piano, Level 1, lesser-played (DiPaolo)
Etler, Alvin: Sonata for clarinet and piano, Level 1, lesser-played (DiPaolo)
Mehlenbacher, Kurt: My Own Thoughts piece for microtones. (Meadows)
Mandat, Eric P.: Winter Fantasy piece for microtones, multiphonics, timbral trills. (Meadows)
Brand, Spencer: Solioquize piece for multiphonics. (Meadows)
Garner, Lucas: Strands for solo clarinet and fixed electronics. (Meadows)
Bush, Zach: Of Moons and Meadows, clarinet rubato via rhythm (Meadows)
Gottry, Josh: Ropes Course, for altissimo clarinet (Meadows)
Smith, Alice Mary: Sonata, Romantic Era (White)
Holmes, Augusta: Fantasie Solo De Concours work (White)
Tailleferre, Germaine: Sonata, good intro to 12-Tone (White)
Bauer, Marion: Sonata, Op. 22 for clarinet and piano (White)