ClarinetFest® 2023 in Review
---
ClarinetFest® 2023 Day 3
Evening Jazz Concert
Tad Calcara, Virginia MacDonald, and Todd Marcus
by Season Cowley
---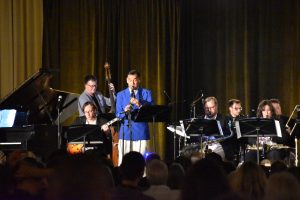 The 8:00 pm evening concert on Friday, July 7th featured jazz clarinetists Tad Calcara, Virginia MacDonald, and Todd Marcus. The evening took the audience on a journey from 1920s Swing to contemporary jazz, featuring original compositions by all three clarinetists.
Tad Calcara, principal clarinet of the Utah Symphony, was the first featured artist. An enthusiastic bandleader, Calcara performed Joseph King Oliver's Sugarfoot Stomp, Thomas Fats Waller's Henderson Stomp, Duke Ellington's The Mooche, Jelly Roll Morton's King Porter Stomp, Artie Shaw's version of Moonglow, and an autobiographical original composition of his own titled Concert Piece for Clarinet and Swing Orchestra. His mini history lessons about each tune helped to paint the picture of each piece's significance and the connections between each of them. The final tune he played was an homage to his roots, harkening back to his time spent with his grandfather accompanying him on guitar as they played jazz standards. His clear tone and true to period improvisations enraptured the audience.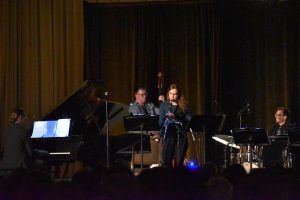 Canadian jazz clarinetist Virginia MacDonald's intimate performance was a stark contrast to Calcara's high energy. Most of the band left the stage, leaving Tom Amend on piano, Erik Applegate on bass, and Alejandro Castano on drums. Her performance began without introduction with her own composition Hope, which was written during the lengthy lockdown in Toronto, Canada during the height of the Covid-19 pandemic. The next piece she played was Artie Shaw's version of Hoagy Carmichael's ballad, Stardust. Her final piece was Last Call at Dmitri's, one of her first original compositions. MacDonald's playing was intimate and soulful.
MacDonald welcomed jazz bass clarinetist and composer Todd Marcus to the stage to join her on two final tunes: one of Marcus's original works, Cantata, followed by MacDonald's arrangement of Harold Arlen's My Shining Hour. The blend of MacDonald and Marcus's sounds was impeccable, and their perfect intonation as they played in unison and octaves was extraordinary. A smaller band came back on stage to accompany Marcus on his original composition that drew inspiration from his Egyptian heritage. Marcus began his set with Bousa, which means "kiss" in Arabic. The next piece was Adhan, which is a call to prayer, from his suite Blues for Tahrir, composed as a response to the revolution in Egypt. His final piece, Cairo Street Ride, depicted the chaotic traffic with frequent horn honking in Egypt. Marcus's compositions were colorful and his playing was thoughtful.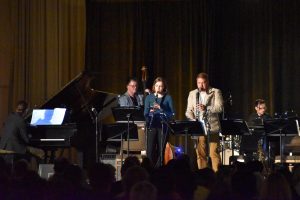 To end the concert, the three clarinetists returned to the stage, all on B-flat clarinet, to perform Artie Shaw's Back Bay Shuffle. The audience erupted with applause, prompting them to play an encore.
---