ClarinetFest® 2023 in Review
---
ClarinetFest® 2023 Day 4
Wellness Class: Constructive Rest
with Shawn Copeland
by Julia Lougheed
---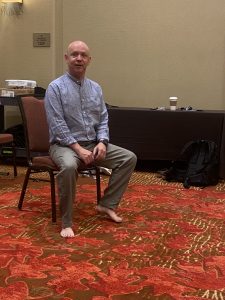 At 8:00 am on Saturday morning, masterclass participants arrived sleepy-eyed to Salon A at The Marriott Hotel to learn more about an important topic: Rest. "Believe me, the irony is not lost on me that you all woke up early to come rest", clinician Shawn Copeland remarked, "if you do fall asleep at any point during this class, it's okay – this means you are listening to your body."
Shawn Copeland then went on to explain the idea of Constructive Rest, a practice of lying down in restful awareness of one's body that is a central part of Alexander Technique training. Shawn then had everyone in the room move chairs around to clear space, and led us through a Constructive Rest routine. This involved us slowly moving to lie down on the floor in a semi-supine position, lying on our backs with our knees bent.
Shawn directed all masterclass participants through a slow, mindful movement pattern than settled us onto the floor. He commented that it's important to be aware of differing levels of flexibility and any pain present as we moved from standing on our feet to lying on the floor, and to listen to our bodies the whole way. Once everyone was successfully lying on their backs, Shawn encouraged everyone to focus on their breathing, and "avoid thinking about clarinet or listening to clarinet music", as that would trigger deep tissue activation, and we were trying to let neural pathways involved with clarinet playing rest during this time. (Admittedly, this was a bit difficult to do while dealing with sounds bleeding in from a concert next door – an ongoing sonic challenge during this year's ClarinetFest®!)
Shawn took masterclass participants through a series of movements that helped us relax our muscular and fascia tissues. He spoke about the parts of the body we were working with at any given point, explaining that fascia relaxes slower than muscle and can be parts of our body where tension is stored long-term without being allowed to release. Shawn also commented that the specific movements one does while resting in a semi-supine position do not necessarily matter, as long as one is moving in mindful awareness and bringing relaxed attention to their body. After participants were sufficiently relaxed, Shawn brought us all back up to our feet, instructing us to mindfully reverse the movement patterns we had used to get ourselves onto the floor. Participants then walked around the room for a bit, with many people reporting that they felt more relaxed, alert, and were experiencing more mental clarity than before they had walked into the room.
Shawn told everyone that a daily practice of constructive rest is healthful, can help prevent serious injuries. "People have actually avoided back surgery this way," he commented. Shawn recommended 20 minutes of constructive rest a day, but also told us that 5 or 10 minutes could still yield benefits. Even with a schedule as busy as his, Shawn keeps a daily constructive rest practice, lying on the floor whenever he can, "even if that means the ten minutes I get between lessons – it all matters, and it all helps".  Including this class at the beginning of ClarinetFest®'s Fourth Day certainly helped the conference feel more sustainable for all participants involved.
---