ClarinetFest® 2023 in Review
---
ClarinetFest® 2023 Day 1
Boris Allakhyerdyen
by Season Cowley
---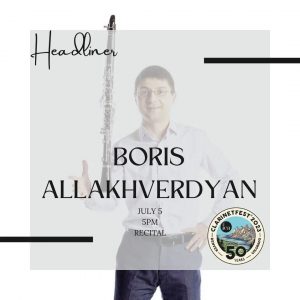 The first headliner concert, ClarinetFest® at 5, featured clarinetist Boris Allakhverdyan, principal clarinetist of the Los Angeles Philharmonic and faculty member of the UCLA Herb Alpert School of Music and California State University at Fullerton. The performance took place on July 5th at 5:00 P.M. at the The Westin Westminster hotel.
Allakhverdyan and pianist Gail Novak began with an effortlessly effervescent and soulful performance of James Cohn's arrangement of Gershwin's Three Preludes. Next on the program was Debussy's Première Rhapsodie. His musicality drew the audience in as he painted a soundscape rich with color. The first half of the program concluded with two pieces by Michele Mangani, Pagina d'album, a beautifully expressive piece, and Blues, which began with a quotation of the famous opening solo from Gershwin's Rhapsody in Blue.
After a brief pause, Allakhverdyan continued with an impeccably precise and dramatic performance of Kalliwoda's Introduction and Variations. During this piece, he played with the utmost poise after dropping a piece of cigarette paper as he tried to dab condensation out of his C#/G# key. He continued on without skipping a beat as it fluttered to the floor. The penultimate piece on the program, Bloch's Denneriana, highlighted Allakhverdyan's exceptional clarity in phrasing and musical pacing. He ended the recital with a dramatic rendition of Béla Kovács's Sholem-Alekhem, rov Feidman.
The two highlights of the evening were Allakhverdyan's performances of Première Rhapsodie and Denneriana. The dimension and color used in those two pieces in particular was stunning. His command of the instrument was awe inspiring, with impressively fluid technique and beautiful, imaginative lyricism that culminated in an outstanding performance that won him a standing ovation. Despite performing in a large room, his playing made it feel like an intimate performance.
---