ClarinetFest® 2023 in Review
---
ClarinetFest® 2023 Day 2
Health and Wellness Expert Somatic Masterclass #1
by Season Cowley
---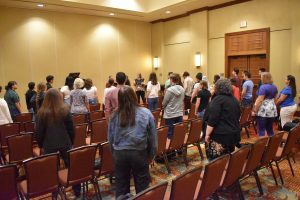 Dr. Shawn Copeland, Associate Professor of Clarinet at the University of Idaho, and Dr. Jackie McIlwain, Assistant Professor of Clarinet at the University of Southern Mississippi, worked with clarinetists Andrew Nguyen, T. J. Harmon, and Samara Morris on July 6th at 8:45 A.M. at the Denver Marriott Westminster hotel. Throughout the session, Copeland and McIlwain utilized Body Mapping and Alexander Technique to provide feedback that produced noticeable improvements in each performer.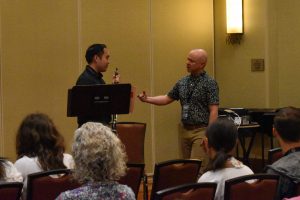 Copeland began the session by working with Andrew Nguyen, who performed Hommage á J.S. Bach by Béla Kovács. Before playing, Andrew explained that he struggled with tension in the upper body and moving his fingers too far from the keys as well as horizontally away from the keys. After playing the slow opening section, Copeland asked him to start again, but with the knowledge that everyone in the audience wanted him to play well. He asked Andrew to look out into the audience, see them, and take the loving energy in to his own playing. This immediately allowed Andrew to perform with more relaxation and musicality. Next, they moved on to a more technical section of the piece where Copeland could address hand position, namely issues in the left hand position. He explained that movement around the thumbs, which are fixed in position, should be led by the elbow, as the thumbs will move with the rest of the hand if led by the wrist.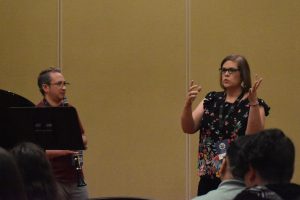 McIlwain worked with the next clarinetist, T. J. Harmon, who performed the opening of the first movement of Brahms's Sonata No. 2 in E-flat Major, Op. 120. The first thing she discussed was the feet, and identified three parts of the "tripod:" the ball of the big toe, the ball of the little toe, and the heel. She asked everyone to stand and sway in a circle, feeling the pressure shift in the feet. McIlwain asked T. J. to sway in a circle while he played, and then to focus on the ball of his big toes. The latter improved the projection of his sound despite some stutters in his technique. McIlwain explained that practicing with these small movements or with awareness in the body can be helpful tools to play with more relaxation.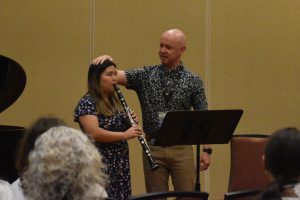 The final clarinetist of the morning was Samara Morris. She performed the opening of the first movement of Scaramouche by Darius Milhaud. Copeland began by asking what Samara struggled with; she explained that she struggles with taking shallow breaths and tension in her right hand because she has short fingers. He then asked her to take in her surroundings, including the room itself and the audience, and to cue into the support around her physically and energetically. She was able to play with more freedom of expression after shifting her focus. Copeland asked her to play again and notice when she gets drawn into the music and away from the experience of just playing.
Throughout the masterclass, both Copeland and McIlwain involved the audience in the experience. The information they discussed was helpful for the performers and audience members alike. One important point that Copeland made during this session was that "habits aren't good or bad…they're just habits, and we can change them."
---