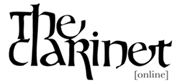 Originally published in The Clarinet 49/1 (December 2021). Printed copies of The Clarinet are available for ICA members.
---
ClarinetFest® 2021 Report
Weekend Two: July 16-18, 2021
by Sarah Manasreh
---
In the first of two Honorary Member Recitals, Robert Spring delighted us with unique pieces including a world premiere by Theresa Martin. He honored the life and works of William O. Smith with a heartfelt picture montage. He was joined by Joshua Gardner to perform Four Duets for Four Demi Clarinets (2009) by Smith.
Continuing the lectures and tutorials for beginning clarinets, this weekend had videos on "First Notes on the Clarinet" with Katrina Phillips, "Best Habits to Make Starting Notes Easier" with Michelle Anderson and "How is my Hand Position and Posture?" with Ricky Reeves. These tutorials are a fantastic resource for both beginners and their teachers.
Pedagogy for all ages and abilities dominated many of the lectures this weekend. There was something for everyone, from "Performing and Teaching Rose 32 Etudes" with Sean Osborn and "The Clarinet Pedagogy of Robert Marcellus" with Karen Bronson, to "Life-long Student: Life-long Teacher" with John Scott, and Julie DeRoche's presentation on tips to use embouchure, air shape and articulation to harness expression more comfortably. Additionally, many of the lectures pondered coming out of the pandemic as a clarinetist, such as Cecilia Kang's "Silver Lining Initiative: Lessons from the COVID-19 Pandemic Through the Lens of Global Clarinetists and Arts Leaders."
Health and Wellness addressed coming out of the pandemic with healthy ways to begin playing more in "Persistent Pain with Playing? Tips for a Lasting Career" with Dr. Colleen White and Dr. Rita White. There was also an exploration of body mapping in a clarinet studio with Jacqueline McIlwain, who is licensed in body mapping.
Clarinet choirs and ensembles that were featured included the Texas A&M University – Commerce Clarinets, the New Mexico State University Clarinet Choir and the Lucky Charms clarinet quartet from Iowa City West High.
The Global Stage featured recitals by Ruzaliia Kasimova, Patrick Morgan, Jonas Lyskjær Frølund and Jeff Anderle. Also featured was a master class by Patrick Morgan.
---
Robert Spring Honorary Member Recital
by Samantha Weinkoetz
Robert Spring presented his Honorary Member Recital featured unique works utilizing the demi-clarinet, a world premiere, and pieces in remembrance of the late composer and clarinetist, William O. Smith.
Spring, who recently was awarded Honorary Membership in the ICA, opened his recital with Four Duets for Four Demi-Clarinets by William O. Smith, featuring Joshua Gardner. Each of the four movements are titled after various moods: I. Mysterious, II. Anger, III. Dramatic, and IV. Bold. Each movement captures these emotions through the demi-clarinet's unique dissonant sounds and range.
The following piece was a world premiere written by Theresa Martin titled, Toxic Cocktail, Trio for Clarinet, Violin, and Bass Clarinet, featuring Robert Spring, Eva Dove, and Stefanie Gardner, respectively. This piece was incredibly exciting to listen to. Not only was each part incredibly active and technically demanding, but often overlapped to create a feeling of constant motion.
Epigrams for Solo Clarinet by William O. Smith was the penultimate work of this recital. Each of the three movements utilized various parts of the clarinet. Each movement is titled with quotes or "epigrams" from Sophocles, George Danton and Gandhi. The characters of each movement reflected their respective epigrams with haunting sounds achieved by using various joints of the clarinet, as well as a double clarinet.
The recital closed with Of Shadow and Fire for Clarinet and Piano by Mark Schultz, featuring Gail Novak. This beautiful work has moments of serenity as well as dark intensity. The dark and low piano voice contrasts with the jazzy clarinet lines. Spring demonstrated great control and technical skills in the piece's high altissimo passages and the use of double tonguing, all of which made for a thrilling finale.
---
Ruzaliia Kasimova 
By Grace Talaski
The first Global Featured Artist Stage concert on weekend two of ICA ClarinetFest® 2021 featured the duo of Ruzaliia Kasimova on clarinet and Valentina Shvetcova on piano performing Clarinet Sonata Op. 1 (1952) by Roman Ledenev (1930-2019). This concert premiered on YouTube on July 16, 2021. Throughout the performance, Kasimova played with a rich, deep tone color and a smooth and fluid technique. The duo always played with great expressiveness and synergy. Kasimova and Shvetcova performed the piece almost in a storytelling-like manner, clearly portraying relationships between passages and the forward flow of the music. The duo demonstrated great attention to detail in dynamics and phrasing to create an excellent performance.
---
Recital Patrick Morgan 
By Jessica Alvarado Brenes
Patrick Morgan presented a recital with a really wonderful program; he explored a lot of the sonorous possibilities of the contemporary clarinet, from a characteristically jazzy style to a deep impressionistic sound. The performance of David Baker's Clarinet Sonata was really impressive and masterful, presenting to us a clear and specific portrait of each movement, contrasting the musical ideas presented in each one. The second movement was especially magical; we could feel a lonely sensation in his sound and melodies.
The performance of Rhapsodos, composed by Abbie Betinis and inspired by Greek tradition, gave us a different kind of musical discourse. Patrick Morgan also gave us a special and singular performance, demonstrating his great versatility. Particularly in this piece, we can appreciate the spectacular work of Christopher Schmitt at the piano. This piece creates  the perfect atmosphere to express and reinforce all the exotic sensations by means of the harmonic language and the constant free and "rhapsodic" character present in the clarinet melodies. His piano accompaniment was the perfect combination with the expressive interpretation of Patrick Morgan.
Bucolique, one of the fantastic clarinet works of Eugene Bozza, was performed as if they were painting, showing a lot of different colors and brushstrokes. The clarinet melodies sounded like portraits of pastel colors on the soft canvas created by the piano harmonies. With this fantastic performance, we can appreciate the great versatility of Patrick Morgan's clarinet sound.
This concert was a really good demonstration of the sound possibilities of the clarinet, and how these works can be great performances in the hands of great musicians like Patrick Morgan.
---
Patrick Morgan Masterclass
By Jennifer Fraley

Patrick Morgan (U.S. Marine Band) worked with three undergraduate clarinetists in his July 17 master class. Mandi Bearjar (junior at West Virginia University) began with a performance of André Messager's Solo de Concours. Much of her session with Patrick focused on pacing and shaping phrases. For the more expressive sections, Patrick encouraged a me relaxed approach with natural fluctuations in tempo and energy. He also reminded everyone in the class that we should never let technical challenges influence our expressive choices.
Next, Erick Morales (sophomore at the University of North Texas) performed the third movement of Carl Maria von Weber's Clarinet Concerto No. 2. Patrick recommended that Erick play slightly slower in order to explore more of the character changes that happen frequently throughout the movement.  He encouraged everyone to practice slowly, but always maintain and exaggerate the musical ideas you want to come through in your performance.
Peter Hansen (junior at Boise State University) finished out the class with a performance of Concertino for Clarinet in B-flat major by Gaetano Donizetti. Patrick spoke again of finding all the moments that allow performers to add interest to a piece: changes in mood, texture, tempo and harmony. He also encouraged experimenting with tone color – specifically, a more transparent sound. By working through expressive ideas in the phrasing and altering his sound, Peter's later performances of the opening demonstrated how a soloist's performance can enhance the collaborative relationship with an accompanist.
---
Jonas Lyskjaer Frolund
By Osian Dance
This year's ICA ClarinetFest® featured an electrifying concert from the Danish clarinetist Jonas Frølund and pianist Manuel Esperilla live-streamed from the Herning Museum of Contemporary Art in Denmark.
Frølund, principal clarinet of the Danish Entertainment Orchestra and alternating solo clarinet of the Malmö Symphony Orchestra, curated an interesting program featuring mainly Danish composers. This cleverly designed program was centered around the Cadenza from the first movement of Carl Nielsen's Clarinet Concerto with the surrounding pieces chosen to hint at and reflect musical ideas featured in this short cadenza.
The recital opened with Frølund and Esperilla's virtuosic rendition of the Niels Viggo Bentzon Clarinet Sonata. The technical brilliance of the first movement was exciting to watch and led us into some very special moments during the second movement where the passionate climaxes were beautifully controlled. Frølund's ease and ability to create a wonderful sound in the highest registers of the clarinet was particularly impressive and admirable. A dramatic third movement, which features the clarinet jumping quickly between all the registers in a technical tour de force, led neatly into the solo clarinet portion of the recital which began with the Cadenza from Carl Nielsen's Clarinet Concerto.
Frølund's interpretation of the Cadenza was invigorating, and his seemingly effortless control of dynamics and character kept us on the edge of our seats waiting to see where he would take it next. His passion for the piece was obvious and clearly shown through his excitable and expressive physicality. The Nielsen Cadenza led attacca into Igor Stravinsky's Three Pieces for Solo Clarinet. The lonely song of the first piece was played with elegant expression and juxtaposed nicely with the technical brilliance of the second piece. The third piece was written by Stravinsky with jazz influence in mind, and this didn't escape the attention of Frølund who emphasized the quirky rhythms and jazzy accents with ease even adding in his own 'growls' here and there.
The ICA's portion of the concert finished with Esperilla returning to the stage to join Frølund in Bent Sørensen's Romance for clarinet and piano. This melancholy piece featured some beautiful soaring lines interposed with more reflective moments and was a brilliant way to end the ICA portion of the concert.
At the beginning of the recital Frølund emphasized his passion for playing the music of Danish composers and from his superb interpretation of his program we can certainly see why. It was an exciting and thrilling concert to watch and I'm sure there will be many others who cannot wait to see Frølund perform again in the future.
---
Jeff Anderle
By Andrea Vos-Rochefort
Saturday's recital began with Song for Eric by Michael Fiday, a composition full of smooth legato phrasing with a sweet questioning feel and sharp dynamic contrasts. Jeff Anderle shows himself in total control of the bass clarinet with gorgeous consistency of sound and whisper-soft pianissimos.
In the following piece, God Bless the Child, Jeff shows great facility with zinging pizazz and color throughout the extended range of the instrument, finding inspiration in the throaty jazz tones of the baritone saxophone and imitating the versatility of Billie Holiday's voice, all filled with raw emotion that quickly changes from wracking pain to cool laissez-faire attitude. He also manages to build a convincing progression which is sometimes lost in the transcriptions of Eric Dolphy's epic improvisations. It is immensely satisfying to hear Jeff glide into the altissimo in a playful tongue-in-cheek style before subsiding into the embrace of the original theme with ease and a sweet dolce quality. The ending fireworks explode with excitement and flutter off into the night with the final tremolo.
Song for Eric-Reprise, also by Michael Fiday, is an edgier composition that explores the sound world of the bass clarinet with greater intensity using flutter tongue and singing while playing to create a uniquely different and intriguing sonority executed with great feeling and precision even at the edges of the dynamic range. The same sweet questioning feel remains throughout the world premiere connecting it to the original Song for Eric by Michael Fiday even in the otherworldly cry that ends it.
Tsmindao Ghmerto closes out the recital and Evan Ziporyn creates a gorgeous sound world that Jeff Anderle easily inhabits, vibrating with intensity through extended techniques and compelling harmonies provided by the voice and the instrument in duet.