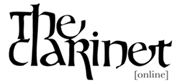 Originally published in The Clarinet 49/1 (December 2021). Printed copies of The Clarinet are available for ICA members.
---
ClarinetFest® 2021 Report
Weekend Three: July 23 – 25, 2021
by Sarah Manasreh
---
The third weekend of ClarinetFest® opened with even more spectacular performances of interesting and compelling repertoire. There was no performance so poignant as Friday's seventh Spotlight Recital showcasing the ICA board and featuring Michael Chesher and Tod Kersetter on bass clarinet. Dr. K. Tod Kersetter, who served as the ICA treasurer and professor of clarinet at Kansas State University, passed away on July 12, 2021. The recital, which he had recorded earlier in the year, was an energetic performance of Three Colombian Dance Movements by Mauricio Murcia followed by a wonderful mini-lecture from Kerstetter on the piece and playing in the Latin jazz style.
The Honorary Member recital and reception for Charles West was held on Friday evening. It began with a performance of the last movement of the Brahms A minor Trio with Roger Drinkall and Dian Baker followed by a riveting Sonata pour trios clarinettes by Marcel Mihalovici with Lynn Musco and Douglas Moore-Monroe.
This weekend equally highlighted vastly diverse lectures for performance and pedagogy. There was something for any performing clarinetist, including performance practice of Brahms with Carl Galland, an exploration of literature for clarinet, tenor voice and piano with Trio Voce, the art of recording and engineering as a performing clarinetist with Anthony Poehailos IV, and techniques to start electrifying the clarinet with Ian McIntyre. Bridging the topics of pedagogy and performance, breathing techniques were emphasized this weekend with "Let's Talk about Air" with José Gómez and "Clarinet Breathing: Anatomy, Physiology and Pedagogy" with Alyssa Powell. A must-watch of the pedagogy lectures was Deborah Bish's examination of "How We Learn." Additionally, there were fantastic lectures on teaching students the soft skills of diplomacy and self-preservation with Meghan S. Taylor and Malena McLaren and "Embouchure Drills for Clarinet" with Kornel Wolak.
The tutorials for less-experienced clarinetists continued to progress with "Proper Clarinet Articulation" with Katrina Phillips, "Clarinet Fingering" with Michelle Anderson, and "Let's Review the Chromatic Scale" with Ricky Reeves.
There were two particularly wonderful lectures for Health and Wellness this weekend. Particularly helpful for finding motivation was "Ways to Support Mental Health Balance and Stay Motivated" with Kathryne Pirtle. Also related to mental health and performance was an engaging lecture by David Ciucevich about performer hypnosis.
Clarinet choirs featured this weekend were Carroll High School Clarinet Choir, Carrollton High School Clarinet Ensemble, ICE All-Stars and the Emporia State University Clarinet Choir.
The Global Artist Stage featured performances by Cindy Lin, István Kohán, Mariam Adam and Ixi Chen. Additionally, there was a joint master class by Diana Haskell and Jane Carl.
---
Charles West
By Sarah Faltz
On July 23rd at 7 p.m. ICA Honorary Member Charles West, former professor at Virginia Commonwealth University, presented a recital of two clarinet trios.
The first piece was a previous recording of the final movement of the Brahms Clarinet Trio in A Minor featuring Roger Drinkall (cello) and Dian Baker (piano) that comes from an album featuring trios of this instrumentation from 1998. This recording beautifully captures the drama of the piece and the talent of the musicians to shine through.
The second piece performed was Sonata pour trois clarinettes by Marcel Mihalovici featuring Lynn Musco (E-flat clarinet), Douglas Moore-Monroe (A clarinet), and West (bass clarinet). The three work together to create an effortless performance that highlights each member's intricate musical line within the ensemble
Overall, this recital was a delight and a wonderful way to celebrate the career of Dr. West.
---
Cindy Lin
By Jessica Alvarado Brenes
Cindy Lin began this concert with a masterpiece of the clarinet repertoire, Première Rhapsodie by Claude Debussy, in which she showed her beautiful and rich sound. The musical phrases and melodies were played perfectly intertwined with the piano part, and demonstrated a delightful sound with lots of diverse colors and textures.
In Arnold Bax´s Sonata, we could appreciate a sweet sound and an energetic performance. This energy was most evident in the second movement, where the melodies felt like electricity passing between the clarinet and the piano phrases. This piece was a wonderful way to show the fantastic expressive and technical skills of Cindy Lin, in addition to the beautiful synchronized playing of Hjalmar Berg at the piano. In this sonata, both musicians have an active role. Both parts add important elements that drive the musical discourse, and Cindy Lin and Hjalmar Berg showed us strong ensemble work.
The Duo Sonata, by Michele Mangani, was the best way to finish this concert. It is a fresh piece with rhythmic and minimalist elements. The pure and soft sound of Cindy Lin and Corrado Giuffredi enhanced the beautiful and peaceful melodies. The second movement presented a love theme that was performed with a lot of passion; the third movement surprised us with a contrast of energy. The performance of Cindy Lin and Corrado Giuffredi gave this piece a very rhythmical sensation as the central part of the musical discourse.
Cindy Lin performed a wonderful concert, presenting many different styles, and demonstrated  her expressive approach to clarinet performance with a versatile sound.
---
István Kohán
By David Yandl
Tokyo-based clarinetist István Kohán shines in a lively program of Poulenc's Sonata, Gershwin's Rhapsody in Blue, and Brahms's Hungarian Dance No. 5, the latter two being original arrangements by Kohán. His bold playing and interpretations are wrapped in a liquid, vocal legato. Pianist Shota Kaya makes an incredibly strong showing as well, and the pair do an exceptional job with the ebb and flow of rubato in each piece.
Kohán's robust Poulenc captures the capricious (or even volatile) nature of the work. Rhapsody in Blue takes on a free, improvisatory quality in Kohán's hands, packed with virtuosic flourishes for the clarinet. In his unconventional interpretation, Kohán croons, wails and growls. Though the arrangement includes only clarinet and piano, the two command impressive contrasts, from raucous to cool, with a few delicate moments. Finally, Kohan's take on Brahms's Hungarian Dance No. 5 has a similar improvisatory quality. It includes a brief, jazz-influenced introduction before Brahms's familiar melody, which also serves as a wonderful transition from Gershwin. The pair attack the work with incisive virtuosity and playfully weave an element of surprise into their performance.
---
Diana Haskell and Jane Carl Masterclass
By Laura McLaughlin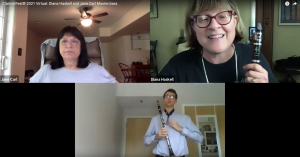 Weekend three featured a master class with Diana Haskell, associate principal clarinet of the St. Louis Symphony Orchestra, and Dr. Jane Carl, professor of clarinet at the University of Missouri-Kansas City Conservatory of Music and Dance. They heard three talented clarinetists. Up first, Matthew Svec performed a portion of Nielsen's Concerto for Clarinet and Orchestra, Op. 57. The Nielsen was Matthew's quarantine project and he dazzled us with his technical prowess. Diana Haskell reminded us that Nielsen was all about melody, and she emphasized the importance of melody, beauty and shape.
Up next, Kyle Norberg performed the Andante and Cadenza from Messager's Solo de Concours. Kyle, who will begin his undergraduate clarinet studies this fall under Dr. Paglialonga at North Texas, took the concepts Dr. Carl and Ms. Haskell shared with him and applied them right away. Concepts included line, thinking in larger phrases, and getting to the center of each note at the beginning of the note.
Herman "JJ" Montoya III was the third and final clarinetist to perform in the master class, playing a very musical interpretation of Weber's Concerto No. 1. Dr. Carl emphasized the importance of maintaining the inner metronome, and the accuracy of rhythm, especially through ties and grace notes. When JJ applied these concepts, you could hear the difference and it enlivened his interpretation.
Each student was well prepared and benefited greatly from Ms. Haskell and Dr. Carl's insights!
---
Mariam Adam
By Andrea Vos-Rochefort
Mariam Adam drew the audience in with her intriguing tone for some cheeky, rollicking fun by Paquito d'Rivera in Fleur de Cayenne. The piano and clarinet dance in tandem as the clarinet line jumps around fluidly with consistent tone and beguiling inflection. The opening shimmers with delicious upward inflections like an invitation to dance with the performers. This high energy continues all the way through to the quietly intense ending chords.
Valerie Coleman's excellent pacing in her Sonatine remains consistently exciting, and Mariam shows a fuller presence here with high notes that float like wisps, effective technique and consummate flair. The gorgeous view of Sacre Coeur is an inspired Parisian background to the interweaving lines as the clarinet twists and turns upon itself with only glimpses of a teasing and wistful melody. The calmer second section shows off a deep and lovely tone that is still like a beautiful pond of unseen depths. The playful quality of the lines is never out of sight and the collaboration between pianist and soloist is spot-on and delightfully flexible. The repeated gestures are gracefully shaped and the piano interludes are gorgeously sumptuous in contrast to the angular entrances of the clarinet line. Throughout this piece, Mariam shows admirable flexibility of sound, presenting many different inflections from delicate whispers to powerful outbursts all while cradling the musical phrases with sensitive and intelligent taste.
---
Ixi Chen
by Kristen Denny-Chambers
Ixi Chen opened her program with the Trio for Clarinet, Violoncello and Piano in E Flat Major, Op. 44 (1861) by Louise Farrenc (1804-1875) which was reminiscent of the chamber writing of Mozart or Beethoven. Joined by collaborators Ted Nelson (cello) and Julie Spangler (piano), the trio was performed flawlessly with energy and incredible musical sensitivity.
Next on the program was "Insomnia" from Billy Collins Suite (2008) by Vivian Fung (b. 1975). Scored for clarinet, cello and piano with narrator (pre-recorded by Ixi Chen), this modern curveball kept me on the edge of my seat. Essentially a tour through the struggles that many experience while attempting to quiet the mind and prepare for rest, the music and story offered vivid imagery of the unsettling effects of insomnia.
Showcasing the clarinet alone, Ixi chose Set for Clarinet by Katherine Hoover (b. 1937) as her next piece on the program. Ms. Chen enticed my ears with a wide variety of tone colors and exhibited excellent musical patience – truly honoring the subtleties of the music.
Nelson and Spangler rejoined Chen for Five Legs Dancing (2019) for clarinet, violoncello and piano by Lynne Plowman (b. 1969). While the music leaned towards atonality, the romantic lines and intricate rhythms provided many unexpected twists. From the distant cries from the cello, playful mixed meter interjections, open intervals with heavy repetition and flowing musical lines, the music evoked a plethora of emotions. It was the perfect balance of dance, struggle and simplicity.
To close the program, Tiffany Valvo joined Chen for a heartfelt performance of Alun Cook's clarinet duet arrangement of "Sous le dôme épais" from Lakmé Act 1 (1881) by Léo Delibes (1836-1891). The two played the way that sisters might sing together. It was simply beautiful.