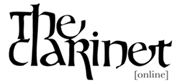 Originally published in The Clarinet 49/1 (December 2021). Printed copies of The Clarinet are available for ICA members.
---
ClarinetFest® 2021 Report
Weekend One: July 9 – 11, 2021
by Sarah Manasreh
---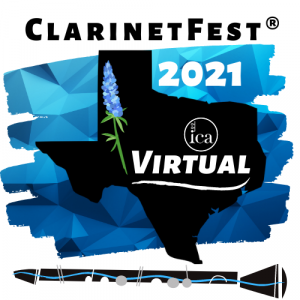 While we were unable to gather together in person, ClarinetFest® 2021 was a brilliant virtual reimagining and combination of the Reno 2020 and Forth Worth 2021 ClarinetFest® conferences. With the uncertainty of the COVID-19 pandemic, and with the health and safety of attendees in mind, Co-Artistic Directors Mary Druhan and Jennifer Daffinee and the Artistic Leadership Team – Cheyenne Cruz, Jody Webb and Gary Whitman – pivoted the traditionally in-person event into a month-long virtual celebration.
Unique to the online setting, each event was given a specific airtime over four weekends in July and remained available for the duration of the conference. The Flowers without Borders Stage featured themed performances that explored opportunities to affect positive change across borders, cultures and societal divisions, and the Clarinet Learning Community fostered clarinet pedagogy as well as Health & Wellness through a collection of clinics, seminars, lectures, workshops and master classes. Additionally, the Third Annual Guido Six International Clarinet Choir was led by a team of exceptional musicians, with special thanks to Cheyenne Cruz for coordinating. Attendees were invited to submit recordings for this virtual international clarinet choir opportunity. The Showcase Stage, coordinated by Paula Corley, featured performances by young student ensembles. The festival also hosted performances on the Global Featured Artist Stage, Texas Artist Stage, Honorary Member Stage with live receptions, Spotlight Stage, Potpourri Stage, Lonestar Stage (for unaccompanied works) and the Clarinet Choir Stage. Along with the artistry on display from the clarinetists, audiences enjoyed the talents of the collaborative musicians and dancers from all over the world.
Altissimo Sponsors for ClarinetFest® 2021 Virtual were ALRY Publications, Backun Musical Services, D'Addario, Rovner Products, Silverstein and Yamaha. Clarion Sponsors were Henri Selmer Paris, Luyben Music, North Country Winds and Royal Global. Chalumeau Sponsors were Chedeville Lomax Classic, McClune Mouthpiece Service, Midwest Musical Imports, Wiseman London, Newind Shop, Rodriguez Musical and Walter Grabner's ClarinetXpress.
---
Weekend One: July 9 – 11, 2021
The weekend opened with a warm welcome from the ICA board of directors, staff members and hosts. The opening message contained a thorough navigation through the virtual conference and a wholehearted sentiment of longing to see one another again.
There were numerous recitals that contained a diverse body of work for solo clarinet and various instrumentations. All prerecorded, the performers churned out high-quality performances that were combined into short recitals. Not only were the performances riveting, but the combinations of repertoire for each recital were well-programmed and compelling. In addition to the performances, we learned how to use effect pedals on clarinet with Chris Mothersole and Tim Fitzgerald.
A feature of this Virtual ClarinetFest® 2021 were tutorials for beginning clarinetists. This weekend featured tutorials on creating a good clarinet sound, embouchure and assembly of the clarinet. In addition to being helpful to beginners, these videos act as wonderful resources to send home with new students. A highlight for teachers who work directly with developing students was the lecture panel "Essentials of Clarinet Pedagogy: The First Three Years."
Clarinet ensemble lectures and recitals were in abundance this weekend as well. The University of North Carolina at Greensboro Clarinet Choir gave a riveting performance that included two world premieres. The McKinney ISD Clarinet Choir and Cypress Ridge High School Clarinet Choir performed in the first Showcase Stage for clarinet choirs. Finally, we heard lectures on "Fostering an Idiomatic Blend of Large Ensemble and Chamber Music Skills" with Barbara Heilmair and "Auxiliary Pedagogy: Like-Instrument Ensembles for Better Intonation & Tone Concept at a University/High School Level" with Andrea Vos-Rochefort and Stefanie Gardner.
The Health and Wellness sessions featured extremely important topics. Jason Shafer's "Living with Performance Anxiety: Nurturing Confident Performing in Ourselves and Our Students" offered a candid and thoughtful examination of achieving a healthy performance mindset. The first Health & Wellness Panel discussed diet, chronic pain and preexisting conditions and the effects on mental health and focus.
The Global Featured Artist Stage was full of exuberant performances and high-quality productions from David Griffiths, Paquito D'Rivera, Eddy Vanoosthuyse, Jose Franch-Ballester, and Javier Vinasco. It also included a master class with Jose Franch-Ballester and a lecture from Marie Ross, "How Learning the Historical Clarinet Can Improve Your Modern Playing: Technically and Creatively."
---
David Griffiths/ Ensemble Liaison 
by Grace Talaski
Ensemble Liaison, one of Australia's leading chamber groups, consists of David Griffiths on clarinet, Svetlana Bogosavljevic on cello and Timothy Young on piano. Throughout their recital, the group demonstrated excellent attention to detail in stylistic consistency, blending of tone and depth of expression.
The first piece on the program, Für Elise Fantasy (2020), was written by Timothy Young (b. 1970), the group's pianist. This piece was a creative re-exploration of the Beethoven classic referenced by its name. Für Elise Fantasy contained several familiar motives from Beethoven's Für Elise. Young's composition transformed and scrambled these motives in several fresh and interesting ways to form a beautiful new work.
The second and final piece on the program was Trio Marlenita (2020) by John Novacek (b. 1964). The first movement "Preamble" had a whimsical, ever-changing quality due to many stylistic changes. The movement was at times dark and intense and at other times had a vibrant and jazzy feel. The ensemble executed these stylistic changes seamlessly. The ensemble's performance of the second movement "Lament" had great emotional weight created by the depth of expression and density of tone colors of the players. The third movement "Danza 'Bermúdez' (a rondo)" was a treat to listen to with its lively character and Ensemble Liaision's energetic performance.
---
Paquito D'Rivera 
by Grace Talaski
The second Global Featured Artist Stage concert on day one featured Paquito D'Rivera in an exciting performance of several of D'Rivera's Latin jazz quartets for various combinations of clarinets and saxophones. D'Rivera and his ensemble members demonstrated excellent technique, rich depth of tone and wonderful ensemble playing despite the remote recording.
The first piece, La Fleur de Cayenne, was performed by Flavia Mendez Perez on B-flat clarinet, Juan Ruiz on B-flat clarinet and alto saxophone, Diana Alvarez on bass clarinet, and Paquito D'Rivera on B-flat clarinet and soprano saxophone. The majority of the piece was performed on all clarinets, but partway through, Juan Ruiz and Paquito D'Rivera traded improvised solos on their saxophones. This piece was a lively and energetic way to kick off the concert.
The second piece on the program, Cuban Sharks, featured Jose Ignacio Santos Aquino on B-flat clarinet, Juan Ruiz on E-flat clarinet, Diana Alvarez on bass clarinet, and Paquito D'Rivera on B-flat clarinet. Cuban Sharks had an intense and dark character. This piece featured solos from all four ensemble members.
The third piece, The Elephant and the Clown, was performed by Esneider Valencia on tenor saxophone, Juan Ruiz on alto saxophone, Diana Alvarez on bass clarinet, and Paquito D'Rivera on soprano saxophone. The recorded performance featured a backdrop of artwork by Omar Corrales. A particular highlight of this piece was the fabulous bass clarinet elephant calls.
The final piece on the program, Kites over Havana, featured a poetry reading by Brenda Feliciano and artwork by Eduardo Méndez Navarro. This piece was performed by Paquito D'Rivera on B-flat and alto clarinets, Juan Ruiz on E-flat clarinet, Jose Ignacio Santos Aquino on B-flat clarinet, and Diana Alvarez on bass clarinet.
---
Eddy Vanoosthuyse  
By Brenna Ohrmundt
The first Saturday of the virtual ClarinetFest® featured a stellar showcase of three Belgian composers and the world-renowned Dutch clarinetist Eddy Vanoosthuyse. This project, entitled Van Eyck: Revisited, was inspired by the religious, stunning works of Dutch artist Jan van Eyck. Vanoostuyse commissioned the following composers to bring light to van Eyck in a celebration of Dutch artists and the religious experience through clarinet performance.
First in this performance was Alan Crépin's Lam Gods Impressions (2020) featuring Vitaly Samoshko on piano. Crépin was inspired by the detail that van Eyck laid in the Ghent Altarpiece (1432); despite its spectacular size, van Eyck's superb artisanship and attention to detail is shown throughout the entirety of the piece. Crépin wished to emulate van Eyck's mastery of precision through the various registers, articulations and timbres of the clarinet and piano. Vanoosthuyse's virtuosity of the clarinet and Crépin's interpretation of van Eyck's works were thoroughly captured in this short, yet powerful, chamber piece for clarinet and piano.
John Duijck's L'homme désarmé (2020) is featured secondly during this virtual performance. Duijck was inspired by a singular panel of the Ghent Altarpiece featuring a lamb on a rock. The Old Testament story behind this piece is the exile of a lamb bearing the sins of Israel chased into the desert, paralleling Christ's forty days in the desert and the Temptation in the New Testament. Duijck captured the vulnerability and isolation of this story through the clarinet being "lost" within the choral work. Vanoosthuyse captures the emotive essence of this story through his mastery of timbre throughout this piece, perfectly mirroring the sense of loneliness through this interaction with the text of this piece and the clashing chordal structure throughout.
The virtual performance concluded with Dirk Brossé's The Secret of the Mystic Lamb (2020). This piece was inspired by the religious awe and inspiration one may experience in their journey coupled with his own exposure tovan Eyck's works. Brossé captured the waves of emotion through religious participation with soaring strings, fluttering clarinet, and triumphant brass lines to truly capture the essence of religious awakening. Vanoosthuyse's stylistic mastery is demonstrated in this piece from seamless technical passages to powerful, emotive melodies towering the orchestra; his interpretation, along with Brossé's leadership of the Brussels Philharmonic, truly embody the message of this piece and the capability of the clarinet.
---
Jose Franch-Ballester Masterclass
By Carl Galland
The Global Masterclass with Jose Franch-Ballester occurred virtually on July 10 and featured three clarinetists, who performed two modern works and one of the classics. Tori Venske, an undergraduate clarinet performance major at University of Oklahoma, performed Sueño Andaluz composed by Bart Picqueur (b. 1972). Mr. Franch-Ballester was able to bring new flavor to Tori's well prepared and perfectly manicured performance through an intriguing discussion about how music comes from the soul. He expertly demonstrated the improvisatory, virtuosic and European style of Andaluz's work and was able to bring these qualities out in Tori's playing through inspiration combined with practical fundamental advice which is helpful for all clarinetists. Lauren Ardelt, an undergraduate music education major at Ottawa University in Arizona, performed X Concerto, movement 3 composed by Scott McAllister (b. 1969). With dazzling technique to begin with, Lauren's playing was brought to a new dimension through Mr. Franch-Ballester's instruction on using a dynamic and energetic airstream combined with creating gesture with one's finger technique and phrasing to heightened levels under his guidance.
Tyler Anderson, a recent high school graduate, performed Clarinet Concerto No. 1 by Carl Maria von Weber (1786-1826). Tyler demonstrated excellent finger technique in his performance, and Mr. Franch-Ballester was able to bring refinement and an operatic character to Tyler's interpretation. He mentored Tyler through intriguing discussion of Weber as well as giving excellent singing and clarinet demonstrations. This gave a brilliant model and basis for all clarinetists on how to phrase and perform works by Weber.
This masterclass was eye opening for the attendees who heard how Mr. Franch-Ballester inspired these students to develop their own music interpretation based on the character of each work. Expertly multitasking as a teacher through incorporating clarinet fundamentals and musical interpretation into his discussions, we should always keep an ear out for this virtuosic clarinetist and teacher!
---
Jose Franch-Ballester 
by Mark Allen Jr. 
The program chosen by Jose Franch-Ballester is an example of excellent programing. An arrangement of Bach, a subtle nod to Jacob Collier with the arrangement of Gabriel Faure's Pavane, wonderfully demonstrates the ways in which musicians are able to continue making music during these times.
Either alone, or virtually, Mr. Ballester's performances reflect not only what musicians have gone through, but also explore where music can go. With his performances of Stephen Chatman's Warm Summer Sun and Two Traditional Balinese Melodies, as taught by Made Lebah and Peliatan Bali, Mr. Ballester not only shows his range as a performer but also provides a moment of catharsis in seeing him performing with others.
Since his first YouTube video 11 years ago, Mr. Ballester has introduced me to numerous new pieces for the clarinet, and it's great to see that his unique approach to programming and flawless technique has not changed.
---
Javier Vinasco
by Jessica Alvarado Brenes
In this recital, Javier Vinasco showed us not only his melodic sound and interpretative skills, he also gave us a fantastic and complete performance experience. For example, a pair of tango dancers that provided us a new experience of virtual concerts, and playing a really fresh and amazing program. The dance was a magnificent element that reminded us of the close relationship between music and other artistic expressions.
Histoire du Tango is one of the most famous works of Astor Piazzolla, and was performed by Javier Vinasco and Carlos Betancur with the energy, lightness and passion that characterized the tango and Piazzolla music. Another beautiful work played by Vinasco was Pacific Serenade, by Miguel del Aguila. This piece was played in perfect synchrony and communication between the clarinet and piano player, expressing all the passion and sentimentalism that is written into this kind of music. Milonga, written by the same composer, was also played with a very light character. We could feel the sensation of the constant movement to the end of the piece and the choreography provided a lot of energy to this performance.
Vinasco also played music from three other composers, Fantasía sobre a Muié Rendera by Liduino Pitombeira, Reminiscencias by Eduardo Gamboa and Aún no se by Hernan Dario Gutierrez. These three works created the perfect balance in this concert, contrasting energy and calm. In these works, we could appreciate the sonorous, soft and sweet sound of Vinasco, and his facility to sing the most tender and sweet melodies with his clarinet. Aún no sé, by Hernan Dario, was the perfect finale for this concert, giving us a really beautiful and warm melody for listening at the end of the day.
---
Marie Ross – How Learning the Historical Clarinet Can Improve Your Modern Playing
By Brenna Ohrmundt
The virtual conference featured an in-depth masterclass with Marie Ross, professor of historical and modern clarinet at the University of Auckland. During this masterclass, Ross discussed the benefits of studying period instruments and performing pieces composed within those eras. Her masterclass was split into two parts: the technical advantages of historical performance practice and demystifying periodical musical expression.
The technical advantages heavily rely on the structure of the instrument itself. Ross featured her 1820s boxwood clarinet and the architecture of the instrument; from using the weakest reeds she could find, to the small mouthpiece, to the wood itself. As a lightly-built instrument, there is a lack of resistance, allowing the performer to release tension. Modern instruments strive to achieve the "richest, fullest sound," but unfortunately have  a larger threshold of effort to attain such timbre. The early clarinet allows for more flexibility with no resistance, especially in regards to articulation and dynamic contrast.
Ross discussed the expressionistic assets to learning a historical instrument. Ross provided multiple examples of performing diatonically and chromatically on a period instrument. Due to the cross fingerings and build of the instrument, multiple chromatic notes tend to be more "stuffy" than what clarinetists' ears are trained to hear today. She stated that past composers understood the timbre of these notes, and utilized them to convey various emotions in melodic lines. Another benefit to learning the period instruments is a "creative sense of freedom" in regards to interpretation of compositions. The "rules" of Classical and Romantic playing are heavily instructed for student musicians to emulate the stylistic interpretation of the time. However, learning the minutiae of a period instrument provides the experience to understand these guidelines as opposed to being instructed, allowing a more valuable performance experience.
As a conclusion to her masterclass, Ross recommended a handful of resources for those interested in pursuing historical performance practice. These include "The Clarinet" by Eric Hoeprich, "Classical and Romantic Performing Practice" by Clive Brown, and "The End of Early Music" by Bruce Haynes. Ross also recommends reaching out to local universities, second hand retailers and performers to experience performing on a period instrument.