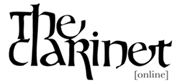 Originally published in The Clarinet 49/1 (December 2021). Printed copies of The Clarinet are available for ICA members.
---
ClarinetFest® 2021 Report
Weekend Four: July 30-31, 2021
by Sarah Manasreh
---
The fourth and final weekend of ClarinetFest® 2021 was filled with unique, enlightening lectures and captivating performances. This weekend featured some unique topics within the lectures such as Rachel Yoder's presentation "Clarinet Playing in Pregnancy and Beyond" which presented research on the physiological and societal issues of clarinet and pregnancy. Additionally, there were great lectures on career building which included "Creative Clarinet Careers: Thinking Outside the Orchestra (and Teaching)" with Larkin Sanders, and a splendid look at avoiding burnout and fueling passion with Lynn Snyder. The final lecture of the festival was a delightful exploration of Penderecki's works for clarinet with Thiago Ancelmo.
Pedagogy and technical lectures applicable to both younger players and seasoned enthusiasts continued, as Timothy Phillips took us through cleaning and caring for the clarinet. Additionally, there was "Introduction to Clarinet High Notes" with Michelle Anderson and "Let's Explore Major Scales" with Ricky Reeves. Bridging the gap by addressing beginners and their teachers, Michael Webster introduced "Clarinet Adventures" which explores hand position exercises. Finally, for all clarinetists, Jerry Weimer and Don Nathan presented on "Developing Your Concepts of Sound."
Health and Wellness hosted "Structural Issues and Overuse Syndrome" which explored physiological issues as well as some successful outcomes from treatment. This is an important panel for anyone suffering from physical problems while playing clarinet.
Clarinet choirs featured this weekend included the University of Texas El Paso Clarinet Choir and the University of North Florida Clarinet Choir. Additionally, the Guido Six Clarinet Choir was a virtual choir produced by Justis Mackenzie and Ben Kersey. It featured clarinetists recording Brackett's Simple Gifts and Klezmer Fire Dance by Richard Kram, both arranged by Justis Mackenzie – a perfect celebration for such a successful virtual festival.
The Global Stage featured recitals by Carmen Borregales, Laura Ardan and Ricardo Morales with a master class by Ixi Chen.
The Virtual ClarinetFest® 2021 closed with a message of gratitude, longing and hope. The virtual awards ceremony recognized the incredible work of the artistic teams from both 2020 and 2021, the advisory board, competition coordinators for the last two years and the dedicated work of Executive Director Jessica Harrie. The honorary members, Robert Spring and Charles West, were recognized for their contributions to the clarinet community.
The awards ceremony included an exciting announcement of a continuing tradition, commissioning a work that embodies the interests and talents of the outgoing board president. It was announced that in honor of Mitchell Estrin, the ICA commissioned a clarinet choir work from Theresa Martin. The piece, Compass, will be premiered by the Professors Clarinet Choir at ClarinetFest® 2022 in Reno.
The closing ceremony featured a touching tribute to clarinetists who have passed, particularly ICA Treasurer Tod Kerstetter. This tribute gave us time to reflect on the beautiful people who we have lost, but also added vibrancy to the message that while the COVID-19 pandemic has limited our ability to gather together, there is hope and excitement for an in-person festival at ClarinetFest® 2022.
---
Carmen Borregales
By Brenna Ohrmundt
The fourth weekend of ClarinetFest 2021 featured a solo recital withVenezualen clarinetist Carmen Borregales. Though short in length, Borregales' provided a stellar performance of two pieces in this virtual setting.
Borregales provided a world premiere of Carlos Ocando's Three Pieces for Solo Clarinet (2017). This piece stems from various inspirations, from the ever-changing flight patterns of dragonflies (I. El juego) to Zen Buddha spiritual actualization (III. Recitativo Sutra). Borregales' interpretation of this piece exemplified these very inspirations through her changes of timbre and stylistic renditions of articulations across her performance.
The final piece on this recital was a phenomenal rendition of Scott McCallister's Black Dog (2001) accompanied by Claudio Olivera on piano. This contemporary concerto pushes the limits of the clarinet, and Borregales' rendition of this piece is absolutely phenomenal in this recital; she captures and maintains the audience's attention from the first boisterous multiphonic motif to every stunning lyrical moment.
---
Laura Ardan
By Mark Allen Jr. 
Laura Ardan's performance of Nickitas Demos's "…written in solitude………." was rife with emotion. From the first note of the cello solo to the ring of the final chord, the ensemble does an amazing job with what I'm sure will become a staple in the clarinet repertoire. Ms. Ardan's spectacular performance, specifically, should be used by teachers looking to explain why fundamentals are important. Whether it's the softness of her entrance or the breath support needed to sustain her last note in the first movement, the fluidity of her fingers during the last two movements, or the richness of her sound, this performance should be referenced when trying to describe great clarinet playing.
---
Ixi Chen Masterclass
by Kristen Denny-Chambers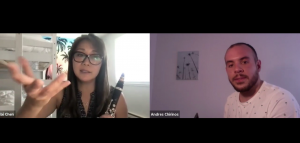 The master class led by Ixi Chen was a highlight of the final weekend of the virtual ICA conference. Chen's warm but direct feedback was applied confidently by all three players.
Rodolfo Mireles-Manzano began with Three Pieces by Igor Stravinsky (1882-1971). In the first movement, Ixi suggested to be more deliberate with where the musical sentences start and end, and pay attention to when there is a rest versus a breath mark. She added that the final phrase needs a totally different quality. "Give it more energy and center to the sound – like a charging bear!" For the second movement, she commented to find "anchor" notes within the technical passages and keep the voicing rooted to the clarion Ds instead of jumping into the "headspace" of the altissimo notes.
Andres Chirinos was next with Première Rhapsodie by Claude Debussy (1862-1915). Ixi advised to create the intimate setting needed by imagining the scent of perfume one might detect just before a person enters a room and to think of the resistance going down as you play higher and going up as you play lower notes to create a more horizontal body of sound. For the gestures after measure 25, anchor more against the top teeth and push up with the right-hand thumb to ease the pressure off the bottom lip. "(Avoid) narrowing the path for the notes as you go up. Create space!"
Chandler Cleric closed the class with Sonate pour clarinette et piano by Francis Poulenc (1899-1963). Ixi proposed that when we combine our sound with what the composer is trying to say, then we can come up with our own musical intentions. One should make the turns more vocal in nature and avoid strict, rhythmic precision in moments like those. Ixi then focused on Chandler's embouchure to eliminate the space in his cheeks – helping him to make significant and audible improvements.
---
Ricardo Morales
By Carl Galland
Ricardo Morales played his Global Feature Artist Stage Recital on July 31, 2021 alongside Jinhyun Park on piano. He triumphantly began the virtual recital with beautiful artistry and impeccably executed technique in Also Sprach Richard Strauss (Hommage a Richard Strauss) composed by Béla Kovács (b. 1937). From the sonorous hunting call in the very opening, Morales energetically leads the listener through  whimsical flurries of runs and melodies which continue throughout the piece. This performance was a perfect showcase of Morales's soloistic prowess and ability to play with musical gesture and ease in any circumstance—even throughout shockingly fast runs!
The next piece highlighted the lyrical and expressive musical phrasing of Mr. Morales as well as his fluidity of tone in Nekudin (from Clarinet Concerto) composed by Jonathan Leshnoff (b. 1973). Throughout this slow movement, his tone has exquisite depth and variety of color, creating a beautiful setting and interpretation of the work. There are several beautiful musical moments created through the engaging collaboration and introspective phrasing of Morales as well as Ms. Park on piano.
Third, Mr. Morales played Gra by Elliott Carter (1908-2012) for solo clarinet. His rendition was imaginative with swirling surges of air and bold iterations giving life to Carter's music. Gra has a feel of Schoenberg atonality meets bebop, and Morales captured the impulsive and dynamic character of the work perfectly. Morales is truly a virtuoso of all genres.
Mr. Morales ended with Variations in C Major by Gioachino Rossini (1792-1868) which was a treat to hear. Ricardo captured the light and virtuosic nature of Italian opera as well as the bel canto lyrical style. The latter of which was especially heard in the minor-slow section through espressivo tone colors and dramatic phrasing. Morales playing Rossini was a perfect finish to a diverse and expertly performed recital.