Report by Emily G. Kerski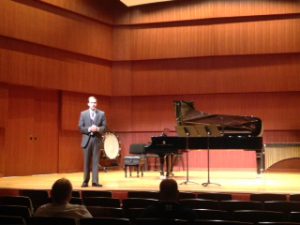 Sunday morning opened at 9 a.m. with a unique concert in Swarthout Recital Hall celebrating the recent clarinet works of James M. David, professor of composition at Colorado State University. David was joined by his CSU colleagues and other Colorado-based clarinetists who performed four of his solo and chamber pieces. This was David's seventh ClarinetFest® appearance.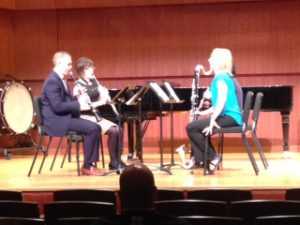 The program's theme was derived from the quote: "writing about music is like dancing about architecture," a notion that spoke to the abstract and subconscious nature of music. David introduced and gave a brief background of each piece before it was performed. The program opened with 
Fantasy
Etudes
Book
V
, the most recent work, composed in 2016 for the
Ironwood Trio
(
Jana Starling,
Leslie Moreau
 and
Anne Watson
), who performed the challenging work magnificently. The Ironwood Trio, comprised of E-flat, B-flat, and bass clarinet, allowed for distinct color combinations and mixtures of overtones. The three-movement work described the fear of heights, even coming with a warning from the composer about its intensity. The second movement features extremely forceful altissimo playing from all three clarinetists, creating a wild swirl of overtones and undertones. Throughout, the work showcased David's jazz-influence and driving rhythms.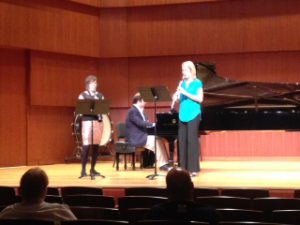 Next, clarinetists Cary Dodson and
Copper Ferreira
along with pianist
Tim Burns
performed the third movement of 
Curious About
Ideas
. The work featured soloistic interjections from both clarinetists and tremendous rhythmic complexity. The composer noted that this piece can also be performed by a clarinetist and alto saxophonist instead of two clarinets.
A clarinet quartet of
Wesley Ferreira
, Copper Ferreira, Lara Mitofsky Neuss, and Cary Dodson then performed 
Duke
Front Five
. The first movement, "Warsaw Prelude," was premiered at ClarinetFest® 2007 by the
10th and Broadway Clarinet Quartet
. David chose to add a second movement ("Harlem Dance") to flesh out the work in 2014, and this quartet performed the complete result. The work, especially the second movement, was reminiscent of the big band style and the title inspiration – Duke Ellington.
Historias y Danzas was the final piece on the program, a work the composer described as a "full-blown sonata for clarinet and piano." This four-movement virtuosic work with literary and musical inspirations from the Latino tradition was commissioned in 2014 by a group of sixteen professors from the United States and Canada. Wesley Ferreira and Tim Burns gave a captivating performance to close the concert.
Emily G. Kerski is a graduate student and Assistant to the Performance Chair at DePaul University, where she is an avid collaborative musician and private teacher. She also serves as the ICA Index Manager.