Report by Amanda McCandless
On Saturday, August 6, 2016 at 7 p.m. the ICA Professors Clarinet Choir Concert took place in the Lied Center Auditorium. Over 40 college professors participated in this ensemble conducted by University of Florida clarinet professor Mitchell Estrin. The concert began with Matt Johnston's arrangement of the Marche Militaire Francaise by Camille Saint-Saens. The work was  lively and upbeat, a fun way to begin the concert. Then the ensemble paid tribute to Guido Six with a moving rendition of "Nimrod" from Enigma Variations by Edward Elgar, arranged by Jeanie Murrow. Next was A Butterfly Coughs in Africa, a quirky and intriguing original clarinet choir work by Paul Richards. The ensemble played this massively difficult technical work with finesse and collective aplomb. Noted French clarinetist Philippe Cuper was the featured soloist on Giuseppe Verdi's "Scene and Romanza" from La Forza del Destino.  Cuper displayed masterful lyricism and great spirit in his interpretation of this work. The ensemble then played the charming wind band standard English Folk Song Suite by Ralph Vaughn-Williams, arranged by Matt Johnston. The arrangement of this work was so well done that it rivals its band counterpart and it should be considered a standard of the clarinet choir's repertoire. The final work on the concert, "Dance of the Comedians" from The Bartered Bride by Bedrich Smetana arranged by Darren Bartolo and Matt Johnston, was played at near breakneck speed. It was a breathtaking end to a fine concert featuring clarinet professors from across the world.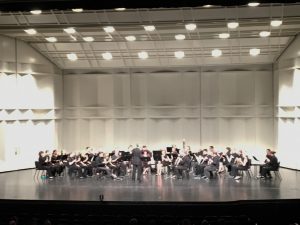 Amanda McCandless is Associate Professor of Clarinet at the University of Northern Iowa.  Dr. McCandless is a former student of Elsa Ludewig-Verdehr.