Report by Emily G. Kerski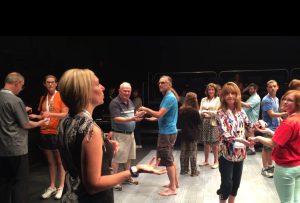 Dalcroze expert and Yamaha artist
Dr. Lori Baruth
presented a master class titled "How to Incorporate Dalcroze Eurhythmics Into Your Practice and Studio Teaching" at 3:30 p.m. 
on Saturday
 afternoon in the Inge Memorial Theatre. This interactive class gave attendees a taste of the Dalcroze music education method, which focused on an integration of physical, cognitive and creative processes. The goal was to provide teachers additional tools to help the student visualize and feel the music in a way perhaps more effective and natural than the traditional metronome alone practice methods. Benefits of the method, according to Baruth's research and experience, include solidified rhythmic control, steady tempi, even finger rhythm, and improved musical expression and phrasing as a result of body movement to make musical concepts intrinsic. There was a large emphasis on using the body in a natural way, thereby eliminating the rigidity and tension we add when we approach the instrument. The philosophy behind
Dalcroze Eurythmics
came from
Émile Jaques-Dalcroze
, a professor who sought to deepen awareness of musical rhythm through an understanding of natural body movement.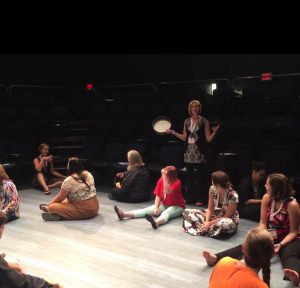 Baruth guided the class through several exercises that can be used in clarinet studio classes and other educational settings. These activities included pairing speech and movement to coordinate brain activity, passing an object to a partner on the beat to internalize tempo, and exercises that stressed spatial awareness by visualizing arrivals on a downbeat by varying beats when walking between two set points in a given space. Baruth articulated a pulse on a hand drum for these activities.
Three key concepts of this method are time, space and energy, and several of the exercises focused on exploring these. Various elements can be altered independently for increased difficulty, for example in walking to a point across the room, one alters one's energy to get to the point in six versus eight counts. When bouncing a tennis ball to a various tempi, one alters the space, making it closer or further away from the ground, in order to maintain a faster or slower pulse.
During the final exercises the class listened to recorded excerpts of music, such as Tchaikovsky's Waltz of the Flowers, to find the pulse by bouncing a tennis ball on the first beat of every measure. This activity allowed students to develop rhythmic accuracy and internalize subdivision.
Emily G. Kerski is a graduate student and Assistant to the Performance Chair at DePaul University, where she is an avid collaborative musician and private teacher. She also serves as the ICA Index Manager.