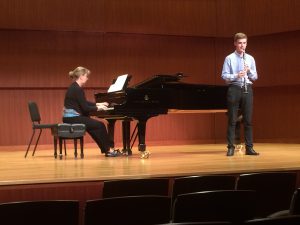 Report by Sam Davies

The ICA Competition Winners Recital took place Saturday, August 7 at 4:30 p.m. in Swarthout Recital Hall. John Warren, the coordinator of the High School Competition, introduced this year's winner: Antonio Lopez, from Vila Real, Portugal. There were 30 tapes sent in for the competition, which the judges narrowed down to six finalists who competed in Lawrence. Lopez was also a finalist in last year's competition in Madrid.
Lopez performed two works by Béla Kovács, Hommage à J. S. Bach and Hommage à M. de Falla, followed by Henri Rabaud's Solo de Concours, all played from memory. It was clear from his performance that Lopez possesses a mature understanding of the complex part writing style of Bach, as well as a passionate musicality that was on display during the Hommage à M. de Falla. Lopez's excellent technique was especially present in the Rabaud as he expertly navigated the treacherous waters of one of our most well-known works from the concours repertoire.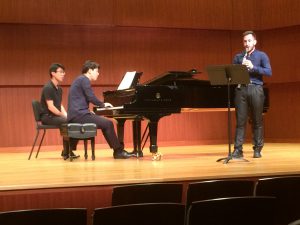 Current ICA President Caroline Hartig, the coordinator of the Young Artist Competition, announced this year's winner: Joao Paiva, from Portugal. He was one of 36 entrants, from twelve different countries. Paiva gave a stunning performance of Arthur Benjamin's Le Tombeau de Ravel, playing with impeccable technical control. His dynamic range was notably impressive, his sound alternating between a heartfelt whisper and a strident, bold sound that filled the hall. It was especially his sensitive communication with the pianist that took his already excellent playing to a deeper level and made for a memorable recital.
Congratulations to the winners of the 2016 ICA Young Artist and High School Competitions!
Sam Davies is currently earning his DMA in clarinet performance at Michigan State University with Dr. Guy Yehuda. He is an active chamber musician and performer in new music ensembles and orchestras at MSU as well as all over Michigan. Sam has been reviewing concerts at ClarinetFest® since the summer of 2014.