Originally published in The Clarinet 47/2 (March 2020). Printed copies of The Clarinet are available for ICA members.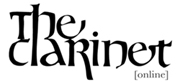 ---
Book and Music Reviews: March 2020
BOOKS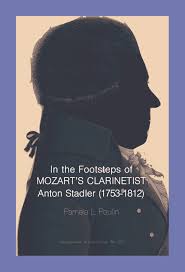 Pamela L. Poulin. In the Footsteps of Mozart's Clarinetist: Anton Stadler (1753-1812) and His Basset Clarinet. Monographs in Musicology Series No. 20. Pendragon Press, 2019. $42.00
Anton Paul Stadler was the leading Viennese clarinetist during the last decades of the 18th century and the first of the 19th. He performed in the emperor's court orchestra as well as in his Harmonie of eight wind players. Well-known is his friendship and musical collaboration with Mozart. Poulin fills in our knowledge of Stadler's life by describing his family background and his professional life through court records of paid salary and surviving concert advertisements.
Stadler is intricately linked to the development of the basset clarinet and basset horn with fellow musician and instrument maker Theodor Lotz. Poulin describes this association in relationship to the evolution of the Mozart Concerto K. 622. Stadler hoped that performances of this work would ease his financial debts.
In this lightly edited 156-page book, Poulin brings to life the streets of Vienna and the cities of Stadler's 1791-1796 tour through Prague, Berlin, Warsaw, Vilnius, Riga, St. Petersburg, Lübeck, Hamburg and Hanover. Poulin is clear about what is fact, based on surviving documents, and what is only probable based on known friendships, and in-common patrons, venues and social circles.
Using surviving written documents by Stadler, especially his lengthy July 1800 Musick Plan for Hungarian Count Georg Festetics's music school, Poulin demonstrates that Stadler was not merely a musician and savvy business and social operator, but also a learned member of society. Stadler had to bow to nobility, but through education of the next generation of musicians he was advocating the type of intellectual growth that helped democratize Europe in the following decades. Stadler wrote in his Musick Plan:
Education, therefore, and literature are necessary for the true musician, if he wants to become great, because if he is entirely without all other knowledge he becomes a half thing … Whoever wants to understand music must know the whole of worldly wisdom and mathematics, poetry, elocution, art and many languages.
Take Anton Stadler's advice and read this book.
– Gregory Barrett
---
METHOD BOOKS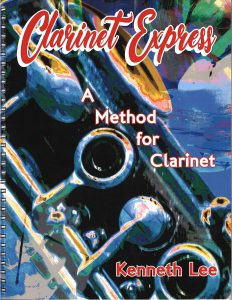 Kenneth Lee. Clarinet Express. Kenneth Lee, 2018. Method Book $35.00, Student Edition $15.00
Virginia clarinetist and highly successful teacher Kenneth Lee has synthesized 45 years of teaching experience into his method, Clarinet Express. The book begins with reviews from some of Lee's most successful students and notable colleagues, and includes a foreword by Charles West. It is then divided into four sections, each of which is intended to help a teacher guide students into early college and conservatory level playing. Throughout the book Lee makes use of his own exercises as well as excerpts from the Klosé Celebrated Method and several Rose etudes.
The first section outlines the daily routine that Lee instructs his students to use. He cleverly titles it Fundamental Routine Every Day (FRED). In this section he gives very detailed instructions about air, embouchure and hand position, as well as exercises to help students develop these attributes. In the second section Lee focuses on helping students acquire fluency. He gives an in-depth explanation of the music theory behind scales and arpeggios, workbook pages to help students solidify this information and strategies for how to practice scales and arpeggios effectively. The third section of the method is aimed at teaching students a system of melodic analysis. The goal is for students to recognize patterns, phrases and modulations in their music, and therefore learn and perform more effectively. Finally, the fourth section of Clarinet Express guides the reader through developing expressive performance in their students. Lee excerpts many pieces of the clarinet repertoire and gives strategies on how to pull musicality from students, including a miniature operatic libretto for the Weber Concertino.
The Method Book of Clarinet Express is 110 pages and provides interesting insights for teaching both technical and expressive skills to students. There is also a Student Edition for sale that is 24 pages. This edition eliminates most of the prose and includes only the musical exercises from sections one and two of the Method Book. The intent is probably that the teacher uses the Method Book to guide students through the exercises without the students needing to purchase and carry around the larger book. The books can be purchased individually or as a set.
– Madelyn Moore
---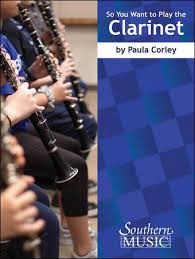 Paula Corley. So You Want to Play the Clarinet. Southern Music, 2019. $14.95
Readers of The Clarinet need no introduction to the ICA's Pedagogy Chair, Paula Corley. She brings the wealth of her expertise to this 40-page self-instruction book. Assuming no musical experience for the student, Corley, aided by several dozen photographs and illustrations, succinctly describes the use of fingers, hands, embouchure and clarinet to achieve a musical result. First sounds are made with reed, mouthpiece and barrel alone. How to use one's tongue is explained and numerous awareness questions and practice suggestions are given. A basic primer on music notation is included so that users can truly guide themselves to play the first tune, "Hot Cross Buns." New notes are introduced one at a time with clear fingering diagrams adjacent to the music. A complete fingering chart from lowest chalumeau E to throat B-flat is given on the last page. About 80% of the large-print, easy-to-read pieces are familiar folk or popular tunes. Complementing these selections are exercises to develop ease with specific notes or sections of the chalumeau register.
This method book can also be used in private, beginner group or college methods instruction. A nod in this direction is suggested halfway through the book where the teacher is instructed to open the register key while the student plays low B-flat. This diagnostic tool addresses air use, tongue position and embouchure awareness. Adding to the effectiveness of this book is the charming use of numerous small pen and ink drawings of a smiling anthropomorphic clarinet-person.
– Gregory Barrett
---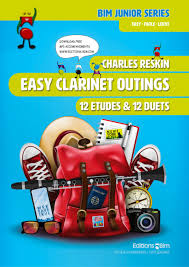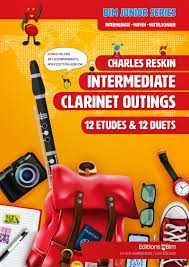 Charles Reskin. Clarinet Outings: 12 Etudes & 12 Duets, Easy and Intermediate. Editions Bim Sàrl, 2016. $20.00 each.
These method books written by Charles Reskin contain original etudes and duets for the developing clarinetist. Although they are labeled vaguely as "easy" and "intermediate," Reskin specifies that the easy book is for students ages 9 to 12 who have played for at least two years and that the intermediate book is for students 12 to 16 who have a "considerable command of the instrument."
The Easy Clarinet Outings book contains etudes and duets within the range from chalumeau G to clarion A and each work has performance suggestions to assist the student. The etudes in this book range in style from Celtic to a Paul McCartney homage to Debussy, and the duets provide great opportunities for the student to play with their teacher and learn about intonation and matching articulation styles. The book itself has a youthful vibe with playful titles in colored, cartoonish font making it welcoming to younger students. It includes a glossary of terms and a link to free accompaniments to the etudes and duets.
The Intermediate Clarinet Outings book extends the range – going from chalumeau E to altissimo D. This book also uses a colored font and whimsical titles although the level of difficulty is definitely increased and involves many more technical passages. The intermediate book includes a glossary and a link to free accompaniments.
Although these etudes and duets are not necessarily a collection every student needs to study, I believe they provide a helpful gateway to learning traditional and advanced etudes. They are a great resource for private instructors to use with their developing students.
– Lee Seidner
---
MUSIC
CLARINET AND PIANO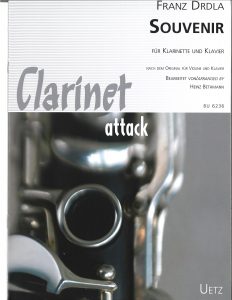 Franz Drdla. Souvenir für Klarinette und Klavier. Arranged for B-flat clarinet and piano by Heinz Bethmann. Musikverlag Bruno Uetz, 2019. €11.00
Bohemian violinist and composer Franz Drdla (1868-1944) played in the Vienna Court Opera and the Theater an der Wien before commencing performance tours of Europe and the United States. His hundreds of compositions are primarily for violin, and among the most popular is this Souvenir. One simple, charming, memorable melody pervades this chestnut.
– Gregory Barrett
---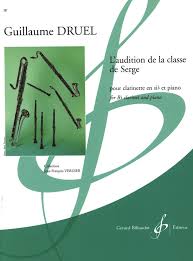 Guillaume Druel. L'audition de la classe de Serge for clarinet and piano. Gérard Billaudot, 2019. U.S distribution by Carl Fischer, 2019. $20.99
Contemporary French composer Guillaume Druel has written five charming movements for young clarinetists in his L'audition de la classe de Serge. As he explains in the foreword to the piece, Druel was inspired by the youngest students of his own former teacher, Serge Conte, at the Bourges Conservatory of Music. Each movement is dedicated to one of Conte's students. It is helpful that the edition lists the performance time of each movement, which range in length from 1 1/2 minutes to 2 minutes and 25 seconds. The piece as a whole can be performed in 10 minutes and 15 seconds. Gérard Billaudot publishes a parallel volume, La petite audition en ut, that includes only the first two movements of this work transcribed for C clarinet.
While the notes and rhythms are typical of beginner level solos, this piece would afford young students the opportunity to become accustomed to contemporary sonorities. The harmonies are not traditional and make for a unique solo for young clarinetists. Furthermore, each movement is designed to introduce specific skills in rhythm, technique and musicality to the budding musician.
The first movement, titled "Un ange passe," is fairly simple in rhythm and range. It concentrates on the chalumeau register, but would allow the student the opportunity to learn about grace notes and tempo changes. Next, "Les brigands de ma chambre" remains in the chalumeau register, but becomes slightly more challenging for the students as it is in 3/8 meter and includes more ornaments. Third, "Á dos de chalumeau" returns to duple meter, but is in a more challenging key and gives the performer the option of feeling it in cut time. The fourth movement, "Capetown," is in a faster tempo than the preceding movements. This movement crosses into the clarion register for the first time in the work. Finally, "Nymphéas" frequently moves between the chalumeau and clarion registers, has the student moving between duple and triple feel and includes a fair number of accidentals.
L'audition de la classe de Serge should appeal to any instructor of young clarinetists who is looking for something novel to assign their students.
– Madelyn Moore
---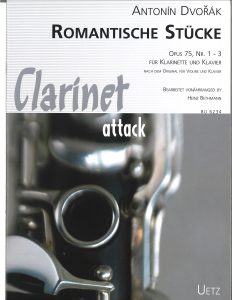 Antonin Dvořák. Romantische Stücke, Op. 75, No. 1-3. Arranged for B-flat clarinet and piano by Heinz Bethmann. Musikverlag Bruno Uetz, 2019. €12.00
Dvořák initially composed these melodious jewels for two violins and viola and almost immediately followed with a violin and piano version. The legato style of the first and last pieces, as well as the syllabically articulated style of the second, are equally gracious on clarinet.
– Gregory Barrett
---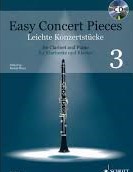 Rudolf Mauz, editor. Easy Concert Pieces for Clarinet and Piano, Volume 3. Schott Music Ltd., 2019. $19.99
Easy Concert Pieces for Clarinet and Piano, Volume 3, is a collection of 14 intermediate pieces from three centuries (Baroque, Classical, Romantic and Modern musical eras) edited by Rudolf Mauz. The collection features works by well-known composers including Bach, Schubert, Debussy and Nielsen that were selected as manageable pieces for the developing student and that provide both musical and technical challenges. The pieces are organized by progressive difficulty and stretch the player's range just slightly above high C. This volume also includes an accompanying CD with play-along tracks for the student. This collection provides a great starting point for private instructors to expose their students to music of different periods and diverse styles.
– Lee Seidner
---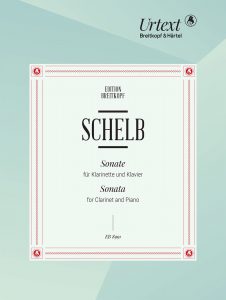 Josef Schelb. Sonate für Klarinette und Klavier. Breitkopf & Härtel, 2019. €24.90
With this "First Edition," published by Breitkopf & Härtel, the myriad of chamber, piano, orchestral and vocal works by German composer Josef Schelb (1894-1977) will begin their ascent from anonymity. Schelb, an almost exact contemporary of Paul Hindemith, is representative of the "New Music" aesthetic that was looking for a progressive way forward from conservative Romanticism at the close of the 19th century. Schelb flourished as a pianist and then increasingly as a composer in the international touring circuit, serving for 34 years on the faculty at the Musikhochschule Karlsruhe.
The four-movement Sonate (1947) for B-flat clarinet belongs to the more harmonically conservative of Schelb's chamber music with clarinet. Tonality is maintained, though every "-ism" of the early 20th century is acknowledged. A vibrant polythematicism comes to the fore with motifs and melodies assuredly handled and juxtaposed. The stunningly fast and interesting third movement restates a theme from the first. The music in all the movements is athletically rhythmic. Clarinetist Bettina Beigelbeck has recorded several of Schelb's chamber pieces with clarinet. Also of note is a bass clarinet concerto (1930/43) with ten accompanying instruments.
– Gregory Barrett
---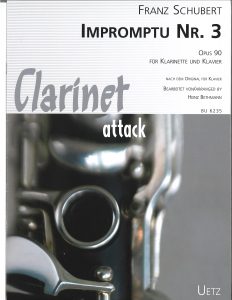 Franz Schubert. Impromptu No. 3, Op. 90. Arranged for B-flat clarinet and piano by Heinz Bethmann. Musikverlag Bruno Uetz, 2019. €11.00
The tender spun-out melody of this beloved piano work is entrusted to the clarinet. The sustained andante tempo smooths the rippling broken-triad accompaniment in the pianist's right hand. Song-like in quality, the clarinet's range is less than two octaves, rising to G-flat at the top of the treble staff. The harmony, with many unexpected twists and turns, is reminiscent of our own masterpiece, Der Hirt auf dem Felsen. Partake in this short pleasure; once sampled you will not be able to resist.
– Gregory Barrett
---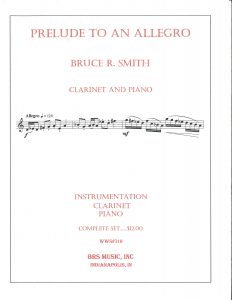 Bruce R. Smith. Prelude to an Allegro for B-flat clarinet and piano. BRS Music, Inc., 2016. Duration: 4'. $12.00
Bruce R. Smith studied at Indiana University where he received his undergraduate degree in woodwinds. While there, he studied composition and arranging with Bernard Heiden and Thomas Beversdorf. Smith went on to receive his master's degree from Ball State University where he studied composition with Robert Sherman. Prelude to an Allegro is a 4-minute piece separated into two movements, "Prelude" and "Allegro," as the title would suggest.
The "Prelude" brings on the drama featuring large leaps and numerous tempo changes (25 total within this short first movement!). It appears these tempo changes are to assist student players' pacing through the various accelerandos and ritardandos that occur throughout the movement – a helpful tool for the developing student. Overall, the "Prelude" movement consists of numerous small phrases serving as declamatory statements. These small phrases provide a great experience for younger players to play like a "soloist" and learn how to pace solo lines. The range of this first movement reaches up to the E-flat above the staff and would be appropriate for an advanced middle school or early high school student.
The "Allegro" movement utilizes the full range of the instrument from low E all the way up to altissimo A. This movement also jumps among the different registers of the instrument frequently; unlike the first movement, "Allegro" provides obstacles that would not be appropriate for developing student players. The range of this movement is certainly a challenge as the piece concludes on altissimo A. Additionally, the numerous 16th-note runs that occur contain skips and leaps that will be difficult for the developing student. The movement contains diverse staccato articulation patterns providing great practice for students.
Prelude to an Allegro has interesting challenges that make the piece difficult for younger players yet is not substantial enough for the advanced player. I recommend this brief piece to challenge advancing intermediate clarinetists and as a vehicle to develop playing range and musicality.
– Lee Seidner
---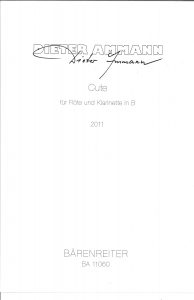 CHAMBER WORKS FOR TWO TO FIVE PLAYERS
Dieter Ammann. Cute (2011), for flute and clarinet. Bärenreiter Verlag, 2018. €28.95
Wow. I don't normally narrate my reaction to scores, but I just listened to Cute, and I was absolutely blown away by this piece. I must play this, I must find a flutist willing to learn this, and, well, I must also spend some serious time revisiting my multiphonics, extreme high range (altissimo G-sharp…), slap-/double-/flutter-tongue, color fingerings, quarter tones and virtually all other extended techniques. Swiss composer Dieter Ammann (b. 1962) succeeds in so masterfully fusing the flute and clarinet (or Clarinet and flUTE, hence the title) into what he describes as a "single <<super-instrument>>" that I forgot all about the inevitable discomfort involved in learning the hellishly complex score in front of me; I simply allowed myself to follow this unique coloristic journey, or, as Ammann puts it in the program note, this "harmonic visualization of a single instrument." His concept explores tone color in a way that recalls some of his primary influences, who include Wolfgang Rihm and Witold Lutosławski. Ammann currently teaches at the Music Academy Lucerne and the University of Arts in Bern, and his orchestral works have been interpreted/performed by Pierre Boulez, Peter Hirsch and Peter Rundel, among others.
The duo Esprit Rude Esprit Doux commissioned Cute, and at least two recordings exist: one live performance on YouTube by the ensemble for New Music Tallinn at the St. Petersburg International New Music Festival, and one commercial recording released in September 2019 on the A Tree in a Field Records label with Paolo Vignaroli, flute, and Nils Kohler, clarinet. Both recordings are excellent, and present attractive interpretations of the piece. The duration listed in the score is a scant 7 minutes, but both recorded performances push closer to 10.
Bärenreiter provides a very clean score, lucid despite its difficulties, and it includes a German-to-English glossary of the instructional text encountered throughout the music. The fourteen A3-size pages of this unbound performance edition will need reinforcement on standard music stands since the sheets are paper as opposed to card stock.
– Matthew Nelson
---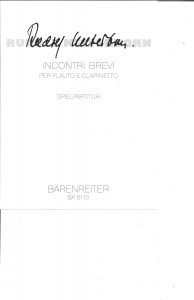 Rudolf Kelterborn. Incontri brevi (1967) for flute and clarinet. Bärenreiter Verlag BA 6110. €13.50
Incontri brevi translates to "short meetings," and throughout the course of this duet's 8 1/2 minutes, Swiss composer Rudolf Kelterborn (b. 1931) establishes brief episodes of compelling and colorful dialogue between the flute and clarinet. From the clarinet's fragmentary opening motives, the listener perceives rhythmic relationships that reveal an almost improvisatory quality, though there are clearly organizational principles at work in the harmony. The two parts oscillate between chatter-like bursts of activity and more placid sustained figures in the first section, giving way to the languid second fragment. The third section snaps back into action with rapid technical figures, often deploying a 4:3 rhythmic relationship that increases the sense of activity. The fourth and final section of the piece relaxes and reestablishes calm and freedom, culminating in tutti sweeps of rapid notes before a quiet ending.
Clarinetists considering this piece should know that they will encounter considerable technical and musical demands. Kelterborn does not use any extended techniques (beyond flutters in the flute), but the asymmetrical rhythms, fast articulation and range (including fast and wide interval leaps) will require careful study. Kelterborn himself received some attention in the 1960s at the Darmstadt courses, during which time he was a teacher of theory and composition at the Nordwestdeutsche Musikakademie in Detmold and the Zürich Konservatorium und Musikhochschule. The harmonic language of this piece reflects the nature of that avant-garde Darmstadt ethos.
Incontri brevi was recorded and included on Kelterborn's Instrumentalwerke LP from 1969 featuring celebrated clarinetist Hans Rudolf Stalder and flutist Ursula Burkhard.
– Matthew Nelson
---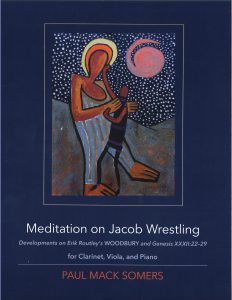 Paul Mack Somers. Meditation on Jacob Wrestling: Developments on Eric Routley's "Woodbury" and Genesis XXXII: 22-29 for clarinet, viola and piano. Maurice River Press, 2019. Distribution by Theodore Presser Company. $29.70
The complexity of our life experience is expressed in this stunning trio for B-flat clarinet, viola and piano by U.S. composer Paul Mack Somers (b. 1942). Somers's career has been centered on the East Coast, including performances of his works at Lincoln Center and Weill Hall in Carnegie Hall. The work was written in response to students and others wondering about his opinion of minimalism. Somers's answer was to fashion a "bright, simple rhythmic figure" and to see where it would lead. It led to images of a "large caravan" and the biblical Jacob, which in turn connected to a memory formed in Woodbury County, Iowa, in 1969 at a convocation of Methodist musicians. Erik Routley, an acquaintance, had "wrestled" through a sleepless night in a non-air conditioned dorm by composing a new hymn tune for Charles Wesley's Come Thou, O Traveller Unknown. Routley's slow, expressive hymn "Woodbury" is the basis for the final section of Somers's work.
Somers's trio begins with a minimalist-style repeated figure in the piano. In the third measure the clarinet and viola introduce two new ideas that layer with the piano's rhythmic ostinato. The four-note descending figure in the clarinet, constructed of dotted eighths, and the contour of the viola's 16ths are both at odds with the 2+2+3+1 pattern in the piano. Throughout this work Somers combines independent lines in highly engaging ways. Each may be simple by itself, but the sum is exponentially rewarding. The layered approach to texture continues in each of the following fast sections. The slower sections "Maestoso," "Adagio," "Tiring out," "Adagio, thoughtfully" and "Woodbury" break with the minimalist style.
Grounded in tonality, Somers achieves stunning harmonic effects by horizontal layering, but also by willingness to employ vertical sonorities that are chosen for being the desired sound at that moment, without regard for others' established rules. This is a singular work of both rhythmic and expressive vitality. Highly recommended.
– Gregory Barrett
---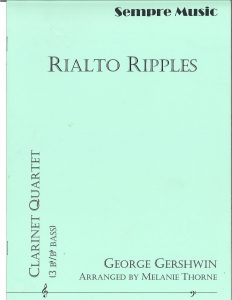 George Gershwin. Rialto Ripples arranged by Melanie Thorne for clarinet quartet (with bass clarinet). Sempre Music, 2019. $29.30
A teenage George Gershwin assimilated popular ragtime style and wrote Rialto Ripples for piano in 1916. Melanie Thorne has kept the form of Gershwin's original intact and has idiomatically adapted the music for clarinet quartet. Far more than a note-by-note transcription, Thorne has imagined sonorities, note groupings and articulations suited for this easy-medium piece. Bass clarinet needs no extended low range.
– Gregory Barrett
---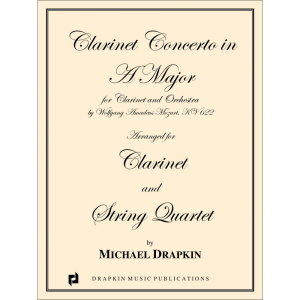 Wolfgang Amadeus Mozart. Clarinet Concerto in A Major, KV 622. Arranged for clarinet (in A) and string quartet by Michael Drapkin. Drapkin Music Publications, 2019. Distribution by Theodore Presser Company. $45.00
Michael Drapkin continues to create helpful publications for the clarinet community. For easier study and performance, Drapkin has reduced the full orchestral accompaniment to an ensemble of only two violins, viola and cello. Purists may miss the flutes, bassoons, horns and contrabasses, but this arrangement allows budding soloists a closer experience to the full orchestral version than using a piano reduction. One of Drapkin's solutions is to occasionally lower the cello line one octave to where the contrabasses would have sounded. Drapkin eliminates multiple stops used by the strings in the usual orchestral accompaniment but your ensemble could experiment with their inclusion. Mozart did thicken the texture with some in his Quintet, K. 581.
I envision professional performers using this edition to perform the Adagio at concerts of remembrance and other special occasions. The included clarinet part is without basset notes, but Drapkin does make several lower-register, arpeggiated note and contour choices reflecting his own refined taste. In general, his articulation decisions are middle-of-the-road conservative.
– Gregory Barrett
---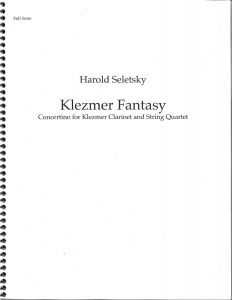 Harold Seletsky. Klezmer Fantasy: Concertino for Klezmer Clarinet and String Quartet. Robin Seletsky, 2019. robinseletsky.com Parts and score $25.00 as PDF download; contact Robin Seletsky for printed version.
This is a wonderful, substantial, multi-section, virtuoso-level work that won the 1997 American Society of Jewish Music Competition. Thanks to clarinetist and professor Robin Seletsky, daughter of Harold Seletsky (1927-2010), we can now all perform this expressive and exciting work with either string quartet or larger string ensemble.
New York City native Harold Seletsky studied composition with Josef Schmidt, a student of Alban Berg. Schmidt employed a rigorous instructional style in the manner of Berg's teacher, Arnold Schoenberg. Following study, Seletsky earned his living primarily writing for Madison Avenue: commercial jingles as well as film music. Also notable are his clarinet performances with the Houston Symphony and as a gigging klezmer clarinetist.
Among the hundreds of works Seletsky composed with clarinet are those incorporating dodecaphony and quarter tones. Both of these characteristics make small appearances in the Klezmer Fantasy, but the piece as a whole is marked by a consummate blend of traditional klezmer style and chamber music. The music begins with a long improvisatory-style clarinet solo over sustained chords in the strings. A moderate-tempo melody follows that leads into a fast-paced bulgar with 3+3+2 rhythmic groupings. The cello follows this rhythmic idea with its own long solo of irregular groupings. It settles on a pulse of 3+2+3+2 that forms the foundation for melodic ideas introduced by the clarinet and higher strings. The clarinet enjoys a second multi-measure glissando into the altissimo and continues the upward stream via trills and cross-rhythms to a measure-long altississimo C. A short unaccompanied clarinet cadenza (ad libitum) unwinds the cumulative energy of the quintet and invites the strings to join in a peaceful sustained G major chord in the final measure.
Robin Seletsky's website offers additional works by Harold Seletsky. His Klezmer Fantasy can been seen in the tradition of earlier works championed by Simeon Bellison for clarinet and string quartet by Jacob Weinberg, Samuel Gardner, Boris Levenson, Alexander Krein, Fabian Gorodezky and Samuel Secunda. Also of interest to clarinetists are Seletsky's arrangements for clarinet and string quartet of both Brahms Sonatas, Op. 120, and the Schumann Fantasiestücke, Op. 73.
– Gregory Barrett
---