Originally published in The Clarinet 47/2 (March 2020). Printed copies of The Clarinet are available for ICA members.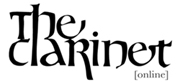 ---
Audio Reviews: March 2020
RECORDINGS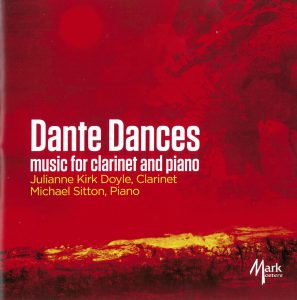 Dante Dances. Julianne Kirk Doyle, clarinet; Michael Sitton, piano. A. Frackenpohl: Sonatina for Clarinet and Piano; D. Lilburn: Sonatina for Clarinet and Piano; E. Del Borgo: Elegy; D. Welcher: Dante Dances. Mark Masters, MCD 52343. Total time 34:43.
Julianne Kirk Doyle has been professor of clarinet at the Crane School of Music at SUNY Potsdam since 2006. She is an active performer, teacher, and clinician, and directs the Crane Youth Music Camp. She holds a Doctorate of Musical Arts, a Master of Music degree in performance and literature and an Arts Leadership Certificate from the Eastman School, as well as a Bachelor of Music degree from the University of Oklahoma. Her primary teachers were Jon Manasse, David Etheridge and Bradford Behn. Pianist Michael Sitton has served as dean of the Crane School of Music since 2009. He has performed widely as a recital and concerto soloist, chamber musician and accompanist, and he is also widely published and performed as a composer, particularly in the area of choral music. These two fine performers have collaborated here in a CD comprised, in part, of pieces written by composers affiliated with the Crane School of Music.
The first track is Arthur Frackenpohl's inviting, sunny Sonatina for Clarinet and Piano. It would function beautifully as the opening piece of a recital and so is well-placed on this disc. Written in 1948, while the 24-year old composer was a student of Darius Milhaud at Tanglewood, this three-movement work is dedicated to the clarinetist Richard Waller. Its lighthearted, breezy opening is followed by a reflective movement with velvety phrases, large leaps and forward energy, and it concludes with a set of exuberant, rhythmically-incisive themes in the last movement.
Although written in the same year, the next offering, Sonatina for Clarinet and Piano by Douglas Lilburn, is darker and more theatrical; the opening, a melancholy Moderato, is reflective, inward and compelling. Colorful filigree in the piano adds to the emotional range of the soulful Andantino that follows, and a quality of fantasy, almost improvisation, permeates the third movement. This attractive piece, previously unknown to this reviewer, deserves to be performed often, and Doyle and Sitton are to be congratulated for including it here.
Lasting just over 3 minutes, Elliot Del Borgo's Elegy for Solo Clarinet, written in memory of his friend, the late David Etheridge, is a warm, expressive piece that could be performed to great effect by a moderately advanced player.
Dedicated to Bradley Wong, Dan Welcher's Dante Dances (1995) makes a brilliant conclusion to this CD. Inspired by Dante's Inferno, this set of dances, structured as an introduction, theme, and variations, is harmonically and technically the most advanced of the pieces on this disc. In the program booklet, Welcher notes that although each dance uses the same twelve-tone set, it is tonally based and doesn't have a particularly dissonant or "serial" sound. With its deliciously diabolical frame of mind, this effective piece should become as popular as Robert Muczynski's Time Pieces from 1984, with which it shares a number of ingredients including excitement, virtuosity and imagination. In spite of the subject matter, the work doesn't take itself too seriously, and it ends with a light touch.
This disc is beautifully recorded, with perfect balance between the clarinet and piano. Both performers are expert, with Doyle's warm, focused yet expansive tone deserving special praise. Highly recommended.
– Larry Guy
---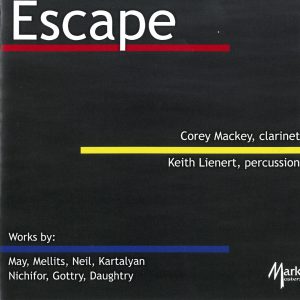 Escape. Corey Mackey, clarinet; Keith Lienert, percussion. W.H. May: Impromptu; M. Mellits: Escape; W. Neil: Spiritual Adaptation to Higher Altitudes…; A. Kartalyan: Duet; S. Nichifor: Carnyx and Kalushar; J. Gottry: Oil and Water; N. Daughtry: Verve. Mark Masters, MCD 54286. Total time 53:55.
Clarinetist Corey Mackey and percussionist Keith Lienert, both Wisconsin-based artists, offer this tight and expressive duo album called Escape. From the opener, William H. May's jazz-influenced fanfare Impromptu, to the large multi-movement centerpieces by Marc Mellits and Ashot Kartalyan, to the two solo works by Serban Nichifor, this album is an excellent sampling of the repertoire for clarinet and percussion.
The varied repertoire allows both musicians to show the depth of their talent. Mackey's jazz clarinet style is showcased in Impromptu, whereas clarinet solo Carnyx by Nichifor lays bare his raw technique. In Verve, commissioned by Mackey and Lienert from Nathan Daughtrey, Mackey proves that his bass clarinet playing is just as nimble as on soprano clarinet. Keyboard percussion is Lienert's most prevalent percussion activity. For Verve, he weaves his marimba through the lines of the bass clarinet. In fact, many of the pieces on this album utilize the marimba to great effect. For Ashot Kartalyan's Duet for Clarinet and Percussion Lienert utilizes a setup of unpitched percussion, providing a driving and rhythmic groove for the clarinet's snaking melodies, or in the fifth movement "mimicking the sounds of a traditional Armenian dhol." At all times, his emotional sensitivity and rhythmic acuity function harmoniously.
The title work, Escape by Marc Mellits, while originally written for saxophone and marimba, benefits greatly from the woody warmth of the clarinet. Mellits has written a seven-movement work, alternating between fast and slow tempos. Each movement has its own identity, though one flows into the next by way of motives that morph to generate new material. According to the accompanying liner notes, the central movement, the titular "Escape," "acts as a safe haven for harmonic ideas that have broken free and join up with melodic ideas escaping from other parts of the piece." The fast movements are based on pattern-centric grooves while the slow movements are crafted with beautifully simple melodies. Very basic, yet effective harmonic movement underlies everything, providing a sense of flight to the fast movements and a gentle sentimentality to slow movements.
Rounding out this album are two works for clarinet and vibraphone. Spiritual Adaptation to Higher Altitudes by William Neil is an ode to the spiritualism gained from rock climbing. The opening run demonstrates how fascinating the clarinet's clarion register paired with undampened vibraphone can be. Overall, Neil achieves an excellent sense of space, punctuated by high-flying flourishes. Oil and Water by Josh Gottry, in contrast, highlights all the ways that metal and wood can complement each other without blending. The vibraphone offers pedaled ostinato accompaniment to the clarinet's melody, and then takes the primary line as Mackey drops into the chalumeau register to provide ostinati of his own.
This album gives the listener a varied offering of music for clarinet and percussion. It grooves, but not at the expense of expression. And it expresses great emotion, but not at the expense of rhythmic clarity. The performer-commissioned work, Verve by Nathan Daughtry, is a welcome addition to the repertoire for clarinet and percussion.
– Derek Emch
---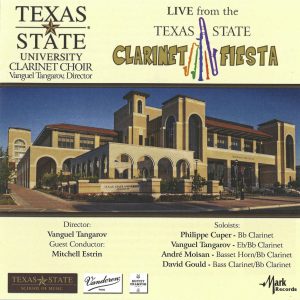 Live from the Texas State Clarinet Fiesta. Texas State University Clarinet Choir, Vanguel Tangarov, director; Mitchell Estrin, guest conductor; soloists: Phillippe Cuper, Vanguel Tangarov, André Mosian, David Gould. R. Schumann: Lebhaft from Concertstück for Four Horns (arr. Johnston); W.A. Mozart: Sinfonia Concertante, K. 297b (arr. Johnston); L. Anderson: Clarinet Candy (arr. Barber). Mark Masters, MCD 53082. Total time 43:01.
This impressive recording features three live performances from the 2018 Texas State Clarinet Fiesta. Vanguel Tangarov, the director of the Texas State Clarinet Fiesta, is joined by Philippe Cuper, André Moisan and David Gould as featured soloists with the Texas State University Clarinet Choir. The CD presents the world premiere of two new arrangements for clarinet choir and four soloists by Matt Johnston and concludes with an arrangement of Leroy Anderson's Clarinet Candy by Clarence Barber. The performances took place at the Texas State University Performing Arts Center on February 11, 2018.
A fantastic arrangement of the first movement of Schumann's Concertstück for Four Horns opens the album. The performers play with a beautiful and blended sound, and the carefully balanced textures allow for great clarity of the melodic lines. Motives are passed effortlessly between the soloists and the ensemble with good style. The opening is dramatic as is the emphatic return of the main theme. The piece works well for this combination of performers. Perhaps the additional two movements of Concertstück should be arranged for future performances.
Johnston's arrangement of Mozart's Sinfonia Concertante for four solo clarinetists (E-flat, B-flat, basset horn and bass clarinet) and clarinet choir follows. The performers give a nuanced and polished interpretation of the piece. They achieve a warm sound and demonstrate fine control with articulation and evenness of tone in the high register. There were a few minor intonation issues, but they were not distracting especially considering it is a live recording. The vocal quality the performers achieve in the second movement is lovely. They play with incredible sensitivity as phrases are extended to create long melodic lines. I appreciate the elegant execution of ornaments, the soloists' lively articulations and the excellent balance and blend between the soloists and ensemble. The third movement is a highlight for me. Written as a set of variations, the movement affords a wealth of opportunities to feature the soloists alone and in various combinations. The movement sparkles with playful dialog between the soloists and the ensemble. The soloists play with great virtuosity as the variations unfold. Overall, the performers do an excellent job of portraying the distinct character of each variation.
Clarence Barber's delightful arrangement of Clarinet Candy for four solo B-flat clarinets and clarinet choir (with added percussion) concludes the album. The ensemble and soloists skillfully navigate the fast passagework with great clarity and sensitivity. I especially enjoy the seamless connections between melodic lines and the vibrant dynamic contrast.
It is clear that the group has fun with this piece.
This wonderful disc celebrates the premiere of two new arrangements for soloists and clarinet choir. The performances are superb and are a good representation of the fine playing from the Texas State Clarinet Fiesta. Bravo to these excellent performers!
– Justin Stanley
---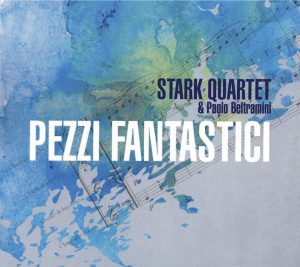 Pezzi Fantastici. Stark Quartet and Paolo Beltramini, clarinets. A. Uhl: Divertimento; P.M. Dubois: Quatour; R. Stark: Pezzi Fantastici and Serenata; G. Jacob: Scherzetto, Pavane and Gopak; J. Françaix: Petit Quatour; H. Tomasi: Trois Divertissements. Musica Viva, MV 121. Total Time 57:00.
The Stark Quartet may be familiar to ICA members from their numerous performances at international venues and festivals including several ClarinetFest® conferences from 2007-2017. The ensemble formed in 1989 and, according to the album liner notes, takes its name from German clarinetist and composer Robert Stark "in homage to the creativity and innovations he brought to the language of clarinet music with his studies and compositions, particularly his quartets." Its members are Italian clarinetists Vinibaldo Baccari, Sauro Berti, Sergio Brusca and Antonio Fraioli. Since its founding, the ensemble has released several CDs that survey the broad array of repertoire for the clarinet quartet including transcriptions, new works and original compositions. Their newest album, Pezzi Fantastici, includes some of the more well-known standards in the clarinet quartet repertoire. The album has detailed program notes, a brief yet insightful history of the quartet medium and its instrumentation, and a special note of thanks to Paolo Beltramini, principal clarinet of the Orchestra della Svizzera Italiana, who rotated into the quartet for certain tracks on the album.
The album begins with a fiery rendition of Alfred Uhl's three-movement Divertimento which displays the same modern musical language as his 48 Studies for clarinet. The quartet presents a virtuosic and dynamic interpretation of this piece with nimble shifts of character, brisk tempi and stunning articulations. In the second work, Quatuor by Pierre Max Dubois, the quartet effectively brings out the comical and absurd quality of the music. The recording is well executed, and listeners will appreciate the group's rendition of this recognizable work.
Pezzi Fantastici, the first of two compositions by Robert Stark, follows. The ensemble, joined by Beltramini, has an especially warm sound throughout the three movements, perhaps due in part to the atypical writing for two soprano clarinets with basset horn and bass clarinet. The performance contains clear phrasing and a delicate quality which allows for transparency between voices.
Next up are three miniature movements: Scherzetto, Pavanne, and Gopak by Gordon Jacob. These short movements are absolute gems due to the wonderfully clear, expressive and engaging performance by the quartet. Petit Quatuor by Jean Francaix ensues with the same atypical instrumentation as Stark's works. Although it was originally composed for saxophone quartet, the present adaptation was made by the composer himself. The performers effectively showcase Francaix's whimsical style through their energetic articulations. Although their performance is stylized and exciting, the most astonishing aspect is the plethora of slap tonguing throughout the third movement. This effect is surprisingly effective and adeptly executed by the ensemble.
Trois Divertissements by Henri Tomasi may be the most recognizable piece on this album. The players make easy work of the many challenges this work presents with their engaging, stylized and dynamic performance. They explore a wide palette of tonal colors to effectively bring out the many musical characters. Closing out the album is a second work by Robert Stark, Serenata. As with Pezzi Fantastici, the atypical instrumentation of two sopranos, basset horn, and bass allows for a warm and rich sound not usually found in works for clarinet quartet. The ensemble playing here is particularly tight, especially in the third and fourth movements. This piece is the clear highlight of the album with its rich colors and virtuosic flair performed so expertly by the quartet. In this album, the Stark Quartet along with Paolo Beltramini present a delightful mix of standards in the clarinet quartet repertoire. This recording can be found on all major platforms including Amazon, Apple Music and Spotify, and is a recommended addition to all clarinetist's libraries.
– Zack Dierickx
---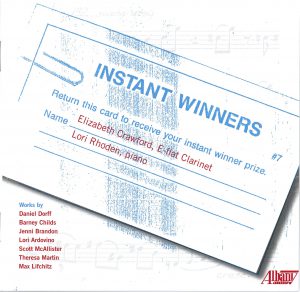 Instant Winners. Elizabeth Crawford, E-flat clarinet; Lori Rhoden, piano.
D. Dorff: Dance Music for Mr. Mouse; B. Childs: Instant Winners; J. Brandon: Stardust; L. Ardovino: Eloquence IV;
S. McAllister: Crazy; T. Martin: Calcipher; M. Lifchitz: Yellow Ribbons. Albany Records, TROY 1745. Total Time 53:11.
Clarinetist Elizabeth Crawford, professor at Ball State University, joins forces with pianist Lori Rhoden to present a selection of contemporary repertoire for E-flat clarinet and piano as well as numerous works for solo E-flat clarinet on Instant Winners.
The uniqueness of this E-flat clarinet CD is immediately attractive especially since it is so well-executed in all regards. With thoughtful repertoire choices, well-written album liner notes, excellent recording quality and superb performances, this recording showcases high-quality clarinetistry.
The CD opens with several works from the 1980s including Daniel Dorff's Dance Music for Mr. Mouse: A Cartoon Ballet for E-flat Clarinet and Piano and Barney Childs's Instant Winners for unaccompanied E-flat clarinet. They
are followed by three recently commissioned solo works by Jenni Brandon, Lori Ardovino and Scott McAllister as well as works by Theresa Martin and Max Lifschitz.
Dorff's work presents a variety of shifting styles and moods including jazzy dance-like melodies and swinging technical passages. The 10-minute piece with jazz, rock, swing and ballad sections is delightfully programmatic, and Crawford and Rhoden deliver a convincing performance. Especially notable is the excellent altissimo connection and control delivered by Crawford here and throughout the entire album.
Barney Childs's Instant Winners is the most provocative work on the CD in my opinion, making use of challenging colors and special effects such as multiphonics, teeth on the reed and humming while playing. In fact, the majority of the works on Instant Winners make frequent use of extended techniques including flutter tongue, resonance trills, pitch alteration and glissandi, which Crawford masterfully performs. The range of the clarinet is extreme, and Childs also incorporates a bass drum for the clarinetist to play. The work is available from the University of the Redlands Barney Childs Special Collection. Childs also indicates that the movements may be played in any order.
Jenni Brandon's unaccompanied Stardust in four engaging movements was commissioned by Crawford in 2014 and was inspired by popular tunes from the 1920s and '30s. The movements are all star- and moon-themed and each movement allows the E-flat clarinet to shine by "playing with range, color and extended techniques." Crawford's execution makes the lyricism and challenging technical passages sound easy and very polished in Lori Ardovino's Eloquence IV (2017) and Scott McAllister's Crazy (2013). Both were commissioned by Crawford. Theresa Martin's Calcipher
is full of lovely lyricism which Crawford and Rhoden bring out beautifully, and Max Lifschitz's Yellow Ribbons #43 is a challenging unaccompanied work with extremes in register and technical challenges.
Crawford is a wonderfully capable and talented clarinetist whose performance throughout the CD sounds much like a B-flat soprano clarinet. Her tone is very cored and even throughout the registers and she plays E-flat clarinet with a commanding presence. I was totally drawn in by her performance; this impressive recording was an "instant winner" the first time I heard it. I highly recommend it.
– Karen Dannessa
---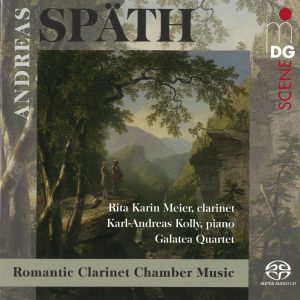 Romantic Clarinet Chamber Music. Rita Karin Meier, clarinet; Karl-Andreas Kolly, piano; Galatea Quartet. A. Späth: Introduction and Variations, Op. 133, Three Nocturnes, Fantaisie on an Aria by Mozart, Three Melodies, Variations. Musikproduktion Dabringhaus und Grimm, MDG 903 2119-6. Total Time: 78:40.
In her second CD produced by MGD Records, Rita Karin Meier – Swiss clarinetist and soloist in the Philharmonia Zurich – uncovers the clarinet music of Andreas Späth. Although much of Späth's oeuvre has not been remembered in the same way as other composers of the early to late Romantic period, such as Weber or Brahms, he was beloved and popular in his time. Späth's long and prolific career brought over 150 works in a wide range of genres, from stage works to instrumental concertos. He was a clarinetist, violinist, organist and voice teacher as well as the music director of the Société de Musique in Neuchâtel and an honorary member of the Swiss Music Society. Together with the Galatea Quartet and pianist Karl-Andreas Kolly, Meier explores Späth's chamber music with clarinet – his early main instrument – to unearth Späth's profound knowledge of the clarinet and his compositional skill.
Späth's Introduction and Variations, Op. 33 (1830), which draws its theme from Weber's "Einsam bin ich nicht alleine," opens with a hauntingly expressive introduction that gives way to atmospheric lines in the clarinet. Rita Karin Meier's effortless technical skill is clearly showcased in the lighthearted variations, but it is her tonal complexity and sensitive expression of phrase in the Larghetto that truly reveals the deep beauty of this piece. Here, the quartet's pure sound provides a tapestry for Meier's cantabile passages to weave in and out. The listener will be especially impressed with the recorded balance between the instruments; the quartet moves seamlessly between soloistic and accompanying roles.
Späth's Three Nocturnes, Op. 175 (1842), are unique in their conception, as there are very few original nocturnes for clarinet and piano from the Romantic period. Nocturne I opens with a dramatic recitative. Meier beautifully traverses the large intervals over the rapid piano tremolo with flexibility and elegance. The song-like structure intensifies with impassioned arpeggiated figures in the clarinet that display Meier's virtuosity. Nocturne II is a melancholic Adagio e con molto espressione in which the listener can admire Meier's luscious tone that is crystal-clear, dark and full. There is no dull moment in Nocturne III, which features a delightful middle Non tanto Allegro in 3/4 time that displays Meier's flawless technique and precision in articulation. This imaginative movement also serves as a window into the skill and knowledge Späth had in writing for the clarinet.
In Fantasie sur un air de Mozart, Op. 119, for clarinet and piano (1829), Cherubino's famous aria "Non so più cosa son, cosa faccio" from Act I of the Marriage of Figaro is highly embellished in the clarinet. The Mozartian dialogue between the clarinet and piano is wonderfully realized by Karl-Adreas Kolly's considerable finesse. Meier and Kolly's complementary playing is exhibited in the exciting conclusion where the clarity of both voices allows for a transparent richness in color in the final scalar passages.
Elegy for Clarinet, Op. 178 (1843), is a bit of a surprise as it is not melancholy or somber as one might expect, but is instead a spectacular show piece that requires extraordinary skill and features a lively piano part. The very thorough and informative liner notes indicate that although Späth did not indicate a dedicatee, when he was composing the work he may have had in mind a virtuoso of the range of Simon Hermstedt or Heinrich Baermann. Meier makes it sound easy, tossing off a performance full of delicate nuance and musical maneuverings.
Meier's performance of Three Melodies, Op. 196 (1847), balances lyricism and energy very effectively. Her expressive lines are shaped beautifully and the necessary flair and technique are applied to the more challenging sections. There is an intimacy to these pieces that is very appealing. Although virtuosic in nature, Meier's delicate playing draws the listener in through these somewhat capricious movements.
The last selection, Variations for Clarinet and String Quartet, Op. 69, was published in 1822 and was dedicated to Johann Simon Hermstedt, who, according to contemporary evaluations was "the most outstanding of clarinetists now living." Given that Späth wrote Variations with Hermstedt in mind, it is a tour de force that explores all the capabilities of the clarinet. Späth's treatment of the cello and clarinet dialogue at the outset of Variation I is particularly unique. The timbral interplay between the instruments is delightful, as are the coquettish rhythmic interjections of the violin and viola. The Poco adagio is also compelling, as it shifts between sections of longing and a lighter cantabile which are displayed with Meier's liquid legato and the quartet's delicate treatment of the accompaniment. Then, after a brief cadenza, Variation IV is playful and driving with lovely interjections by the violin. Meier's virtuosity is simply dazzling and belies the difficulty of this variation and the piece at large. Variations ends with rather unexpected downward chromatic figure that fades away to the chalumeau register.
It is clear that great detail and thought went into creating this CD. MDG's reputation as an audiophile label is reflected in its quality. The liner notes are extensive and give a clear history of Späth and his works for clarinet. These are highly compelling performances of vital works that will no doubt become essential in the clarinet chamber music repertoire.
– Anna Roach
---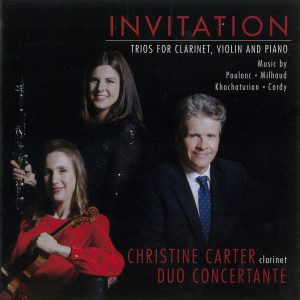 Invitation. Christine Carter, clarinet; Duo Concertante: Nancy Dahn, violin; Timothy Steeves, piano. D. Milhaud: Suite; P. Cardy: Tango!; A. Khachaturian: Trio; F. Poulenc: L'invitation au château. Marquis Classics, MAR 81489. Total Time 57:38.
Lauded for her "special passion and inspiration" (Augsburger Allgemeine) and "beauty of sound and striking expression" (Bremen Weser Kurier), clarinetist Christine Carter enjoys a varied performing career as a chamber and orchestral musician. She has performed with the Montreal Symphony Orchestra, Metropolitan Opera Orchestra and the Newfoundland Symphony Orchestra, among others. Carter is also a member of the Iris Trio and is an assistant professor of clarinet at Memorial University in St. Johns (Newfoundland, Canada).
Duo Concertante, consisting of violinist Nancy Dahn and pianist Timothy Steeves, is the premiere chamber ensemble of its kind in Canada and has been praised for its "artistry, poetry, and impeccable technique (La Scena Musicale) and "deeply integrated performances that flow naturally as if the music were being written on the spot" (Gramophone). Fellows of the Royal Society of Canada, Dahn and Steeves are also both research professors at Memorial University and artistic directors of the Tuckamore Festival.
Darius Milhaud's Suite is an arrangement of his music for Anouilh's Le voyageur sans baggage (1936), a play about a World War I soldier suffering from amnesia; the "baggage" being the loss of the soldier's memory. The Suite is a mix of sunny, lighthearted material but with dramatic moments representing the soldier's unwillingness to welcome his past in his present. In this work, there is the unmistakable influence of jazz from the 1920s which was not uncommon for French composers during that time. The jubilant Ouverture movement is performed with extreme cleanliness of intonation and technique, with Carter soaring effortlessly into high registers. The dialogue in the Divertissement between the violin and clarinet evokes an intimate conversation and the performers match each other beautifully. Carter's dark, lovely tone and Dahn's singing style fit this movement perfectly. Jeu, almost a "hoedown" in style with fiddle-like playing, is executed brilliantly. Introduction et Final opens with a brooding, dramatic outpouring that quickly returns to a jubilant place. Carter's articulation is especially laudable in its matching with the violinist. Kudos also to Dahn's jazzy but tasteful inclusion of portamenti. This is an excellent recording of the Suite in its style, tone and precision.
Composer Patrick Hardy describes his Tango! as "a light-hearted evocation of the multi-faceted spirit of the tango – playful, passionate, sensuous and seductive." The performers aptly deliver these tango elements, especially Carter with her dark, seductive tone and effortless fluidity in the high registers. Again, intonation and ensemble precision are very strong in this performance; Steeves is also afforded the opportunity of displaying his pianistic prowess.
Khachaturian was still a student at the Moscow Conservatory when he wrote his Trio for Clarinet, Violin and Piano. Prokofiev was so impressed that he arranged to have the work published after Khachaturian had completed it. Although the playing is very clean by all in the first movement, some dynamic risks could have been taken to heighten the drama at the flourishing climaxes. The second movement, again, is played beautifully by all with strict attention to rhythm and intonation but is somewhat lacking in Armenian, folksy earthiness. Dahn totally captures the soulful, Eastern European style in the third movement and sings beautifully in her double-stop melodies and countermelodic material with notably impeccable intonation in harmonics.
L'Invitation au château (Invitation to the Castle) is a play by satirical French playwright Jean Anouilh for which Poulenc was asked to write incidental music in the form of a chamber suite. This work, typical of Poulenc's oeuvre, is both joyful and melancholic at the same time. This performance is the highlight of the disc; every vignette is performed with utmost style and elegance. The ensemble is cohesive musically, technically and tonally throughout this suite. Every dance is rendered with precision, character and freshness of interpretation. Carter and Duo Concertante are commended for an excellent disc and a significant contribution to the recorded canon for this instrumentation.
– Kenneth Long
---