Originally published in The Clarinet 50/4 (September 2023).
Printed copies of The Clarinet are available for ICA members.
---
Audio Reviews
September 2023
---
Aspire. Seunghee Lee, clarinet; JP Jofre, bandoneon; Steven Beck, piano; London Symphony Orchestra, Enrico Fagone, conductor. JP Jofre: Primavera; Double Concerto for clarinet, bandoneon, and orchestra; Como el Agua; Sweet Dreams; Taranguino; JP Jofre/arr. M. Hazama: Tangodromo: A. Piazzolla/arr. JP Jofre: Tango Étude No. 3 for clarinet and orchestra; H. Villa-Lobos/arr. S. Lee: "Aria (Cantilena)" from Bachianas Brasileiras No. 5. Musica Solis, MS202208. Total Time: 56:00.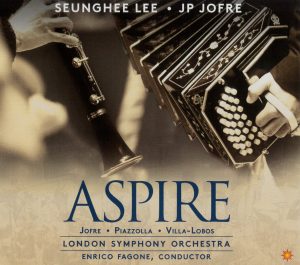 In Aspire, one discovers the unexpected partnership between the clarinet and bandoneon. The first work, Primavera, is an appetizer for the listener, introducing how well the instruments complement each other. One marvels at the wide array of dynamics and timbres available to both artists. Seunghee Lee's clarinet sound is particularly dark and rich, creating a beautifully combined tone with JP Jofre. The work also introduces Jofre's compelling compositional style. His lyrical lines and the passion they conjure are the highlight of this album. There are immense expressive opportunities for both artists, and I would imagine that Jofre's music is a joy to perform.
Jofre's Double Concerto offers the listener more of the bandoneon's remarkable poignancy. He plays with impeccable shaping and sensitivity, creating sounds and emotion beyond what one may expect. He also writes many beautiful clarinet lines, giving Lee the opportunity to create both subtle and expressive emotional statements. The percussive middle section of the first movement is haunting, and the addition of the woodblock is an eerie surprise. Throughout, the clarinet part is virtuosic, but the composer does not overdo it. The technique serves the work and does not overtake Jofre's lyricism. In the second movement, the colors of the bandoneon and clarinet blend perfectly. Jofre writes gorgeous harmonies to support the clarinet solo, and the addition of vibraphone to the soloists gives the music some refreshing brightness. The third movement is more intellectual and angular, though still retaining the lyricism that seems integral to Jofre's music. It is a welcome foil to the deeply heart-wrenching moments in the first two movements. This is a masterful work and hopefully the beginning of a new repertoire category for the clarinet.
Lee shines in the two duos written by Jofre: Como el Agua and Sweet Dreams. I was impressed by her exploration of timbre and dynamic range. While she always has a beautiful sound, in these works she manipulates it to create stunning contrasts and satisfying artistic moments. The melodic lines seem to float and are deeply touching. The tension and emotional power built throughout these brief works are masterful and indicate a great deal of thought and feeling. I love hearing Lee take artistry to the next level in these works.
I would recommend this album to listeners as something unique and charming. While the clarinet and accordion have been natural partners in many musical traditions, it is lovely to hear this duo's work taking that relationship to new artistic heights. Hopefully more will be written for such duos. I am thrilled to know about JP Jofre and I plan to seek out more of his music, and hearing Seunghee Lee's expressive, thoughtful playing makes me excited for her next project.
–Amanda McCandless
---
Dracula Bite Size. Sarah Watts, low clarinets; Jon Iles, narrator. S. Watts and J. Iles: Dracula Bite Size (An Original Adaptation). Cuillin Sound Music, CUILL1008. Total Time: 54:13.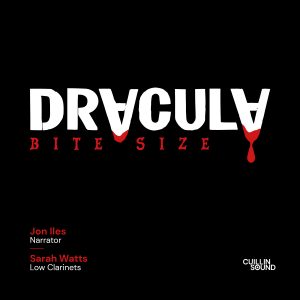 This album is a fascinating combination of narration and low clarinet based on the timeless Bram Stoker classic, Dracula. Narrator Jon Iles has condensed the book into a one-hour presentation of the story to which clarinetist and composer Sarah Watts has created an original score. The concept of the project is incredibly effective with spoken word that is full of vibrant and interesting inflection, and the low clarinet playing is simply flawless. The contrabass playing is often used to create a dark and creepy texture that perfectly highlights and enriches the text. Virtually every contemporary technique is utilized by Watts, but never without meaning and thoughtful consideration to serve the text. Slap tongue, harmonic glisses, microtonal tuning, lightning-fast technique on the basset horn and bass clarinet, extreme altissimo range, flutter tongue, and fine lyrical playing, are all clearly displayed and beautifully mastered by Watts.
Notably, the album provides a comfortable entry point to contemporary music, and furthermore, contemporary low clarinet music, for both musicians and non-musicians alike. The presentation of the familiar narration, juxtaposed with the complexity and depth of the musical language, creates a whole that is greater than the sum of its parts. While the musical component is expertly and artistically created and performed by Watts and the narration is breathtakingly performed by Iles, the combination of the two creates something that is truly special. This album is unlike any other that I have heard, and I truly hope that it won't be the last. Watts and Iles are to be commended for working so tirelessly to create an inclusive and interdisciplinary work of art that brings people together and moves the performing arts forward.
This album deserves listening by clarinetists because it is a masterclass in what is possible on the low clarinets, but also by all lovers of music and stories. This compelling story has wide appeal and I hope that more projects from Watts and Iles in a similar vein are in the works. Listen to Dracula Bite Size as soon as you get the chance; you won't regret it.
–Spencer Prewitt
---
Clariloqui. Josè Daniel Cirigliano, clarinets. I. Lidholm: Amicizia for solo clarinet; W. O. Smith: Epitaphs for double clarinet; S. Reddy: Game I for Lîla for solo clarinet; S. Cronin: Angelus for bass clarinet; D. Fujikura: Sandpiper for EÌ clarinet; V. Palumbo: Pulse for solo clarinet; J-L. Darbellay: Flash for bass clarinet; R. Lolini: Capriccio for E-flat clarinet; F. Mencherini: Crazy Jay Blue for solo clarinet; T. Burkali: Capriccietto for solo clarinet. Da Vinci Classics, C00643. Total Time: 56:30.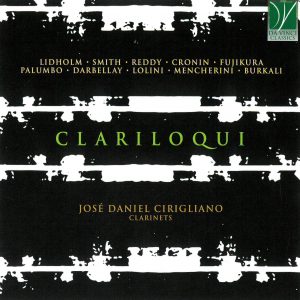 Recorded by clarinetist Josè Daniel Cirigliano, Clariloqui is a wonderful mix of contemporary clarinet literature. According to the liner notes, the artist is an "experimenter of the extended techniques of the clarinet and his 'family'" and this album definitely showcases that. All the pieces demonstrate a wide range of techniques such as microtones, multiphonics, and slap tongue. Not only that, the album also includes pieces for B-flat, E-flat, bass clarinet, and even the double clarinet.
The entire album is also a wonderful mix of composers from various locations such as South Africa, Sweden, and Japan. Although the entire selection of pieces was splendid, there were some that especially stuck out. The third piece on the album, Game I for Lîla by Surendran Reddy, begins with extremely smooth arpeggios before going into a quote from Rhapsody in Blue. It then moves into a catchy, syncopated groove and continues to move back and forth between these two motives.
The next track on the album, Angelus by Stephen Cronin, starts off with timbral trills within the altissimo range of the bass clarinet that are interrupted by a flourish of more aggressive gestures. Cirigliano has magnificent control within the altissimo range of the instrument, with a full, yet delicate sound. It was so clear, I had to check to make sure it was in fact for bass clarinet.
Another piece that stuck out was Crazy Jay Blue by Fernando Mencherini. The piece consists of several gestures resembling "bird calls" that utilize techniques such as double tonguing and multiphonics. Cirigliano plays each of these "bird calls" with such finesse that you feel as though you are outside in nature with actual birds calling to each other. According to the liner notes, the piece was commissioned by Ciro Scarponi who notes that "the effect is poetic."
Although the variety of selections and the performance by Cirigliano are absolutely stellar, the recording quality could have been improved. Many of the tracks have a different recording quality and overall sound, as if with a different microphone setup or different room. That being said, I was really impressed with the recording quality on Epitaphs for double clarinet by William O. Smith. The balance between the two clarinets (played simultaneously by Cirigliano) was exceptional. The liner notes include a great picture of Cirigliano playing this piece with two microphones strapped to his legs, which would explain the well-balanced recording.
Overall this is a great album, and those who enjoy contemporary clarinet music will want to add it to their collection.
–Jeremy Wohletz
---
American Stories. Anthony McGill, clarinet; Pacifica Quartet: Simin Ganatra, violin; Austin Hartman, violin; Mark Holloway, viola; Brandon Vamos, cello. R. Danielpour: Four Angels; J. Lee III: Quintet; B. Shirley: High Sierra Sonata; V. Coleman: Shotgun Houses. Cedille Records, CDR 90000 216. Total Time: 72:58.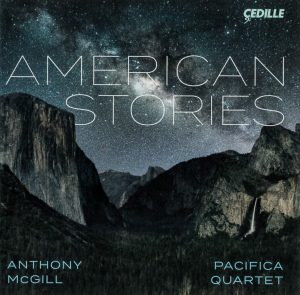 With a brilliant blend of virtuosity and intriguing new pieces, American Stories is one of the most important albums in recent history for clarinet and strings. This project is storytelling at its finest, both in regard to composition and performance. These are the stories of tragedy and triumph; of pain and beauty blended into an exquisite masterpiece. Anthony McGill and the Pacifica Quartet make their points well in this project, picking compelling and fresh pieces and then championing them in an irresistible and chic style.
These works are so idiomatic and significant for the clarinet repertoire that it's hard to imagine that they haven't always existed. The album begins with Richard Danielpour's exquisite Four Angels, composed as a commission for the Metropolitan Museum of Art in April 2020. A profound hymn to the four young girls murdered in a hate crime in a Birmingham, Alabama, church in 1963, the piece is an encapsulation of a dark chapter in our American story, combining moments of light that capture the innocence of the young girls with glimpses of horror and despair. McGill and the Pacifica Quartet are seamlessly intertwined in their tone and nuance, speaking simple truths in a soul-wrenching musical journey.
James Lee's Quintet for clarinet and strings is a truly American story, spinning a tapestry of voices from "an inverted shofar theme" and sounds of a pow-wow. McGill's technical mastery and emotional depth as a player is on full display here as he sings, cries, growls, and laughs his way through the piece. He takes care of any fundamental aspects of playing the clarinet so perfectly that it sounds like pure, effortless expression.
Ben Shirley's High Sierra Sonata tells the story of one of the most mercurial and exquisite locations in America, the High Sierras. Spanning desert, alpine terrain, and the highest and lowest parts of the United States, this landscape encompasses the full range of conditions both in nature and human emotions and is evocative of Shirley's inner landscape.
The music on these tracks reflects the quick changes found at geographical and emotional extremes: sunny in the morning, and ferocious within the hour. This is musical storytelling at the highest level and McGill and the Pacifica Quartet are there for every change in character and emotion, adeptly portraying the internal landscapes that we all experience. McGill's technical and expressive acumen here are nothing short of breathtaking, displaying the full expressive range of the clarinet with ease.
The album concludes with the brilliant Shotgun Houses by Valerie Coleman. Coleman's compositional genius is on full display as she takes us on a journey celebrating Muhammad Ali. The first movement tells the story of West Louisville, where Coleman and Ali both spent their childhood. Coleman's levity, combined with McGill's flexibility and tremendous range, gives us a full vision of the conversations and energy of this neighborhood. McGill is matched in vibrancy and imagination by the Pacifica Quartet, giving glimpses of Ali's tender relationship with his mother and finally his journey to the Olympics. The music composition and performance are so beautiful here that they almost capture the tastes and smells of his life. This is clarinet playing at its finest.
American Stories is one of the strongest albums of clarinet and string music in the last few decades. This collection of pieces is an essential addition to any listener's collection. The incredible artistry combined with virtuosic and sensitive playing by McGill and the Pacifica Quartet make this album an instant classic.
–Stephanie Zelnick
---
Breakthrough. Jâca: Wesley Ferreira, clarinet; Jaxon Williams, guitar. Yom: Rêve de L'Enfant; Rodrigo y Gabriela: Tamacun; R. Beaser: Mountain Songs; G. Viseur: Douce Joie; P. Cortés: Sevillanas: M. Mangani: Romanza; W. Ferreira and J. Williams: Taistealaí Ama; Z. de Abreu: Tico Tico no Fubá. Navona Records, NV6457. Total Time: 39:03.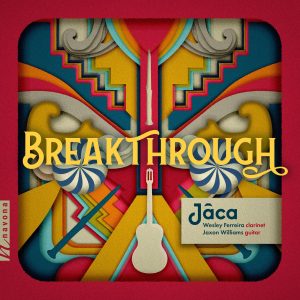 Every time I hear a piece for clarinet and guitar, I wonder why this combination is not a standard thing. Flute and guitar have had their period of relevance, but the clarinet pairing should be more common. Recent commissions from noted Cuban composer Leo Brouwer will help make this ensemble more viable, but nothing is as gratifying as a forward-looking ensemble trying to make inroads into popular acceptance. The only disappointing aspect of Breakthrough by Jâca—Wesley Ferreira and Jaxon Williams's terrific pairing—is that it is only 39 minutes of music. For those that are familiar with the work of Ferreira and Williams, justification is not necessary. For those unfamiliar: they make as strong as case as anyone for the viability of this genre.
The fun kicks off with Yom's Rêve de L'Enfant, a wonderful example of the dynamic shadings capable from this ensemble. Rodrigo y Gabriela are a Mexican guitar duo specializing in performing popular genres on flamenco guitar. Their Tamacun, along with the Cortés Sevillanas, brings that rich Spanish flavor to the album. One of the finest moments on the album comes from Pulitzer Prize winner Robert Beaser's Mountain Songs, an eight-movement suite inspired by Appalachian-region music. Williams's sensitivity gets the guitar accompaniment style just right, and Ferreira's floating lines complement beautifully. This piece is originally for flute and guitar but works quite well on clarinet. Three movements are included on this album; it would have been lovely to hear all eight. Mangani has already given the clarinet a lot of his love and attention, and Romanza sounds like it could have come right out of Morricone's Cinema Paradiso soundtrack. Ferreira's articulation is on display in the original tune Taistealaí Ama. It has an exciting Irish jig quality that is a real toe tapper. The Belgian accordionist Gus Viseur's Douce Joie channels the light French jazz style right on the nose.
Ferreira's playing is in strong form throughout this album. His sound matches the character of whatever style he is playing, and his technique seems effortless. Some impressive moments, especially in the popular Tico Tico no Fubá, come out of nowhere and bring great delight. Williams's timbre and flexibility are just terrific; he is a real chamber player with great nuance. Breakthrough is an album that hits all the marks of a new ensemble displaying their virtuosity and versatility: original pieces and arrangements spanning popular styles and contemporary compositional techniques that show the possibilities of this ensemble. Breakthrough is a rare album that serves the easy listening crowd well but gives the more discerning ear some depth and substance. Jâca is excellent and composers should be thrilled to write original works for them.
–Osiris Molina
---
Movers, Makers, and Shakers. Duo Cylindre: Andrea Vos-Rochefort, clarinet; Lizzy Darling, flute; with Dan Moell, percussion; David Mamedov, piano; Marco Schirripa, marimba. L. Larsen: Downwind of Roses in Maine; E. R. Harrison: Beneath a Canopy of Wings; S. Darling: In a Landscape; A. Rubtsov: Marbella Fantasy; N. Hudson: Am I So Broken?; N. Daughtrey: Burn3; B. Harris: Us; M. Helmuth: Cold Brew. Fundamental Sounds, 198000806231. Total Time: 54:36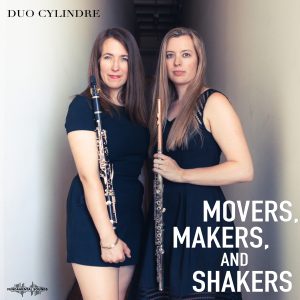 Movers, Makers, and Shakers, released in July 2021 by Duo Cylindre, is an exciting collection of modern chamber works for flute and clarinet. Clarinetist Andrea Vos-Rochefort and flutist Lizzy Darling expand the traditional duo framework to include piano, percussion, voice, improvisation, and electronics. Of the eight works recorded on the album, five were commissioned by the ensemble. The album includes thoughtful liner notes that provide insight into the inception of each work.
Libby Larson's mesmerizing work, Downwind of Roses in Maine, uses mallet percussion, flute, and clarinet to represent the faint scent of roses on a hot summer day in Rockport, Maine. The piece is beautifully performed by Vos-Rochefort, Darling, and percussionist Dan Moell. The melodic lines interweave together before erupting into flourishes of graceful technique, effortlessly played by Darling and Vos-Rochefort. The eighth track on the album, Burn3 by Nathan Daughtrey, also features percussion. It begins with rapidly ascending melodic lines that alternate between the musicians, imitating the many ways a fire can burn, such as ignite, scorch, dance, spark, smolder, etc. Vos-Rochefort and Darling play with light and joyful, but unrelenting, style, well suited to the character of the piece.
In a Landscape by Steven Darling presents unique motivic contours, emphatic interjections, and frequent unison passages. Vos-Rochefort and Darling handle the energetic passages with ease; the seamless blend of their tones and expressive phrasing create a captivating aural experience for the listener. Originally for flute, oboe, and piano, Marbella Fantasy was written by oboist Andrey Rubtsov. Cadenza-like passages for the flute and clarinet open the work before moving to a lyrical middle section. The piece closes with an upbeat and driving dance.
A standout on the album is Nathan Hudson's Am I So Broken? Here, the flute and clarinet lines interweave with the sounds of the performers' voices. The result is uniquely modern with an undercurrent of antiquity crafted by the chant-like compositional writing. The voices gradually build to ask the question, "Am I so broken?" The final piece on the album, Cold Brew by Mara Helmuth, uses a fixed media part based on Duo Cylindre's recorded sounds. The composer writes, "In the score I provide a graph of the coffee genome and a key which mapped types of sounds to the color-coded regions of the genome." The musicians are asked to improvise, reacting to each other, the score, and the fixed media. Vos-Rochefort's virtuosic bass clarinet playing adds musical depth and sonic interest to this performance.
Duo Cylindre's other performances on the album include Us by Bradley Harris and Beneath a Canopy of Wings by Ellen Ruth Harrison—two works commissioned by the duo. Both pieces demonstrate the duo's ability to blend, match articulations, and phrase with conviction. Movers, Makers, and Shakers is a fascinating collection of chamber works, superbly performed by Duo Cylindre and their skilled collaborators. A must-listen for woodwind chamber music enthusiasts!
–Kylie Stultz-Dessent
---
Reacting to the Landscape. Whistling Hens: Jennifer Piazza-Pick, soprano; Natalie Groom, clarinet. A. Day: Thursday; The Green Child; V. Bond: Scat 2; J. Stevenson: Letter from Beirut; C. D. Leiter: American Folk Suite; Eve's Diary; M. M. Fitzhugh: A Woman Keeps Opening; D. Rosenblum: Say I Am a River; D. McBryan: It's Bedtime. Strange Woman Records, 006. Total Time: 63:00.
The Whistling Hens is a duo comprised of clarinetist Natalie Groom and soprano Jennifer Piazza-Pick. Their recording Reacting to the Landscape features works by seven living female American composers. The title of the recording comes from an interview with Marin Alsop wherein she discusses a conducting course she created. She writes that, "It's only necessary because of the reality. It's not something I'm making up. I'm just reacting to the landscape."
Ashi Day's work Thursday welcomes the listener with Groom's rich, fluid, and colorful tone and skilled technical ability. The duo establishes their virtuosity with the use of color as a primary component in their performance, and Groom's sensitivity to the entry of the voice. She executes extended techniques such as glissandi, multiphonics, and growling with clarity and fluidity, effortlessly integrating them into the music. The Green Child, Day's other work on this album, is more textural in contrast. It opens with bird sounds that are recorded as well as performed by the voice and the clarinet.
Scat 2 is a jazz-influenced work by Victoria Bond. Groom's flexibility as a musician is highlighted in her ability to effortlessly stylize this work, but not beyond the point of taste. There is a strong element of improvisation at play, primarily on the part of the singer, who scat sings throughout. This track shows the beauty of Groom's tone; it is full and mellow, with flecks of color that lifts and balances the natural darkness of the clarinet.
Based on a tune by Armenian composer Lory Bedikian, Jennifer Stevenson's Letter from Beirut is a heartbreakingly beautiful display of the phrasing and musicianship of both Groom and Piazza-Pick. Groom tastefully incorporates elements of traditional Armenian clarinet style, utilizing light vibrato and smearing where appropriate to complement the voice.
Cherise D. Leiter's American Folk Suite is a five-movement collection of folk songs with ties to early American experience told from a female perspective. The text clearly outlines the important role of women in situations where only the contributions of men are historically acknowledged. It's hard not to notice the folk aspect of the work and how Leiter has expertly connected it to elements of American music we hear as distinctly part of the wide-open spaces that characterized the expansionist era of American history. This connection to the historically embraced idea of expansion juxtaposes poignantly against the text; the performance by two women drives home, even more deeply, the intertextuality of themes set to music by Leiter and highlighted by the performers. Leiter's other work on the album, Eve's Diary, is equally as breathtaking as the Suite. Based on Mark Twain's work of the same name, the text here is taken from the first day of the diary and encompasses an innocent curiosity about the world. Groom's entrance from niente and phrasing are the most telling about her virtuosic ability—her phrase direction and intentions made clear at every turn. In a world of higher, faster, and louder, Groom's artistry stands out in the best possible way.
Melika M. Fitzhugh's A Woman Keeps Opening depicts the degree to which modern women are expected to give of themselves. More dissonant than the other tracks on this album, we are treated to a more muted color palette that is in stark contrast to the other works reflecting the isolation of the text. Groom's use of color and timbral variation here shift her tone to a darker place reflecting the mood of the text effectively. Diana Rosenblum's Say I am a River is a wonderful track to pair with the Fitzhugh. Though more intense, the real showpiece here is the interplay between Groom's color and Piazza-Pick's interpretation of the text by Mary Buchinger.
The album closes with Dannielle McBryan's work, It's Bedtime. The liner notes indicate that this piece embodies the feelings of grief and loss with the passing of loved ones. In the intensity of technique required of both Groom and Piazza-Pick, we can hear the cries of loss and heartache through restless rhythm and melodic elements in both the text and music.
This is a must-have album, not just for the wonderful playing, but because the choices of repertoire were intentional and put together in a masterful way. Combined with the powerful artistry of both Groom and Piazza-Pick, this makes for an exciting musical journey for all listeners.
–Vanessa Davis
---