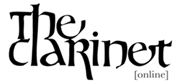 Originally published in The Clarinet 48/4 (September 2021). Printed copies are available for ICA members
---
Book and Music Reviews: September 2021
BOOKS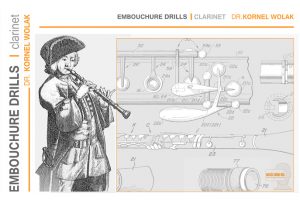 Kornel Wolak. Embouchure Drills: Clarinet. Music Mind, Inc. 2019. $19.99, E-book: $14.99
Kornel Wolak, assistant professor of clarinet at Queens University in Ontario, Canada, has published the second book in his Music Mind Inc., Ability Through Understanding imprint. Using the same distinctive elongated landscape layout as in his 2017 Articulation Types, Wolak systematically explores the properties of the clarinet embouchure. The guided self-discovery is prompted with anatomically accurate illustrations with detailed labels, consistent use of defined terms and step-by-step exercises for the clarinetist.
One asset of this book is the presentation of concepts and exercises in just-the-right-size portions. Following explanation of the embouchure's basic function, Wolak takes you down a path of exercises to explore the use of your lips and jaw – including all the surrounding muscles. Efficiency and reliability are the goals. He continues with an insightful presentation of tongue position in voicing the registers of the clarinet. Skill in this area not only allows adjustment of
tone and smooth transitions between registers but is also a prerequisite for control of multiphonics.
Interestingly to me, Wolak makes no mention of the flat chin concept, though the illustrations, photographs and exercises reinforce that idea. Keep a copy of this spiral bound book in your teaching studio; your students will be fascinated by the detailed images and ideas.
 – Gregory Barrett
---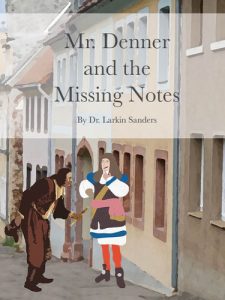 Larkin Sanders. Mr. Denner and the Missing Notes. Clever Clarinetist, 2021. $12.99, E-book: $8.99
This softcover, magazine-size book of 35 pages is not only written by Larkin Sanders, but appealingly illustrated by her as well. Intended for children – perhaps of the age when they may be choosing an instrument – it tells the story of Johann Christoph Denner's "aha moment" and the evolution of chalumeau to clarinet. This engaging story of filling the note gap between the top of the chalumeau register and the bottom of the clarion will also appeal to older clarinetists as they enjoy time travel to the beginning of the 18th century. Sanders, who plays clarinet, chalumeau and recorder, includes melodies by Jacob van Eyck – to be played on each of these instruments – to supplement the text and to make presentation of the story a musical experience.
 – Gregory Barrett
---
MUSIC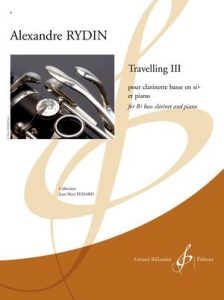 Alexandre Rydin. Travelling III for B-flat bass clarinet and piano. Gérard Billaudot Editeur, 2020. $44.19
Alexandre Rydin (b. 1939) is a musician, composer and teacher from Lausanne, Switzerland. Rydin is a prolific composer of woodwind works and has several for clarinet including his Travelling I for clarinet quartet, Travelling II for orchestra and six instruments, Travelling III for bass clarinet and piano, and Travelling IV for clarinet and piano. Travelling III is for the advanced bass clarinetist, graded 7 (out of 9) in difficulty by the composer. This work utilizes the entire workable range for the advanced bass clarinet player; several passages, most notably at the end of this 8'30" work, are in the altissimo register up to third-ledger-line E. This work has many tempo and mood changes, making the title fitting. Technical and musical demands include fast altissimo passages and wide interval leaps. This work and many other clarinet works by Rydin would certainly be worth perusal by the bass clarinet enthusiast.
 – Lori Ardovino
---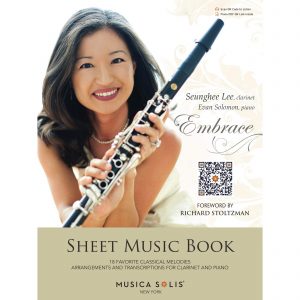 Seunghee Lee, transcriber. Embrace, 18 Favorite Classical Melodies for Clarinet and Piano. Musica Solis, 2020. $24.99
New York-based American clarinetist Seunghee Lee is a multi-faceted artist. After many requests for sheet music of her arrangements, Lee has compiled Embrace, sheet music based on her second album. This book contains 18 solos that cover a broad range of genres, featuring some of the most beautiful songs by Handel, Bach, Schumann, Granados, Mascagni and Fauré to name a few. These solo pieces embrace the clarinet's wide range of tonal color and are well suited for clarinetists from intermediate to advanced ability. These beautiful songs are appropriate for recitals, church services and weddings. This book will certainly broaden the emerging clarinetist's repertoire.
 – Lori Ardovino
---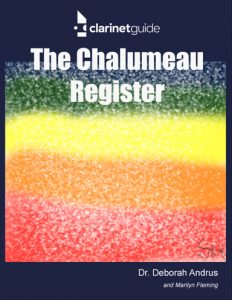 Debra Andrus. The Chalumeau Register. Clarinet Guide, 2020. $15.00
The Chalumeau Register is a method book that focuses on several aspects of clarinet playing. The book has three sections: Level 1 Exercises, Level 2 Exercises and Duets. The book is designed so exercises can be selected to create a warmup that can vary from day to day. Exercises increase in difficulty so the student can start with easier, familiar exercises and advance to more difficult ones over time. The book contains useful information with photos of recommended hand positions and embouchure. Before the Level 1 Exercises, tips for achieving efficient articulation, major scales ordered in the circle of fourths and a basic fingering chart are given. Each level addresses important elements in achieving proficiency as a clarinetist. Level 1 stays with basic clarinet objectives and Level 2 continues but
with more advanced exercises. The Duet section begins with simple exercises and advances in difficulty regarding rhythm and key signatures.
The Chalumeau Register is a concise, well-executed book containing valuable information that can benefit clarinetists of all ages.
 – Lori Ardovino
---
Carl Topilow. Arrangements for clarinet with orchestra: works by Dvořák, Kókai, Kovács (Weber), and Kreisler, and a klezmer medley (see individual entries below).
Conductor, clarinetist and arranger Carl Topilow was director of the orchestral program at the Cleveland Institute of Music for 37 years. He is the founder and conductor of the Cleveland Pops Orchestra – often performing as soloist on his red clarinet – and has conducted more than 120 orchestras around the world including many years as director with the National Repertory Orchestra. Growing up in metropolitan New York, Topilow began playing clarinet when he was nine. In high school he studied with Joseph Allard (NBC Symphony Orchestra). At the Manhattan School of Music he continued with Leon Russianoff and Herbert Blayman (Metropolitan Opera Orchestra). In his 20s, Topilow developed his musician-entertainer persona – so effective for a pops conductor – with countless clarinet performances at weddings and bar mitzvahs. All these experiences come together in Topilow's arrangements for clarinet soloist with orchestra. The first of which, Dvořák's Rondo, has a New York City connection.
Antonín Dvořák. Rondo arranged by Carl Topilow for clarinet (B-flat) and string orchestra (or string quartet). 7 minutes. Contact Carl Topilow: [email protected] $100.00. Clarinet part alone: $25.00
In December 1891 Dvořák agreed to be the next artistic director and professor of composition at New York's National Conservatory of Music starting in October 1892. With some months remaining before his commitment began he realized he would greatly miss his Slovakian village, Vysoká. To smooth the transition and to say goodbye to friends, he embarked on a 40-plus concert tour of Bohemia from January to May 1892. One of the pieces he composed for this tour was the Rondo in G minor for cello and piano. Topilow has retained the original key, moved the solo line an octave higher and rewritten a gesture played across the strings on the cello to be idiomatic for the clarinet. Topilow's string accompaniment assigns the oboe and bassoon lines from Dvořák's orchestration among the strings. The clarinet part can be played with the original piano score.
Rezső Kókai. Four Hungarian Dances arranged by Carl Topilow for clarinet (B-flat) and orchestra (*2222/3000 T, harp, strings). 15 minutes. Permission for use from Universal Music Publishing Group www.umusicpub.com/us/license-request. Contact Carl Topilow ([email protected]) for details.
Budapest composer, pianist and teacher Rezső Kókai (1906-1962) had his Symphony in E-flat premiered when he was 11 – an auspicious start to a career that would foment establishment of a Hungarian repertoire based on traditional dances. This is exactly the style of his popular clarinet recital work Four Hungarian Dances, which Topilow has so effectively recast with orchestral accompaniment. Topilow knows the orchestra inside and out and his accompaniment enhances the many moods of the music with colorful use of solo woodwinds, horns and in the slow "Mourning Dance," harp and contrabass. Kókai's piano score is the blueprint for the orchestration, and Topilow has completed the task with textures that never allow the orchestra to cover the solo clarinet (which plays the standard Editio Musica Budapest clarinet part). If you like this piece, check Kókai's selected works list at Grove Music Online for additional solo and chamber pieces to track down.
Béla Kovács. Homage to Carl Maria von Weber arranged and with introduction and transitions by Carl Topilow for clarinet (B-flat) and orchestra (2202/2200 T, strings). Also available for clarinet with piano. 9 minutes. Contact Carl Topilow ([email protected]) for assistance with rental through Edition Darok www.editiondarok.de.
The works of Professor Béla Kovács have been bringing joy to clarinetists for nearly 30 years – primarily through his solo clarinet Hommages to nine historically prominent composers. Carl Topilow builds on this wave of enthusiasm with accompanied versions of the Hommage à C. M. von Weber. Both Topilow versions, with piano or orchestra, retain Kovács's original clarinet part and then add to it a stylistically appropriate accompaniment including newly composed introduction, and short transitions between the variations. The result is an amalgam of Weber's concerted works for clarinet, his Variations on a Theme from the Opera "Silvana" for clarinet and piano, Kovács' musically pedagogical Hommage and Topilow's advocacy of the whole brought to the concert hall. Highly recommended.
Fritz Kreisler. Praeludium and Allegro arranged by Carl Topilow for clarinet (B-flat) and piano or clarinet, piano, drum set, double bass and string orchestra. 6 minutes (depending on number of jazz choruses). Contact Carl Topilow: [email protected] $100.00 for purchase.
The jazz standard Autumn Leaves is interspersed within Praeludium and Allegro. Both works contain a similar harmonic pattern. Arrangement includes open jazz choruses. Originally for violin and piano; adapted from Gustave Langenus's arrangement for clarinet and piano.
Traditional. A Klezmer Tribute for Clarinet and Orchestra (*2222/4331/T+1, strings) arranged by Carl Topilow. 6 minutes. Contact Carl Topilow: [email protected] $150.00 for purchase.
The famous Heyser Bulgar, the stately hora Firn di Mekhutonim Aheym (Escorting the Parents of the Bride and Groom Home) and a bulgar reprise comprise this upbeat clarinet feature.
 – Gregory Barrett