Originally published in The Clarinet 50/3 (June 2023).
Printed copies of The Clarinet are available for ICA members.
---
Audio Reviews
June 2023
---
halfway home. Andy Hudson, clarinet; Anthony Taylor, clarinet; Ināra Zandmane, piano. C. Wieland: Hands; J. Rudman: Twisted Blue; R. Crean: Hellville; T. Martin: Fire and Ice; b. solomon: Aria "Dreaming on the Inside"; A. Meadors: Where Did All of the Words Go?; L. Finck: If I Were Only Halfway Home. Potenza Music, PM1070. Total Time: 68:01.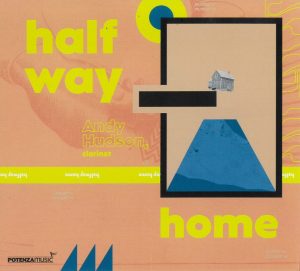 American clarinetist Andy Hudson collaborates exquisitely with clarinetist Anthony Taylor and pianist Ināra Zandmane in the album halfway home. An avid interpreter of modern music, Hudson has commissioned and premiered more than 100 works, performing at prestigious venues across the US, Canada, Europe, and Africa. Hudson is co-artistic director for Latitude 49 and performs regularly with The Zafa Collective, earspace, Cabrillo Festival Orchestra, North Carolina Symphony, and Greensboro Symphony. He presents master classes across the US and has co-authored two pedagogical books. Hudson serves as an assistant professor of clarinet at the University of North Carolina Greensboro.
Opening the disc with quiet introspection, Hands by Cassie Wieland is a beautiful soliloquy for solo clarinet. Hudson's thoughtful interpretation and sonorous tone captivate the auditory imagination as languid lines permeate into punctuated passages before fading away.
In Jessica Rudman's Twisted Blue, Hudson and Zandmane meld timbres into a sonorous curtain. Intense passion greets the listener as thunderous crashes in the piano are met with directed punctuations from the clarinet. Deep chordal passages highlight the graceful interplay of expression while both performers dance through intense final strains in rhythmic unity.
Hellville places the story of a wordless graphic novel into Rosśa Crean's sonic world of clarinet and manipulated sound via electric guitar pedals. Hudson adeptly weaves these sound spaces together, formulating a unified self-collaboration. His flawless technique layers ethereal waves and percussive strikes. The skillful execution of extended techniques creates a sound cloud beyond the scored setting, bringing the listener into an immersive sonic space.
Fire and Ice by Theresa Martin joyfully blends playful and severe passages in a masterpiece for a clarinet duo. The unified artistry of Hudson and Taylor dances excitedly between languid passages, rhythmic complexities, and harsh moments. The precise matching of tone, texture, and articulation is masterful and delightful to hear.
The graceful and contemplative Aria "Dreaming on the Inside" by brin solomon offers Hudson an opportunity to showcase the bass clarinet. Melodic passages soar across the instrument's range, while technical moments highlight his dexterity of execution. Hudson's impeccable musicianship with Zandmane is impressive.
Commissioned by Hudson and Taylor, Anna Meadors's bass clarinet duo composition Where Did All of the Words Go? deftly insists on parity of voices. The synergy displayed by the team is exceptional, with unity of expression shown flawlessly throughout the performance.
The title work, Ledah Finck's If I Were Only Halfway Home, is full of raw, expressive, emotive passion. The bass clarinet sails as a solo instrument, and Hudson's technique is exemplary. He navigates deftly between raw, emotional moments and delicate, airy passages seemingly without effort. His technical mastery is unparalleled, and his expressive interpretation breathes excitement into solo lines, creating powerful storytelling behind the exacting execution of single pitches.
Hudson's adept engagement with contemporary clarinet and bass clarinet works, combined with his powerful ensemble collaborations with Taylor and Zandmane, is awe-inspiring. His precise technique, emotive sound, and irrepressible musicality set the stage for excellence. While a focus on contemporary repertoire and extended techniques could be monotonous, the brilliant execution of all performers leaves the listener on seat edge, wrapped in the exquisite musicianship and soundscapes produced throughout the album. This disc is exceptional and would be a delightful addition to the collection of clarinetists and libraries.
– Michelle Kiec
---
A Trillion Miles of Darkness. David Griffiths, clarinet; Timothy Young, piano; Ken Murray, guitar. S. Greenbaum: Sonata for Clarinet and Piano: A Trillion Miles of Darkness; Life Cycles; Cloud Eight; Going Home; "Interlude" from Dance Music for Concert Halls; Three Places for a New Millennium; Études for Daydreamers; Waiting for the Green Man; "Composition with Yellow Lines" from Mondrian Interiors. Lyrebird Productions, LB301121. Total Time: 57:45.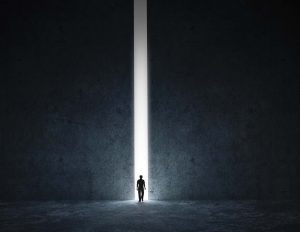 Australian clarinetist David Griffiths, pianist Timothy Young, and guitarist Ken Murray showcase the clarinet music of Stuart Greenbaum in their new album, A Trillion Miles of Darkness. This title refers to a phrase in Michael Faber's novel, The Book of Strange New Things. Greenbaum explores a wide range of moods and colors for these instruments in different combinations. Listeners will appreciate the variety of pieces, the interesting notes written by the composer, and the compelling performances.
Griffiths is a member of Ensemble Liaison and the Australia Ensemble UNSW at the University of New South Wales. In addition, Griffiths, Murray, and Greenbaum are on faculty at the Melbourne Conservatorium of Music of the University of Melbourne. Young is a founding member of Ensemble Liaison and head of piano at the Australian National Academy of Music.
The highlight is Greenbaum's Sonata for Clarinet and Piano, written in 2016, which shares the album's name. According to Greenbaum, the sonata explores a sense of "being an unfathomably long way from one's home planet" and "psychological darkness." The performers captivate from the outset with an ominous-sounding melody in octaves and lines that weave in and out of each other. They skillfully portray loneliness and darkness with their purity of sound and clarity of expression. Griffiths plays with great depth of tone and remarkable control. The muted chords at the opening of the second movement are striking, as is the ornamented solo clarinet line that introduces the third.
A short work for solo clarinet, Life Cycles, depicts the continuity of life. The solo is written in theme and variation form and features ornamented statements that grow in complexity. Griffiths executes the technical demands with ease. The clarity he achieves in the whispered tremolos towards the end is impressive.
The album includes two works for clarinet and guitar. Cloud Eight is a delightful piece that showcases Greenbaum's storytelling style. The clarinet begins with a melancholic idea that blossoms and takes on new, and sometimes surprising, twists as the melodies unfold. There are a few instances when the tone loses a bit of focus. Nevertheless, Griffiths and Murray are sensitive collaborators as they create beautiful dialogue. Especially notable is the interesting texture Greenberg writes when the guitar plucks notes that accentuate the clarinet line. Going Home also features a vocal style with dynamic interplay between instruments. It reflects influences of jazz and contemporary styles and includes some expressive vibrato.
Three Places for a New Millennium depicts three places: in orbit, a departure lounge, and in traffic. Griffiths plays with impeccable intonation and blend as he sings through the contemplative lines. The impassioned statement in the middle of the first movement is especially moving. The subdued second movement includes straightforward statements that convey a feeling of solitude. The third movement is more active with rapid passagework and a raucous conclusion.
Greenbaum wrote Études for Daydreamers with beginning and intermediate clarinetists in mind. The four movements are short studies with interesting subtitles that refer to moments in the composer's school days.
"Composition with Yellow Lines" rounds out the album. It is the short seventh movement of Mondrian Interiors, an eight-movement set for mixed sextet, based on a painting by Piet Mondrian. The slow movement is reflective and flowing. It is the perfect way to conclude such an introspective album. Listeners will surely enjoy these first-rate performances and learning more about the music of Stuart Greenbaum.
– Justin Stanley
---
John Carbon: Music for Clarinet. Richard Stoltzman, clarinet; Doris Hall-Gulati, clarinet/bass clarinet; Steven Graff, piano; Warsaw National Philharmonic, George Manahan, conductor; New York Chamber Symphony, Gerard Schwarz, conductor. J. Carbon: Rhapsody for clarinet and chamber orchestra; Three Fantasy Pieces for bass clarinet and piano; Tunes from a Tree House for clarinet and piano; Clarinet Concerto. Zimbel Records, ZR123. Total Time: 63:41.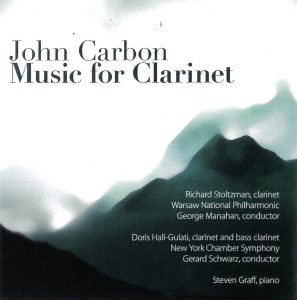 John Carbon: Music for Clarinet provides an opportunity to hear two remarkable clarinetists perform modern works relatively new to the clarinet repertoire canon. Giving us two concertos and two works with piano, the performances showcase the versatility, virtuosity, and stylistic nimbleness of Doris Hall-Gulati and Richard Stoltzman on clarinet and bass clarinet.
Rhapsody for clarinet and chamber orchestra starts the listener off with an engaging and multi-mood invoking journey. Hall-Gulati shows great ease and dexterity through multiple technical passages, while taking time to contrast with poignant and more quiet moments throughout the work. The partnership with the New York Chamber Symphony under the baton of Gerard Schwarz is a tight collaboration, and the interplay between orchestra and soloist is playful and a delight.
Three Fantasy Pieces for bass clarinet and piano is a multi-movement work that is a wonderful addition to a limited field of quality bass clarinet literature choices. The second movement contains some lovely moments, and the third movement is a playful "audience pleaser." Hall-Gulati's bass clarinet playing is quite good. This listener might have appreciated a bit more contrast in color and subtlety, especially in the second and third movements.
Tunes from a Tree House is a short, two-movement work with many contrasting moods and some lovely moments. In particular, the middle of "Sally's Waltz" employs a beautiful transition into a rather intimate melody, evoking the tenderness of a waltz. The second movement is a fun romp with lots of interaction between the clarinet and piano and "hints" at some well-known standard instrumental repertoire. Hall-Gulati shines in these moments, with excellent control of technical passages. Pianist Steven Graff is a marvel to listen to and contributes wonderfully to this collaboration.
Richard Stoltzman's performance of the Clarinet Concerto with the Warsaw National Philharmonic is a tour de force: a journey through multiple landscapes of color, imagery, and mood. Atmospheric sounds and ethereal suspensions combine with more structural technical passages to hold the listener's attention and imagination throughout. As with all his recordings, Soltzman provides a passionate interpretation full of color shifts, vibrato in all the right places, and engaging virtuosity. The orchestra matches the full extent of Stoltzman's passion and virtuosity with a fully incorporated score replicating, weaving in and out of, and sometimes overtaking the solo clarinet line. Although listed as one movement, there are clear sections delineated by brief mini-cadenzas. This is a fine concerto, and it is my hope that it gets programmed with more orchestras and clarinet soloists.
Overall, this is a wonderful collection of clarinet works by a fine composer with excellent performing on all fronts. I would recommend this to be part of your recording library.
– John Masserini
---
Milieu Interieur. Jason Alder, clarinet/bass clarinet/contrabass clarinet. T. Chrysakis: Fáessa for clarinet; Milieu Interieur I for bass clarinet; Milieu Interieur II for contrabass clarinet; Noctilucent Clouds for two bass clarinets; Μαύρο Φως/Dark Light for contrabass clarinet. Aural Terrains, TRRN1647. Total Time: 53:37.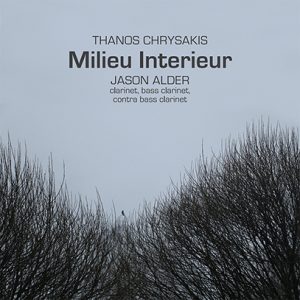 Thanos Chrysakis and Jason Alder's collaborative album Milieu Interieur is an exhilarating soundscape that utilizes the large array of pitches available between the soprano, bass, and contrabass clarinets. The result of this exploration of sonic possibilities these instruments possess is a swirl of colors, textures, and aesthetics so varied and majestic, I imagine it to be sounds from the very formation of the Earth. The raw and sometimes grotesque nature of this unique listening experience is alluring and unpredictable, prompting me to dive back into them again and again.
The five-track album opens with Alder on the soprano clarinet creating an eerie mist of sound utilizing multiphonics, vibrato, resonance fingerings, and tremolos. The piece, Fáessa for clarinet, sets a bleak yet hypnotizing scene with moments of distant urgency in the highest pitches of Alder's masterful multiphonics. The effects brought me imagery of churning grey and taupe with veiled sparks of lightning in the distance, as if I were in a dream with the memory of an unclear obligation scratching at the back of my consciousness. The piece ends with the clarinet trailing off higher and higher into nothingness. Milieu Interieur I for bass clarinet picks the listener up right where we were left, in a mysterious fog. However, the shadows of sound begin to conglomerate into increasingly more solid shapes. The sound aesthetic shifts between solemn introspection, brash emotional outbursts, and strained frustration with moments where Alder's performance breaks out into almost melodic singing.
Milieu Interieur II for contrabass clarinet opens with Alder drawing some of the sweetest and most delicate sounds I have heard from the contrabass clarinet. Chrysakis writes tender lines that highlight the extraordinary range of textures while utilizing truly remarkable multiphonics that vibrated my soul. The warmth of sound that Alder achieves in the extreme registers is impressive. This holds true for Noctilucent Clouds for two bass clarinets. Alder, who recorded both parts, demonstrates impeccable intonation as he takes the listener into an introspective journey colored with flittering passages in the highest registers of the bass clarinet, and subterranean tonguing that evokes images of giant moths. The album closes with the piece, Μαύρο Φως/Dark Light, which inspired Alder's PhD dissertation Sonic Possibilities of the Contrabass Clarinet: A Study of Cross-Compatibility and Composer Collaboration. Alder shifts quickly between reflective, lulling colors and eruptions of emotion that sound almost Jurassic. The entire piece shatters any preconceived notions I had about what could be written and performed on the contrabass clarinet.
Jason Alder's performance is bold and groundbreaking. He has complete control over each clarinet even in the moments designed to sound the most out of control. His virtuosic extended techniques and exceptional capacity to produce such a large array of sounds grant listeners the opportunity to be swept into some of the most unique and thrilling soundscapes I have ever heard. Whether you are interested in innovative contrabass clarinet performance or want to let the remarkable sounds spur extraordinary imagery in your mind's eye, I highly recommend experiencing Milieu Interieur. Chrysakis's outstanding compositions combined with Alder's phenomenal performance harness something truly significant.
– Sarah Manasreh
---
Nebraska Impromptu. Rane Moore, clarinet; Sarah Brady, flute; Gabriela Diaz, violin; Donald Berman, piano; Mark Berger, viola; Rafael Popper-Keizer, cello; Peggy Pearson, oboe; John McDonald, piano. M. Epstein: Oil & Sugar; Liquid, Fragile; Nebraska Impromptu; Komorebi; See Even Night. New Focus Recordings, fcr324. Total Time: 64:00.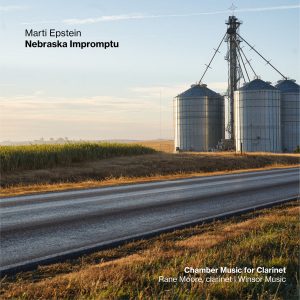 Marti Epstein's 2022 portrait album Nebraska Impromptu looks at both memory and meaning over the wide expanses of an American sonic landscape. Epstein is a Boston-based composer and professor of composition at Berklee College of Music and Boston Conservatory as well as a 2020 Guggenheim Fellow. Her music is performed by new music groups such as Loadbang and Hinge Ensemble, as well as the Atlantic Brass Quintet. Featured on the album is another Boston-based group, Winsor Music Ensemble, with the album highlighting co-artistic director and clarinetist Rane Moore. Moore is one of the founding members of New York-based Talea Ensemble, and is currently on faculty at the Boston Conservatory at Berklee and Longy School of Music. Nebraska Impromptu explores the Great Plains and Epstein's childhood across a cohesive portrait that highlights Winsor Music's subtlety and musicality across the five tracks.
The opening track Oil & Sugar blends undulating, textural lines that capture a shimmering sincerity. Epstein was inspired by a video from French artist Kader Attia showing motor oil poured onto cubes of sugar. Moore, flutist Sarah Brady, and violinist Gabriela Diaz float over flowing yet glassy upper-octave piano textures in a tender soundscape that is pierced occasionally by accented attacks from within the ensemble.
Liquid, Fragile plays with audience expectations through winding melodies growing like small hills over expansive resting silence. The rich string harmonies turn to textural pizzicati, glissandi, and colorful shapes as the work continues. Moore blends wonderfully with the strings, especially in the last pulsing pianissimo lines.
The album title track, Nebraska Impromptu, features Moore and pianist Donald Berman showing marked virtuosity in their dynamic control and color, painting the interdependent nature of their parts as piano lines decay and clarinet lines crescendo. The movement shines in its simplicity and beauty.
Komorembi, the shortest work on the album, includes much of the same gestures, space, and interplay of instrumental lines over kaleidoscoping harmony. Oboist Peggy Pearson blends perfectly with Moore to create a remarkably homogenous sound in the latter half of the piece.
See Even Night, the final track, is the longest by far at almost 28 minutes. Similar in pacing and style to the works of Morton Feldman, Epstein's textural landscapes evolve subtly on a macro level. Underneath the larger textural masses, individual changes in warmth and timbre bring you deeper into the listening experience.
If your idea of Americana is a boisterous Copland fanfare, Epstein is subverting those expectations by creating a more warmhearted, nostalgic telling of stories from her childhood. The album's mixing is also well-balanced with engineer Jeffrey Means and assistant engineer Francisco Gonzalez Navarro lending their ear to capture the full range of details. After listening with both speakers and headphones, I personally enjoyed experiencing in a quiet space with a transparent sound system to hear the full effect. This album is full of heartfelt memory and beauty. Nebraska Impromptu feels genuine, not trying to create a grand programmatic narrative, but bringing together a discerning and sensitive ensemble to present an earnest portrait. Both the album and the chamber works themselves are valuable additions to our repertoire.
– Ford Fourqurean
---
Dialogue. Duo Clarguitar: Slavko Kovačič, clarinet; Žarko Ignjatović, guitar. A. Vivaldi: Sonata in D Minor; F. Rebay: Sonata for Clarinet and Guitar in D Minor; H. Kaps: Scheherazade for Clarinet and Guitar; C. F. Defranceschi: Allure Dégingandée; F. Kleynjans: Aria no. 1, op. 92b; R. Di Marino: Suite III; Nocturne; S. Assad: "Violetas Azuis," "Hopscotch"; C. Machado: Paçoca; Quebra Queixo; Piazza Vittorio. Classica Slovenica, CSCD 007. Total Time: 77:33.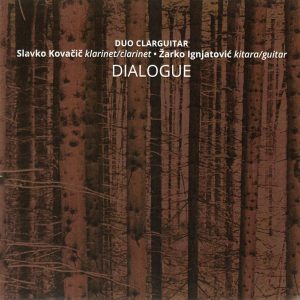 Duo Clarguitar, a Slovenian ensemble, released their first album in 2021 after decades of playing together in various capacities. Clarinetist Slavko Kovačič and guitarist Žarko Ignjatović created Dialogue by compiling the most important works, arrangements, and commissions from their repertoire. Both are active throughout Slovenia and on faculty at the University of Maribor's Department of Music and the Music School Celji. The Cultural Center Maribor sponsored Duo Clarguitar's recording and had it produced in Studio 26 at Radio Slovenia.
The opening work, Sonata in D Minor by Vivaldi is cleverly arranged by Kovačič. The clarinet and guitar expertly emulate light and buoyant compositional elements throughout each movement, capturing and highlighting the most delightful elements of baroque music. The second piece, Sonata for Clarinet and Guitar in D Minor by Ferdinand Rebay, is the first official composition written for this specific instrumentation and this recording offers a fresh new interpretation.
Hansjoachim Kaps composed Scheherazade for Clarinet and Guitar featuring three brief character-based movements, often setting the clarinet as soloist (Princess Scheherazade) and the guitar as accompaniment. As a whole, the work contains dreamy elements often associated with Scheherazade including a clear princess character represented by the clarinet. Surprisingly, the guitar seems to provide more Spanish elements than the traditional Middle Eastern flair commonly heard in pieces representing the stories of Arabian Nights, giving this presentation a unique edge.
The fourth composition, Allure Dégingandée by Carlo Francesco Defranceschi is another enjoyable piece originally written for clarinet and guitar. The release of Dialogue has already inspired other clarinet and guitar duos to perform Allure Dégingandée, including Duo Anlagen who recently released a video of the work.
The album continues with Francis Kleynjans Aria, no. 1, op. 92b in which Kovačič presents a gorgeous heart-tingling melody that carries the listener onboard a rollercoaster of emotions. The commanding and synchronized phrasing between the players creates a true musical dialogue. The movement closes with a gorgeous perdendosi that only the clarinet can execute so flawlessly.
Roberto Di Marino composed the next two works, Suite III and Nocturne. Both adhere to the primary theme of dialogue and conversation that are cleverly projected throughout the album. Four movements featured here are the "Milonga," "Interlude," "Tango," and "Humoresque." While each movement is short and ranges between 2-4 minutes, they take the listener on a vast journey with melodic storytelling and scene setting. Nocturne is whimsical, fun, and relaxing, an atmosphere that Duo Clarguitar have become experts at creating.
Brazilian guitar legend Sergio Assad composed "Violetas Azuis" and "Hopscotch," which are both part of a larger collection of pieces written for guitar and clarinet. "Hopscotch" has reverberating energy and provides moments where Ignjatović is able to solo or insert gestures demonstrating his demanding technical prowess. The recording closes with three incredibly stylized works composed by Brazilian guitarist Celso Machado, seemingly based around traditional Brazilian dessert delicacies. The musical performance is just as sweet as their represented Brazilian desserts. The final work, Piazza Vittorio, while a famous orchestra in Rome, is also a well-known Brazilian melody that is shared here. The guitar and clarinet dance on the tips of their toes with light agility and ease, keeping the audience's attention from beginning to end.
Overall, Duo Clarguitar provides underrepresented music a great space to gain recognition. The recordings provide an enjoyable variety of pieces that fit the theme of Dialogue, focusing on vocal and conversation-like elements. It would be great if works in the various Eastern European dance styles, and more specifically the artists' homeland of Slovenia, were included. Dialogue comes recommended to listeners that are particularly looking for something that is soothing, calming, and easy to listen to.
– Natalie Szabo
---
Cuba, Alabama. Osiris J. Molina, clarinet; Adonis Gonzalez-Matos, piano; René Izquierdo, guitar. A. Alén: Sonata para clarinete y piano; P. D'Rivera: Three Pieces for clarinet and piano; The Cape Cod Files; J. Zalba: Canción para un Clarinetista; Monológo; L. Brouwer: Basso Continuo I for clarinet and tape; Perpetuum Mobile for clarinet and guitar; E. Lecuona/arr. D. Western: "La Comparsa" from Danzas Afro-Cubanas. Blue Griffin Recording, BGR623. Total Time: 77:57.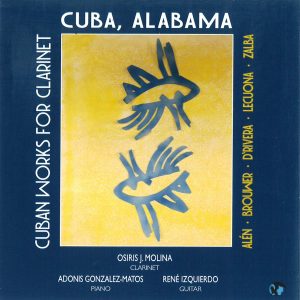 This album is a collaboration led by University of Alabama Clarinet Professor Osiris Molina to bring together a beautiful collection of clarinet works by Cuban composers. Molina is joined by Latin Grammy-nominated pianist Adonis Gonzalez-Matos and Cuban-born guitarist René Izquierdo. As stated in the liner notes, this album illustrates the manners in which traditional and current lines of concert music coexist and mix, together with jazz, as well as with Cuban and Latin American popular musical expressions. The album includes new interpretations of internationally known pieces as well as several premieres. Throughout this collection, Molina, Gonzalez-Matos and Izquierdo present impressive performances.
The Sonata para clarinet y piano was composed by Havana-based pianist Andrés Alén in 1988. Considered a height of the Cuban chamber repertoire, this sonata combines the styles of contemporary concert music, jazz, Venezuelan joropo, Peruvian vals, and Argentinian zamba. Molina and Gonzalez-Matos bring exciting energy, character, and contrast to this dynamic work.
Two works by Javier Zalba are showcased in this collection, the Monológo (1976) for solo clarinet and the Canción para un Clarinetista (2010) for clarinet and piano. Molina displays elegant control of tone, time, and space in the solo work Monológo which is only available on streaming platforms for this album. Canción para un Clarinetista is a charming work that features the Latin jazz styles of danzón, son, and bolero.
Paquito D'Rivera's Three Pieces for clarinet and piano (1991-94) includes three short movements based on the traditional styles of their titles: "Contradanza," "Habanera," and "Vals Venezolano" with additional sprinkles of the son and the danzón. Molina and Gonzalez-Matos perform with great excitement and sensitivity, particularly in the "Habanera" movement.
This collection includes recording premieres of two works by Leo Brouwer, one of the most famous and prolific Cuban contemporary composers. His music includes aleatoric and post-modernist features.
Brouwer's 1972 work Basso Continuo I for clarinet and tape includes a pre-recorded second clarinet line. Both parts are skillfully presented by Molina and exhibit an array of technical, timbral, and expressive elements: different articulations, microtones, and multiphonics. Brouwer explores a number of familiar tunes and intertwines them cleverly throughout the work.
Perpetuum Mobile for clarinet and guitar was written by Brouwer for Molina and guitarist René Izquierdo in 2021. Brilliantly performed by Molina and Izquierdo, this work presents a balance of chamber and solo cadenza features for both players.
Ernesto Lecuona's 1912 work "La Comparsa" from Danzas Afro-Cubanas is a famous Cuban piece arranged for clarinet and piano by Daniel Western. This is a set of variations exquisitely presented by Molina and Gonzalez-Matos. Molina navigates the demands of this work with an effortless technical fluidity.
We return to Paquito D'Rivera for the final work on the album, Cape Cod Files (2009). Molina and Gonzalez-Matos give us a passionately characteristic performance of this demanding work. The composer employed a variety of styles and influences throughout the four movements as described in his program notes. "Benny @ 100" celebrates the 100th birthday of the famous clarinetist by employing Goodman's unique way of jazz phrasing. "Bandoneon" is an Argentinian milonga that recreates the nostalgic sound of the instrument, which many believe represents the soul of the tango. "Lecuoneíras" is an unaccompanied clarinet solo employing melodies written by the foremost of the Cuban composers, Ernesto Lecuona. "Chiquita Blues" uses elements of the American 12-bar blues and the Cuban danzón.
Osiris Molina, Adonis Gonzalez-Matos and René Izquierdo present this eclectic collection of works for your enjoyment and perusal performing with characteristic Cuban musical style. This is a gem to include in any clarinetist's recording library.
– Julianne Kirk Doyle
---
Into the Green. Wesley Ferreira, clarinet. A. Gorokholinsky: Into the Green; D. Steven: Sapphire Song; N. Resanovic: alt.music.ballistix; D. Bermel: Thracian Sketches; G. Vajda: Lightshadows, Trembling; F. Högberg: Invisible Duet; S. Nichifor: Carnyx. Ravello Records, RR8067. Total Time: 60:06.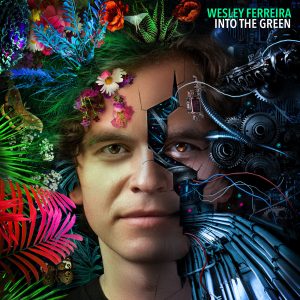 Clarinetist Wesley Ferreira presents a unique aural soundscape in his recently released solo album, Into the Green. Boundaries between digital and acoustic worlds are blurred in this collection of works featuring the clarinet alone and with electronics. Ferreira, who serves as a faculty member at Colorado State University, developed and recorded this album during 2020, a time of which the underlying themes of nature and solitude were especially apropos. According to the liner notes, "The album's message is one of hope for a more harmonious future, where lessons learned during an unprecedented global pandemic are carried forward…"
The title track, Into the Green by composer/clarinetist Alexey Gorokholinsky, is a captivating opening to the album in which electronic dance music grooves are coupled with virtuosic clarinet lines. Ferreira performs with the utmost precision, and the balance between clarinet and electronics is striking. Ferreira's clarinet playing seems like a natural extension of the digital world created by Gorokholinsky in this entrancing performance.
In stark contrast, solo clarinet is accompanied only by the subtle calls of distant birds in Sapphire Song by Donald Steven. Here, Ferreira's performance is considerably more introspective and alludes to a personal connection with nature. Improvisatory-sounding clarinet lines featuring tasteful pitch bends, glissandi, and timbre trills reflect some of the world-music influences present in this work and elsewhere on the album. Ferreira employs great sensitivity and nuance throughout.
Nikola Resanovic's alt.music.ballistix is a popular work that is frequently performed and recorded. The standout feature of Ferreira's new recording is the impeccable mix between clarinet and digital elements. Careful attention to balance and equalization allow all elements to coexist on the same aural plane. Ferreira's polished technique and smooth tone add to the wonderful energy in this compelling performance.
Void of any type of accompaniment, Thracian Sketches by Derek Bermel and Lightshadows, Trembling by Gergely Vajda present the clarinet in its purest form. Both works draw inspiration from folk music, and Ferreira does a first-rate job of capturing this essence in his performance. Extremes of register and dynamics as well as extended techniques are navigated with ease, highlighting Ferreira's control and mastery of the instrument.
Electronic and acoustic realms coalesce once again in Fredrik Högberg's Invisible Duet. Ferreira executes virtuosic clarinet lines with aplomb and performs adeptly with his "invisible" chamber music partner. For the final work on the album, we return once again to unaccompanied clarinet with Serban Nichifor's Carnyx. From the very first notes of opening glissando, Ferreira's performance is engaging and committed. Moments of wild outbursts, growls, and frantic trills build to a thrilling conclusion which serves as an exclamation point to the musical journey presented in this album.
Into the Green is a wonderfully curated collection of solo works that offers great diversity and contrast in musical styles. From driving, electronic dance grooves to moments of quiet meditation, the album will captivate listeners from beginning to end. Ferreira's performance is awe-inspiring as he navigates the unique demands of each work presented on this album. The recording quality is excellent, with exceptional balance between clarinet and electronics, and subtleties of Ferreira's beautiful tone captured in great detail. Brief liner notes describe the inspiration and concept for the album, biographical information about Ferreira, and credits. Aside from serving as a wonderful reference recording, this album is truly enjoyable to listen to. Highly recommended!
– Karl Kolbeck
---
Little Spectacle. Spatial Forces Duo: Christy Banks, clarinet/bass clarinet; Jessica Lindsey, clarinet/bass clarinet. A. Temple: This Changes Everything; R. Banks: BiValve; S. Horick: District Grooves; C. Dundee: little spectacle; M. Butterworth: At Least One; J. Drumheller: The View from Dead Horse Point; J. Lindsey: Beast. Albany Records, TROY1882. Total Time: 49:13.

Little Spectacle is a captivating collection of music for clarinet and bass clarinet with electroacoustic sounds. I have heard the Spatial Forces Duo perform in the past, so reviewing this album enthused and intrigued me. This album was released in 2021. Christy Banks, associate professor and assistant chair at Millersville University, and Jessica Lindsey, associate professor of clarinet at UNC Charlotte, make up this innovative and electrifying duo.
Alex Temple's This Changes Everything was an exhilarating way to start the album. Instantly I felt myself getting into a groove and moving to the music. It is, for lack of a better name, "techno-pop-like" at the start, eventually moving to a slower, more ethereal section, but not for long. We soon get back in the groove; the duo expertly intertwines the sounds with fugal-like counterpoint. Slap tongue and vibrato heighten the character of this piece. Very cool.
Composer Rusty Banks's BiValve features the two bass clarinets in a mirage of musical ideas and external sound manipulation. The resonant, deep timbre of the basses lend well to the character of this unconventional piece.
District Grooves by Sarah Horick is a three-movement work which "leads the listener on a journey in and around the Washington, D.C. area," according to the program notes. "Walk Sign is On" begins with some of "walking" sounds, clicks, footsteps, and the announcement of a pedestrian walk sign. The clarinets (both on B-flat) are slow at first, but then eventually the recorded sounds and clarinets merge into a maelstrom of sound manipulation. In "Beautiful Day" the clarinets play with a lyric and relaxing tone, again with more delicate sound samples, for example a baby's laughter, raking of leaves, and other sounds. The final movement, "Water, Water, Water," gives the listener a smooth, flowing melodic motif combined with many samples interwoven.
In the program notes, the duo cites little spectacle as the most complex musical work featured here and the one that is the "key to the arch formed by the tracks included on this recording." The piece opens with twelve-tone sequences, which begin singularly and then continuously overlap, followed by quick specks from the clarinet in a pointillistic manner. The bass clarinet enters, more lyrical at first, then adapts to the frenzy built by both clarinets and the electronics. Both the bass and soprano clarinets display virtuosic melodic spurts of sound, mixing in a few extended techniques—quite interesting and enjoyable to listen to.
The most melodic so far of the pieces on this album, At Least One by Meredith Butterworth, gives the listener a chance to enjoy the harmonic layering of timbres by the clarinets. A breathy sound comes in about two-thirds of the way through, which the composer writes "reminds you to breathe and let each moment happen as they may in memory." The chorale returns to close this work.
Drumheller's The View from Dead Horse Point is the longest work on the album. It is the most complete work of total electronic manipulations; the clarinets' sound is computer processed, giving the work a plethora of timbres and ambiguous sound effects. It is very interesting, quite a contrast from the work by Butterworth.
I really enjoyed Jessica Lindsey's work, Beast. She does an excellent job with the electronic manipulation of gecko sound samples. "Load of Bull" opens with sample sounds of a bull; the bass clarinets stay in the low register. I sense some manipulation of the clarinet sound among the bulls bellowing and other interesting "bull sounds." A definite rhythmic groove is present, bringing this album to a body-moving, head-bobbing close. Bravo Jessica!
Little Spectacle is a thought-provoking, attention-grabbing, all-around fun album. I really enjoyed listening to it and I commend Christy Banks and Jessica Lindsey for their commission projects and for their continual exploration of new avenues for the clarinet and bass clarinet. Bravo Spatial Forces Duo!
– Lori Ardovino
---
Destination Riverdale. Robert DiLutis, clarinet; The Mellifera String Quartet: Christina Wensel, violin; Catherine Gerhiser, violin; Matthew Maffett, viola; Benjamin Wensel, cello. T. H. H. Verhey/arr. R. Fields: Quintet for clarinet and strings (arranged from the Clarinet Concerto op. 47); J. Brahms: Quintet in B Minor for clarinet and strings, op. 115. Tonsehen, TSN-012. Total Time: 55:56.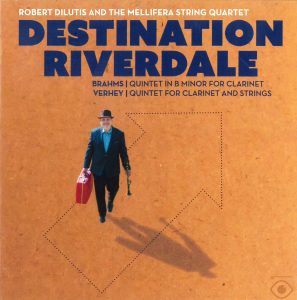 Destination Riverdale is an album released by Robert DiLutis and the Mellifera String Quartet. This recording includes the Quintet in B Minor for clarinet and strings by Johannes Brahms, and an arrangement of Concerto for clarinet and orchestra by Theodorus Verhey, arranged for clarinet and string quartet by Ray Fields. Both of these original compositions were inspired by the artistry of the great clarinetist Richard Mühlfeld.
The album begins with the arrangement of the Verhey Clarinet Concerto for clarinet and string quartet. In the program notes, DiLutis shares his experience of discovering a reduction of this concerto for clarinet and piano in a pile of music he had received. He was surprised that he had never heard of the piece, which was written for Richard Mühlfeld. The piece is a great find and the arrangement for clarinet and string quartet works beautifully. Ray Fields did an excellent job adapting the piece for this group, and hopefully he and DiLutis will make this piece available to the public if they haven't done so already.
The quintet consists of three movements following the standard concerto model. The writing is more clarinet-centered than the Brahms Quintet, but still has good string writing and works as a true chamber music piece. The clarinet part is flashy and virtuosic at times as one might expect with a concerto. DiLutis plays this piece beautifully. Every note is clear, elegant, and perfectly executed. The tone is smooth and dark, with good color and nuance as needed to serve the music. DiLutis's approach to playing is fairly conservative, emphasizing elegance over flash. Every note and every phrase are very perfectly executed resulting in a pure refined performance. The members of the Mellifera String Quartet greatly contribute to the quality of this performance. Intonation, color, balance, and phrasing are flawless and provide a substantive adaptation of the original orchestration. The five players together perform the piece beautifully and provide a first-rate debut reference recording for this new arrangement.
The Brahms Quintet is performed with the same refinement and elegance that is present in the Verhey arrangement. The performance and interpretation are less free and creative than many that have been released previously. However, this rendition is compelling and engaging because it is less about creative choices, but more about the purity of the music as written. Rubato and other interpretive decisions are used to highlight the musical elements of the work as needed but no more. The performance isn't about DiLutis as a clarinetist but the music itself, which is also so refreshing. It should be noted that the clarinet playing is exquisite, elegant, and artistic with every note and phrase. The string playing is equally refined, which results in a truly special performance of this masterpiece.
This album is very well-recorded. The microphones are relatively close which provides good clarity and definition between instruments, but still provide a natural warmth and color to the sound. The two works complement one another very well musically, and there is the added connection that both were inspired by Richard Mühlfeld. DiLutis and the Mellifera String Quartet have created a truly inspiring recording that make this album a great addition to any clarinet audio library.
– David Shea
---
NEW RELEASES