Audio Reviews
Summer 2022
---
Die Sieben Letzten Worte: Unseres Erlösers am Kreuze. Peter Koetsveld, clarinets. J. Haydn: Die Sieben Letzten Worte: Unseres Erlösers am Kreuze. Animato Music Productions, 32028. Total time: 63:08.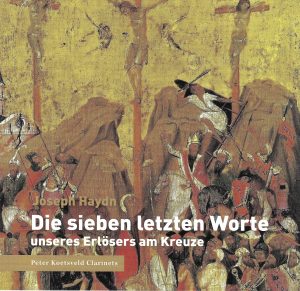 "Father of the String Quartet" is a nickname that many musicians associate with Franz Joseph Haydn. Having written a total of 68 string quartets, Haydn helped popularize the genre. "The Seven Last Words of our Savior on the Cross" is an arrangement by the composer from an earlier orchestral piece and has been brilliantly re-arranged by Dutch clarinetist, Peter Koetsveld. Although Koetsveld has been performing this arrangement live since 2012, his website indicates that he got the idea to record this work around April 2020.
Upon first listening to this recording, I immediately noticed the exquisite acoustics present. The recording was made in a large 15th century church to mimic the Spanish cathedral where Haydn originally composed this work to be performed. Although it can get a bit bass heavy at times, the overall recording is well done and captures the natural acoustics well. Koetsveld recorded all the parts himself and mentions in his liner notes that it was "a challenge in getting all voices together in the same flow and expression." Perhaps it was, but Koetsveld did well in meeting this challenge. The blending and matching of articulation were done very well and it is especially evident in "Sonata V Sitio," which featured pizzicato 8th notes. The matching articulations coupled with Koetsveld's phrasing makes for a wonderful listen. His playing has just the right amount of vibrato to mimic a violin, and a tone that vividly evokes the emotion Haydn was aiming for with this composition.
– Jeremy Wohletz
---
Three Cello Suites. Joshua Ranz, bass clarinet. J.S. Bach: Cello Suite No. 1 in G Major, BWV1007, Cello Suite No. 4 in E-flat Major, BWV 1010, Cello Suite No. 2 in D Minor, BWV 1008. Navona Records, 6340. Total time: 63:03.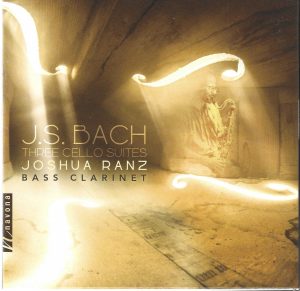 This disc is a classic take on three cello suites by J.S. Bach. Joshua Ranz has used the magic of recording technology to capture the written double stops as a true harmonic moment making them sound the same as when performed on cello. The resulting effect is terrific, and only secondary to his beautiful playing and refined approach to the bass clarinet.
The first work, Cello Suite No. 1 in G Major, BWV 1007 is arguably the most well-known of all the suites. Ranz's offering is nothing short of beautiful. The virtuosity of his phrasing and tonal control is remarkable. He gives each phrase all the time it needs, resulting in a rhythmical flexibility that is natural and free. The "Allemande" is particularly beautiful from a tonal standpoint. It is as if Ranz has found a way to turn his bass clarinet into a cello.
Cello Suite No. 4 in E-flat Major, BWV 1010 is just as fine as the first. The entire presentation is excellent, but the "Courante" is a standout musically. Ranz's technical refinement is so impeccable that it must be heard to be believed. He has reached the pinnacle of music making, and there are no signals that anything he is doing is even remotely challenging for him.
The last piece, Cello Suite No. 2 in D minor, BWV 1008 is as excellent as everything else on this recording. Maintaining such a consistently high caliber across a record is a feat in itself, and to do so with such beauty and refinement in each track speaks volumes about the level of musician that Ranz so clearly is. He is always in the pocket stylistically. His playing is so excellent that I found I really had to think while listening to the clarinet playing to even comment on it. The musical depth is so stunning that nothing else could detract from that, which is a goal of many musicians and one that Ranz easily achieves.
Every aspect of this album embodies musicianship and artistry at the highest level. I have heard many people say, "Bach's music sounds easy…until you try to play it." Joshua Ranz has brought his deeply sophisticated musical approach to the bass clarinet and Bach's music to not only serve the music, but to create an artifact that is singular in its excellence. When you get the chance to hear this music making you won't soon forget it.
– Spencer Prewitt
---
Plus! Works for Clarinet Duo and Accordion. David Smeyers, clarinet; Beate Zelinsky, clarinet; Krisztián Palágyi, accordion. J.S. Bach: Two-Part Invention in C Major; Two-Part Invention in E-flat Major, Two-Part Invention in D Minor, Two-Part Invention in A Minor, Two-Part Invention in F Major; J. Tiensuu: Plus IV; N. Brass: Songs and Melodies; Y. Pagh-Paan: Ta-Ryong V; G. Katzer: drängend, zögernd, entschwindend. NEOS, 22003. Total time: 63:23.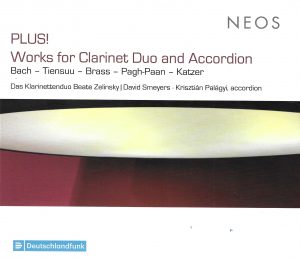 Das Klarinettenduo, consisting of clarinetists Beate Zelinsky and David Smeyers, join together with accordion player Krisztián Palágyi to present an eclectic album of transcriptions and new works for clarinet, bass clarinet and accordion.
The traditional baroque soundscape of J.S. Bach's Two-Part Inventions is reinvented through four transcriptions by Max Reger and Karl Straube. The works were originally conceived for the organ, and a fifth by Helmut Lachenmann. The combination of clarinet, bass clarinet and accordion work together to create a cohesive ensemble in the Bach Two-Part Inventions. The soprano clarinet is allowed to blossom as the primary melodic voice, supported by complementary bass clarinet countermelodies. To my surprise and delight, the sweet reediness of the accordion blends effortlessly with the clarinet lines, it is present yet not disruptive.
Each of the Two-Part Inventions is juxtaposed with a newer work that showcases this unique instrumentation in a different way. Jukka Tiensuu's Plus IV was originally composed for clarinet, accordion and cello. In the opening section, three distinct voices are highlighted in a semi-improvised, highly fragmented dialogue, which creates a frantic yet cohesive atmosphere. The middle section features flowing, quasi-minimalist gestures that are traded between the voices, before returning to an energetic and rhythmic closing section. The accordion, which contributes cluster chords and a unique timbre, emerges as a distinct voice in this work.
Nikolaus Brass's Songs and Melodies consists of seven short movements, each immersing the listener into a discrete sonic world. The work explores textures of stasis and turbulence, with the three voices oscillating between unity and division, while exploring the possibilities of pitch bending and "detuned" intervals. The contrast of extreme dynamics and range showcases the clarinetists' superb control of both timbre and intonation.
Young Pagh-Paan's Ta-Ryong V was originally composed for two clarinets and shô (Japanese mouth organ). This album features an arrangement for two clarinets (with shell chimes) and accordion (with woodblocks). The addition of percussion is an homage to the percussionist leaders used in traditional Korean peasant music. This work exploits the upper register of the bass clarinet, which is delightfully resonant and singing. It also exploits the elegant control of the altissimo register in the soprano clarinet. The use of percussion is tasteful, supplementing sparse textures and enhancing climactic moments.
Georg Katzer's drägend, zögernd, entschwindend ("urging, hesitating, vanishing") is the most aggressive and energetic work of the album. The accordion takes on its boldest role yet, providing a powerful underpinning of cluster chords. The piece is episodically constructed, alternating between highly punctuated rhythmic sections and moments of stasis and pointillism.
Beate Zelinsky, David Smeyers, and Krisztián Palágyi's performance on this album is sensitive, controlled, and engaging. The audio engineering is of great quality. Their presentation of innovative repertoire from Bach to living composers of diverse backgrounds is admirable.
– Kelsey Paquin
---
Kalendar: 12 Miniatures for 2021; Volume I and II. Michelle Hromin, clarinet. M. Spiroff: Kalendar: 12 Miniatures. Digital Release. Total time: 17:25.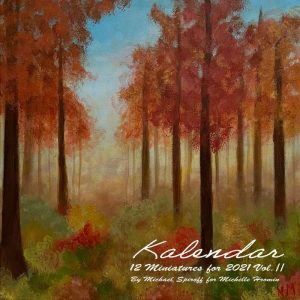 Composer Michael Spiroff and Clarinetist Michelle Hromin connected over their South Slavic heritage while creating these miniatures. By sharing this album, they are educating the community about the fantastic works and musical styles that stem from the Balkan region. Through their collaboration came Kalendar, a collection of twelve miniatures each named after the twelve months in the Slavic calendar. On her album page, Bandcamp, Hromin explains:
"Unlike the generic names for the months in English that are derived from Latin, the Slavic calendar uses names in native tongues that describe agricultural activities and weather patterns that take place during these times of year. For example, Listopad (October) directly translates to 'the month of falling leaves.'"
Volume I of Kalendar features the months "Siječanj" (January – Month of Hewing Wood) through "Lipanj" (June – Month of the Linden Tree). The piece starts out with a lightly articulated and cheerful melody which playfully jumps between the chalumeau and clarion registers. Hromin's tone is full and rich in both registers, even in the softest moments. As the months continue, the music becomes slightly more intense. More trills, repetitive accents, loud gasps, and groove-like motives are added into the texture. Hromrin expertly showcases the clarinet's ability to maintain quality regardless of dynamic level or register by seamlessly jumping between piano and forte during quick short motives.
Volume II features "Srpanj" (July – Month of Reaping) through "Prosinac" (December – The Beginning of the Sun's Shining). "Srpanj" begins with a bit more intensity than its predecessor by showcasing intensifying short, fast, and emotionally upbeat lines. Many are separated by forceful loud gasps of breath commonly heard in folk music from the Balkan region. Familiar accents and flutter tonguing return as we move into "Kolovoz" (August). In the later autumn months, the writing becomes more dance-like and repetitive. It is clear that Hromin is able to naturally showcase the Balkan style of this piece. More air-like sounds become quicker along with articulations that are present in the later movements. The last movement "Prosinac" (December) closes with an inviting and melodic storyline. These pieces are a special addition to our world of clarinet repertoire, making the music of the Balkan region accessible and easily programmable to clarinetists of all backgrounds.
– Lara Mitofsky Neuss
---
Clarinet Concerto. Guntis Kuzma, clarinet and conductor. Sinfonia Concertante, orchestra D. Maronidis: Clarinet Concerto. Digital Release. Total time: 17:47.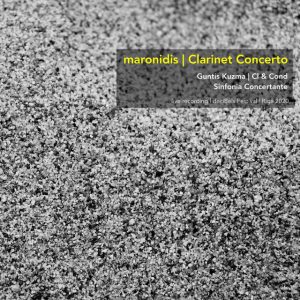 From the first note of Greek composer Dimitris Maronidis' Clarinet Concerto the listener is immediately drawn into the tight, groovy blend of clarinet, strings, and electronics. This work was commissioned at the Mūzikas Festivāls deciBels at Riga, Latvia by clarinetist Guntis Kuzma. Kuzma is the principal clarinetist of the Sinfonietta Rīga, as well as one of the conductors of the Latvian National Chamber Orchestra. This live recording is of excellent sound quality and pristine technique brought forth by both the clarinetist and the orchestra.
The first movement of this multifaceted concerto titled "Capriccioso, con anima" tests the entire group's range as Kozma expertly executes quickly articulated passages interspersed with simple, sweet lines throughout the chalumeau register. In the second movement, "Lontano, Mysterioso," the strings execute sporadic articulated notes in the altissimo range which combine with the electronics to give the movement an "extra-terrestrial" quality. "Volante," features call and response which flies by in one quick minute, taking us into a dense atmosphere of glissandi. "Oscuro, Risoluto" brings the clarinet and strings back together as one mysterious entity. One may find themself longing for more presence of electronics in these middle movements, but on the contrary, the lack of electronic sounds allows the listener to focus on the instrumental timbres of the clarinet and string section as they perform quick technical figures with emotion and ease.
The piece comes full circle with "Con Forza" where the soloist and orchestra speak to each other in fast articulate passages as the electronics create the familiar space-like atmosphere. The work ends with most performers holding a long unison note in the upper register bringing forth an intense and slightly unsettling finale. This is a superb performance showing the true range of both the clarinet and strings while also portraying how well electronics can combine with them to create new sounds and experiences.
– Lara Mitofsky Neuss
---
Clarinet Vibe. Stefan Kristinkov, clarinet; Adam Alesi, drums; Chris Barber, drums; Filipe Caeiro, drums; Itaiguara Brandão, bass; Chris Bonner, bass. S. Kristinkov: Things to See, Summer Forest, Smooth Ride, Last of a Kind, Searching the Skies. Heemrec Music (ASCAP). Total time: 24:40.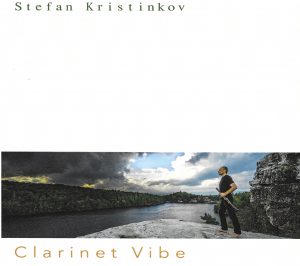 This 2021 release by clarinetist and film composer Stefan Kristinkov is his second solo album. It contains five tracks that all highlight different elements and styles of jazz including fusion, funk, acid, Latin, smooth and modal. Kristinkov composed the works as a clarinet feature, and is assisted by vibraphone, bass guitar and drum set. The liner notes state that the album "explores the idea of limiting the timbral diversity to achieve the maximized aesthetic and emotional impact." Each tune has a quality of familiarness because it is so convincingly written and executed that it already sounds like a standard.
The first track, Things to See, opens the album with its fun light groove. Drum set player, Adam Alesi, lays down a tight beat and Kristinkov plays a captivating solo. Since the album is clarinet centric each piece has the clarinet as the primary melody instrument with typically one short solo played by another instrumentalist. On the opening tune there is a short drum set solo that leaves the listener wanting more. There is no point where things are played too flashy or strident making everything easily digestible and memorable. This tune ends rather unexpectedly.
The second track, Summer Forest, is more relaxing and carefree than the first tune. It feels open and expansive with more rhythmic freedom containing elements of free jazz. There is a bit of trading between the clarinet and vibraphone with drum set playing as a duo. The bass plays a short solo echoing the same character and styles as the clarinet. This album is more of a demo on "how-to" play Kristinkov's pieces because each tune is short, and in many ways sounds like it is just starting. Each member of the group is so talented that they could each take a turn on an extended solo that would likely leave us all awestruck. The tune is quite reserved for the elite level of these players.
The third track, Smooth Ride, is a catchy bossa nova featuring exciting samba rhythms with a cool jazz melody played by the clarinet. The melody is very catchy and could easily get stuck in your head. Close your eyes and the music brings you to a white-sand beach in Rio de Janeiro with a gentle blowing breeze. Again, Kristinkov delivers the melody with the utmost of ease and relaxation. The entire track is clarinet solo, and all the other instruments are mostly groove setting. As with the first two tunes, I am left wanting more!
The fourth track, Last of a Kind, sounds like a relic of the 1970s with a straight-up funk tune similar to something off of a Herbie Hancock album. In addition to the driving groove of the drum set and repetitious bass part, there is also a synth part included that adds even more 1970's flair to the funk. This tune is really fun.
The final track on the album, Searching the Skies, is a jazz acid hit. This tune is perhaps the most expansive on the album. Alesi is back on the drum set and driving the beat while Kristinkov's improvisation skills are showcased. He makes soloing sound easy. Towards the end there is hope of a vibraphone solo, but it never comes to fruition.
This entire album showcases the versatility and skill of Kristinkov's compositional skills. He is able to create convincing music in a complex variety of styles and meets the demands of all. As the title suggests, each piece has its own vibe and features a different style of niche jazz. As mentioned earlier, each track leaves the listener wanting more! This is a good thing. The list of players on each tune have risen to the top of their field and are award-winning high demand session players. I would love to hear these players live to hear them expand and open-up the pieces giving them all a chance to solo. It would be an absolutely killing session, one of those transcendental moments that are rare to catch live. As this is only Kristinkov's second solo album, listeners have much to look forward to with his commanding control of his diverse and wide-ranging set of compositional and performance skills.
– Natalie Szabo