ClarinetFest® 2022
Opening Remarks and Concert with Danny Goldman
by Natalie Groom
Welcome to ClarinetFest® 2022!
It's a special and poignant time to meet for this year's conference. It's good to be back and to finally have the conference that was originally planned for the summer of 2020 realized. In the kickoff event at 1:00pm, the International Clarinet Association (ICA) leadership team opened with a heartfelt thanks to the event sponsors and everyone who helped make the return to an in-person conference a reality:
Altissimo 
Buffet Crampon
D'Addario Woodwinds
Arthur Uebel
Henri Selmer Paris
Rovner Products Inc.
Yamaha Corporation of America
Clarion 
ALRY Publications
Backun Musical Services
Chedeville
Lisa's Clarinet Shop
Royal Global
RZ Clarinets
Silverstein Works
Chalumeau
Corbin Clarinet Products
Midwest Musical Imports
Supporting 
University of Nevada Reno
Steinway Piano Gallery Reno
Thank you to the ICA Artistic Leadership team and ClarinetFest's many volunteers! 
---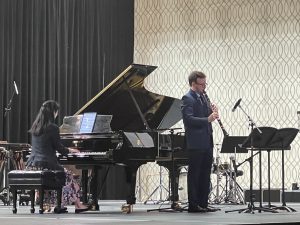 Danny Goldman opened the artistic portion of the program with the serene Idylle by Eugène Bozza, gracing the stage with a liquid fluidity and subtle vibrato before transitioning to the lively Sonata by Francis Poulenc. He expertly brought out the different characters demanded in this hallmark piece, as did his pianist and collaborator, Grace Choi.
Third on the program was Perpetuum and Jumping Around by Matthias Mueller (b. 1966), one of two living composers in the lineup. For unaccompanied clarinet, the opening was "bubbly," like a pot boiling over or a geyser gurgling from the ground; Goldman handled the rapidly flowing notes with grace and precision, as well as the middle section with large registral leaps and extreme dynamic contrasts. The way in which he whispered the altissimo notes was impressive.
In a change of pace, Claude Debussy's Petit Piece hearkened back to the same serene qualities felt in the opening Bozza as the reunited duo floated through the lilting melody. Another French great, André Messager's Solo de Concours displayed Goldman's delicate yet perky articulation prowess and a dazzling cadenza.
Serban Nichifor's (b. 1954) Carnyx was another unaccompanied gem that evoked a train or metro rolling through a bustling city. A relentless ostinato-esque groove kept things moving, leaving the listener wondering where they would journey to next. One could imagine the multiphonics being the sound of honking cars fighting their way through traffic. Closing the concert was another French great, Cantilene by Louis Cahuzac for clarinet and piano. It was an uplifting way to kick off another great festival, and the audience's enthusiasm was palpable.
This performance was sponsored by F. Arthur Uebel Klarinetten