Originally published in The Clarinet 50/4 (September 2023).
Printed copies of The Clarinet are available for ICA members.
---
In Memoriam: Richard Shanley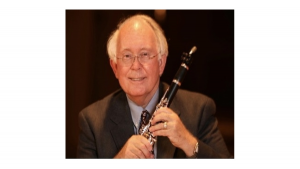 Richard Adrian Shanley, DMA, passed away on March 16, 2023. He was born in Los Angeles, California, on October 2, 1939, to parents John Joseph (Jack) and Helen Carlson Shanley. With the family's ties in Washington state, they soon moved back to Bremerton to establish their home.
Richard graduated from West High School in Bremerton and Olympic Junior College in 1957. During those years he played on the tennis team and began to develop the passion of his life, playing the clarinet. One of his favorite memories was taking the ferry from Bremerton to Seattle early Saturday mornings so that he could have lessons with Ronald Phillips, principal clarinet with the Seattle Symphony.
During his junior college days, he played saxophone in a dance band and also developed a long-lasting relationship with Dr. Wendal S. Jones, bassoonist and musical mentor. With the desire to develop more instrumental music skills he continued his college program in Greeley, Colorado (at UNCO), where he studied with a well-known oboist, William Gower. He also traveled in the summer with Wendal and Virginia Jones to Iowa, where he studied with the famous woodwind methods composer and editor, Himie Voxman.
These experiences cemented a lifelong obsession with learning and developing new skills. During his stay in Greeley, he played in a dance band that traveled all over the upper Midwest for weekend gigs. There were many stories about those weekends—weather, people, and cars.
After the university's scholarship funds ran out, Richard and several of his Washington buddies transferred to New Mexico State University, under the guidance of Dr. Ray Tross, band director. In Las Cruces, New Mexico his life took a new turn, meeting a high school flutist who became the love of his life, Helen Ann Farney.
He was an active member of Tau Kappa Epsilon fraternity, member of the Aggie band program, and saxophonist with the Collegians, the school's jazz/dance band. He graduated in 1962 with a BME degree, joined the El Paso, Texas, public school district as a band director and married Helen Ann in 1963.
While in El Paso, Richard and William C. Robinson collaborated on a team-teaching project for woodwinds and brass. Their programs in the Coronado area became well known in the area. He and Helen Ann also performed with the El Paso Symphony. After four years of teaching, he decided that an advanced degree program would be the next step in development, so he enrolled in North Texas State University, studying with clarinetist Dr. Oscar Lee Gibson. He earned an MM and DMA in clarinet performance with additional study in music history.
During the several years in the Denton area, Richard also played with the Fort Worth Symphony. Upon completion of the degrees in 1969 he was offered the woodwind position at Baylor University, with Dean Daniel Sternberg. He and Helen Ann moved to Waco, Texas, which would be their home for the next 54 years.
They became partners in life and music. He and his colleagues at the Baylor School of Music (including Helen Ann as the flutist and Doris DeLoach, oboist) developed an exceptional wind program with emphasis on chamber music and musical excellence. One of his greatest joys in teaching was the addition of international students to the clarinet studio. They came from China and Central and South America. He loved their courage, talents, and hardworking attitudes. The students added to the spirit of his studio—it became an extended family.
His skills and dedication to the School of Music earned him the award of Outstanding Tenured Teacher for Baylor in 1992-93. Richard also played principal clarinet with the Waco Symphony, where he and his El Paso colleague, Bill Robinson (who had joined him at Baylor) established a chamber music program with the WSO to enhance the musical experiences of performers and audience members alike.
His tireless work in teaching, recruiting, and practicing made for many long days. By developing the program, he was able to bring in a full complement of woodwind teachers, so that there was a faculty woodwind quintet in residence. Larry Vanlandingham, percussionist, joined them for many performances throughout Texas and the United States. An exceptional experience for the quintet was the opportunity to work with the famous French flutist, Marcel Moyse, who coached chamber music.
After teaching for 42 years at Baylor, Richard and Helen Ann retired in 2011, whereupon they began the traveling circuit to Europe, South America, China, and the U.S. Baylor University also named him as an esteemed Professor Emeritus of Clarinet. Richard loved cooking, gardening, studying, and planning (trips, projects, educational programs—always with "A, B, C" choices).
Richard is survived by his wife of 59+ years, Helen Ann Shanley, his daughters, Alison Lugo and husband, Joaquin; Melissa Holland and husband, Bret and four grandsons, Joaquin and Gabriel Lugo and Evan and James Holland; his sister Pamela Carelli and her husband, Charles, and their daughters, Marlice Whitener and Michelle Anderson and families.
 – The Shanley Family
---
The following are tributes to Dr. Shanley from those who knew him:
I was one of Dr. Shanley's early international students in 1987. He treated all the international students very well, like a father to us. His teaching was very strict on tone concepts, rhythm, tuning, and musical phrasings. Many of his teaching techniques are very helpful for all the students.
– He Yi
I first met Dr. Shanley at the TMEA conference when I was 15. Since then, he has been a great mentor, colleague, and friend. As a student we covered much of the standard solo and chamber music repertoire. While performing in the Waco Symphony as second clarinet, I learned a lot about the orchestral repertoire and paying close attention to detail. It was also an additional pleasure to assist Dr. Shanley with the wonderful students that he recruited at Baylor. I will miss him.
 – Alan Olson
With a quirky sense of humor and an endless dedication to teach and serve his students, Dr. Shanley never ceased to impress me with how much he really cared for everyone. His dedication was like no other. He had a huge heart and an incredible memory. He always remembered every detail, no matter how long ago it was. Everything and everyone meant a lot to him. I was very impressed to hear and see the level at which his students play. Everyone had a beautiful sound and great technique.
As humble and as caring as he was, Dr. Shanley was also very strong headed! He could never get a no for an answer when it came to pursuing anything for his students. He would fight until the end. I will personally be indebted to him for all he did for me. He brought me all the way from Costa Rica and offered me not just his mentorship, but his friendship and his family. I was very fortunate and honored to be one of his students at Baylor University.
Dr. Shanley's teachings, laughter, and silly jokes will always live with me! God bless his soul!
 – Wagner Campos
I am extremely honored to have been a clarinet student of Dr. Shanley at Baylor University from 1999-2004. I met him the summer before my junior year of high school when I attended the Baylor Band Camp and that wonderful experience working with him inspired me to pursue a music education degree at Baylor. Dr. Shanley was an ideal balance of nurturing and challenging with a sense of humor (of course)! Right before a performance, Dr. Shanley would always tell us, with a smile, "Just remember, LEFT hand on top!" to help ease our nerves. That is a silly memory, but I cannot tell you how important that is when you are working with beginners—I use those exact words repeatedly in the first critical days of clarinet instruction! The wealth of knowledge, musicianship, and pedagogy that was instilled in me is immeasurable because it has been a part of me ever since and continues into my current middle school band teaching position with my students. Throughout my time at Baylor, Dr. Shanley created a positive culture within the clarinet studio and always taught us life lessons along the way. The way I interact with others in my professional life is a reflection of Dr. Shanley. I will forever be grateful for his mentorship, kindness, and extraordinary teaching and musicianship. I only hope to have a positive influence on my students in the same way he did with me.
 – Betty Martinez
What I admire most about Dr. Shanley was his wisdom, compassion, and most importantly, the humanity he brought to his craft. He serves as a reminder to me that I was more than blessed to have him in my life. The things he did for me and for my late Jose "Cheche" Manuel Ugalde-Quiros are too numerous to list. I thank his family for sharing him with us. He truly was a very special soul.
 – Vic Chavez
---