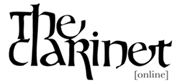 Originally published in The Clarinet 49/2 (March 2022). Printed copies of The Clarinet are available for ICA members.
---
Audio Recordings: March 2022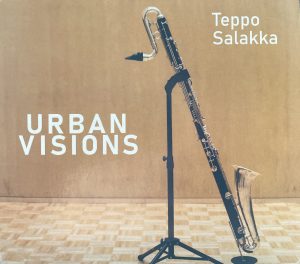 Urban Visions. Teppo Salakka, bass and contrabass clarinets, piano. N. Nyman: Manhatta; N. Butterworth: Theme and Variations for Clarinet Duo; J. Vejslev: Solo, Op. 106 and Solo, Op. 107; J. Feld: Introduction (Suita Rhapsodica) and Aria (Suita Rhapsodica); S.D. Sandström: Kyrie; P. Kuusisto: Kiestinki; T. Kärki: Siks oon mä suruinen; H. Sarmanto: Old San Juan and Waltz for a Little Girl; C. Saint-Saëns: L'Elephant. ETTCD 5, Total Time: 53:45.
In 2017 Finnish clarinetist Teppo Salakka released the first-ever album of solo classical contra-alto clarinet music, Fragmented Visions, an album I had the pleasure of reviewing for The Clarinet. He has now released a follow-up album, Urban Visions. There is still, as with his previous release, virtually no music actually written for this instrument, so he has included a number of transcriptions of solo works for clarinet, bass clarinet and double bass as well as multitracking some duos and songs with bass clarinet ensemble accompaniments.
The first track is Michael Nyman's Manhatta, originally an ensemble work composed for a silent film but available as a solo bass clarinet piece. Salakka decides to play two different contra-altos here: a Selmer and the much larger-bore Leblanc, sometimes in unison and sometimes in octaves, to try to better capture the essence of the original ensemble work. I think the effect works, resulting in a more three-dimensional sound than if he was playing alone, although sometimes the parts are not executed exactly together.
The second track is Neil Butterworth's Theme & Variations for two clarinets, played on two Selmer instruments. The interplay between them is good and Salakka plays with a beautifully rich tone.
On Fragmented Visions, Salakka recorded Jakob Veislev's Solo No. 2 for bass clarinet, and he has included Solo No. 3 and Solo No. 4 on this album. They work well on the contra-alto. No. 3 is more lyrical while No. 4 is more rhythmical and reaches into the altissimo register, a potentially dangerous range on this instrument, but Salakka maneuvers it skillfully.
Jindrich Field's clarinet piece, Suite Rhapsodica, highlights both the high and low range of the instrument simultaneously with writing that invokes the feeling of two instruments playing in call-and-response. There are some quick, articulated phrases that jump around the instrument that Salakka makes sound effortless. In Johan Kvandal's Fantasy for clarinet, the melodies wind themselves throughout the instrument and into some more fast finger patterns. Salakka brings out the contrasts in dynamics and mood of the piece nicely.
Salakka demonstrates his ability to make the contra-alto clarinet sing beautifully in Sven-David Sandström's short Kyrie for clarinet. This singing quality continues in Pekka Kuusisto's song Kiestinki. Salakka plays the melody on the contra-alto in the upper register, where the instrument has a rather unique timbre, and has arranged an accompaniment of four bass clarinets. The result is a very lovely work.
Toivo Kärki's popular 1944 Finnish tango Siks oon mä suruinen has been arranged for two contra-altos (Selmer playing the melody, Leblanc playing the bass line) and three bass clarinets. The contra-altos play the prominent role, with the bass clarinets situated further back in the mix, although I think I would prefer it to be overall a bit more balanced so I could hear the jazz harmonies better.
The only track with piano on the album is Heikki Sarmanto's Old San Juan, a jazz song originally written for the double bass. Salakka keeps the playing light and sounds very comfortable. The following song is Waltz for a Little Girl, also by Sarmanto. It appeared on Salakka's first contra-alto clarinet album with piano, but this time is arranged for two contra-altos and bass clarinets. Salakka's musicality really shines through on this piece with his delicate phrasing.
The album closes with Saint-Saëns L'Elephant played on the Leblanc contra-alto and accompanied by three bass clarinets. The larger bore of this instrument can really be heard, with its broader tone compared to the Selmer we heard on the rest of the album. It is a fitting portrayal of the elephant.
Teppo Salakka has presented us with another very fine album of enjoyable music for contra-alto clarinet. His use of multitracking adds an extra element to his recordings, and his arrangements for low clarinet ensembles are especially effective. I found the second half of the album particularly enjoyable, as Salakka sounds most at home playing these songs.
– Jason Alder
---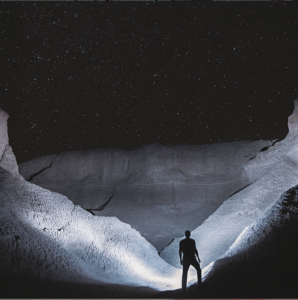 Urlo D'Ebano. Federico Calcagno, bass clarinet. F. Calcagno: Labyrinth Music; Perseverance; Pentaweb; Parallel Events; Cybernetic Brotherhood; Escapeless; Seven Virtues of Bushido. Independent Release. Available on Bandcamp and streaming platforms. Total Time: 33:45.
In Urlo d'Ebano (Screams of Ebony) Federico Calcgano uses his clarinet and bass clarinet playing to create a stark and contrasting musical atmosphere that exudes the energy of the time in which the works were composed. Responding to the COVID-19 pandemic, the composer writes that, "this musical adventure is in fact a creative response to a specific time in which live performances were denied to audiences and music makers." He goes on to explain that, though the album is primarily recordings of clarinet septets, all parts are played by him. This album consists of seven original compositions for clarinet septet except the final work which is for solo clarinet and bass clarinet.
The first track on the album, Labyrinth, embodies its name in more ways than one. Not only does the melodic material weave in and out, but the actual notation of the piece is arranged in boxes so that the performer must make their way through in an improvised interpretation. Calcgano's ability to create meaningful and interesting gestures from melodic fragments highlights his incredible creativity and spontaneity. Calcgano's command of register, articulation and timbre really shine throughout the album, but especially in this track.
In Perseverace the listener is treated to Calcgano's wonderful ensemble skills. We can hear several different styles here, including some improvisation offering a glimpse into Calcagno's versatility as a performer. As the improvisation starts in the soprano clarinet, Calcgano then begins to layer improvisatory passages on themselves, creating a trading-fours-type feeling toward the middle of the track. Unmistakable throughout is Calcgano's command of bass clarinet multiphonics, but, in a larger sense, his ability to seamlessly integrate elements he hears into his improvisation so that, as the passage evolves, we hear him playing off of the solos. The result is something akin to additive variation, where the improvisatory style he ends with is markedly different than what he began with before effortlessly gliding back into the ending of the track.
Comprised almost entirely of improvised material, Pentaweb is the first time that Calcgano uses his full, shimmering tone quality as a variable he manipulates to highlight the movement between pitch groupings. Calcgano's tone is rich, dark, and interesting because of its flexibility. More than timbral variation, Calcgano goes a step further here and uses some elements of his tone that are not beautiful to create tension in the music. Playing related melodic structures that are not arranged to create any particular harmonic movement, Calcgano utilizes the softest dynamics, drawing us in with a sweet and whispering tone quality.
Cybernetic Brotherhood begins with a bass clarinet duet that, because of the more pointed and focused tone and register utilized by Calcgano, sounds unmistakably mechanical in nature. Calcgano's clear and matched articulation in all registers is the showpiece of this track. It creates the tension of the music and its resolution through longer durations as the movement continues.
Calcgano's lovely clarion and altissimo registers are notable in Escapeless; they are clearly on display here and shimmer over a rich and full bass clarinet ostinato. The next work is Calcgano's Seven Virtues of Bushido. Bushido was the code of ethics and behavior for Samurai warriors. The seven virtues extolled in this work are justice, courage, benevolence, respect, honesty, honor and loyalty. Calcgano's performance of extended techniques in these movements is impressive, from the sliding quarter tones in "Justice" to ghost tones in "Benevolence." We hear so many facets of Calgano's wonderful playing here, including a very powerful and rich bass clarinet sound in "Loyalty." What is most interesting about Calgano's performance in this work is his fearlessness – he does not shy away from creating both beautiful and ugly sounds, which he does equally well. The resulting performance is raw, exciting, and full of musical tension.
– Vanessa Davis
---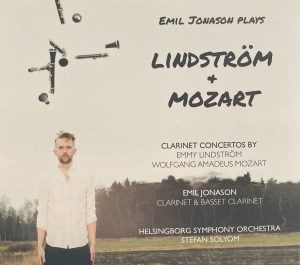 Emil Jonason Plays Lindström and Mozart. Emil Jonason, clarinet and basset clarinet; Helsingbord Symphony Orchestra, Stephan Solyom, conductor. E. Lindström: Clarinet Concerto No. 1 "At the Hills of Hampstead Heath" and Song About Em; W. A. Mozart: Clarinet Concerto in A Major, K. 622. Swedish Society Discofil: SCD 117. Total Time: 64:34.
This superb album is highly recommended. It contains a stunning and highly virtuosic new clarinet concerto composed by Emmy Lindström, a fresh and inventive interpretation of Wolfgang Amadeus Mozart's Clarinet Concerto in A, K. 622, and a delightfully melodic and sweet encore titled Song About Em. The playing is sublime, intonation impeccable and interpretation captivating.
The album begins with Emmy Lindström's Clarinet Concerto No. 1 "At the Hills of Hamstead Heath." The concerto was composed for Emil Jonason and received its premiere in 2017. According to the colorful and insightful album liner notes, the work was inspired by the recreational area Hamstead Heath in London. Lindström remarks that she approached the work like a theater or film composer, trying to represent the diversity of this park with its city views, ponds, wildlife and amusing visitors. An additional inspiration came from the British sci-fi show Doctor Who. These contrasting influences are an apt description of the work with its shifting colors, moods and styles.
In the first movement, "Flying High," one can imagine sitting in the park observing a colorful cast of characters and creatures passing by. The fleeting moods and styles contained within this first movement bring to mind Ennio Morricone's Western film scores, a passing klezmer band and an extended solo cadenza reminiscent of Joan Tower's Wings. Jonason frequently reaches into the upper altissimo with impeccable tone and intonation as he matches octaves in the orchestra below.
The slow second movement, "Midland Hawthorn," is stunningly delicate and emotional. The interweaving of the solo clarinet with the orchestra is particularly striking as Jonason soars above undulating string accompaniment and effortlessly matches high flutes and violin harmonics. Simply said, the performance is heart-achingly beautiful.
The final movement, "Wibbly Wobbly Timey Wimey" is a stark contrast from the tender movement preceding it. It follows in the same vein as the opening with its contrasting characters and some shared material but is more extreme. A long cadenza displays Jonason's virtuosity and improvisational creativity. The performance is anything but subtle as Jonason incorporates multiphonics, air effects, glissandi and a recurring rhythmic motive. This is rock music for the clarinet. The cadenza flows seamlessly into the closing section of the work which has a maniacal drive to the close. "At the Hills of Hamstead Heath" is a stunning showcase for Jonason and a perfect collaboration between composer and performer which makes sense given they are partners married for over 10 years.
Jonason's performance of Mozart's Concerto strikes a balance between historical accuracy and modern interpretation. Performing on a basset clarinet, Jonason has a rich and warm sound as well as impeccable intonation across the range, effectively evoking the wit and charm of the piece. The entire performance is polished, precise and rather subtle; however, the real highlight comes from Jonason's ornamentation, eingangs and cadenzas. These moments breathe new life into the concerto and display Jonason's distinct creativity and style. Particularly noteworthy is Jonason's breathless cadenza in the second movement which contains an extended arpeggiation (and circular breathing), distinctly contemporary in its minimalist affect and totally absorbing for the listener.
Song About Em was one of Lindström's early works, composed for Jonason to serve as an encore to the Mozart Concerto. The title comes from the two shared letters of each of their first names. This work is a five-minute melodic aria for clarinet with plenty of charm, affection and a hint of melancholy. Jonason's performance is poignant and delightful.
Any of these tracks on their own are worthy of a listen. Taken together makes this an album worthy of a place in any clarinetist's library.
– Zachary Dierickx
---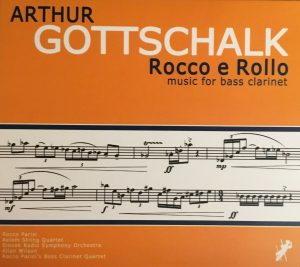 Rocco e Rollo. Rocco Parisi, bass clarinet; Axiom String Quartet; Slovak Radio Symphony Orchestra, Allan Wilson, conductor; Rocco Parisi's Bass Clarinet Quartet. A. Gottschalk: Rocco e Rollo, Quintet for Bass Clarinet and Strings, Doo Wop Deconstruction. Amirani Records, AMRN 061. Total Time: 49:53.
Rocco Parisi's new album Rocco e Rollo: Music for Bass Clarinet contains a delightful variety of works by Arthur Gottschalk featuring the bass clarinet. Parisi highlights the many capabilities of the bass clarinet deftly through Gottschalk's works and if you are looking for new-to-you works, this album would be a welcome one to the audio library.
The title work of the album starts an eerie flicker of sound from hollow trills that swell to the orchestra's entrance with a similar character and trills echoed. As the first movement continues, Parisi's aptitude for both conventional and contemporary techniques are apparent with technical passages sounding effortless as he spans the range of the instrument deftly. The work has moments like a film score, built with tension and large bold moments that segue into passages evoking other styles including but not limited to Gershwin's American in Paris.
Listening to this album without seeing the track list, one may not realize that all the works are by the same composer, which is a testament to Gottschalk's ability to write such diverse musical characters. The allusions in the Quintet for Bass Clarinet and Strings have perhaps the most dramatic moments of the album, with homages to notable Italian musicians Paganini, Rossini and Mancini. Tender moments in the second movement lead to references to Paganini that demonstrate the wide range the bass clarinet can attain in the hands of a capable performer. I would not have expected to hear the ubiquitous Paganini Caprice No. 24 on a bass clarinet, but Gottschalk's version through Parisi shows us a nimble technique and ability on the instrument.
The closing track "Doo Wop Deconstruction" is the one I listened to a few times and found myself noticing new details each time. Gottschalk's writing seems broader than four voices in the quartet and his writing for the bass clarinet showcases the many shades of the instrument. I found myself catching the subtle allusions to Frankie Valli and the Four Seasons that could only make someone smile, again showcasing a robust and warm sound from Parisi. I would never have expected that "Can't Take My Eyes off You" would be in an album I reviewed, but I hope listeners find it as pleasant an end to the album as I did, with the final tongue slap evoking a mic drop to me. The pacing of the album is well-balanced in diversity of sound and character.
– Cody Grabbe
---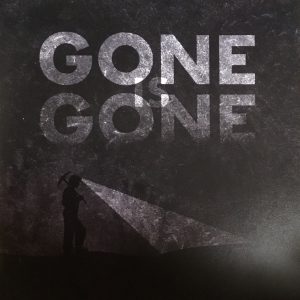 Gone Is Gone. The Égide Duo: Joshua Gardner and Stefanie Gardner, clarinets. E. Mandat: The Bangui Anomaly; J. Russell: The Homeless Way; K. Mehlenbacher: Lost and Forgotten; S. Bryant: Duet; J. Steinmetz: Coal Seams. Soundset Recordings, SR 1117. Total Time: 49:39.
As Égide Duo, clarinetists Joshua Gardner and Stefanie Gardner have commissioned works by Eric Mandat, Kurt Mehlenbacher, Jonathan Russell, John Stenmetz, Joel Love and others dedicated to effecting social change through music. They have been invited to perform at the International Clarinet Association ClarinetFest® and the College Music Society, and have performed throughout the U.S. and France. Additionally, Joshua teaches at Arizona State University and Stefanie teaches at Glendale Community College.
Eric Mandat's The Bangui Anomaly is certainly a tour de force for clarinet and bass clarinet that was executed with both technical precision and beautiful colors in this recording. The blend between the Gardners is especially remarkable, as is their intonation in this performance. The cadenzas for each instrument, extreme in registral and technical demands, were handled with great command of technique and captivating musicianship.
This Homeless Way by Jonathan Russell is a very mournful work allowing the Gardners to display their lyrical and soulful playing. Again, intonation is impeccable in this work, as is ensemble cohesiveness and blend. As the disc does not indicate who is playing which instrument, I will say that, in movement two of this work, the soprano clarinetist sings from the heart employing an impressive range of colors and styles. In movement three, the bass clarinetist gets their opportunity to shine with their soulful, cantabile playing. Wide registral leaps were handled with superb control by both players.
The third work on this disc is Lost and Forgotten by Kurt Mehlenbacher, in four movements. The striking element of the first movement is the performers' creation of perfectly-blended klangfarbenmelodie amidst a mostly ostinato underpinning. Articulation is especially remarkable in this performance. Dynamics and colors are aptly displayed here as well as consistent technical mastery that is evident throughout the disc. The final movement of this work exhibits the performers' fluency of extended techniques such as slap and flutter tonguing. This movement sparkles with rhythmic energy and jazzy soprano clarinet style.
Composer Steven Bryant wrote his Duet for clarinet and bass clarinet in 2020. The opening of the work seems to be an homage to Stravinsky's first piece in Three Pieces for Clarinet Solo in its melancholic opening. The work follows with a theme in quartal and quintal harmonies which are handled with exquisite intonation. The following jaunty, humorous section is performed with much style and panache. Kudos, again, to the soprano clarinetist's jazzy styling here. Pitch bending by both was also quite impressive. The chorale section displayed their consistently excellent pitch on this disc.
Coal Dreams was written by John Steinmetz in 2019. As with the Bryant work, the opening movement is comprised of mostly open harmonies which, again, demonstrate Gardner and Gardner's perfect handling of intonation. Movement two is a lighthearted romp that is delivered with consummate style and humor. The final movement, Gone is Gone, is a somber, reflective chorale that is performed beautifully and further demonstrates the pair's intonation, blend and lyricism.
Égide Duo has provided us with an extremely well-played recording that features works that are sure to become standard in the clarinet duo canon.
– Kenneth Long
---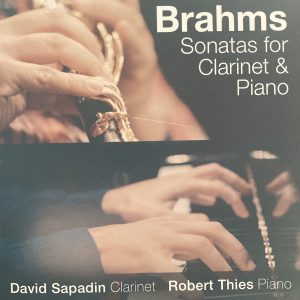 Brahms: Sonatas for Clarinet and Piano. David Sapadin, clarinet; Robert Thies, piano. J. Brahms: Sonata for Clarinet and Piano in F Minor, Op. 120, No. 1 and Sonata for Clarinet and Piano in E–flat Major, Op. 120, No. 2. Self-Published. Total Time: 45:36.
These two sonatas comprise some of the most important works in the clarinet repertoire. To prepare and record any of these works from the canon of clarinet literature must be a monumental task given knowledge of all the prior recordings from every generation. The beauty of this, however, is it seems that Brahms's sonatas, compared with many of the masterpieces in the clarinet repertoire, are perhaps more open to interpretation than other works. Indeed, although there are quite accepted (insisted upon?) interpretations of the clarinet works of Mozart, Weber and Beethoven, the Brahms sonatas have always seemed to be most open to recreation. The first recording I ever listened to of the Brahms Op. 120 was the 1982 Stoltzman-Goode recording on RCA. At the time, as a student, I was blissfully unaware that this recording did not necessarily adhere to any given orthodoxy in how they should be performed.
It is in this spirit of recreation and interpretation that we welcome another excellent recording of the Op. 120 sonatas performed by David Sapadin and Robert Thies. These musicians have, through their performance, aptly demonstrated why these works are seminal in our repertoire, and their love and respect for this music comes through. These performances are very sensitive and caring. Their interpretations are quite deliberate in terms of tempi throughout both sonatas which is perhaps suited to the autumnal nature of the music, compared with the usually quicker performances one hears of Brahms's early piano works. Although the staid approach is certainly respectful of the importance of the music, at times it seems a little careful and it would have been wonderful to hear such capable musicians let loose, especially in the last movement of the F minor sonata, or the final "Allegro" of the EÌ sonata, for example. In general, the performers tend to play both sonatas in a slightly dry, more straightforward manner with fewer rhythmic liberties taken. This approach seems to be most successful in the first movements of both sonatas which are played with expansiveness and bring out the formal structure of the music. Thies shines in the second movement of the E-flat sonata, which is a real piano showcase, and neither performer wallows in the "Sostenuto" section of this movement. In the third movement's "Andante con moto" section there is some wonderful interplay and sensitive attention to the dialogue between the instruments.
The audio recording quality is good, however, the piano at times comes across as somewhat tinny, a reflection more of the instrument or recording, I think, than Thies's playing. There are also some occasional balance issues where the clarinet is sometimes covered or muffled and not as present in the mix as it could be. These are small things, however, and certainly do not detract from the superb music-making demonstrated by both Sapadin and Thies. These works are not just important clarinet works, but important chamber repertoire that represents the best of Brahms and
this recording offers a loving treatment of both sonatas.
– Christopher Ayer
---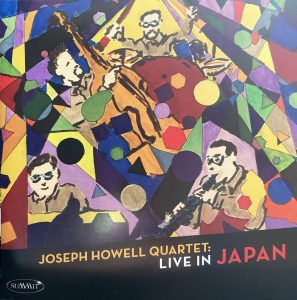 Joseph Howell Quartet: Live in Japan. Joseph Howell, clarinet; Keigo Hirakawa, piano; Kenji Shimada, bass; Kenichi Nishio, drums. J. Henderson: Serenity, Jinriksha, Mamacita; T. Dameron and Count Basie: Good Bait; W. Shorter: Nefertiti; V. Young and N. Washington: My Foolish Heart; B. Strayhorn: Take the A Train. Summit Records, DCD 776. Total Time: 78:06.
Clarinetist Joseph Howell presents a recently-released CD, recorded live at the Jazz Live House CASK in Yokohama, Japan, in May 2018. Howell's quartet consists of a standard piano trio, plus clarinet. The ensemble's performance would be described as post-bop, "straight ahead" or postmodern jazz. They easily command their chosen repertoire with confidence and musicality. The repertoire consists of mainly modern works, and by modern, I mean written in the 1960s, with three compositions written in earlier decades. Howell acknowledges in his liner notes that his favorite jazz is from this time period, and the compositions chosen were written by his influences – saxophonists Joe Henderson and Wayne Shorter – with the older compositions written by Tadd Dameron, Victor Young and Billy Strayhorn.
This style of jazz has the chance of sounding academic, with solos often sounding angular and sterile if not presented musically. Howell's quartet successfully avoids this potential pitfall generally, except, perhaps in one track, the first on this recording, when the solos do verge toward sounding like etudes. However, the ensuing solos do not have that feel as the recording progresses. The musicians on this CD are highly-skilled improvisers and are masters of their craft. My favorite track on this album is "My Foolish Heart," the Victor Young standard. Howell ends the track with a lengthy, impressive cadenza, giving listeners a taste of his best clarinet tone.
For a live recording, the fidelity of this CD is quite high. Howell explains in the liner notes that the recording engineer placed multiple microphones "all over the tiny stage." Additionally, the audience is isolated sufficiently to not interfere with the music created by the quartet. It is quite refreshing to hear a recording in a live setting when it is so tempting to rely on technology to present a "perfect" recording. Hearing the music just as you would hear it in an intimate jazz club is preferable, in my mind, to hearing a super mixed and altered product, "improved" with electronics.
The presentation of this CD is quite attractive and interesting. Liner notes are written by Howell and detail how this quartet came to be, how they chose their repertoire and how this recording was accomplished. It turns out, after the live concert, the members of the quartet largely forgot about the recording, except for drummer Kenichi Nishio, who surreptitiously had the session professionally mixed, then presented it to the band for release. Howell further supplies all of the artwork for the CD jacket and cover, quite impressive renderings of various styles of art depicting this quartet! Included also is a mini-epic poem which is an appropriate accompaniment to the recording. Unfortunately, the author's attribution is printed on a previous page, with no title above the poem. The poem's inclusion and presentation could have been included in a clearer and more prominent manner.
Overall, this CD is presented in an attractive package, with excellent performances throughout, both as an ensemble and individually. If you like postmodern jazz, you will enjoy this recording.
– Ben Redwine
---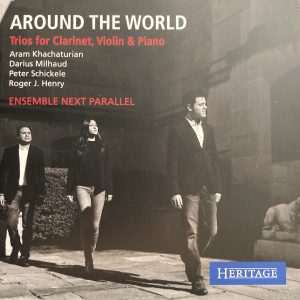 Around the World: Trios for Clarinet, Violin and Piano. Ensemble Next Parallel: Yevgeny Dokshansky, clarinet; Enrique Reynosa, violin; Anna Nizhegorodtseva, piano. A. Khachaturian: Trio in G Minor; D. Milhaud: Suite, Op. 157b; P. Schickele: Serenade for Three; R. Henry: Trio No. 2. Heritage Records, HTGCD 170. Total Time: 62:52.
Much has been written about the clarinet/violin/piano trio combination. The repertoire is replete with exceptional options from nearly every dialect of contemporary musical language. If there is a style of music you prefer, you can find terrific original works for this grouping. Ensemble Next Parallel's (ENP) contribution to the recorded legacy of the this genre, Around the World, is a sampler of original works that buttress the core of this repertoire, a work that represents its golden period, and a new work to signal the new and exciting directions for the repertoire and for ENP.
ENP was formed in 2012 by clarinetist, saxophonist and conductor Yevgeny Dokshansky, assistant professor of clarinet at Virginia Tech University. The ensemble is dedicated to cultivating musical experiences for young musicians, and ENP has amassed an impressive list of notable performances. New ensembles gravitate towards the core pieces to get their sound and see if they work together. Alongside the Bartók Contrasts, the Khachaturian Trio is a work that gets everyone excited, especially the violinist who hopes that the violin writing will be similar to the fabulous Violin Concerto. Their unity of ensemble is evident throughout this album. ENP's rendition is a very successful one. They play with spontaneity and a freedom vital to bringing out the best of the Armenian folk traditions. All the performers are first-class, with special mention to pianist Anna Nizhegorodtseva. Her subtlety and color changes bring great nuance to a piece that has appealing but repetitive themes.
Milhaud's Suite is another one of the shining examples of this ensemble. The violin and clarinet lines are often homorhythmic in open intervals, so ensemble and intonation have to be excellent, especially in the first movement. The second movement duet is similar to the second movement of Ibert's Three Pieces for Wind Quintet: intertwining lines supported by the full ensemble at the end. These movements, including the third movement duet, make this work a test for violin and clarinet. Dokshansky and Reynosa perform beautifully and make you forget about the difficulties of this piece. They bring out the full light and happy nature of this work.
Any album of substantive works for violin, clarinet and piano should include at least one work commissioned by the Verdehr Trio, the first ensemble of international stature to create the template for other ensembles interested in this music. Peter Schickele's Serenade for Three is one of the great pieces commissioned by the Verdehrs and ENP give it the special treatment. They did what they're supposed to do: promote a contemporary work, play it beautifully and give it the continued performances new music deserves. It is a fun and witty performance, full of the sparkle characteristic of Schickele's music.
ENP lives its mission statement with the final work on the album. Yevgeny Dokshansky met the composer Roger J. Henry while both were faculty at the University of Trinidad and Tobago. In addition to his work as a composer, Henry is also conductor of the National Philharmonic Orchestra of Trinidad and Tobago. His Trio No. 2 was commissioned by ENP and it highlights the indigenous rhythms characteristic of Caribbean music. Its accessible tonal language and rhythmic vitality should find a place in the core repertoire of any ensemble.
As throughout the album, ENP exhibits wonderful cohesion in a performance of a very challenging piece. Dokshansky plays with a supple, round tone throughout the registers, with a crisp articulation and a firm knowledge of his place in the overall structure. His trio colleagues shine here, and this album is a harbinger of the good things on the horizon for ENP.
– Osiris Molina
---