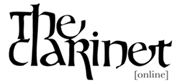 Originally published in The Clarinet 49/2 (March 2022). Printed copies of The Clarinet are available for ICA members.
---
ICA Officer Election Candidates
The ICA election will be held online from March 15 to May 1, 2022. The election will be administered by Jessica Harrie, ICA executive director. All ICA members in good standing will be emailed a link for online voting. For those members who wish to vote by paper ballot, the member must request a paper ballot in writing to the corporation office. Ballots submitted by regular mail must arrive to the ICA office by April 15, 2022, to be counted.
Please refer to www.clarinet.org and follow the link on the home page to vote online. Please review the candidate statements and biographies for the offices of president-elect and secretary. A special election for treasurer was held in Fall 2021. All ICA members in good standing are encouraged to participate in the election by casting a vote for the candidate of their choice in each of the open positions.
---
 PRESIDENT-ELECT
Joshua Gardner
Joshua Gardner is clinical associate professor of clarinet and director of the Performance Physiology Research Laboratory at Arizona State University, where he has taught since 2011. He maintains an active performance career, performing with several chamber ensembles, including the internationally recognized Paradise Winds and Égide Duo, and is a frequent soloist with high school and college ensembles. He has performed and lectured at conferences for the International Clarinet Association, European Clarinet Association, International Double Reed Society and North American Saxophone Alliance, and has been featured on American Public Radio's Performance Today. His recordings are available on the Soundset and Summit labels.
Gardner has been active in the International Clarinet Association for nearly 18 years. He has served as an adjudicator for the Young Artist and Research Competitions; coordinator of the Research Competition; member of the Pedagogy Committee; member of the 2023 Artistic Leadership Team; and has presented and/or performed regularly at ClarinetFest® conferences, including virtual events during the COVID-19 pandemic. Gardner received bachelor's degrees in music education and clarinet performance from the University of Kentucky and the Doctor of Musical Arts degree from Arizona State University. He is an Henri Selmer Paris/Conn-Selmer Performing Artist playing Privilege clarinets, and a Silverstein Pro Team Artist.
Statement
The International Clarinet Association is a hub for communication, innovation and shared knowledge within the clarinet community. It has been a part of my life for nearly two decades, during which time I have connected with a global network of amazing colleagues, many of whom are now close friends. I have served in various capacities, including participating in, judging, and coordinating the ICA Research Competition, judging the Young Artist Competition and serving on the Pedagogy Committee and 2023 ClarinetFest® Artistic Leadership Team.
With the ICA being such an influential force in our field, and to me personally, it is an incredible honor to be nominated as a candidate for your president-elect. Should I be given the honor of serving, I would bring my strong organizational, communication and diplomatic skills to further the mission of the ICA through close collaboration with our members, industry leaders, Board of Directors, Advisory Board, International Council, and staff.
At the forefront of my vision for the ICA is the organization's success and impact, including expanding membership through global visibility and service, meeting the needs of its membership through meaningful, inclusive engagement, and cultivating exciting and innovative initiatives with industry leaders. Thank you for considering me for your next president-elect.
Catherine Wood
Catherine Wood is professor of clarinet at Brandon University and performs with the Manitoba Chamber Orchestra. She serves as National Chair of Canada and Continent Chair of North America for the ICA and is a member of the organization's Diversity, Equity, Inclusion and Access Committee. Wood has established herself internationally as a performer, educator, and advocate of Canadian music. She has been a featured artist at many festivals including the ICA ClarinetFests®.
An enthusiast of new music, Wood has commissioned and premiered numerous works at festivals that celebrate new music, including Iceland's Dark Music Days, Nordic Music Days, and the Winnipeg New Music Festival. A proponent of the piccolo clarinets, Catherine has commissioned works for both EÌ and D clarinets, and has performed piccolo clarinet recitals across the globe. Wood has served on many international competition juries, including the inaugural International Mozart Clarinet Competition at the Beijing Central Conservatory of Music. Catherine is a Buffet Crampon and Vandoren performing artist.
Statement
I am very honored to be nominated for president-elect of the ICA. I currently serve our organization as a National Chair of Canada, the Continent Chair of North America, and as a member of the Diversity, Equity, Inclusion and Access committee. I have also enjoyed serving on several ICA Young Artist Competition juries and have performed at many of our ClarinetFests® since 2003.
In recent years the board has made great strides towards making the ICA a truly international organization. I am eager to build upon this work in collaboration with the board, our membership, and our industry sponsors. We must continue to grow and diversify our membership so that it is representative of our global community. The strength and success of our organization depends upon this. If elected, I would be the first president from outside of the United States. This is significant.
My strong organizational skills, along with my passion for the ICA and my ability to motivate others, would be an asset to our organization. I have valuable administrative experience working on boards and chairing committees, and I have successfully organized an annual clarinet festival for over a decade.
I believe the ICA plays an important role in our community, providing us with means to share ideas and connect with other enthusiasts and professionals across the world. I am eager to help our organization become accessible to all and to support partnerships with clarinet organizations throughout the world.
---
 SECRETARY
Laura Grantier
Laura Grantier is the director of woodwinds and assistant professor of clarinet at Southern Utah University. She oversees 25 undergraduate students and three artist affiliates. She co-founded the percussion/clarinet Darkwood Duo with Lynn Vartan and has performed throughout the southern Utah and eastern Nevada region. She formed the SUU faculty woodwind quintet, clarinet quartet, and flute choir. She created SUU Woodwind Day which will take place in spring 2022 for enthusiasts of all skill levels. An advocate for veterans, she organized and planned all music/logistics for the 2021 SUU Veterans Day ceremony.
Prior to her appointment at SUU, Grantier was a member of the United States Navy Band, Washington, D.C. from 1995-2021, where she served as principal clarinet, woodwind leader, clarinet section leader, and clarinet quartet leader. She performed over 2,250 public concerts, military ceremonies, education workshops, and high-profile protocol engagements for high-ranking dignitaries, including the President of the United States, Vice President of the United States, and Secretary of the Navy. She has appeared on numerous occasions as soloist with the United States Navy Band, including the 2014 Midwest Orchestra and Band Clinic in Chicago, as well as several national tours. She also was a featured soloist/lecturer at the 2012, 2014, 2016, 2019, and 2021 ICA ClarinetFests®.
In 2012, she created and organized Navy Band Clarinet Day, an education symposium for clarinet enthusiasts that provided musical interaction with members of the Navy Band clarinet section and one featured guest artist. Past featured guest artists include Eugene Mondie, Ricardo Morales, Sean Osborn, Larry Combs, Julie DeRoche, Jeremy Reynolds, Richie Hawley, Mitch Estrin, Robert DiLutis, Kathy Mulcahy and Mark Gallagher. She led a 17-member team in the planning of a schedule of events, with recitals (including a unique military joint-service clarinet recital), master classes, lectures, and lesson curriculum for participants. She organized a gala concert featuring the concert band and featured guest artist. Clarinet Day reached 150,000 online viewers and 1,250 in-person participants over 9 years.
Grantier holds a D.M.A. from the Catholic University of America, an M.B.A. from Averett University, and a B.M. from the University of Alabama. Her teachers include Eugene Mondie, Ken Grant and Scott Bridges.
Statement
I am honored to have been nominated to serve on the ICA executive board as secretary. Beyond my responsibilities of musical leadership as principal clarinetist in the U.S. Navy Band, the background in the administrative positions I have held during my career will be vital to fostering communication and ensuring proper management of important organizational records. I am a person of action, as the success of the U.S. Navy Band Clarinet Day in the Washington D.C. area has demonstrated. Using the experience and skills developed over my 26 years of military service, I am comfortable being an active conduit for communication between ICA board and membership, by giving proper notice of any meetings, organization, and timely distribution of materials such as agendas and minutes. I have enjoyed watching the ICA grow over the decades under caring and competent leadership, expanding communication through the official website and social media platforms as well as through more traditional channels. Opening the benefits of ICA membership to more professional, amateur, military, academic and student clarinet enthusiasts will guide my participation in the leadership of an already well-established organization.
Jesse Krebs
Jesse Krebs has performed guest recitals in Costa Rica, England, Thailand, Ireland, and throughout the United States. He is the professor of clarinet at Truman State University (Kirksville, Missouri), where he is in his 17th year teaching the clarinet studio and directing the Truman Clarinet Choir. Krebs has performed at the ClarinetFest® conferences in Ostend, Belgium (2018), Lincoln, Nebraska (2012), Austin, Texas (2010) and Kansas City, Missouri (2008), and he presented a lecture on the clarinet soloists of the Sousa Band at ClarinetFest® 2006 in Atlanta, Georgia. He also participated on the judging panel for the 2010, 2011 and 2015 ICA Research Competitions, and served as the ICA Research Coordinator from 2016 to 2018.
Krebs received a Doctor of Music in clarinet performance from Florida State University, a Master of Music from the University of North Texas, and a Bachelor of Music from the University of North Carolina at Greensboro, and his clarinet teachers include Frank Kowalsky, James Gillespie, Kelly Burke and Curtis Craver. Krebs frequently performs as a substitute with the Kansas City Symphony and has been featured as a concerto soloist with the North Carolina, Central Florida, and Southeast Iowa Symphony Orchestras. He has also played with the Tallahassee, Greensboro, Fayetteville, Quincy and Missouri Symphony Orchestras, and with the new music ensemble Alarm Will Sound.
His articles have been published in The Clarinet journal, The Instrumentalist magazine, and the Missouri School Music magazine, and he has written music reviews for the NACWPI journal. He has performed on Iowa Public Television, has recorded with the North Texas Wind Symphony (Klavier and GIA labels), and was a guest performer at the 2011 Iowa Clarinet Day, the 2016 Arkansas Clarinet Day, the 2016 Eastern Kentucky Clarinet Festival, the 2017 South Dakota Clarinet Day, and the 2018 Midwest ClariFest (Nebraska). Krebs was awarded the 2016 William O'Donnell Lee Advising Award and the 2018 Truman Academic Innovation Award. He has been nominated five times for the Truman State University Educator of the Year Award, and was selected as a finalist in 2011 and 2019.
Statement
I am thrilled to have been nominated for secretary of the International Clarinet Association and hope to have the opportunity to serve the clarinet community in this capacity. As a member of the ICA since 1997, I have had the privilege of interacting with our wonderful association in many different ways. As a student, I attended ClarinetFest® 2001 in New Orleans, and in 2002, I was a semifinalist selected for the ICA Young Artist Competition and competed in Stockholm, Sweden. Since then, I have performed at many ClarinetFest® conferences, participated in both virtual discussion panels and judging panels for the various competitions, and served as the ICA Research Coordinator from 2016 to 2018.
I have always been one of those ICA members who reads the newest issue of The Clarinet journal from cover to cover, and looks forward to every ClarinetFest® as a time to connect with colleagues, learn about new repertoire and equipment, and walk away inspired from such incredible performances and master classes. My supervisory experience includes helping to organize and host the 2018 American Single Reed Summit, and years of serving on the Advisory Board for the Vivre Musicale chamber music society, as the secretary/treasurer for the Eta Sigma Chapter of Pi Kappa Lambda, and as the faculty advisor for the Upsion Phi Chapter of Phi Mu Alpha. I believe that my strong organizational skills and extroverted personality make me an excellent candidate for the position of ICA secretary.
---