Originally published in The Clarinet 47/2 (March 2020). Printed copies of The Clarinet are available for ICA members.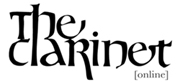 ---
Quintessence: The Wind Quintet Informant, No. 43
by Bruce M. Creditor, Wind Quintet Editor
SPOTLIGHT ON A CLASSIC WIND QUINTET
In the very first "Quintessence" (February 1986), I was pleased to introduce George Perle's Wind Quintet No. 4 – which won the Pulitzer Prize for that year – with the composer's own program note and a review from an early performance. I am delighted to share insights from the late Jane Taylor who was the bassoonist of the Dorian Wind Quintet for some 40 years. These reflections were originally published in Chamber Music Vol. 5, No. 2 (April 1988):
George Perle's Wind Quintet No. 1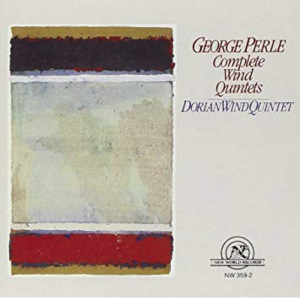 The Dorian Wind Quintet's association with George Perle began in 1966 with a performance of his first wind quintet. I distinctly remember working on the final section of the last movement of that piece which had fast, short motives with complex meter changes within: 9/16, 5/16, 7/16, 9/16, 3/4. All of us had faced meter changes – that wasn't new. But what is special about Perle's music is the way these meter changes propel the melody. The melodic motives work best when they are played with absolute precision. Anything less dilutes their motivic drive, but when played exactly the melodies are compelling.
The commission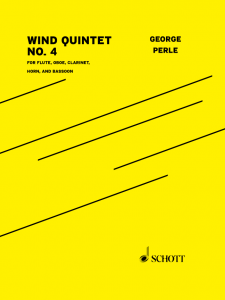 Wind Quintet No. 4 had its inception in 1982 when it was learned that the New York Council on the Arts made funds available toward the commissioning of new works by American composers. We applied, received a grant and matching funds from the Mary Duke Biddle Foundation, and decided to commission George Perle. He finished the composition in 1984, the score and parts were delivered (on time!) and the first performance took place at a special 70th birthday concert featuring the composer's music on October 2, 1985, at Merkin Hall in New York City.
First rehearsals and initial reactions
Ideally when starting to learn a new work all of the performers should read from complete scores; this way it is possible to keep track of each part simultaneously. … After we had planned where the crucial beats were to be given the first movement became relatively easy by the third read-through. The individual parts were not as technically difficult as some of the others composer's works we had dealt with and the movement fell together fairly quickly. One of the joys of George's music is that it's so well-crafted that you know immediately when you've gotten it just right. With this in mind we prepared our parts individually beforehand using his meticulous metronome markings in the score.
Before working with the composer – experimenting
George was particularly keen to hear the second movement, since one passage was somewhat of an experiment. He asked to be present at the first reading but we didn't want him to hear the birth pangs. At first when we read these passages we couldn't play up to tempo. We set the metronome at a lower number and found it very haunting. Had he put the wrong metronome marking on this passage, we wondered. But then when we were able to play it at tempo (quarter note = 120) we heard a completely new sound! George had created an unusual effect by having all the instruments play, within the same range, a series of semitones which gave the impression of a constantly moving cluster, very soft dynamically. It's like floating in air, perhaps what an aerialist feels suspended from a trapeze. It reminded me of the fourth of Elliott Carter's Eight Etudes and a Fantasy, with its motive of a rising half-step. But Carter's use of this motive is slower, louder, lower – more earthbound. The materials are the same, but in George's hands one hears a completely new wind sound.
Working with the composer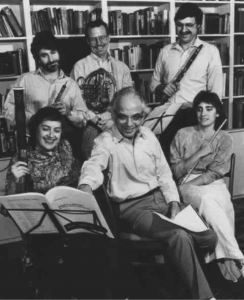 The third movement is the killer. It requires playing very long phrases slowly at a soft dynamic with practically no rest anywhere. The music is absolutely beautiful but it is hard to sustain it for such a long time because you become physically tired and lose concentration. When we discussed the difficulty of this movement with George and then played it for him, he told us that we were playing it too slowly. We checked the metronome and found he was right! We were making it more difficult than it had to be! At the faster tempo the theme had a lilt (in 6/8 time) that we had completely missed. It was clear once again: George is very precise in what he writes and knows the sound he wants. This is a good example of why working with a composer is invaluable, especially when the composer is as exacting and articulate as George Perle.
A remembrance from flutist Elizabeth Mann I received via email corroborates Jane Taylor's experience:
We put so much time into learning and recording the pieces that I could have played the whole piece by memory. At first his music seemed "avant garde" but once we lived and breathed his extremely accurate style of writing music, it felt lyrical and made beautiful, musical sense in his unique style. He often had tempo changes where his metric modulations used fractions, which don't exist on metronomes (like Bartók!). Made us a little crazy in rehearsals. And I will never forget, after one take of the first movement we asked if he had any suggestions. His only comment was that we "were 6 seconds too long." That was George!
The Dorian Quintet was proud to have been instrumental in a work that received the Pulitzer Prize, and how gratifying it was to have had a part in in the making of a future classic as well as to record his four wind quintets on New World (NW359). You can hear a preview of each track on Amazon: www.amazon.com/George-Perle-Complete-Wind-Quintets/dp/B004A2X16E. For an extensive read on all four Perle wind quintets see Kyle Gann's liner notes to the New World CD at www.newworldrecords.org/liner_notes/80359.pdf. The cycle has also been played as a single program, "A Perle Sampler."
The Dorian Wind Quintet has reinvented itself as new players come into the ensemble. Have a look at dorianwindquintet.org. The Dorian Wind Quintet performance of Perle's Wind Quintet No. 4 can be heard on YouTube.
Send me any reflections if you have performed any of them. All four should enter the wind quintet canon from mid-late 20th century repertoire as vital as the string quartet cycles by Bartók, Harbison, Carter and Schuller.
---
ENSEMBLES IN THE SPOTLIGHT
Second in a series of wind quintets of note, with their missions, activities and websites.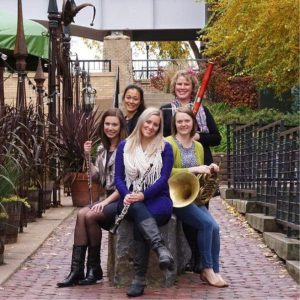 CHIONE QUINTET
QuINTENSIVE? A chamber music day camp created and run by a wind quintet?
Sounds crazy, but that is one of the activities of the Chione Quintet – a weeklong program in July for students grades 7–12. The 2019 session – the third – was quite impressive, having built on the first two years of experience. The event included coaching by and performances with the Chione Quintet, whose clarinetist is Weily Grina-Shay. The students were challenged to stretch and develop their musical skills as well as skills related to cooperation, compromise and team building. The program also included master classes and such things as entrepreneurship, music history and theory, body awareness, reed making and audition prep. Whew! I hope there was some time for relaxation and even practicing.
The Twin Cities, Minnesota-based Chione Quintet – named for the goddess of winter winds – was formed in 2016 by "innovative and cross-disciplinary women," as described at https://chionequintet.com. The group is particularly interested in commissioning new pieces and performing works – though not exclusively – by women. To date there are 11 such works on the repertoire list.
Their impressive performance history includes extensive community outreach and education. Especially notable is their "Story Time with Chione" program which features music from composers around the world, with elementary schools throughout Minnesota as Classical Minnesota Public Radio Class Notes Artists.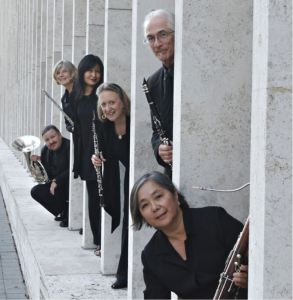 ENGLEWINDS
Englewinds presents itself as an "award-winning eco-music ensemble."
Consisting of wind quintet and piano (and sometimes percussion), and founded by oboist Sarah Davol 20 years ago, the group's initial activity was a response to an environmental issue: raising awareness for a conservation project in Teaneck, NJ. (I suppose Engle is related to Englewood, New Jersey.) Other environmental matters brought on their participation such as wetlands, noise pollution, clear drinking water, increasing turtle habitat, building bee boxes, etc. Not the usual raison d'etre for a wind quintet!
The impressive repertoire list shows 90 mostly living composers, including 60 premieres. It would be much more practical and useful to also list information about the works by these composers such as titles, duration and any matters of environmental relevance.
The clarinetist is Mitch Kriegler and the interesting programs that Sarah Davol has curated include "Music for Monarchs," "Bees Please!", "The Heart of the Wood" and "Music of the Wetlands." She writes,
We cross genres…Our audiences are very informed and our intent is not always an environment issue… Our programs are multifaceted like the ecological issues, and you can experience them on different levels… I hope that all of our concerts have beauty and intrigue, and virtuosity, and a small amount of angst. We aim to inspire and bring positive solutions to the issues we raise.
You can find out more from www.englewinds.com. Perhaps some of this repertoire can widen your programming and reach out to environmental groups in your areas.
*  *  *  *  *
Still looking for more responses to the "Best of Wind Quintet Repertoire Survey":
Send me your top three quintets which you would
Like to perform,
Like to coach, and
Like to hear.
Send to [email protected].
Many thanks!
About the Writer
Bruce Creditor has enjoyed a diverse career in music including performance (the Naumburg Award-winning Emmanuel Wind Quintet, etc.), music publishing, record producer, music librarian and orchestra management as assistant personnel manager of the Boston Symphony and Boston Pops Orchestras. He has enjoyed editing Quintessence since 1986.