Originally published in The Clarinet 46/3 (June 2019). Printed copies of The Clarinet are available for ICA members.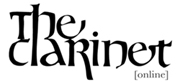 ---
Audio Reviews: June 2019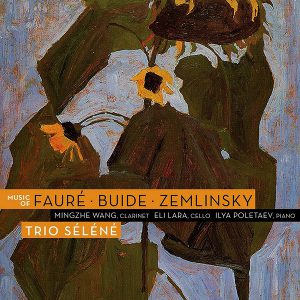 Music of Fauré, Buide, Zemlinsky. Trio Séléné: Mingzhe Wang, clarinet; Eli Lara, cello; Ilya Poletaev, piano. G. Fauré: Trio in D Minor for clarinet (originally violin), cello and piano; F. Buide: Two Fragments for bass clarinet, cello and piano; A. von Zemlinsky: Trio for clarinet, cello, and piano. Summit DCD 723. Total time 63:23.
Clarinetist Mingzhe Wang, a native of Wuhan, China, is a co-founder of Trio Séléné and associate professor of clarinet at Michigan State University. Previously, Wang received his graduate degrees from Yale University. Also a Yale graduate, cellist Eli Lara joined the University of Missouri School of Music faculty where she performs with the Esterhazy Quartet. Hailed as "one of the most significant pianists of his generation" by the Süddeutsche Zeitung, Ilya Poletaev is the only Canadian ever to win first prize at the prestigious International Johann Sebastian Bach Competition in Leipzig.
Unbeknownst to many, Gabriel Fauré's Piano Trio in D Minor was originally conceived for clarinet, cello and piano. This late work has become one of Fauré's most frequently heard chamber works (mostly in the violin, cello, piano iteration). Here, with clarinet, Trio Séléné delivers a very sensitive and nuanced reading of this work. Intonation is notably excellent and Wang demonstrates expert control of wide leaps in these soaring lines. In terms of balance (most likely the result of microphone levels), the clarinet could use more prominence in this texture. Although tone and blend are handled beautifully by Wang, Lara and Poletaev in this texturally sparse music, one craves slightly more depth of line shape and climactic forthrightness at moments. That said, this performance displays uniformity of interpretation and is extremely technically polished.
Two Fragments by Fernando Buide del Real was commissioned by Trio Séléné. On Two Fragments, Buide states:
The first [fragment] has an improvisatory character. It is fragmented and displays constant changes of rhythm and texture. The second movement is more lyrical and reflective. The climax of the composition comes toward the end… and is a moment inspired by sonic memories of my hometown, Santiago. I recall hearing bells in different locations ringing simultaneously, yet with different rhythmic patterns. I recreated this on the piano with the use of overlapping rhythmic pulses.
While the first Fragment is improvisatory in character, the atmospheric underpinning is interrupted brilliantly by Wang and Lara with hauntingly beautiful lines and precise, virtuosic utterances. Wang displays excellent bass clarinet tone, style and technique in this music. The rhythmic coordination between Wang and Lara in their combined "antagonistic" force against the piano is impeccable. The dreamy, second Fragment highlights Trio Séléné's palette of colors and capability of blending with each other both within and between phrases. Wang's and Lara's intonation is notably excellent in the performance.
Zemlinsky's Clarinet Trio in D Minor, Op. 3 is one of his earliest works. As Zemlinsky was Arnold Schoenberg's only teacher of record, one hears a clear lineage between this hyper-romantic music and Schoenberg's Op. 9, for example. In essence, Zemlinsky picks up where Brahms left off; there is an unmistakable link between this trio and Brahms's Op. 114 for the same instruments. This performance by Trio Séléné is the highlight of the disc. The heights of drama and intimacy are both realized in this outstanding performance. These fine musicians have carefully sorted out every tempo subtlety and phrase scheme. Wang truly sings in this work.
This disc of both standard and recent repertoire for clarinet, cello and piano is an excellent contribution to the canon of recordings for this instrumentation and is highly recommended. These musicians are lauded for their very fine playing.
 – Kenneth A. Long
---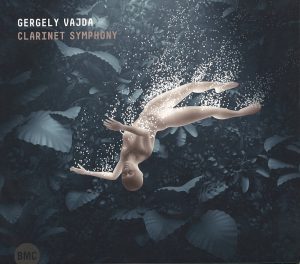 Clarinet Symphony. János Szepesi, clarinet; Gábor Varga, clarinet; Nathan Giem, violin; Gergely Popa, violin; Tamás Cs. Nagy, viola; Árpád Amirás, cello. G. Vajda: Clarinet Symphony, Alice Études and Persistent Dreams. Budapest Music Center Records BMC 274. Total time 69:38.
The recently released album Clarinet Symphony serves as a portrait of composer, conductor and clarinetist Gergely Vadja. Vadja, music director of the Huntsville Symphony (Alabama) and principal guest conductor of the Hungarian Radio Symphony Orchestra (HRSO), conducts the album's self-titled work, a massive 33-minute long piece for clarinet soloists János Szepesi and Gábor Varga with the Hungarian Radio Symphony Orchestra. Also featured is Vadja's seven-movement work Alice Études for clarinet and string quartet as well as the shortest piece on the album, Persistent Dreams.
Clarinet Symphony shows Vadja's intimate knowledge of the instrument. Szepesi, principal clarinetist of the HRSO since 1983, and Varga, principal clarinetist of the HRSO since 1997, also leave a very personal mark with their blended and rich playing – a highlight of the album. Vadja describes the form of the work as a four-movement symphonic form with a prelude, interlude and postlude. This is his self-described attempt to combine his two artistic mediums of orchestra and clarinet into a mammoth piece. The Prelude opens with a groaning, low flurry of notes akin to a more laid-back Corigliano Concerto opening or the beginning of Elliott Carter's Clarinet Quintet. Szepesi and Varga carefully control languid pitch bends in the Ballade. Vadja's composition combines the colors of the orchestra with the clarinet timbre, with movements like the Scherzo mixing chalumeau clarinet with low winds as well as clarion register with high strings, percussion and harp. Vadja's rhythmic and harmonic language is soupy, dissonant and primordial. In the Finale, aggressiveness contrasts the solemn Adagio in a captivating journey. Clarinet Symphony lets the listener wade through its own enormous stature.
Alice Études features Vadja's more intimate chamber writing. This work, also in seven movements, has more frenetic energy and playfulness that imitates the events of Alice's Adventures in Wonderland and Through the Looking Glass. Although Clarinet Symphony gives the listener larger textures and an expanded color palette, the etudes all share a more open space. The quartet has the ability to show their finesse and character within the pizzicato of "A Mad Tea Party" alongside the quirky clarinet melody. This composition, while not occupying the title position on this album, made me want to listen again as soon as it ended.
One of Vadja's earliest works from 1991, Persistent Dreams for solo clarinet, closes the album with a window into the composer's younger self. There is a sense of the later clarinet writing in the glissandi and pitch bends, the fluttering, and virtuosic technical writing from which Clarinet Symphony and Alice Études evolve. There is both a nice narrative lineage that the listener has the chance to explore along with the petite size of this last track. All of the works stem from his love of clarinet, and so it is fitting we are left with the root of this album, a young composer telling stories through the clarinet.
 – Ford Fourqurean
---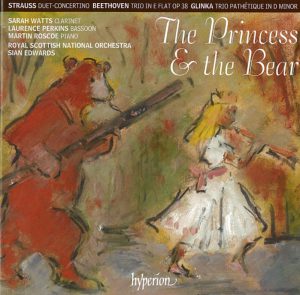 The Princess and the Bear. Sarah Watts, clarinet; Laurence Perkins, bassoon; Martin Roscoe, piano; Royal Scottish National Orchestra. R. Strauss: Duet-Concertino; L. van Beethoven: Trio in E-flat Major; M. Glinka: Trio Pathétique in D Minor. Hyperion CDA 68263. Total time 76:14.
British bass clarinet virtuoso Sarah Watts meticulously performs timeless works for clarinet and bassoon in The Princess and the Bear. Educated at the Royal Academy of Music and Rotterdam Conservatorium, Watts holds an international reputation as a clarinet and bass clarinet artist, teacher and researcher, and is on faculty at Royal Northern College of Music and Sheffield University. She performs with Hard Rain Soloist Ensemble, rarescale and SCAW.
In this disc, Watts adeptly delights listeners with music from the standard clarinet and bassoon chamber repertoire. In the first selection, the time-honored Duet-Concertino by Richard Strauss, Watts's interpretation is meticulously crafted and thoughtfully researched. Both soloists and the Royal Scottish National Orchestra under the baton of Sian Edwards tunefully present melodies, with careful representation of printed articulations and dynamics. Seamless integration is accomplished throughout, with deft attention paid to balance and blend.
In the second work, Beethoven's Trio in E-flat Major, the performers weave lyrical phrasing with flawless intonation. Every note is dutifully nuanced, in an impeccable interpretation that belies the difficulty inherent in presenting Classical-era scores. Watts's skillful fluidity presents a commendable timbral blend with collaborators Laurence Perkins (bassoon) and Martin Roscoe (piano). The resulting performance forms a pinnacle of accomplishment in chamber musicianship.
Dramaturgy rolls forth through the final composition, Mikhail Glinka's Trio Pathétique in D Minor. Contrasting with the restrained conservatism of the prior works, the trio actively invites more musical risks, providing the listener with an immediacy of sound and excitement of execution not yet experienced. While the free flow between movements enhances the rebelliousness, the resultant performance is nevertheless a flawless interpretation of the score. The only disappointment found in this compilation is the desire for all the performances to receive an infusion of excitement on a similar level.
Watts's adept engagement with the clarinet and bassoon repertoire is evident through her detailed study and execution of the scores. Her warm British tone, impeccable intonation and clear articulation are effortlessly delivered in all registers. Notable preparation provides the foundation for the interpretive decisions, producing finely-crafted performances that transcend the difficulty level inherent in each of the works.
This disc highlights the standard repertoire for clarinet and bassoon, and it provides an excellent auditory resource for student and professional performers alike. All works are diligently researched and performed, ranking as model interpretations. The recording is superbly crafted, resulting in a volume to be valued by aficionados and performers. This disc would be a delightful addition to any university library or wind studio resource collection, as well as a highlight in the listening collection of classical music lovers.
 – Michelle Kiec
---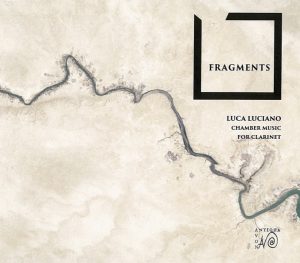 Fragments. Luca Luciano, clarinet. L. Luciano: Impromptu Variations on Stravinsky's "Three Pieces"; Homage to Puccini; Homage to Poulenc; Two Contemporary Studies; Fantasia for Demi-Clarinets; Fragments; Mosquito; Divertimento No. 4; Divertimento No. 9 "The Damnation of the Dreamer"; Divertimento No. 12 "Le redentrice del Sognatore"; Divertimento No. 7 "Fuga, Cadenza et finale on a theme of Prokofiev's 'Lt. Kije'"; Divertimento No. 11; Divertimento No. 13; Divertimento No. 8 "Thamon." Nova Antiqua NA 28. Total time 41:00.
Luca Luciano's latest album follows in the long line of the composer-as-performer history of the clarinet. Many of our most accomplished performers contributed some of the finest works in our repertoire. Luciano is an ardent practitioner of contemporary techniques, and this album runs the gamut of advanced clarinet skills and creative recording practices. He has a fertile imagination, and his pieces display a diversity of styles that makes them very attractive to clarinetists looking to expand their sound world.
Luciano's exploration in, around, and through the Stravinsky Three Pieces takes advantage of that entrenched familiarity that we all have and treats the piece like a point of departure, not a set-in-stone masterpiece. It takes the old wine and makes a nice sangria out of it. The first of the two homage pieces presents Puccini's Tosca solo with some unexpected and wildly expressive excursions, while his second homage to the slow movement of Poulenc's Clarinet Sonata stays a little closer to the source material. The Study on Quarter-Tones is set in the chalumeau register, with an ample amount of jazz inflections. The Study on Microtonal Trills and Tremolos is nearly over before it begins. The two studies go beyond the typical dry etude focused on skill development; they are pleasant to listen to, telling a compelling story with a convincing arc.
Channeling his inner William O. Smith, Luciano's demi-clarinet work is liberal with its smearing, yearning melodies. There is a wonderful middle section with a vibrato reminiscent of Turkish clarinet playing. The three Fragments for solo clarinet display some of Luciano's special attributes. He is especially good at transitioning into multiphonics from a singular tone and singing while playing. The finished product sounds effortless. Mosquito evokes exactly what you think it would: a buzzing, quarter-tone insect trying to pierce its way to some blood. An appropriate and charming depiction.
The last seven works on this album are chamber works featuring clarinet ensembles. All works were recorded by Luciano using layering and overdub techniques. The longest work on the album is just over five minutes in duration and most are less than three minutes each. It allows enough time to explore a particular theme, genre or timbre, and then move on before the ear can fully settle in. The one exception is Divertimento No. 7, whose main theme is the Romance from Prokofiev's Lieutenant Kije. The chamber pieces are generally light in character, often with one clarinet performing multiphonics or growling while another part overlaps, usually of a different character from the first clarinet.
There is something intoxicating about listening to unaccompanied clarinet with an ample amount of studio reverberation. The notes seem to float on forever, one of the advantages of the recording studio. Luciano's technique is superb, with a thoroughly advanced command of all the techniques required. It is a great album to gain perspective on new directions of clarinet playing. I recommend it, especially for clarinet trios or quartets looking for new repertoire to supplement established works.
 – Osiris Molina
---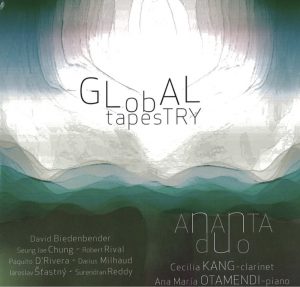 Global Tapestry. Ananta Duo: Cecilia Kang, clarinet; Ana María Otamendi, piano. D. Biedenbender: Synchronicity; P. D'Rivera: Vals Venezolano and Contradanza; S. Reddy: Game I for Lila; S. Chung: Arirang Fantasy; R. Rival: "Lake" from Sonata Muskoka; J. Štastný: Different Geometry; D. Milhaud: Caprice. Soundset Records SR 1102. Total time 48:03.
This new compact disc released from Soundset Records in 2018 features the Ananta Duo with clarinetist Cecilia Kang and pianist Ana Maria Otamendi in a musical journey around the world. Global Tapestry presents four world premieres and several exciting and seldom-played works from the clarinet repertoire.
This recording opens with Synchronicity by American composer David Biedenbender. This three-movement work begins with "Brainstorm" and immediately evokes a feeling of improvisation. Kang and Otamendi do a wonderful job of trading voices and creating an intense yet playful energy. The ensemble shows great clarity and rhythmic stability throughout this performance. Movement two, "Quiet," is at times anything but. Kang does an extremely artistic job of creating ethereal colors within the piano timbre, though occasionally airiness appears in
her sound that may be unintended. The high-energy third movement, "Muster Point," starts with a high-paced and technically demanding opening. Kang handles these demands with ease and the challenges of the huge range seem effortless. Kang's control of the entire range on the instrument is showcased in this opening work and is present throughout this recording.
Next up are two Cuban favorites by Paquito D'Rivera, Vals Venezolano and Contradanza. These playful Latin works have become a staple of the instrumental repertoire in a variety of arrangements. The ensemble's performance is technically sound though they seemed, to me, less at home with these selections.
South African composer Surendran Reddy's Game 1 for Lila is one of many highlights on this recording. Kang seems at her best here with incredible control of the two-voice writing and interesting interplay. Reddy masterfully creates a work that is both playful and driving. The miking of the clarinet seems at times a bit close, preventing Kang's full sound from resonating in the hall, though her performance is artistic and enjoyable. This is a work that should become standard in the repertoire.
Arirang Fantasy by Seung Jae Chung was written in 2017 and this is a premiere recording. The work artfully takes us through a journey of emotion and variation. The beautiful quality of the famous Korean "Arirang" melody is felt throughout this new composition and the duo does a wonderful job of creating a melancholic feeling of longing. The work did, however, leave me longing for a more semplice presentation of the main theme. Kang delivers a convincing performance and shows excellent control and technique. Intonation is generally good but occasionally drifts out on a few altissimo notes.
Canadian-born composer Robert Rival's "Lake" from Sonata Muskoka is another of the four world- premiere recordings on this compact disc. Ann Marie Otamendi beautifully crafts the opening few bars as she creates a wonderful atmosphere that evokes placid imagery. The sound recording and balance on this track differs greatly. Location may be the difference here as Kang's sound suddenly appears to be closer.
Czechoslovakian composer Jaroslav Stastny's Different is a well-written and seldom-played work for solo clarinet. Stastny is able to build shapes and arrange musical ideas to build a cohesive work. Kang again seems extremely at home with this unaccompanied work.
Kang closes out the recording with the Caprice by Darius Milhaud. This charming work felt a little like an afterthought on this diverse recording full of new and contemporary works. Kang's sound finally peaks on this track with a fullness and resonance that seemed missing in previous tracks.
Ananta Duo has done an excellent job of showcasing some great new works for clarinet. Recording quality inconsistencies seem to be the weakest part of this compact disc and are thankfully overshadowed by the duo's overall great performance. I highly recommend this recording, especially if you are searching for some great new works for clarinet.
 – Robert DiLutis
---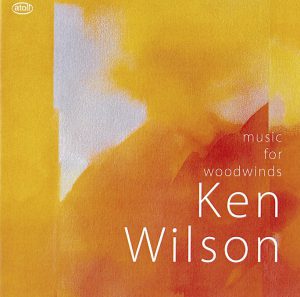 Ken Wilson: Music for Woodwinds. Various artists. K. Wilson: Concerto for Clarinet and String Orchestra; Wind Quintet; Introduction, Theme, and Variations; Duo for Clarinet and Bassoon; Spiderweb for Solo Clarinet; Duo for Two Clarinets (2002): Duo for Two Clarinets (2004): Slow Piece; Variations on a Theme of Paganini; Octet. Atoll ACD 222. Total time 68:26.
Ken Wilson: Music for Woodwinds is a thorough introduction to the works of Ken Wilson, a clarinetist/composer who was born and worked most of his life in New Zealand. The performers on this album primarily reside or work in New Zealand, including members of the New Zealand Symphony Orchestra and the Zephyr Woodwind Quintet. Every performance on this album is beautifully played and of the highest quality. With this album as an introduction, Wilson's works will likely become more popular within the international clarinet community.
All of the works on this album can be described as delightfully quirky. One is often surprised by sudden, contrasting mood changes. For example, the first movement of his Wind Octet sounds dark and somber. It is quite a change from the lighthearted nature of many of the other works on the album. Then, with no warning, the mood changes. The music becomes charming and optimistic. It was an unusual choice, and something that Wilson seems to like to do in his compositions. In his Clarinet Concerto, a pleasant piece that at times reminds me of works of Gerald Finzi, the second movement also shifts moods frequently, from flowing lyrical lines to more tumultuous writing that has the clarinet at odds with the orchestra.
Wilson's music is consistently energetic and bubbly. It never seems to settle down for long. His Wind Quintet would be an excellent work for a quintet looking for something different and fun. It sounds like a great challenge, particularly for clean and light articulation. The Zephyr Quintet's performance is exquisite. The articulated lines are perfectly in unison and they trade fragments of the melodic lines masterfully. The lines are constantly moving and being passed around, but they never seem to be competing. It is like a conversation where many people pipe in with their thoughts. This work also has the emotional twists and turns that Wilson seems to favor, particularly in the second movement.
While I would recommend all of the works on this recording, one that I am particularly excited about is the Duo for Clarinet and Bassoon. Wilson wrote for each instrument beautifully and the duo is equally paired. There are also lots of different characters to express through the music and it simply sounds like it would be a lot of fun to play. Although the style of Wilson's music will be familiar to many clarinetists, it is well written, enjoyable, and it will surprise you. I think after listening to this recording, many clarinetists will want to seek out at least one of his works. To acquire this music visit the Sounz Centre for New Zealand Music online, where scores and recordings are available for purchase. I was delighted to learn about Ken Wilson's music and to hear the skillful performances on this album.
 – Amanda McCandless
---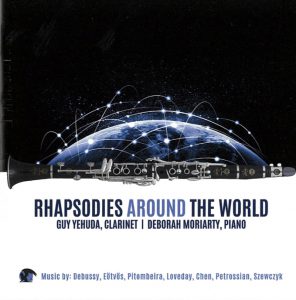 Rhapsodies Around The World. Guy Yehuda, clarinet; Deborah Moriarty, piano. C. Debussy: Première Rhapsodie, M. Eötvös: The Three Alicids, L. Pitombeira: Parish Ode, C. Loveday: Heatwave, C. Yao: Through Waters, By The Mountains, M. Petrossian: Timkat Song, P. Szewczyk, Luminous Rhapsody. Blue Griffin Recording BGR 441. Total time 61:16.
Guy Yehuda, an Israeli-American clarinetist, has an impressive career which includes winning the top prize of several international competitions. He has collaborated with many top composers and performers in chamber music concerts, and has appeared as a soloist in many prestigious venues. Deborah Moriarty, piano, has studied at Curtis, Juilliard, and New England Conservatory and has earned several awards. Both artists are affiliated with Michigan State University.
Yehuda states that the Debussy Rhapsodie is the inspiration for this CD, noting:
This piece is considered to be one of the most important early 20th century French compositions for clarinet and a wonderful example of impressionistic writing. I chose this piece to become the "template" for all other new pieces sharing the same identification of "rhapsodie."
He further adds that this recording "presents six newly-commissioned works for clarinet and piano. Composers from six different continents pay homage to Debussy by exploring new approaches to the rhapsodic form."
Following Debussy's work, each of the six new rhapsodies have interesting information in the liner notes relating how their work was created and its relationship to Debussy or the title "rhapsodie." Also, there are rather extensive well-written biographies of the composers. The Three Alcids by Melody Eötvös (Australia) refers to three sea birds on the Machias Seal Island near the coast of Maine. There is a musical reference to the opening theme of the Debussy and also to water, reflecting the 1910 Great Paris Flood. There are passages that depict bird calls created by Yehuda's incisive articulations. Later the pianist repeats a pattern reminiscent of water while the clarinet part has long and sustained lines, similar to the Debussy.
Parish Ode by Liduino Pitombeira (Brazil) uses a compositional technique of deep intertextuality which he defines as "systemic modeling." This piece reflects a somewhat tonal approach and there is frequent use of chromatic lines in the clarinet. It is free, quixotic, and diverse.
Heatwave by Clare Loveday (South Africa) was written during one of the hottest and driest summers on record in southern Africa. I find the work somewhat "jazzy" both in the rhythmic aspect and the harmonies used. Much of it is fragmented, antithetical to Debussy's lines. She writes a unison section followed by flowing, sustained clarinet lines. These are punctuated with sharp dissonant chords. Very effective!
Through Waters, by Mountains by Chen Yao (China) was influenced and inspired by Debussy for two of his previous compositions. He notes, "I selected several thematic motifs from the Rhapsodie and developed them as a free fantasy." The high register in the clarinet is long and taxing, but Yehuda manages it exceedingly well. Reflections with repetitive, murmuring piano lines seem to indicate waters. This is a very effective but difficult piece.
Michel Pitrossian (France) states that his Timkat Song is related to Debussy in two ways: formally and conceptually. Pitrossian borrowed a melody from the ceremony of Timkat, the main Ethiopian religious feast, which in retrograde is reminiscent of the opening of Debussy.
Luminous Rhapsody by Piotr Szewczyk (USA) draws its inspiration from Debussy's rich harmonic language and colorful changing moods. Although the composer alludes to one brief Debussy quote, I find that there are many other subtle references to Debussy's Rhapsodie. Some are harmonic, melodic or rhythmic motives.
The performances of both artists are very polished. The technique is impeccable and the ensemble is very concise. Yehuda performs with a beautiful, fluid sound. Recommended!
 – Robert Chesebro
---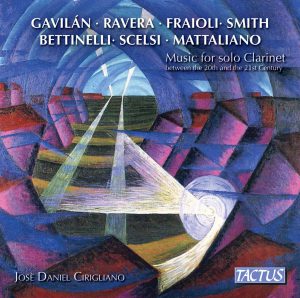 Music for Solo Clarinet Between the 20th and 21st Century. Josè Daniel Cirigliano, clarinet. G. Gavilán: Clariloquio, A. Ravera: La scatola del tempo, A. Fraioli: Quattro Pezzi and I miei occhi, W.O. Smith: Meditations and Five Pieces, B. Bettinelli: Studio da concerto, G. Scelsi: Ixor II, G. Mattaliano: Zeta World. Tactus TC 93002. Total time 52:35.
Josè Daniel Cirigliano is an Italian clarinetist with a strong reputation as a performer of modern avant-garde clarinet music. In this recording, Cirigliano has recorded unaccompanied works for different clarinets that utilize extensive modern extended techniques. The performances on this CD are not timid or highly polished, but are instead bold, energetic and highly virtuosic performances of this demanding repertoire from the second half of the 20th century and early 21st century.
The first track on this CD is Clariloquio by Guido López Gavilán. Cirgiliano performs this piece with impressive technical facility and dynamic control. The playing is very aggressive, resulting in a powerful and intense performance. Tone quality and fast tempi do test the limits at times, but Cirigliano's performance is convincing. The other works for soprano clarinet, Antonio Fraioli's Quattro Pezzi, Bruno Bettinelli's Studio da concerto and William O. Smith's Five Pieces are performed in very much the same manner. Although each of these works has qualities which differentiate them, there is a certain "sameness" in the impressions to the listener in the harmonic and avant-garde melodic language that is used. In all of these pieces, Cirigliano provides thoughtful, energetic and dramatic performances.
The two works for bass clarinet, Giacinto Scelsi's Ixor II and Alessandra Rivera's La scatola del tempo are equally engaging and show Cirigliano's ability to play the bass clarinet with the same energy, facility and intensity as he shows on the soprano clarinet. La scatola utilizes many extended techniques that result in interesting and innovative effects. Of these, singing while using vibrato and playing phrases is a chilling and an extraordinary effect that is highly memorable.
The performance of William O. Smith's Meditations for demi-clarinet was particularly compelling. As one listens, one wonders how Cirigiliano produces the effects and sounds. These effects are done very well and sound effortless. They show Cirigliano's expertise and talent for playing this type of music. The other work which captured my attention was I miel occhi by Antonio Fraioli. The piece requires the performer turn to the left on some segments, turn to the right and return to the middle. In the recording process, one hears this in the left and right stereo channels. It gives the effect of Cirigliano playing from different parts of the recording studio which was very interesting.
The CD closes with Giovanni Mattaliano's Zeta World. It is upbeat with jazz and ethnic music influences. The piece requires great technical control with its large leaps and fast passages. Cirigliano makes it sound easy.
Overall, this CD was well done. The recording quality was fine and the repertoire selection was well suited for making an album of modern and more experimental music. This recording would make an excellent reference for people wanting to study pieces in this genre.
 – David Shea
---