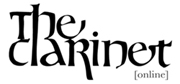 ---
Audio Reviews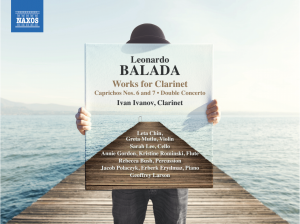 Leonardo Balada: Works for Clarinet. Ivan Ivanov, clarinet; Leta Chin and Greta Mutlu, violin; Sarah Lee, cello; Annie Gordon and Kristine Rominski, flute; Rebecca Bush, percussion; Jacob Polaczyk and Erberk Eryilmaz, piano; Geoffrey Larson, conductor. L. Balada: Caprichos No. 7 'Fantasies of La Tarara'; Caprichos No. 6 for Clarinet and Piano; Double Concerto for Oboe, Clarinet, and Orchestra (version for flute, clarinet, and piano). Naxos Music. Total Time: 51:52.
Ivan Ivanov's newest album features clarinet compositions by surrealist Catalan American composer Leonardo Balada. Professing his love for the composer's works, Ivanov features the Caprichos Nos. 6 and 7 and the Double Concerto. Exploring the connection between Balada and Salvador Dalí, this album is a blossoming of unique sounds, rhythmic excellence and profound musicality. Leaning into the surrealism of the music, this recording contains a myriad of colorful characters that I'm inclined to experience on repeat.
Opening with Caprichos No. 7, "Fantasies of La Tarara," the listener is greeted with quick, articulated rhythmic lines that are passed seamlessly between chamber orchestra and clarinet. Ivanov announces himself boldly, then fades his color in and out of the orchestration. Sparkling strings and piano are accented with the percussion keyboard sounds which Ivanov matches expertly. The movement, aptly named "Obsesiones" (Obsessions), is a swirling of anxious technical lines that continue to come back to the same note. Ivanov, even when performing lyrically, is able to convince us of obsession with the persistence in which he plays the repeated notes. The next movement, "Sopresas" (Surprises), is an exploration of color in Balada's unique orchestration style. Intonation is key to making this movement successful, and all the musicians work brilliantly even in extreme registers. Ivanov's rhapsodic lines, which sit on a bed of color in the orchestra, have a thick and warm quality. He is able to fade in and out of the walls of sound with seeming ease. "Íntimo" (Intimate) extends the warm, haunting quality from the previous movement with Ivanov's tone often changing from sweet to intense in seconds. Ivanov demonstrates his command of the instrument's color palette with precision and purpose. The final movement, "Frenesí" (Frenzy), returns to repeated staccatos that weave between soloist and ensemble. Delightfully colorful with glissandi and exciting orchestration, this movement is fantastical from beginning to end. Ivanov's ability to change timbre, combined with the talent of the orchestra, makes this performance effective.
Caprichos No. 6 opens with pinpricks of color between clarinet and pianist Jacob Polaczyk. Similar to the previous piece, the music is a surrealist transformation between subject and
interpretation. "Enojo" (Anger) oscillates between furious short, angry notes with technical flourishes and moments of lyrical resignation. The balance and matched articulation between the
performers are well-executed which helps illustrate an impassioned portrait. As anger often transforms into sadness, the listener is then taken to "Lágrimas" (Tears). The sparkling
representation of tears falling in the piano mixed with Ivanov's introspective musical phrasing fills the space with sorrow. Ivanov's floating high notes churn the feeling of hopelessness. However, this plaintive movement is quick to transform into "Angustias" (Anguish). This movement's dialogue between the piano and the clarinet is unsettling. While not overtly flashy, the control of musical character, clean articulation in the altissimo and connection in large leaps makes this a seemingly difficult movement for the clarinet. Ivanov makes it seem effortless to portray the anguish the movement represents. The final movement, "Escalofríos" (Shivers), swirls with technical runs and trills in both the piano and clarinet. Polaczyk's technical prowess is on full display throughout the piece, accented with colorful jolts, trills and even sliding notes played only on the mouthpiece of the clarinet.
Originally for oboe and clarinet, the final selection on this album is a transcription of Balada's Double Concerto for Oboe and Clarinet for flute, clarinet, and piano. Ivanov is joined by Kristine
Rominski on flute and Erberk Eryilmaz on piano. As the piece opens, the trio is in constant dialogue with moments of overlapping inner reflection. The balance and ensemble performance throughout is well-planned. Particularly exciting are sections with driving rhythm in the piano with Rominski and Ivanov having an intense pecking conversation. By far the most abstract piece on the recording, the performers keep the listener engaged with dramatic stylistic changes with each player holding their own sonic paintbrush. The conglomerate of all their colorful statements creates a fascinating performance.
This album is Ivanov's profession of love for the clarinet works of Balada. From the thoughtful programming to the kaleidoscope of characters weaving throughout each piece, the listener can hear the delight he has for each phrase. This album has convinced me that these works have a wealth of musical possibilities and should be celebrated as important contributions to the
clarinet repertoire. Ivanov's rich sound, flashy technique and color palette, combined with his incredibly talented collaborators, make listening to these pieces compelling. I highly recommend
exploring this album for a truly vibrant treat!
– Sarah Manasreh