Originally published in The Clarinet 48/1 (December 2020). Printed copies of The Clarinet are available for ICA members.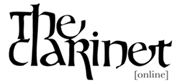 ---
RECORDINGS
Listen to the majority of these recordings in the ICA December Reviews Spotify Playlist!

---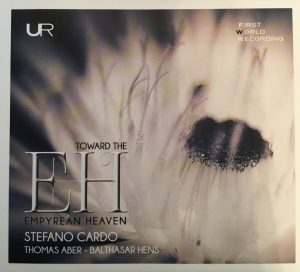 Toward the Empyrean Heaven: Rediscovered Gems for the Bass Clarinet. Stephano Cardo, clarinet and bass clarinet; Thomas Aber, bass clarinet; Balthasar Hens, bass clarinet; Ruta Stadalnykaite, piano; Robert Pherigo, piano; Hsiao-Yen Chen, piano; Pietro Pasquini, organ; Lilienchron Quartet of the Stuttgarter Philharmonic. A. Klughardt: Romanze; C. Franchi: Élégie; P. Jeanjean: Duo de Concert; J. Pillevestre: Premier Offertoire; J. Orlamünder: Romance; A.S. Petit: Évocation; F. Rasse: Lied; D. Bennett: Deepwood; C. Saint-Saëns: Air "O beaux réves évanouis"; D. Bontoux: Bénédiction nuptial; Y. Bowen: Phantasy Quintet. Urania Records, LDV 14049. Total Time: 60:47
This album is an example of collaboration in an underexplored part of our repertoire: bass clarinet music pre-1956. It represents part of a larger project to deepen the awareness and understanding of classic repertoire for the bass clarinet. The project includes artists Stefano Cardo, Thomas Aber and Balthasar Hens, and scholar Jean-Marie Paul. This album is the first of three planned by the International Bass Clarinet Association. Many of the works on this album are premiere recordings. The album contains works from a narrow window between the late 19th to early 20th century, but the performances have enough variety to provide noticeable differences within the same compositional language.
Pianist Ruta Stadalnykaite's stately introduction perfectly sets up Stefano Cardo's rendition of August Klughardt's Romanze. Cardo's tone is warm and deep, enhancing the lyrical and vocal nature of the work. His playing is very expressive and there is an enviable evenness between the various registers on the instrument.
Thomas Aber's interpretation of Cesar Franchi's Élégie is tender and heartfelt, with hints of melancholy. Aber's control of the upper register timbre and intonation is superb.
Jeanjean's Duo de Concert offers the first variety of instrumentation. Jeanjean's work is scored for soprano clarinet, bass clarinet, and piano and is performed by Cardo on soprano and Aber on bass. The accuracy of the octave intonation throughout the work is apparent and impressive. Aber's solo passagework contains the same lyricism heard in Franchi's Élégie, with Cardo enhancing the texture and sharing the lead with Aber. At times one can't clearly discern who is the top voice.
Continuing with the varied instrumentation, this album gave me a first: Jules Pillevestre's Premier Offertoire for bass clarinet and organ. This is the first time I have heard that combination and I could not help but smile at the almost carousel-like character the texture creates in the short but sweet work. Cardo and organist Pietro Pasquini achieve a truly unique timbre on this work that is charming and enjoyable.
Johann Orlamünder's Romance again showcases Cardo's warm and rich tone. Here the playing is especially notable for the core in the softer sections. His playing is equal parts delicate and sensitive. The same can be said for his performances of François Rasse's Lied and Saint-Saëns's Air "O beaux réves évanouis."
Aber's playing in Alexandre-Sylvain Petit's Évocation is stirring and gentle. Several short cadenzas allow Aber to fully display his control of the bass clarinet.
Balthasar Hens's version of Deepwood gives a sense of levity and true contrasting character that highlights the bass clarinet's technical capabilities. Hens's passagework is fluid and seamless and his interpretation effectively balances the technical passages, lyrical sections and quasi-jazz segments of this work. Daniel Bontoux's Bénédiction nuptial reintroduces the organ and again features Cardo on soprano clarinet and Aber on bass clarinet.
York Bowen's Phantasy Quintet for bass clarinet and string quartet serves as the final and longest offering on the album. Hens is again the featured bass clarinetist. The first movement contains melodic lines with forward momentum that recall the works of Richard Strauss. In the second movement, Hens's technical abilities make what are surely complex passages sound effortless. The final movement of the work ends the album with an autumnal sense, warm and introspective.
Toward the Empyrean Heaven, both the album and its underlying project, is surely to the benefit of a player looking for an example of high-caliber bass clarinet playing and repertoire that is accessible to students and professionals. The brevity of many of the works on the disc, usually three to five minutes, allows for a fair number of pieces to be included on a single album and gives opportunity for all three bass clarinetists to be featured. I look forward to seeing more from this collaborative project. The album is readily available on Spotify, on iTunes, or through an online music store. For more about the project visit www.circb.info.
– Cody Grabbe
---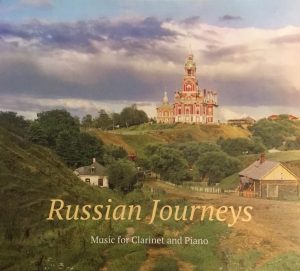 Russian Journeys. Janet Greene, clarinet; Ivan Konev, piano. A. Grechaninov: Sonata No. 1, Op. 161, and Sonata No. 2, Op. 172; L. Makovskaya: Sonatina; S. Taneyev: Andantino; R. Shchedrin: Suite; A. Tcherepnin: Sonata in One Movement; L. Pokrovskaya: Piece. Droptone Studios. Total Time: 64:21
Janet Greene is professor of music at Hamline University where she teaches teaches clarinet and music theory, and is a conductor of large and small ensembles as well as a mentor for students in many other areas. She has performed with numerous orchestras including the Minnesota Orchestra, Saint Paul Chamber Orchestra and the New York City Opera. This CD, Russian Journeys, is her second recording project. Her first CD, The Lyrical Contemporary Clarinet is devoted to the chamber music of Edward Marcus.
Ivan Konev teaches at the University of Wisconsin–River Falls and the Saint Paul Conservatory of Music. His musical training was in Moscow, at Hamline University and the University of Minnesota. He has won numerous prizes in international and local piano competitions and performs with faculty members of the University of Minnesota School of Music, members of the Minnesota Orchestra and Saint Paul Chamber Orchestra.
Alexander Grechaninov was mainly known for his orchestral, vocal and piano compositions. His Sonata No. 1, Op. 161, is one of his few works for clarinet. This conservative neoclassical composer captures the charm and lyricism of a nostalgic folk song. In the first "Allegro," the picturesque melodies flit between cheerful major tonalities that are soon followed by Russian folk melodies in a contrasting mood. It quickly returns to the memorable aura and a rich feeling of completeness. The second movement "Canzona – Andante" contrasts the opening movement, ending with a feeling of uncertainty, while the last movement, "Finale – Vivace," is characterized by a springy and energetic rhythm, similar in style to the first movement with a memorable melody, rippling and animated to the end. The clarinet and piano are equally matched and aptly perceptive to Grechaninov's characteristic elegance and flair.
Lydia Makovskaya's Sonatina is not well known in the clarinet world but it is a welcome addition. There is not much information about Makovskaya's compositions, but it has been noted that her style reflects Prokofiev's influence. This is an attractive work. The first movement is tuneful and appealing and the second reflective and contemplative. The third movement is a combination of the first two, displaying evidence of the melodious first movement and the pensive second movement. Entertaining and witty, this movement rounds the Sonatina out nicely.
Sergei Taneyev's Canzona Andantino is melancholic and demure. It evokes a forlorn emotional quality and is beautifully performed by Greene and Konev. A short, exciting section through the middle of the work provides contrast in this heart-rending piece.
Rodion Shchedrin (b. 1932) is one of the foremost living Russian composers. Suite is a colorful display of Russian folksong and traditional melodies and rhythms. In each of these short and concise movements, Shchedrin plays with tone colors produced by the clarinet and piano, constantly changing lyrical and dramatic sections as well as illustrating extended melodic lines.
Alexander Tcherepnin was a Russian-born American pianist and composer, known for his stylistic mixture of romanticism and modern experimentation using a nine-note scale and incorporating complex rhythms. In smaller forms his work was often colored by Russian and Chinese motifs. These traits are seen somewhat in his Sonata in One Movement, however, rhythmically it is straightforward and there is some catchy melodic material displayed in the solo clarinet. This movement went by way too fast for me, only 1:30 in length. I found myself wanting more of this enchanting piece.
Exciting and dramatic is the movement "Vivo" from the work simply titled Piece by L. Pokrovskaya. Unfortunately, little is known about this female composer. Her style is inspired by Prokofiev and shows glimpses of Russian folk melodies and features demanding technical sections. Greene's virtuosic handling of her instrument makes this an attractive and inviting work. This work could be a delightful closer to a recital and an enticing work for clarinetists alike. Piece is a wonderful addition to the body of clarinet music by women composers.
The final work is Grechaninov's Sonata No. 2, Op. 172. Known mainly for his piano and symphonic works, this Sonata reveals his gift for composing beautiful melodic lines and pleasing harmonic formations. The "Moderato" is short and quite technical, especially in the clarinet with wide interval patterns skillfully executed by Greene. "Theme and Variations" is lengthier and Grechaninov is able to expand upon his ability to combine and play with the tonal colors of the clarinet, deftly utilizing its flexible range. The variations are frequently enlivened by agitatedly dramatic technical flourishes by both Greene and Konev, making this piece a showcase for both performers.
This CD was a pleasure to review. It is entertaining and enticing. Greene and Konev have captured the essence of the traditional Russian musical style through their technical prowess and the panache of the Russian character and tradition.
– Lori Ardovino
---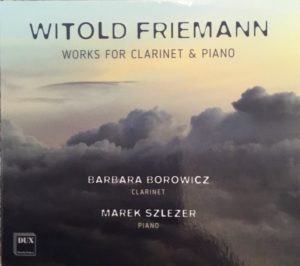 Witold Friemann: Works for Clarinet and Piano. Barbara Borowicz, clarinet; Marek Szlezer, piano. W. Friemann: Autumn Twilight, Op. 335; Quasi una Sonata, Op. 144; 4 Pieces, Op. 170; Sonata No. 2, Op. 219; Suite, Op. 171; Sonata No. 3 "Romantica," Op. 222. DUX 1529. Total Time: 54:16
Polish composers are not overly represented in standard clarinet literature; Karol Kurpiński, Krzysztof Penderecki and Witold Lutosławski figure amongst the most well known. With the release of this world-premiere recording, Polish clarinetist Barbara Borowicz strives to add a new name to the list: Witold Friemann.
Born in 1889, Friemann studied piano and composition in Poland and later in Germany (with Max Reger) and was just at the beginning of an international career when the outbreak of World War I thwarted his ambitions. Still, he became a prominent figure in the musical landscape of his home country. Friemann taught at the Music Academy in Lviv, worked for the Polish Radio in Warsaw, founded the State Conservatory of Music in Kattowice and became the laureate of many national awards and merits. Even though his compositions were received favorably, he focused more on the creative process than on promoting his works. The majority of his approximately 1300 solo, chamber and orchestral works remained unpublished and he slowly sank into obscurity after his death in 1977.
Thanks to Barbara Borowicz and her efforts to promote Polish music, we are now able to acoustically rediscover a handful of his clarinet works. She elected to record three sonatas, a suite and a few other short pieces for clarinet and piano that were written in the 1950s and are similar in style. They share a strong reminiscence of the Romantic period, especially Autumn Twilight, Op. 335, and the Sonata No. 3, Op. 222. The tonal language is traditional and devoid of contemporary influences, but distinctly colored by folkloric elements and rhythms. Friemann uses Polish melodies, and most of the movements bear characteristic titles such as Polonaise, Mazurka, or Dumka. His writing is so full of lyricism and expression that even a march sounds graceful. The pieces, even the sonatas, are rather short in length and make for easy and pleasant listening. This strength, however, is simultaneously the music's main weakness: it remains fragmented and is often not given time to fully develop. Nonetheless, these works are a wonderful addition to the repertoire and a treasure trove of Romantic recital pieces that are guaranteed to delight the audience. Eufonium (www.eufonium.pl) recently made most of the pieces on this disc available in print. Not yet published, to my great disappointment, is my favorite piece on this CD, Quasi una sonata, Op. 144. It is a work whose expression reminds me of Brahms, with a vibrant Polish folk dance as its finale.
The music of Witold Friemann may not have excited me if it weren't for this wonderful, beautiful and elegant rendering of it. Barbara Borowicz's lush clarinet sound and lyrical, long phrases make the recording highly enjoyable. She gives the music a touching quality without adding too much pathos to the Romantic nature of the pieces. Pianist Marek Szlezer is a perfect match as a duo partner; he underlines the clarinet part confidently yet subtly in tone, gives the sometimes opulent piano part translucency and depth without becoming dominant or heavy. Kudos to the artists for a highly recommendable CD with comprehensive liner notes. Let's hope for more revelations of this kind in the future!
[See Barbara Borowicz's "Witold Friemann and His Contribution to the Polish Clarinet Repertoire" in The Clarinet Vol. 47/3 (June 2020). Ed.]
– Simone Weber
---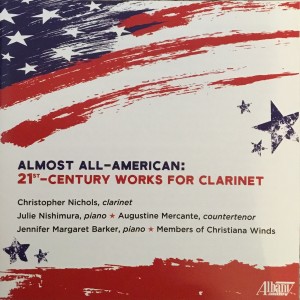 Almost All-American: 21st-Century Works for Clarinet. Christopher Nichols, clarinet; Julie Nishimura, piano; Augustine Mercante, countertenor; Jennifer Margaret Barker, piano; Members of the Christiana Winds. J.M. Stephenson: Clarinet Sonata, Bagatelle and Fantasie; J. Eidson: Birds of Passage; J.M Barker: …to the pale green sea of evening; S. Brandon: Divertimento for Woodwind Quartet. Albany Records, TROY 1788. Total Time: 63:39
Albany Records' 2019 release, Almost All-American: 21st-Century Works for Clarinet, spotlights clarinetist Christopher Nichols in works he commissioned, either individually or by consortium. Chicago-based composer James M. Stephenson gets a double feature (or even triple, if you count Scot Humes's Bagatelle and Fantasie transcriptions separately) on this disc, his music for clarinet and piano bookending the album. Stephenson's Sonata for Clarinet and Piano that tops the track list proves especially attractive, and I hope this recording helps secure a permanent place for it in the clarinet recital repertoire.
For all the gems that our repertoire boasts, I've always bemoaned the fact that Shostakovich never left us a clarinet sonata. In the D minor "Allegretto" that opens Stephenson's work, I enjoyed echoes of the qualities that make Shostakovich's music so eerie: the stiff, music box shape of the main theme, the registral caricature of the piano's rumbling bass counterpointing the right hand high overhead, and the sort of crooked smile of a pastoral sound that isn't quite right. For his part, Nichols contours his phrases with commendable nuance and precision, an early herald of the expert command he displays in the second movement's stratospheric sustained tones. Marked "Lazily," that movement opens with a sexy, hypnotic ostinato in the piano's bass – equal parts Ravel's Habanera and Gershwin's "Summertime" (I could almost hear Ella croon, "…and the livin' is easy" over a brushed snare). Tempo marking notwithstanding, there's nothing lazy about the bluesy runs that dart up and down the clarinet, effortless as they may sound in Nichols's hands. The crooked counterpoint – to my ears, another nod to Shostakovich – of the "Jam-Bourrée" banishes the smoky second movement, as Nichols masters the scampering E-flat clarinet part with supple articulation throughout the dips and dives across its range. After that interlude's vanishing wink, the composer's self-described "confused frenzy" that opens the final movement did indeed confuse me; I couldn't deduce a connection to any of the material that surrounds the frenetic squawking, but I rather enjoyed it anyway. Then I realized that it is the whole movement that is confused – gradually unraveling a sort of danse macabre prodded by the piano's head-banging bass with other half-baked theme-fragments, and eventually reconciling these thoughts into an electric finish. It's the kind of movement that only makes sense in retrospect, and I admire the way Stephenson manages to suspend disbelief to pull this off.
The first half of Joseph Eidson's two-movement Birds of Passage sets Henry Wadsworth Longfellow's "Autumn Within" – an icy, rather Schubertian lament of the aging process – to fractured piano strokes, songbird clarinet writing, and the delicately quivering voice of countertenor Augustine Mercante. The trio gives a powerful and sensitive reading of this movement in particular, and with the more excitable one that follows, the piece makes for a compact and imaginative addition to the repertoire for clarinet, piano and voice.
Scottish-American composer Jennifer Margaret Barker presumably constitutes the "Almost" part of this otherwise "All-American" album, and her work for clarinet and piano "…to the pale green sea of evening…" paints the interlaced city and seascapes of two Mediterranean islands in vivid sonic contrasts. Trading rippling piano figurations with chaotic street sounds, she seeks to recreate the experience of glimpsing the placid sea between buildings on a crowded street. Barker's evocations of the Mediterranean translate on the clarinet to ebbing sustained tones. Nichols tends sharp on the soft ends of these gradual crescendo-diminuendo shapes, but it produces an interesting sonic effect akin to watching something far away – far offshore,
perhaps – slowly come into focus.
Like the composer's liner notes, which provide little more than a dry paradigmatic analysis of his piece, Sy Brandon's Divertimento was for me aimless in direction and hard to get through. I sensed neither development nor intentional lack thereof, which would at least constitute a musical argument of some sort. Certain moments are pleasing to the ear, mostly in the "Ballad," but absent a sense of propulsion I found the piece incoherent. Nichols and his woodwind colleagues play well, but each movement was about 2 minutes too long for my taste.
By contrast, I applaud Stephenson's sense of pacing in his quirky Bagatelle, which the composer aptly describes as "end[ing] almost before it starts." Full of old-world charm, the following Fantasie highlights Julie Nishimura's nimble and characterful piano playing, which finds cohesive and coordinated companionship in Nichols.
Overall, this album presents works that are innovative and likeable, and it is satisfying to hear Nichols breathe life into this music that he elicited through thoughtful commissions. I recommend this disc for anyone seeking to program novel and worthwhile repertoire.
– Graeme Johnson
---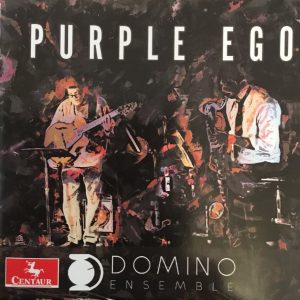 Purple Ego. Domino Ensemble: Jorge Variego, clarinets and electronics; Mark Boling, guitar; Keith Brown, drums; Jon Hamar, double bass. J. Variego: Purple Ego, Common Features, Crippled Tango, Gritty Throat, Domino, Seconde Vie, Recontextualizations, Not Exactly What I Mean, Memorias del Pago; G. Fauré (arr. Variego): Lydia; A. Tansman (arr. Variego): "Finale" from Suite for Reeds Trio. Centaur Records, CRC 3731. Total Time: 55:45
The Domino Ensemble, comprised of clarinetist and composer Jorge Variego, guitarist Mark Boling, drummer Keith Brown and double bassist Jon Hamar, is an ensemble which defies categorization. On the ensemble's website (http://dominoensemble.com), founding director Jorge Variego describes that their style "transits a path between jazz, tango, free improvisation and electronic music, all filtered through my background as a classical composer." The four members serve as faculty in the Natalie Haslam School of Music at the University of Tennessee in Knoxville. Purple Ego contains original compositions by Variego along with imaginative arrangements of works by Gabriel Fauré and Alexandre Tansman.
The opening track serves as the namesake for the album and begins with an ostinato line performed by Variego on the bass clarinet with accentuations by Boling and Hamar. Though the music shifts into contrasting moods, the connecting thread throughout is the repetition of ostinato and rhythmic cells to gradually transform the music. This provides contrast to the sustained and singing solos performed by Variego.
Common Features is marked by an invariable motor in the double bass and drums, long flowing lines performed by the soprano clarinet and a distant recorded speech sample which runs throughout. The combination is unexpected yet quite effective and engaging.
Crippled Tango is a highlight of the album. Although Variego also published this piece for bass clarinet and piano, the present arrangement adds significant depth and color. The rich tone of the guitar, woody quality of the double bass and reediness of the bass clarinet complement each other and contribute to an evocative, memorable performance. In addition, the interplay between the
bass clarinet and drums during the central solo cadenza adds energy and complexity not found in the edition with piano accompaniment.
An unhurried theme serves as a launching point in Gritty Throat which features Variego on soprano clarinet and Hamar on double bass. The sparse texture is a contrast to the other tracks but gives the players room to embellish and develop the head of the piece.
Domino alternates from frantic and quick articulations to timeless chordal sections. Just as the music seems to lose steam, the ensemble changes gear into an accented and driving groove. This kind of pivot or gear change is a recurring technique used throughout the original compositions of this album.
The ensemble's performance of Lydia is no mere adaptation of Fauré's art song. Rather, the piece is transformed by a laid-back groove which supports Variego's subsequent improvisation incorporating timbral trills.
What follows is a heartfelt and earnest ballad entitled Second vie. The performance of this simple yet poignant melody has a powerful effect and leaves a lasting impression.
Recontextualizations takes the ensemble in a new direction with the use of electronic delay and layers. Beginning with a slow descending line in the bass clarinet, the music builds and intensifies with dizzying echoes and interjections by the clarinet and guitar over an intricate web established by the drums and double bass. What results is a highly captivating soundscape which slowly morphs and disorients as it ebbs and flows.
In the adaptation of "Finale" from Tansman's Suite for Reed Trio, the ensemble presents contrasting interpretations of the source material beginning with a powerful groove built on the bass line ostinato and syncopated melody found in the original. This groove defines the majority of the track until the surprising and contrasting conclusion which harkens back to Recontextualizations with its fluid and amorphous texture. Variego's arrangement is an effective and inventive reimagination of Tansman's work.
Slowly developing lines layered over a driving motor in the drums creates a sense of urgency in Not Exactly What I Mean. Here, the ensemble presents different textures and timbres by combining the bass clarinet, double bass and guitar. As the motor fades out, the music dissolves into descending chords in the guitar and multiphonics in the bass clarinet before fading into a double bass pedal tone.
As Memorias del pago begins with a slow and extended double bass solo, it seems that the album will conclude in a subdued manner. When the rest of the ensemble enters, they craft a rather slow, retrospective dance. Like in Domino, however, the music shifts gears to build, intensify and accelerate to a raucous conclusion.
The Domino Ensemble's debut album is an intriguing journey filled with contrasts and surprising shifts. The performers are all seasoned veterans who collaborate with ease and instinctively cross genres to form a style which is distinctly their own. Purple Ego is released by Centaur Records and is available on Spotify, Apple Music and from all major music retailers.
– Zachary Dierickx
---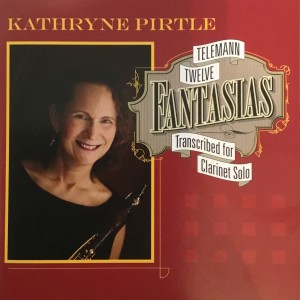 Telemann: Twelve Fantasias Transcribed for Clarinet Solo. Kathryne Pirtle, clarinet. G.P. Telemann (trans. S. Forrest): Fantasias No. 1-12. Self-Published, available at www.kathrynepirtle.com. Total Time: 56:48
Kathryne Pirtle's solo album Telemann: Twelve Fantasias is a lovely rendition of Sidney Forrest's transcriptions of George Philipp Telemann's classic pieces. Originally written in 1732 and championed by flutists for centuries, the works are truly timeless. An inventive and nuanced performer, Pirtle effortlessly manages Telemann's imaginative writing.
Pirtle's rendition of these classics is light and infectious, combining sprightly ornamentation with dignified tempos. Her handling of technical passages is even and controlled, allowing the listener to be immersed in Telemann's ingenious composing and Forrest's deft arranging. Her appropriate and refined treatment of Baroque ornamentation is enough to turn any skeptic of transcriptions into a fan. Pirtle builds a beautiful phrase, spinning stories out over long and well-conceived lines. She makes experiencing these classics a delight with her smart inflections and clever turns of mood.
Reflecting his tumultuous personal life, Telemann's compositions are multi-faceted and expressive. He was able to skillfully turn emotion into music for the ages. Pirtle successfully conveys the humor, pain, nobility, and all the other beautifully expressive qualities of Telemann's timeless writing. She seems totally at home in a style that predates the standard repertoire for the clarinet.
Pirtle's contrast of character between different tracks of this album is laudable. Her rendition of the 12th fantasia is especially moving, as she takes the listener on a tonal journey through the Grave, Allegro, Dolce, Allegro and Presto sections. Her musical contrasts are nothing short of transformative, as she glides, sings, and dances through the piece. Her comfort with Baroque style allows her to match Telemann's deft mood changes with even technique and moving expression.
All of the pieces on this album receive the benefit of Pirtle's control and skillful phrasing. With impressive dynamic contrasts and gorgeous tone colors, she brings Telemann's music to life on the clarinet. Beyond the wonderful merits of this album for any listener, it also has many important pedagogical implications to help students understand the intricacies of the Baroque period and the foundations of the standard woodwind repertoire. This album is a brilliant and necessary addition to any clarinet aficionado's collection.
The fact that the CD clocks in at just under an hour of solo clarinet playing is a testament to Pirtle's wonderful treatment of these pieces. The entire album is such an enjoyable treat from beginning to end.
– Stephanie Zelnick
---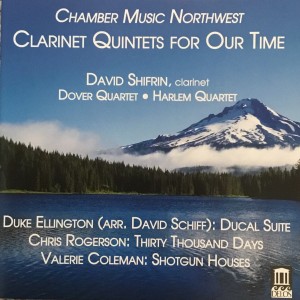 Clarinet Quintets For Our Time. David Shifrin, clarinet; Dover Quartet; Harlem Quartet. D. Ellington (arr. D. Schiff): Ducal Suite; C. Rogerson: Thirty Thousand Days; V. Coleman: Shotgun Houses. Delos Productions, DE 3576. Total Time: 55:37
The well-known clarinetist David Shifrin has had long associations with both the Chamber Music Society of Lincoln Center and Chamber Music Northwest, and has made many recordings of clarinet chamber music. In fact, this is Shifrin's third recording of clarinet quintets by American composers. His partners on this recording are two rising young string quartets: the Dover Quartet on the works by Ellington and Rogerson and the Harlem Quartet on Coleman's work. Both quartets play beautifully on the disc.
David Schiff's arrangement of Ducal Suite was originally for clarinet and piano. Here it is presented in an arrangement for string quartet. The first two movements, "Clarinet Lament" and "Air-Conditioned Jungle," are essentially transcriptions of the two famous clarinet works that Ellington wrote for clarinetists Barney Bigard and Jimmy Hamilton, respectively. The third movement, "Heaven," was originally a vocal work from Ellington's Second Concert of Sacred Music of 1968, and in this arrangement the clarinet takes the role of both the singer and of the saxophone solo played by Johnny Hodges. The final movement, "Kinda Dukish/Rockin' in Rhythm," combines two works that Ellington himself often paired with each other in concerts; the first being a piano feature and the second is a big band chart. Schiff's arrangements of all these works are beautifully and creatively done, and they are stylishly performed by Shifrin and the Dover Quartet. Clarinetists not versed in jazz improvisation will enjoy the opportunity to play written-out versions of this music.
The title of Chris Rogerson's three-movement quintet, Thirty Thousand Days, comes from his father's notion that a life can be divided into three stages of 10,000 days each. The movements of the work reflect this idea. The composer states that the first, "Quasi una danza," evokes the "joy, innocence and sweetness of youth;" the second, "Prestissimo, con sordino," represents "struggle, coldness and fury;" the last, "Quasi una ciacona," depicts "acceptance, resignation, loss and love." Rogerson's style is tonal and accessible, but eclectic – in turns reminiscent of Copland, Prokofiev and perhaps Barber. Shifrin and the quartet handle this eclecticism with great flexibility and sensitivity, and Shifrin's control of air and dynamics in
the delicate ending of the final movement is remarkable.
Valerie Coleman's Shotgun Houses is a tribute to the famous boxer Muhammad Ali, who grew up in the same West Louisville neighborhood as Coleman. Each of the three movements represents a snapshot of a stage in Ali's life, starting with the neighborhood and its personality in the first movement, moving to a portrait of Ali's mother in the second, and ending with a depiction of Ali's gold medal-winning fight in the Rome Olympics in 1960. The work is powerfully written, with intricate interplay among the clarinet and strings, and is tightly executed by Shifrin and the Harlem Quartet.
The recording quality of this disc is excellent, and the liner notes provide well-written information about the pieces. David Shifrin's playing has everything one would expect from such an experienced artist: impeccable technique, a warm and flexible sound and above all, marvelous musicianship. His continued advocacy of new works for clarinet and string quartet has resulted in three outstanding compositions that immensely enrich the repertoire.
– Jane Ellsworth
---